error_outline
Flexible Private Trip — Book Your Dates for You & Yours!
Across the Kingdom from Capital to Coast
Overview
The Kingdom of Saudi Arabia is an enigmatic place. Much of the world knows it as a major producer of oil, or as a destination for Muslim pilgrims. Both of those aspects are, of course, deeply important to the kingdom, but much more lies beyond. Few are aware of the country's rich and ancient cultural heritage, or the landscapes and natural scenery it has to offer. Even fewer have visited as tourists looking to explore the cultural and geographical terrain. As Saudi Arabia continues efforts to diversify its economy and open up to the outside world, this will change. Travelers are already beginning to trickle in, making use of newly relaxed visa regulations and the nation's excellent infrastructure to explore the deserts, beaches, mountains, and cultural sights both ancient and modern.
On this eight-day private tour you will be introduced to both the modern sides of Saudi Arabia and the ancient. You'll start in the capital, Riyadh, visiting the excellent national museum there alongside the nearby Najdi heritage village of Ushaiger. Then fly to Al Ula, home to ancient wonders made both by man and nature, including a UNESCO World Heritage-listed complex of Nabataean tombs comparable to those at Petra. Finally make your way to the Red Sea port city of Jeddah, an economic hub for Saudi Arabia – one that still has an atmospheric old town, great markets and museums, and a pleasant promenade along the coast.
Travels to: Saudi Arabia
Map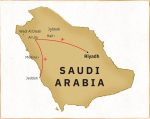 Itinerary
Days 1-3: Riyadh (Saudi Arabia, Ushaiger)

Begin your private tour in Riyadh, Saudi Arabia's capital and primary business hub. You'll explore the highlights of the city, including the National Museum, Masmak Fortress, and the UNESCO World Heritage-listed Al Turaif District. From Riyadh head overland on a day trip to learn about traditional Najdi architecture at the heritage village of Ushaiger.

HIGHLIGHTS

Wander the exhibits of the National Museum, a beautifully designed, modern facility that is the primary repository of the Saudi national heritage and culture
Explore the ruins of the Al Turaif District, a UNESCO World Heritage Site and the original seat of the power of the Al Saud dynasty
Learn about Najdi architecture in Ushaiger, often cited as Saudi Arabia's most beautiful village, where labyrinthine walkways wind amongst traditional mud buildings
Visit one of the largest mosques in Riyadh to learn more about Islam in Saudi Arabia from a local representative

Days 4-6: Al Ula

Fly west to Al Ula, arguably Saudi Arabia's most spectacular destination. The area is rich in history, archaeological wonders, and mesmerizing scenery. Over the course of two days, you'll visit the main sites and beyond. A focus point is Hegra, where rock-hewn Nabataean tombs rival (or perhaps surpass) the beauty of those at Petra. Elephant Rock, an immense massif reminiscent of an elephant, is among the natural marvels of the area.

HIGHLIGHTS

Be astounded by the intensely beautiful Nabataean tombs at Hegra, a UNESCO World-Heritage Site rivalling the similar site at Petra
Study the ancient graffiti, rock carvings and petroglyphs in myriad extinct and osbure languages, that cover the rock walls at Jebel Ikmah
Ponder how ancient Dadanite and Lihyanite architects managed to carve tombs and sculptures into a cliff face 150 feet above ground at Dadan
Take in the spectacular natural scenery at the Harrat Al Uwayrid lava fields and at the iconic Elephant Rock
Marvel at the mirrored surfaces of the Maraya Center & Concert Hall, one of Saudi Arabia's most notable modern architectural works (pending approvals)

Days 7-8: Jeddah

The adventure comes to a close in the port city of Jeddah, which you'll reach by flight from Al Ula. Jeddah is Saudi Arabia's second largest city and the largest port on the Red Sea, making it a cosmopolitan place. Sights here include the exceptional Abdul Raouf Khalil Museum, the UNESCO-listed old town area of Al Balad, and the pedestrian-friendly Jeddah Cornice, which is lined with palm trees and dotted with fountains.

HIGHLIGHTS

Wander the alleyways of Jeddah's UNESCO-listed old town, Al Balad, passing by souqs, traditional homes, and mosques along the way
Explore a trove of pre-Islamic and Islamic artifacts housed in the striking Abdul Raouf Khalil Museum
Listen to the waves as you people-watch and take in the scenery along the pedestrian-friendly Jeddah Corniche
Dates &amp Prices
Please note:
Private trip prices vary by season and are subject to hotel availability for your travel dates.
A Saturday start date works best for this program.
Listed prices below are based on double occupancy and a 2 traveler minimum.
Hotel upgrades, additional nights, and solo traveler prices are available on request.
Land tour price, per person, starting from:
2023 Dates

Available: January - June, September - December

Tour, double occupancy

$6,095

Plus internal airfare

$490

2024 Dates

Available: January - June, September - December

Tour, double occupancy

$6,395

Plus internal airfare

$520
What's Included
Tour Includes

Shared accommodations as noted in the itinerary. Contact MIR for hotel upgrade prices.
Meals, as noted in the itinerary: 7 breakfasts, 1 lunch, and 1 dinner.
One arrival and one departure transfer. Additional arrival and departure transfers available at additional cost.) MIR will arrange for travelers to be met upon arrival and seen off on departure, whether or not we make your air arrangements.
Ground transportation throughout itinerary by private vehicle (type of vehicle depends on number of travelers in your group).
Guided sightseeing tours and entrance fees, as outlined in the itinerary.
Services of experienced, English-speaking local guides, drivers, and other staff, as noted in the itinerary.
Complete pre-departure electronic document that includes detailed packing suggestions, reading list links, country-specific information, maps, travel tips, and more.
Assistance booking your custom flight arrangements, on request. (Please note that international airfare is not included in the land tour cost.)
Electronic final update bulletin with any late news, updates, and important information.

Not Included

International airfare and taxes/fuel surcharges.
Internal airfare. (Internal airfare is quoted separately and subject to change by airlines.)
Meals and drinks not specified as included in the itinerary.
Single supplement if requested or required.
Baggage handling.
Items of a personal nature such as phone calls, email, laundry, and alcohol.
Gratuities to local guides, drivers, porters, and other service personnel.
Visa fees, excess-baggage charges, airport departure taxes, vaccinations, and other medical costs.
Expenses incurred as a result of delay, modification, or extension of a tour due to causes beyond MIR's control.
Travel-related insurance including cancellation, medical, and evacuation insurance.
Optional pre- or post-tour extensions.
Activity Level
Level 2: Moderate, but Customizable
This 'Essential' itinerary designed for private travel features long days walking and standing, some long days of overland travel, some stair climbing, unpaved sidewalks and streets, uneven surfaces and steps, absent handrails, and lack of elevators. While some of these challenges are inherent in the destinations and sites, as one of our Essential Series programs this trip can be modified as needed for those travelers who are looking for a less challenging (or more challenging) program.
There is a significant amount of touring on foot, and those travelers planning to take the program as written should be able to walk one to two miles a day comfortably. Footing can be an issue and travelers should be able to negotiate streets of packed dirt, cobblestones, uneven surfaces (possibly steep and/or wet), and deal with situations without handrails or ramps. Some attractions are only accessible via steep staircases. Museums rarely have elevators.
Past travelers have also encountered challenges with plumbing, bureaucratic service, variety of locally available foods, and availability and quality of public restrooms.
Accommodations in the basic program are generally four-star hotels. Upgrades are available, please call for details.
Gallery