error_outline
Flexible Private Trip — Book Your Dates for You & Yours!
An Arabian Classic
Overview
Oman and its neighbors along the Persian Gulf are at first glance much alike. They are all Arabic-speaking, oil-rich, and ruled by powerful monarchs. The terrain throughout is overwhelmingly desert. But these similarities belie the very different path that Oman has chosen. There are no glitzy skyscrapers here. Instead, one finds an emphasis on the traditional. This is true of the architecture, the clothing, and for many, the way of life. Rooted deeply in its past while still forward looking, Oman is a country that will challenge travelers' expectations of the region without compromising on comfort.
This eight-day tour starts in Oman's capital, Muscat, a charming combination of the old—a picturesque historic waterfront and a classic bazaar—and the new—a mosque and an opera house that are both 21st-century architectural wonders. Outside of the city you'll get an even stronger taste of Arab culture, visiting traditional boatwrights along the coast, venturing deep into Bedouin territory in the inland dune fields, and exploring remote and timeless villages in the Al Hajar Mountains.
Travels to: Oman
Map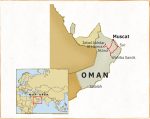 Itinerary
Days 1-4: Muscat (Oman), Sur

Muscat, the capital of Oman, is a major port city that has long been a conduit between the Arabian Peninsula to the rest of the world. Less glitzy but more charming than the nearby cities of the Persian Gulf, Muscat is known for its historic bazaars, traditional whitewashed architecture, and old-school Arabian hospitality. Among your stops here are the Mutrah Souq, the National Museum of Oman, and the Sultan Qaboos Grand Mosque. Then continue your tour of Oman along the coast to the shipbuilding city of Sur and nearby beaches where sea turtles nest.

HIGHLIGHTS

Take in the timeless Arabian vistas of old Muscat and the handicraft-filled Mutrah souq
Explore the history and heritage of Oman at the well-curated National Museum, with exhibits focusing on the countries maritime history, currency, irrigation systems, Islam, and much more
Watch sea turtles serenely emerge from the Arabian Sea to nest at the Ras al Jinz Reserve
Learn about traditional dhow manufacturing techniques and traditions in the shipyards of Sur

Days 5-8: Wahiba Sands, Jebel Akhdar, Nizwa, Muscat

From Sur head inland for an exhilarating drive into Wahiba Sands, where you'll meet Bedouins who call the desert home. The next day, travel into the Al Hajar Mountains to Jebel Akhdar, which means "Green Mountain" in Arabic. Take in spectacular views, meet locals, and hike through timeless villages. Explore forts and castles and wander the souq and livestock market in Nizwa.

HIGHLIGHTS

See how traditional Omani dhows are constructed at Sur's shipyard, and learn more about the maritime history of the area at a local museum
Learn about Bedouin culture and traditions amidst the stark and boundless Wahiba Sand Dunes
Experience the vast beauty and limitless stars of the desert at night, while bedding down in a well-appointed, air-conditioned chalet
Hike between villages on the slopes of Jebel Akhdar in the Al Hajar Mountains, one of the most rugged and spectacular landscapes on the Arabian Peninsula
Hear about the history of the Nizwa Imamate as you explore its historical capital
Marvel at the hustle and bustle of the souq and Friday livestock market in Nizwa
Dates &amp Prices
Please note:
Private trip prices vary by season and are subject to hotel availability for your travel dates.
Listed prices below are based on double occupancy and a 2 traveler minimum.
Hotel upgrades, additional nights, and solo traveler prices are available on request.
Land tour price, per person, starting from:
2023 Dates

Available: January - September

Tour, double occupancy

$3,995
What's Included
Tour Includes

Shared accommodations as noted in the itinerary. Contact MIR for hotel upgrade prices.
Meals, as noted in the itinerary: 7 breakfasts.
One arrival and one departure transfer. Additional arrival and departure transfers available at additional cost.) MIR will arrange for travelers to be met upon arrival and seen off on departure, whether or not we make your air arrangements.
Ground transportation throughout itinerary by private vehicle (type of vehicle depends on number of travelers in your group).
Services of experienced, English-speaking local guides, drivers, and other staff, as noted in the itinerary.
Guided sightseeing tours and entrance fees, as outlined in the itinerary.
Special events, excursions, and cultural performances, as outlined in the itinerary.
Complete pre-departure electronic document that includes detailed packing suggestions, reading list links, country-specific information, maps, travel tips, and more.
Assistance booking your custom flight arrangements, on request. (Please note that international airfare is not included in the land tour cost.)
Electronic final update bulletin with any late news, updates, and important information.

Not Included

International airfare and taxes/fuel surcharges.
Meals and drinks not specified as included in the itinerary.
Single supplement if requested or required.
Baggage handling.
Items of a personal nature such as phone calls, email, laundry, and alcohol.
Gratuities to local guides, drivers, porters, and other service personnel.
Visa fees, excess-baggage charges, airport departure taxes, vaccinations, and other medical costs.
Expenses incurred as a result of delay, modification, or extension of a tour due to causes beyond MIR's control.
Travel-related insurance including cancellation, medical, and evacuation insurance.
Optional pre- or post-tour extensions.
Activity Level
Level 2: Moderate, but Customizable
This 'Essential' itinerary designed for private travel in Oman features long days walking and standing, some long days of overland travel, some stair climbing, unpaved sidewalks and streets, uneven surfaces and steps, absent handrails, and lack of elevators. While some of these challenges are inherent in the destinations and sites, as one of our Essential Series programs this trip can be modified as needed for those travelers who are looking for a less challenging (or more challenging) program.
There is a significant amount of touring on foot, and those travelers planning to take the program as written should be able to walk one to two miles a day comfortably. Footing can be an issue and travelers should be able to negotiate streets of packed dirt, cobblestones, uneven surfaces (possibly steep and/or wet), and deal with situations without handrails or ramps. Some attractions are only accessible via steep staircases. Museums rarely have elevators.
Past travelers have also encountered challenges with plumbing, bureaucratic service, variety of locally available foods, and availability and quality of public restrooms.
Accommodations in the basic program are generally four-star hotels. Upgrades are available, please call for details.
Gallery