error_outline
Festival tour - join us for Navruz in Uzbekistan!
A Cultural & Culinary Navruz Adventure
Overview
This is a trip with one foot in the past and one firmly in the present. On it you'll tour Uzbekistan's three brilliant Silk Road oases: Khiva, Bukhara, and Samarkand – each a living city, but also a time capsule filled with world-renowned, one-of-a-kind art and architecture. You'll also be immersed in contemporary Uzbek culture and cuisine, visiting bustling markets and shops, sitting down to meals in local homes, and getting cooking demonstrations from esteemed chefs. Finally, you'll take part in Navruz, a 2,000-year-old celebration of spring that's the biggest event on the Uzbek calendar. It's an exuberant burst of hospitality, and with MIR you'll attend private celebrations that most travelers don't have access to.
Travels to: Uzbekistan
Map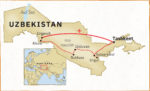 Itinerary
Days 1-2: Tashkent (Uzbekistan)

The trip begins in Tashkent, Uzbekistan's capital and largest city. Wander through its main market, Chorsu Bazaar, a kaleidoscope of produce, spices, textiles, and a multitude of other goods. Tour the city's most noteworthy sights including Independence Square, Kukeldash Madrassah, and the Museum of Applied Arts. Culinary highlights are lunches at two of Tashkent's most renowned restaurants and an introduction to Uzbek cuisine, complete with cooking demonstrations, from one of the city's top chefs.

HIGHLIGHTS

Non, the fluffy bread that's a staple of Uzbek cuisine, sold in abundance at Chorsu Bazaar
Park-like Independence Square, formerly Lenin Square, rechristened and adorned with a new monument following Uzbekistan's 1991 proclamation of independence
Tashkent's monumental 16th century Islamic architecture, including Kukeldash Madrassah, Kaffal-Shashi Mausoleum, and Barak-Khan Madrassah
The Museum of Applied Arts, housed in a gorgeous 19th century mansion
An introduction to Uzbek cuisine from a renowned Tashkent chef

Days 3-4: Khiva, Kyzyl Kum Desert

Fly to Urgench and continue overland to nearby Khiva, an ancient city imbued with the spirit and energy of the Silk Road. Wander through the winding alleys of the UNESCO-listed Old Town, filled with minarets, cobbled alleys, mosques, and the beautifully preserved Kunya Ark, the original residence of the ruling khans. Upon leaving town, trace the path of Silk Road camel caravans through the red sands of the Kyzyl Kum Desert en route to Bukhara.

HIGHLIGHTS

Khiva's Old Town (Ichon-Qala in Uzbek), a UNESCO World Heritage Site
Tash-Hauli Palace, built in the 19th century for the khan and his four wives
Dzhuma Mosque, famous for its carved wooden pillars
Kunya Ark, the original residence of the khans
The Silk Road's path across the Kyzyl Kum Desert

Days 5-6: Bukhara

Arrive in Bukhara, Central Asia's most ancient living city. Its UNESCO-listed Old Town encompasses more than 140 protected monuments, including the Lyabi-Hauz Plaza at the heart of the city and the Ark Citadel, the original fortress of Bukhara. Spend a full day celebrating Navruz, an ancient festival with Zoroastrian roots that welcomes the arrival of spring. Witness firsthand the holiday's convivial festivities, including traditional ceremonies not commonly accessible to travelers. The abundant Navruz dinner is capped off with sumalak, a favorite holiday sweet.

HIGHLIGHTS

Old Bukhara's ageless domed bazaars and its central Lyab-i-Hauz Plaza, adorned with a reflecting pool
Ark Citadel, Bukhara's giant ancient fortress
Taking part in Navruz celebrations and dinner
A visit to a master marionette-maker's studio
A performance of traditional song and dance at a madrassah

Days 7-8: Samarkand

Experience the glory of fabled Samarkand – the conqueror Tamerlane's ancient capital – with visits to the massive Bibi Khanum Mosque, Ulug Bek's incredible observatory, and majestic Registan Square. Learn how to make traditional bread at a local family bakery, stroll through the colorful stands brimming with fresh produce and spices at the Siab Bazaar, and take a master class in the art of making plov, Uzbekistan's national dish.

HIGHLIGHTS

UNESCO-listed Samarkand's Registan Square, bordered by three beautiful madrassahs
The 14th century conqueror Tamerlane's architectural legacy in Samarkand, including Bibi Khanum Mosque, the largest of its day, and Ulug Bek Observatory
Lively Siab Bazaar, lined with the brilliant produce and spices that once tempted Silk Route traders
A demonstration of traditional non bread-baking and lunch at a family bakery
A master class in making plov – a fragrant mix of rice, meat, vegetables, and seasonings that's Uzbekistan's favorite meal

Days 9-10: Urgut, Tashkent

On your final full day, travel outside Samarkand to the colorful, labyrinthine Urgut Market, where stalls brim with brilliantly embroidered hats, robes, and other textiles. Attend a match of buzkashi, an ancient Central Asian equestrian game demanding strength and daring. Then celebrate your journey with a festive farewell lunch before hopping the high-speed train back to Tashkent.

Highlights

The brilliant crafts at Urgut Market
The raw intensity of a buzkashi match
One last Uzbek feast
Dates &amp Prices
Small group tour – max 16 travelers
Land tour price, per person. Based on double occupancy and minimum group size of 4 travelers.
2024 Dates

Tour, double occupancy

$4,395

Plus internal airfare

$150
What's Included
Tour Includes

Accommodations, as noted in the itinerary.
Most meals, as noted in the itinerary.
A daily supply of bottled water.
Arrival/departure airport transfers on the tour start/end date. MIR will arrange for all travelers to be met upon arrival and seen off upon departure whether or not we make your flight arrangements.
Ground transportation throughout tour by private van or coach. (Type of vehicle depends on group size.)
Services of experienced, English-speaking local guides, drivers, and other staff, including a MIR Tour Manager.
Guided sightseeing tours and entrance fees, as outlined in the itinerary.
Special events, excursions, and cultural performances, as outlined in the itinerary.
Gratuities to local guides, drivers, and other service personnel, including servers at group meals.
Complete pre-departure information, including detailed packing list, reading list, and Touring with MIR handbook with country-specific information, maps, and travel tips.
Final document packet, including luggage tags, final updates, and more.
Assistance booking your custom flight arrangements, on request. (Please note, international airfare is not included in the land tour cost.)
Customized visa information and instructions. (Please note, visa fees are not included in the tour price.)
Train tickets from Samarkand to Tashkent.

Not Included

International airfare and taxes/fuel surcharges.
Internal airfare. (Internal airfare is quoted separately and subject to change by airlines.)
Meals and drinks not specified as included in the itinerary.
Single supplement (or partial single supplement where applicable), if requested or required.
Gratuities to Tour Manager.
Expenses incurred as a result of delay, modification, or extension of a tour due to causes beyond MIR's control.
Travel insurance, including cancellation, medical, and evacuation insurance.
Visa and/or passport fees, excess-baggage charges, airport departure taxes, vaccination and other medical costs.
Optional pre- or post-tour extensions.
Items of a personal nature such as phone calls, email, laundry, and alcohol.
Activity Level
Level 3: Medium
This small group tour features long days walking and standing while touring, some long segments of overland travel, uneven surfaces and steps, absent handrails, some stair-climbing, and absence of elevators. Only those fit to travel, who are willing to accept local standards of amenities and services, and physical challenges of the program, should consider joining.
Travelers must be able to walk at least two miles a day, keeping up with fellow travelers. There are overall shortcomings in the tourism infrastructure, including some that can cause walking challenges such as unpaved sidewalks, uneven surfaces and steps, packed-dirt streets, broken pavement (streets or sidewalks), and a general absence of handrails or ramps. Some attractions are only accessible via steep staircases with tall uneven steps – additionally, these may be spiral staircases or in narrow passages with limited light. Elevators are not available at touring sites, nor at a few of the hotels. 
Past travelers have also encountered challenges with plumbing, bureaucratic service, variety of locally available foods, and availability and quality of public restrooms.
Accommodations vary from superior tourist class hotels to small, intimate properties.
Gallery
Video