Multi-Region
Caspian Odyssey by Private Train: Eastbound
South Caucasus to Central Asia Aboard the Golden Eagle
Overview
On this journey you'll explore countries both west and east of the Caspian Sea aboard the luxury Golden Eagle private train: Armenia, Georgia, and Azerbaijan to the west and Turkmenistan, Uzbekistan, and Kazakhstan to the east. All have been historical crossroads of trade, religion, and the arts. You'll find distinct, fascinating cultures that meld the ancient and the modern, paired with glorious architecture and artifacts.
A shorter version of this trip, South Caucasus Explorer from Yerevan to Baku, is also available. Contact us for details.
Travels to:  Armenia, Azerbaijan, Georgia, Kazakhstan, Turkmenistan, Uzbekistan
Photos and details: Discover what life is like aboard the Golden Eagle.
Map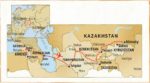 Itinerary
Days 1-3: Yerevan (Armenia), Lake Sevan, Dilijan

Begin with a tour of Armenia's capital, Yerevan, a city older than Rome, and a trip into the nearby mountains to visit the UNESCO-listed Geghard Monastery. Then board the Golden Eagle and trace the shore of Lake Sevan, making a stop at the mountain resort of Dilijan.

HIGHLIGHTS

The Cascade, a massive, magisterial staircase that functions as Yerevan's main public gathering place
The Cafesjian Museum of Modern Art, which has a gallery within the Cascade and a sculpture garden set amid the steps and fountains
Geghard Monastery, a UNESCO World Heritage Site built into the side of a mountain
The colonnaded pagan Temple of Garni, located on a cliff near the Azat River
Brilliant, blue-green Lake Sevan – one of the largest alpine lakes in the world
An Armenian cognac reception and lunch at a hotel along the Debed River

Days 4-6: Tbilisi (Georgia), Telavi, Gori, Uplistsikhe, Mtskheta

Entering Georgia, explore the red-roofed Old Town of Tbilisi, the capital city. The following day tour Kakheti, Georgia's wine country, including the regional capital, Telavi. Next, make stops in Stalin's hometown, Gori; the ancient cave town of Uplistsikhe, where you'll hear a private concert of Georgian songs; and UNESCO-listed Mtskheta, capital of the early Iberian kingdom.

HIGHLIGHTS

Tbilisi's landmarks: 4th century Narikala Fortress, 13th century Metekhi Church of the Virgin, the Mother Georgia Monument, and the elaborate residential architecture along Rustaveli Avenue.
Tbilisi's Simon Janashia Museum, which features 1.7-million-year-old hominid skulls and a collection of ancient gold ornaments
Wine-tasting at the Alexander Chavchavadze family estate, one of Georgia's oldest and most esteemed winemakers
The Stalin House Museum, located in the wooden hut where the Soviet ruler spent his first years
The remains of the 3,000-year-old cave town of Uplistsikhe, carved into 22 acres of mountainside
A stirring concert of Georgian polyphonic vocal music, performed in Uplistsikhe
Mtskheta, a UNESCO World Heritage Site that was capital the Iberian kingdom and has two exceptional early Orthodox churches

Days 7-8: Baku (Azerbaijan), Gobustan

Arrive in Baku, Azerbaijan's capital, a longtime center of the Caspian oil industry with a UNESCO-listed medieval Old Town. A day trip takes you to Gobustan, an important site of ancient petroglyphs that are also UNESCO-listed. Two nights here are in a leading Baku hotel before a flight to Ashgabat on Day 9. Meanwhile, the Golden Eagle train crosses the Caspian by ferry.

HIGHLIGHTS

The winding streets, mosques, and tiny shops of Baku's walled Old Town
Baku's Beaux Arts mansions – the byproduct of an early 20th century oil boom
Gobustan's petroglyphs, which provide a surprisingly rich portrait of daily life in ancient times

Days 9-10: Ashgabat (Turkmenistan), Darvaza Gas Crater

In Turkmenistan's capital, Ashgabat, explore the flamboyant gilded architecture that has sprung from the rubble of a massive 1948 earthquake, as well as the huge $100-million mosque in the village of Kipchak a few miles away. The following day the Golden Eagle heads toward the Uzbek border, with an evening excursion to the flaming Darvaza Gas Crater, known as the "Door to Hell."

HIGHLIGHTS

The opulent new architecture of Ashgabat, which holds a Guinness record for the highest density of white marble buildings in the world
The $100-million Kipchak Mosque, with its 164-foot golden dome and room for 10,000 worshippers
An after-dark view of the flaming gas crater of Darvaza, set alight during Soviet times and visible from miles away

Days 11-14: Khiva (Uzbekistan), Bukhara, Samarkand, Tashkent

Three days in Uzbekistan take you to three UNESCO-listed Silk Road oasis cities: Khiva, with its distinctive dun-colored walls; Bukhara, site of the 2,000-year-old Ark Citadel; and Samarkand, Tamerlane's blue-tiled capital. Last stop in Uzbekistan is the present-day capital, modern Tashkent, with its wide, tree-lined boulevards.

HIGHLIGHTS

Khiva's Old Town, a "living museum" that looks much the same as it did hundreds of years ago
Tash-Hauli Palace and Dzhuma Mosque, two of Khiva's most impressive structures
Old Bukhara's ageless domed bazaars and its central plaza, adorned with a reflecting pool
Ark Citadel, Bukhara's huge 2,000-year-old fortress
Samarkand's Registan Square, bordered by three beautiful madrasahs
The 14th century conqueror Tamerlane's architectural legacy in Samarkand, including Bibi Khanum Mosque, the largest of its day, and Ulug Nek Observatory

Days 15-16: Almaty (Kazkahstan)

On the journey's last full day, explore Kazakhstan's "City of Apples," Almaty, set in the orchard-rich foothills of the majestic Tien Shan Mountains. The commercial hub of Central Asia's wealthiest nation, Almaty is quickly growing and modernizing.

HIGHLIGHTS

Lunch in a traditional Kazakh yurt
A farewell dinner in the bustling city
Dates &amp Prices
Minimum group size: Minimums vary – call for confirmation status
Land Tour Price, Per Person.
2023 Dates

Sept 22 - Oct 7

Note: This tour also runs in the reverse direction, from Tashkent to Yerevan September 8-23, 2023 – please call for details

Silver Class, double occupancy

$26,795

Silver Class, single occupancy

$40,195

Gold Class, double occupancy

$33,495

Gold Class, single occupancy

$55,295

Imperial Suite Class, double occupancy

$56,895

Imperial Suite Class, single occupancy

$110,995

2024 Dates

Silver Class, double occupancy

$28,095

Silver Class, single occupancy

$42,195

Gold Class, double occupancy

$35,195

Gold Class, single occupancy

$57,995

Imperial Suite Class, double occupancy

$57,695

Imperial Suite Class, single occupancy

$115,295
What's Included
Tour Includes

Accommodations, as noted in the itinerary.
All meals, from dinner on Day 1 through breakfast on final tour day, including a generous allowance of wine, local beer, and soft drinks with lunch and dinner.
Arrival/departure transfers, provided you arrive and depart on the tour start/end dates and in the tour start/end cities.
All guided off-train tours, as outlined in the itinerary.
Services of an experienced Train Tour Manager as well as local guides for scheduled off- train tours.
Complimentary tea, coffee, and mineral water from your car attendant at all times while on board the train.
All gratuities.
Baggage handling.
Complete pre-departure information, including detailed packing list, reading list, and Touring with MIR handbook with country-specific information, maps, and travel tips.
Assistance booking your custom flight arrangements, on request. (Please note that international airfare is not included in the land tour cost.)

Not Included

International airfare, including taxes/fuel surcharges, and surface transport to the point of joining/leaving the tour. MIR is able to assist with arrangements, as detailed in the itinerary.
Meals and drinks not specified as included in the itinerary.
Single supplement (difference between double rate and single occupancy rate) if requested or required.
Optional pre- or post-tour extensions.
Expenses incurred as a result of delay, modification, or extension of a tour due to causes beyond MIR's control.
Visa fees, excess baggage charges, airport departure taxes, vaccination and other medical costs.
Travel insurance including cancellation, medical, and evacuation insurance.
Items of a personal nature such as phone calls, email, laundry, and alcohol.
Activity Level
Level 2: Moderate
This rail journey by private train features significant touring on foot, throughout which travelers are expected to keep up with other group members. Walking during touring days will be on a variety of surfaces, with many streets and sidewalks being uneven; and elevators generally not available during touring excursions, leading to some stair climbing. Challenges on board the train include long onboard distances with heavy doors, as well as steep steps and gaps to navigate while embarking and disembarking. Only those willing to accept local standards of amenities and services should consider joining this program.
Travelers must be able to walk a mile per day keeping up with other group members. Streets and sidewalks can be uneven or unexpected surfaces, and handrails are not always present. Steps, which may be required due to lack of elevators, may be steep and/or uneven, and may also lack handrails. The distance on board the train between sleeping and dining carriages may be significant, and there are many heavy doors to navigate when moving throughout the train. Getting on and off the train involves navigating steep steps, low platforms, and possible gaps between the train and the platform. Navigating rail stations may also involve traveling up and over steep steps/footbridges to cross tracks, or steep steps and dark tunnels to cross under to/from the train station. Although porterage is provided where possible, you may have to carry your baggage for short distances.
General shortcomings of the tourism infrastructure may include problems with bureaucratic service and availability and quality of public restrooms when not on board the train.
Gallery