Ashgabat: Turkmenistan's Lavish Capital of Marble and Gold
A strange and fascinating capital city, Ashgabat is a showcase of architecture and modernity set in an ancient desert landscape.
In spite of its location on an ancient trade route, Ashgabat didn't achieve the status and influence of other Silk Road cities, such as Uzbekistan's Samarkand or Bukhara. Originally known as Konjikala, the city was destroyed by the Mongols in the 13th century.
Ashgabat, the capital city of Turkmenistan, is often referred to as the "White Marble City" due to its stunning architecture and extensive use of white marble in buildings and monuments. The city boasts impressive landmarks such as the Independence Monument, Golden Horse Monument, and more, all of which are adorned with intricate marble designs. In 1881 the Russians built a fortress on the site as a buffer against English-dominated Persia. And by the early 20th century, Ashgabat was a prosperous and flourishing city.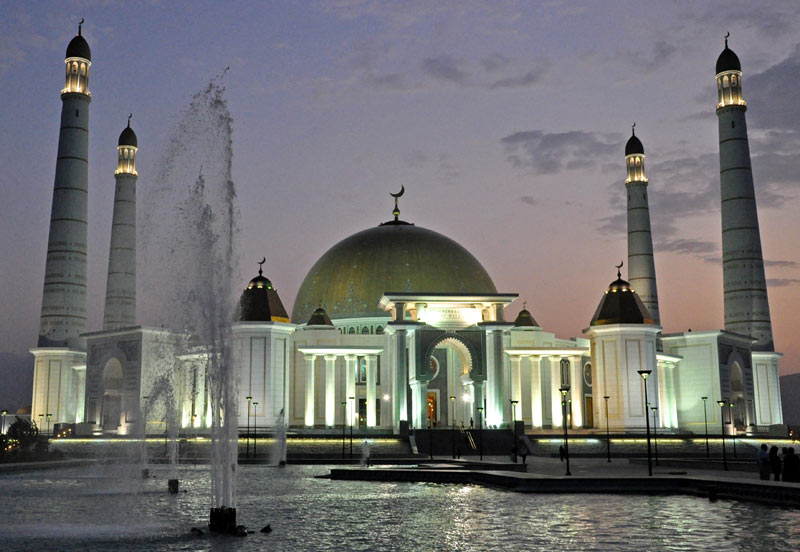 In 1948 a massive earthquake leveled the city, and since then it has been rebuilt from the ground up. Soviet-style apartment buildings mingle with modern marble and gold monuments. So many, in fact, that in 2013, the Guinness Book of World Records awarded Ashgabat the record for the highest density of white marble buildings in the world. How did it happen?
(click image to view larger photo)
The People
---
The Turkmen people were traditionally nomadic horsemen, and are only a handful of generations distant from their nomadic ancestors. They are still considered expert horsemen, and take great pride in the indigenous Akhal-Teke horse of Turkmenistan.
(click image to view larger photo)
The Old Leaders: Turkmenbashi and Arkadag
---
In 1991, Saparmurat Niyazov declared independence from a crumbling Soviet Union and was elected President and, soon thereafter, Prime Minister as well. Officially declaring himself Turkmenbashi or "Father of all Turkmen," Niyazov erected dozens of monuments, many to himself. He passed away in 2006 and the reins of power were passed to his vice president, Gurbanguly Berdimuhamedov. Berdimuhamedov inherited much of his predecessor's style, adopting the nickname Arkadag or "Protector" and making his mark on the capital with a range of new gold and marble monuments. Berdimuhamedov passed the presidency to his son Serdar Berdimuhamedov in 2022, though he retains a great deal of political power as the Chairman of the People's Council of Turkmenistan.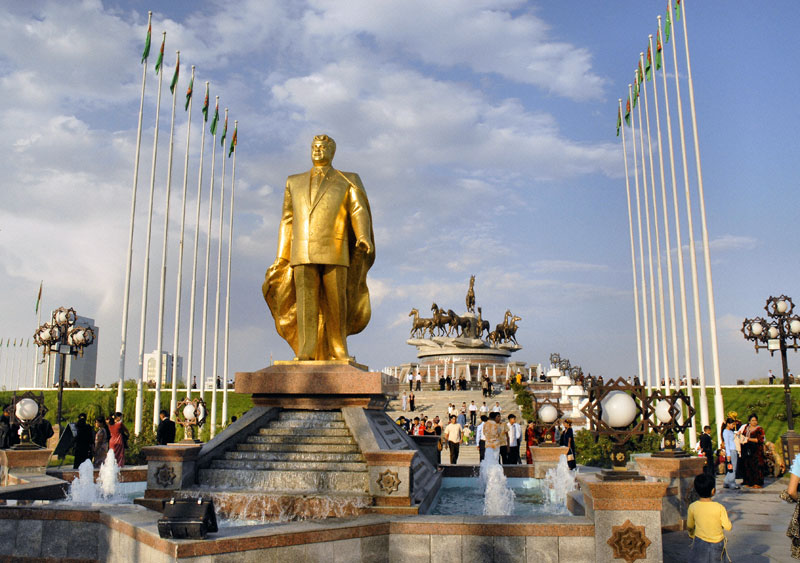 Arch/Monument of Neutrality
---
Turkmenbashi was responsible for building the 250-foot Arch of Neutrality, on which a 40-foot golden statue of himself revolved to continuously face the sun. Sadly, the statue is now stationary, though still imposing. It has been retired to the edge of town, and has been demoted to a "Monument" of Neutrality rather than an "Arch."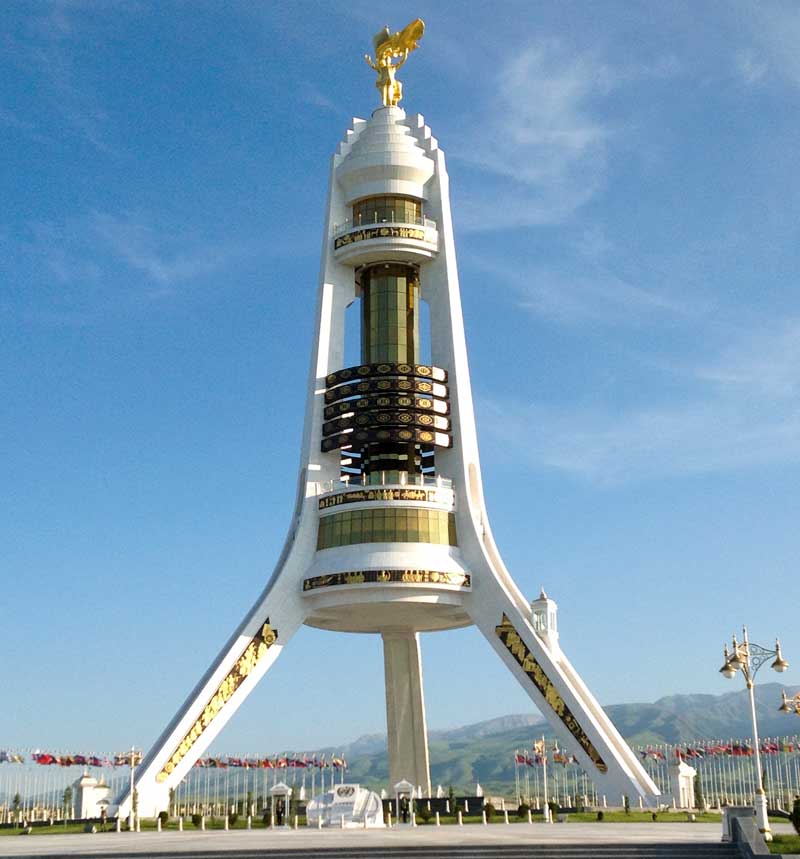 Kipchak Mosque
---
The huge $100-million-dollar mosque in former Turkmen President Niyazov's hometown of Kipchak was inaugurated in 2004. The mosque is big enough to hold 10,000 people, and its 164-foot golden dome had to be lowered in place by helicopter. Verses from Niyazov's own spiritual book, the Ruhnama, are etched on the walls alongside Koranic verses. Niyazov was buried here in the family mausoleum that he built.
(click image to view larger photo)
Independence Monument
---
One of Niyazov's biggest undertakings was the Independence Monument, set in Independence Park, a 345-acre green space in the center of the city lined with monuments and statues.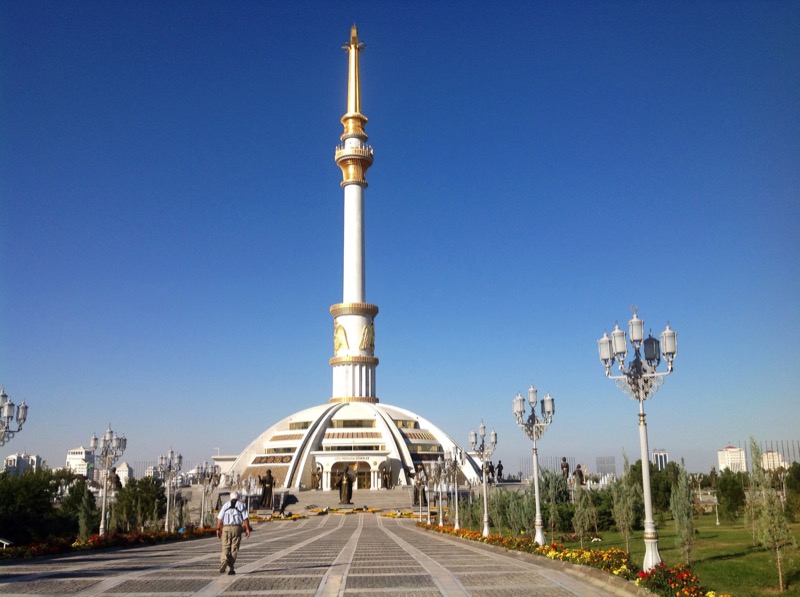 The white monument with a gold-tipped minaret is meant to bring to mind the Turkmen yurt. 27 sculptures of Turkmen heroes guard the round building, and fountains flow down its ribs. Nearby, a two-story representation of Turkmenbashi's book, the Ruhnama, opens and lights up at night.
(click image to view larger photo)
The New Leader
---
Niyazov's unexpected death from heart failure in December of 2006 left both political and cultural voids in Turkmenistan. Former Minister of Health Gurbanguly Berdimuhammedov stepped in as president in 2007, and soon began building his own white marble monuments.
Golden Horse Monument
---
In honor of his love of horses (in particular the Turkmen Akhal-Teke, said to have lent genes to both the Arabian horse and the American Quarter Horse), the new president's likeness was cast in bronze, painted in gold leaf, and placed astride a golden Akhal-Teke stallion. The entire sculpture is poised on a huge marble cliff, a la St. Petersburg's Bronze Horseman.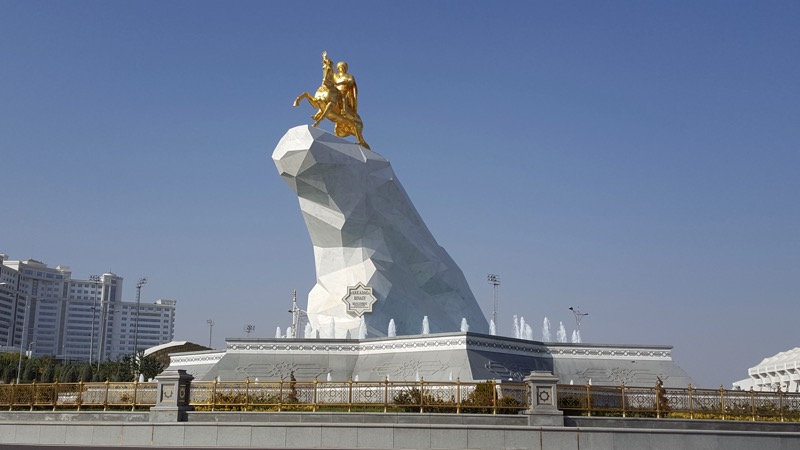 Ferris Wheel
---
In another bid at Guinness World Record fame, Berdimuhammedov commissioned the tallest enclosed Ferris wheel in the world, called "Alem," or "the Universe."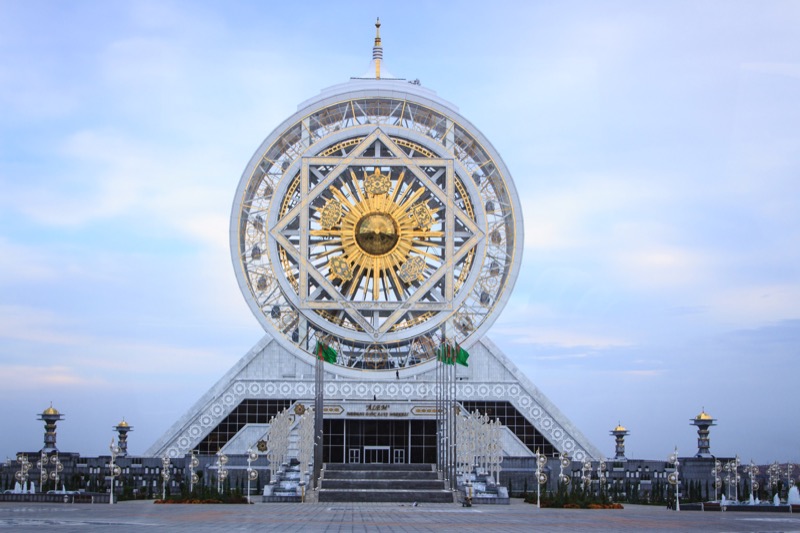 Airport
---
One of the country's latest architectural accomplishments is the opening of a beautiful new airport, with the roof of the terminal resembling a flying white falcon. The modern international airport has a capacity of 1,600 passengers an hour.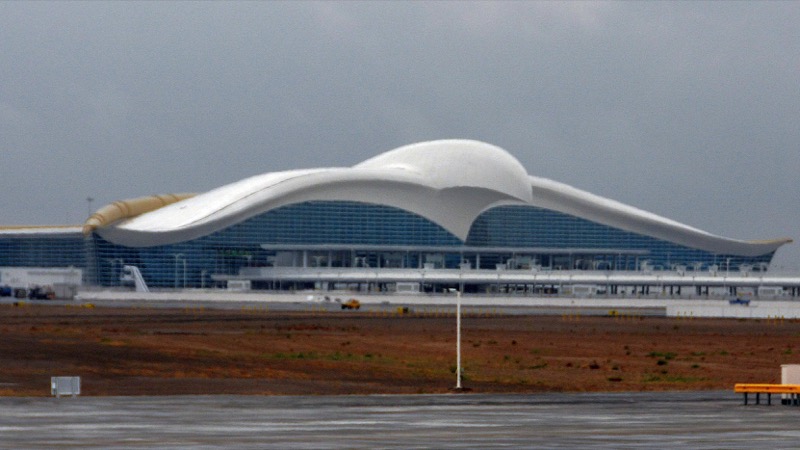 Sports News
---
In September 2017, Ashgabat hosted the 5th Asian Indoor & Martial Arts Games, which brought more than 5,000 athletes together from 62 countries to compete across 17 sports. The Olympic Complex included over 30 different sites, such as 15 competition venues and the Athletes' Village.
To add to these improvements, U.S. golf hero and golf course developer Jack Nicklaus opened a championship golf course near Ashgabat just ahead of the games. The people of Turkmenistan are being encouraged to learn to play the unfamiliar sport.

Experience Turkmenistan's Architecture with MIR
MIR has more than 30 years of travel experience in Central Asia, and has an affiliate office in Uzbekistan. We have a roster of contacts that can take you to places that you didn't even know you wanted to go. Our full service, dedication, commitment to quality, and destination expertise have twice earned us a place on National Geographic Adventure's list of "Best Adventure Travel Companies on Earth."
MIR has unparalleled destination expertise in creating immersive cultural experiences in our destinations, including lesser-traveled Turkmenistan.
Admire Ashgabat's gleaming monuments with MIR on a small group tour or rail journey by private train. You can also travel to Ashgabat on our pre-made private Essential Turkmenistan or Essential Central Asia programs, or on a custom private journey based on your interests and schedule.