Photo credit: Jered Gorman
From the Black Sea to the Caucasus Mountains
Overview
Eastern Turkey's rugged, sunburnt Anatolian Plateau and the steep mountains and lush valleys of Georgia are brilliantly paired on this unusual backroad adventure. Begin your small group tour by following traces of the old Silk Road through arid valleys and rocky hills filled with the traces of early civilizations. Then explore the beautiful little country of Georgia, where guests are welcomed at tables laden with food and wine that's earning recognition as some of the world's best.
National Geographic Traveler honored MIR's Eastern Turkey & Georgia: Legacy of Empire as a "Tour of a Lifetime"
Map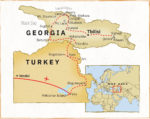 Itinerary
Days 1-3: Istanbul (Turkey), Van

Arrive in Istanbul for a welcome dinner and a night of rest before flying the next morning to Van, once capital of the Iron Age Urartu Empire. Here you'll visit massive Van Castle, where Urartian kings once ruled; take a boat ride over the blue-green waters of Lake Van – Turkey's largest lake – to Akhtamar Island, where you'll visit the 10th century Church of the Holy Cross; and watch traditional kilim rugs being made by hand at the Van Carpet Weaving Center.

HIGHLIGHTS

Van Castle's remarkably well preserved Urartian cuneiform inscriptions, dating from the 6th century BC
High-relief carvings and frescoes of the 1,000-year-old Church of the Holy Cross
The boat trip across Lake Van to Akhtamar Island and the spectacular views from there, with a ring of mountains on the horizon
The intricate patterns of hand-woven kilim carpets at the Van Carpet Weaving Center

Days 4-5: Dogubeyazit, Kars, Ani

Drive through jagged volcanic terrain, passing nomad camps along the way, to reach Dogubeyazit, a Kurdish town set in the shadow of mighty Mt. Ararat. See beautiful Ishak Pasha Palace, set on a hillside overlooking the Silk Road. Spend the night in the high-steppe town of Kars, with its towering citadel and 10th century Church of the Apostles, and visit the remains of the medieval Armenian capital of Ani, which in the 11th century was one of the most populous cities in the world.

HIGHLIGHTS

18th century Ishak Pasha Palace, one of Turkey's most photogenic locales
The beautiful iconostasis in the Church of the Apostles in Kars
Ani, once a major metropolis known as the City of 1,001 Churches; today its churches are the best-preserved structures
A visit to Bogatepe village cheese museum near Ani, followed by lunch in the village cooperative

Days 6-8: Akhaltsikhe (Georgia), Vardzia, Batumi

After crossing the border into Georgia, wander the 1,000-year-old town of Akhaltsikhe, which once sat at a junction of the old Silk Road, and visit the remarkable medieval cave town of Vardzia. Take a 4WD vehicle over Goderdzi Pass to Batumi, an important port and resort city on the Black Sea Coast. Along the way, visit a winemaker for an introduction to traditional Georgian winemaking techniques.

HIGHLIGHTS

Akhaltsikhe, where medieval Christian, Jewish, and Islamic structures testify to the multicultural influences brought by the Silk Road
Exploring the network of hundreds of caves that make up Vardzia
Vardzia Terraces winery, where wine is fermented in qvevri (giant earthenware vessels), a method that's been in use for 8,000 years
The tropical-resort ambience of Batumi, where cafes spill out onto the broad, tree-lined streets

Days 9-12: Mestia, Ushguli, Okureshi, Kutaisi

Head to the remote, mountainous region of Svaneti, which has earned a UNESCO World Heritage listing for its massive medieval watchtowers. As a result of their isolation, Svanetians are considered the "most Georgian of all Georgians." Get a chance to meet some of them at Ushguli, at 6,900 feet the highest continually inhabited village in all of Europe. An optional guided hike toward Zagri Pass leads to glorious alpine vistas. Descend from the mountains, stopping at the village of Okureshi to sample Usakhelouri wine, a rare, ancient red varietal that's one of Georgia's most esteemed. Overnight in Georgia's second-largest city, Kutaisi, best known as the site of Jason's mythical quest for the Golden Fleece, and visit the UNESCO-listed 12th century Gelati Monastery.

HIGHLIGHTS

The steep, remote mountains of Svaneti, studded with medieval watchtowers
Meeting Svanetians, the most tradition-bound of Georgians
Medieval artifacts at the ethnographic museums in the towns of Mestia and Ushguli
A picnic amid stunning mountain views on the optional guided hike toward Zagri Pass
Sampling rare and prized Usakhelouri wine
The frescoes and mosaics of Gelati Monastery

Days 13-15: Signagi

Cross into eastern Georgia and the region of Kakheti, the country's most important wine-growing region. Here you'll tour and taste at the vineyards at renowned Pheasant's Tears Winery; indulge in a traditional "Georgian Table" feast, featuring delicious food and drink and a soulful performance of polyphonic folk singing; and visit 9th century Bodbe Monasterty, formerly a coronation venue for the kings of Kakheti. Overnights here are in the charming walled hill town of Signagi.

HIGHLIGHTS

Exceptional Georgian wine at Pheasant's Tears Winery in Kakheti
A "Georgian Table" feast, accompanied by a performance of traditional songs in a centuries-old polyphonic style that developed independent of European rules of harmony
The narrow streets and elaborate wooden balconies of Signagi
The basilica and gardens of Bodbe Monastery

Days 16-18: Tbilisi

Finish your journey in hip, picturesque Tbilisi, Georgia's capital and by far its largest city. Tour the red-roofed Old Town, the art nouveau Sololaki District, the 6th century Anchiskhati Basilica, the 8th century sulfur baths, and, up on the hillside, Narikala Fortress and the looming Mother Georgia monument. On your final night, celebrate your time in Turkey and Georgia with a sumptuous farewell dinner.

HIGHLIGHTS

The elaborately carved balconies of Tbilisi's Old Town and the restored mansions of the Sololaki District
The frescoes of 6th century Anchiskhati Basilica, Tbilisi's oldest church
In the hills overlooking town, the 4th century Narikala Fortress and the statue of Mother Georgia, who hold a sword in one hand to fight off enemies and a cup of wine in the other to welcome friends
Dates &amp Prices
Small group tour – max 16 travelers
Land Tour Price, Per Person. Based on double occupancy and minimum group size of 5 travelers.
2023 Dates

Tour, double occupancy

$7,795

Plus internal airfare

$200

2024 Dates
What's Included
Tour Includes

Accommodations, as noted in the itinerary.
Most meals, as noted in the itinerary.
A daily supply of bottled water.
Arrival/departure airport transfers on the tour start/end date. MIR will arrange for all travelers to be met upon arrival and seen off upon departure whether or not we make your flight arrangements.
Ground transportation throughout tour by private van or coach. (Type of vehicle depends on group size.)
Services of experienced, English-speaking local guides, drivers, and other staff, including a MIR Tour Manager.
Guided sightseeing tours and entrance fees, as outlined in the itinerary.
Special events, excursions, and cultural performances, as outlined in the itinerary.
Gratuities to local guides, drivers, and other service personnel, including servers at group meals.
Complete pre-departure information including detailed packing list, reading list, and Touring with MIR handbook with country-specific information, maps, and travel tips.
Final document packet including luggage tags, final updates, and more.
Assistance booking your custom flight arrangements, on request. (Please note, international airfare is not included in the land tour cost.)

Not Included

International airfare and taxes/fuel surcharges.
Meals and drinks not specified as included in the itinerary.
Single supplement (or partial single supplement where applicable), if requested or required.
Gratuities to Tour Manager.
Expenses incurred as a result of delay, modification, or extension of a tour due to causes beyond MIR's control.
Travel insurance including cancellation, medical, and evacuation insurance.
Visa and/or passport fees, excess-baggage charges, airport departure taxes, vaccination and other medical costs.
Optional pre- or post-tour extensions.
Items of a personal nature such as phone calls, email, laundry, and alcohol.
Internal airfare. (Internal airfare is quoted separately and subject to change by airlines.)
Activity Level
Level 4: Rigorous
This small group tour features long days walking and standing while touring, several long days of overland travel-some on poor quality roads, lengthy foot traverses of one border point while carrying/rolling baggage, unpaved sidewalks and streets, uneven surfaces and steps, absent handrails, significant stair-climbing, and absence of elevators. Only those fit to travel and who are willing to accept local standards of amenities and services and the physical challenges of the program should consider joining. 
Travelers must be able to walk at least two miles a day, keeping up with fellow travelers. A few drives on poor-quality roads may last as long as 8-10 hours driving time (with comfort stops). The border crossing may require walking one-quarter to one half mile while managing baggage, and bags may specifically need to be carried rather than rolled, depending on the surface. Visiting Vardzia cave town involves walking uphill over packed or loose dirt; and some monasteries involve steep steps inside narrow passageways with limited light.
There are overall shortcomings in the tourism infrastructure in this region, including some that can cause walking challenges such as unpaved sidewalks, uneven surfaces and steps, packed-dirt streets, broken pavement (streets or sidewalks), and a general absence of handrails or ramps. Some attractions are only accessible via steep staircases with tall uneven steps – these additionally may be spiral staircases and in narrow passages with limited light. Elevators are not available at touring sites, nor at a few of the hotels.
Past travelers have also encountered challenges with plumbing, bureaucratic service, variety of locally available foods, and availability and quality of public restrooms. 
Accommodations vary from three to four star properties to more basic guesthouse accommodations in Svaneti.  
Gallery