error_outline
Flexible Private Trip — Book Your Dates for You & Yours
Between Two Capitals: A Journey to Cave Towns & Mountain Villages
Overview
Neighboring Georgia and Armenia have dual natures: they're both largely remote and mountainous with rich, complicated histories due to their crucial location at the crossroads of Europe and Asia. Filled with lush valleys, towering mountains, medieval fortresses, and even older churches, they are fascinating places to visit. The gregarious people and present-day culture make the experience complete. Both countries are famed for their openhearted friendliness, and Georgia in particular has world-class food and wine. This is a destination where you can be wowed by the sights and indulged by the hospitality, while still feeling off the beaten path.
National Geographic Traveler honored this MIR Georgia & Armenia itinerary as a "Tour of a Lifetime"
Map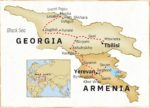 Itinerary
Days 1-3: Yerevan (Armenia), Garni, Geghard, Echmiadzin, Khor Virap

Armenia's capital, Yerevan – a city older than Rome – is the base for day trips to some of the country's most fascinating sights: the pagan Temple of Garni; UNESCO-listed Geghard Monastery, carved into the side of a mountain; Echmiadzin, seat of the Christian Armenian Patriarch and another UNESCO World Heritage Site; and the little monastery of Khor Virap, which has fantastic views of Mt. Ararat.

HIGHLIGHTS

Yerevan's Cascade, a massive, magisterial staircase in the center of the city, adorned with waterfalls and a world-class sculpture garden
The pagan Temple of Garni, situated on a cliff and built from huge basalt blocks
The intricately carved, distinctly Armenian khachkar stone crosses of Geghard Monastery
The Cathedral at Echmiadzin, a major pilgrimage site that dates from the 4th century
The view of looming, snow-capped Mt. Ararat from Khor Virap

Days 4-6: Vardzia (Georgia), Akhaltsikhe, Borjomi

After a morning crossing into Georgia, visit the massive stone Khertvisi Fortress and the cave monastery of Vardzia. Near the Turkish border, wander the 1,000-year-old town of Akhaltsikhe, which once sat at a junction of the old Silk Road, and then head to the spa town of Borjomi to sample its famous waters.

HIGHLIGHTS

Khertvisi Fortress, built from the 10th to the 12th century and famed for its secret tunnels
The frescoes of Vardzia cave monastery, once inhabited by more than 2,000 monks
The Old Town of Akhaltsikhe, where medieval Christian, Jewish, and Islamic structures testify to the multicultural influences brought by the Silk Road
Borjomi, a spa town situated on a beautiful gorge and known for its healing mineral water

Days 7-9: Svaneti Region

Head to the remote, mountainous region of Svaneti, which earned a UNESCO World Heritage listing for its massive medieval watchtowers. As a result of their isolation, Svanetians are considered the "most Georgian of all Georgians." Get a chance to meet some of them at Ushguli, at 6,900 feet the highest continually inhabited village in all of Europe. Short walks, and time for more extensive hikes, provide opportunities to take in the gorgeous mountain views.

HIGHLIGHTS

The steep, remote mountains of Svaneti, studded with medieval watchtowers
Meeting Svanetians, the most tradition-bound of Georgians
Medieval artifacts at the ethnographic museums in the towns of Mestia and Ushguli
Hilltop Lamaria Church on outskirts of Ushguli, with its spectacular views of mighty Mt. Shkhara

Days 10-13: Kutaisi, Tbilisi

Descend from the mountains to Imereti, a region of small farms, vineyards, villages, and orchards. Overnight in Kutaisi, Georgia's second-largest city (though just a 10th the size of Tbilisi); it's best known as the site of Jason's mythical quest for the Golden Fleece. Experience the region's spicy cuisine and crisp wine, and visit the UNESCO-listed 12th century Gelati Monastery. From here it's on to Georgia's vibrant capital, Tbilisi, to explore the colorful Old Town, the art nouveau Sololaki District, and sulfur baths dating back to the 8th century. Toast your Georgian adventures with a farewell supra, a traditional feast.

HIGHLIGHTS

The frescoes and mosaics of Gelati Monastery
Sights in and around Tbilisi, including the elaborately carved balconies of the Old Town, the restored mansions of the Sololaki District, and the millennium-old sulfur baths
Georgia's exceptional cuisine, including regional Imereti dishes, dinner at a star chef's café in Tbilisi, and a farewell supra
Dates &amp Prices
Please note:
Private trip prices vary by season and are subject to hotel availability for your travel dates.
Listed prices below are based on double occupancy and a 2 traveler minimum.
Hotel upgrades, additional nights, and solo traveler prices are available on request.
Land tour price, per person, starting from:
2023 Dates

Available: April - October

Tour, double occupancy

$5,795
What's Included
Tour Includes

Shared accommodations as noted in the itinerary. Contact MIR for hotel upgrade prices.
Meals, as noted in the itinerary.
Restaurant tips for included meals.
One arrival and one departure transfer. Additional arrival and departure transfers available at additional cost.) MIR will arrange for travelers to be met upon arrival and seen off on departure, whether or not we make your air arrangements.
Ground transportation throughout itinerary by private vehicle (Type of vehicle depends on number of travelers in your group).
Services of experienced, English-speaking local guides, drivers, and other staff, as noted in the itinerary.
Guided sightseeing tours and entrance fees, as outlined in the itinerary.
Special events, excursions, and cultural performances, as outlined in the itinerary.
Complete pre-departure information, including detailed packing list, reading list, and Touring with MIR handbook with country-specific information, maps, and travel tips.
Final document packet including luggage tags, final updates, and more.
Assistance booking your custom flight arrangements, on request. (Please note that international airfare is not included in the land tour cost).

Not Included

International airfare and taxes/fuel surcharges.
Meals and drinks not specified as included in the itinerary.
Single supplement if requested or required.
Baggage handling.
Gratuities to local guides, drivers, porters, and other service personnel.
Expenses incurred as a result of delay, modification, or extension of a tour due to causes beyond MIR's control.
Travel-related insurance including cancellation, medical, and evacuation insurance.
Visa fees, excess-baggage charges, airport departure taxes, vaccination and other medical costs.
Optional pre- or post-tour extensions.
Items of a personal nature such as phone calls, email, laundry, and alcohol.
Activity Level
Level 4: Rigorous, but Customizable
This 'Essential' itinerary designed for private travel features long days walking and standing, some day hikes with hill climbing, some long days of overland travel, significant stair climbing, unpaved sidewalks and streets, uneven surfaces and steps, absent handrails, and lack of elevators. While some of these challenges are inherent in the destinations and sites, as one of our Essential Series programs this trip can be modified as needed for those travelers who are looking for a less challenging (or more challenging) program.
There is a significant amount of touring on foot, and those travelers planning to take the program as written should be able to walk at least two miles a day comfortably. During day hikes, travelers will be expected to carry a day pack with their personal belongings. Some long drives are an inevitable element of the routing this tour uses, and road conditions in the region can be bumpy and rough. Some attractions are only accessible via steep staircases with tall, uneven steps, and handrails are not always in place. Interior staircases may involve steep steps inside narrow passageways with limited light. Touring will be over a variety of surfaces, such as cobblestones, bricks, packed or loose dirt, or gravel, including uphill or downhill sections.
This tour maintains a focus on cultural interaction and the natural beauty of the Caucasus. You will be visiting private homes, sharing meals with local residents, and taking advantage of several opportunities for day hikes. It is therefore important that tour members have a desire to involve themselves in the local culture and be up for hiking/walking in order to enjoy this trip.
Please note, some Orthodox churches enforce fairly strict dress codes. Women may need to have head coverings (scarves) with them, and men and women may need to have their arms and legs modestly covered. Your guides will advise you when this is the case.
Past travelers have encountered challenges with bureaucratic service, plumbing in and out of hotels, and availability and quality of public restrooms. Accommodations in the basic program will vary from three-star hotels to basic guesthouses. Upgrades may be available in some cities, please call for details. Air-conditioning is a luxury and rarely available outside the capitals.