error_outline
Flexible Private Trip — Book Your Dates for You & Yours!
Ancient Nabataean Ruins and Modern Bedouin Traditions
Overview
The Hashemite Kingdom of Jordan is a deeply fascinating and beautiful place. The history of the country stretches back through the Ottoman, Ayyubid, Crusader, Umayyad, Byzantine, Roman, and Nabataean periods all the way to the Bronze Age and beyond. These peoples and cultures have all left their marks, both tangible and intangible, on the land. Modern Jordan sits at the crossroads of not only cultures but also geography. The country is heavily influenced by both the Arabian Desert to the east and the Mediterranean Sea to the west. Farmland, forests, mountains, tropical reefs, and sand dunes and deserts all exist within a relatively small area in Jordan. The result of all this is a diverse, captivating, welcoming, and spectacularly scenic country.
This eight-day journey takes in the highlights, starting in the capital Amman where you'll explore the local culture along with the ancient monuments. After a day trip up to the forested northern region of Ajloun, you'll head south to the Biblical sights at Mount Nebo and Madaba. Then spend two nights at Petra before heading into the deserts of Wadi Rum. The trip concludes with a visit to the Crusader castle of Kerak and a night spent on the shores of the Dead Sea.
Travels to: Jordan
Map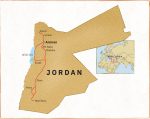 Itinerary
Days 1-3: Amman (Jordan), Jerash, and Ajloun

Begin your private tour in Amman, Jordan's capital, replete with sights both ancient and modern. You'll explore the highlights of the city, including the Amman Citadel, the Roman Theater, and the city's markets and up-and-coming neighborhoods. You'll also explore the nearby countryside with visits to forested Ajloun and Roman ruin-rich Jerash.

HIGHLIGHTS

Take part in a Levantine cooking lesson, a Jordanian wine tasting, or a weaving workshop with local women while in Amman
Have a delicious lunch at Beit Khayrat Souf, a small cafe in Jerash working to empower local women and build financial independence
Explore the extensive and well-preserved Roman ruins in both Jerash and Amman

Days 4-5: Mount Nebo, Madaba, and Petra

Head south into lands that were once the domain of the Biblical Moabites. Stop first at Mount Nebo, where according to Biblical tradition Moses died after glimpsing the Promised Land. After viewing the well-preserved Byzantine Mosaics at Madaba, you'll continue on to Petra, the ancient capital of the Nabataeans.

HIGHLIGHTS

Take in a view not too different than what Moses may have seen thousands of years ago, as you gaze west from atop Mount Nebo, across the Dead Sea towards the Promised Land
Learn about a modern Jordanian effort to introduce sustainable agricultural practices to the country, and sample the amazing cuisine, at Carob House in Madaba
Spend a full day exploring the Nabataean ruins at UNESCO-listed Petra, on many lists of the "Modern Seven Wonders of the World"

Days 6-8: Wadi Rum, Kerak, and the Dead Sea

The final leg of this journey takes you to the far south of Jordan, Wadi Rum. This is where Lawrence of Arabia and many other films (Red Planet, Dune, Aladdin) were made. Your last night in Jordan will be spent on the shores of the Dead Sea, with a stop at the Crusader Castle of Kerak on the way.

HIGHLIGHTS

Meet with local women at the Disi Women's Cooperative near Wadi Rum and learn how they are passing on traditional skills to benefit their communities
Experience a little of bit of life as a Bedouin as you interact with a local family in Wadi Rum and learn how they spend their days
Taste the Jordanian national dish, mansaf, at a restaurant famous for it in Kerak
Dip your toes in the Dead Sea, or perhaps head farther in to float in the highly salty water
Dates &amp Prices
Please note:
Private trip prices vary by season and are subject to hotel availability for your travel dates.
Listed prices below are based on double occupancy and a 2 traveler minimum.
Hotel upgrades, additional nights, and solo traveler prices are available on request.
Land tour price, per person, starting from:
2023 Dates

Available: January - December

Tour, double occupancy

$5,995

2024 Dates

Available: January - December

Tour, double occupancy

$5,995
What's Included
Tour Includes

Shared accommodations as noted in the itinerary. Contact MIR for hotel upgrade prices.
Meals, as noted in the itinerary: 7 breakfasts, 6 lunches, 5 dinners.
One arrival and one departure transfer. Additional arrival and departure transfers available at additional cost.) MIR will arrange for travelers to be met upon arrival and seen off on departure, whether or not we make your air arrangements.
Ground transportation throughout itinerary by private vehicle (type of vehicle depends on number of travelers in your group).
Guided sightseeing tours and entrance fees, as outlined in the itinerary.
Services of experienced, English-speaking local guides, drivers, and other staff, as noted in the itinerary.
Complete pre-departure electronic document that includes detailed packing suggestions, reading list links, country-specific information, maps, travel tips, and more.
Assistance booking your custom flight arrangements, on request. (Please note that international airfare is not included in the land tour cost.)
Electronic final update bulletin with any late news, updates, and important information.

Not Included

International airfare and taxes/fuel surcharges.
Meals and drinks not specified as included in the itinerary.
Single supplement if requested or required.
Baggage handling.
Items of a personal nature such as phone calls, email, laundry, and alcohol.
Gratuities to local guides, drivers, porters, and other service personnel.
Visa fees, excess-baggage charges, airport departure taxes, vaccinations, and other medical costs.
Expenses incurred as a result of delay, modification, or extension of a tour due to causes beyond MIR's control.
Travel-related insurance including cancellation, medical, and evacuation insurance.
Optional pre- or post-tour extensions.
Activity Level
Level 2: Moderate, but Customizable
This 'Essential' itinerary designed for private travel features long days walking and standing, some long days of overland travel, some stair climbing, unpaved sidewalks and streets, uneven surfaces and steps, absent handrails, and lack of elevators. While some of these challenges are inherent in the destinations and sites, as one of our Essential Series programs this trip can be modified as needed for those travelers who are looking for a less challenging (or more challenging) program.
There is a significant amount of touring on foot, and those travelers planning to take the program as written should be able to walk one to two miles a day comfortably. Petra in particular typically involves five miles or more of walking in a day, though the distance can be shortened by using electric vehicles at additional cost. Footing can be an issue and travelers should be able to negotiate streets of packed dirt, cobblestones, uneven surfaces (possibly steep and/or wet), and deal with situations without handrails or ramps. The walk up to the Monastery in Petra (which is optional) requires ascending around 850 steps over a mile-long path. Some attractions are only accessible via steep staircases. Museums rarely have elevators.
Past travelers have also encountered challenges with plumbing, bureaucratic service, variety of locally available foods, and availability and quality of public restrooms.
Accommodations in the basic program are generally four-star hotels. Upgrades are available, please call for details.
Gallery