error_outline
Itinerary also available as a Private Departure – Contact Us for Details
Valleys, Deserts, Bazaars, and Oases
Overview
At the center of Central Asia, Uzbekistan is home to three of the most renowned of the Silk Road oases – Samarkand, Bukhara, and Khiva. This trip takes you to these world-class UNESCO sites and adds some fascinating stops along the way, including a remarkable avant-garde art museum in an unlikely location; Central Asia's most fertile valley, brimming with melons and cotton; and the Kyzyl Kum Desert, where an overnight in a yurt holds the promise of exceptional stargazing. MIR will have you shopping in bazaars, sharing meals in local homes, visiting the workshop of a master silk-maker, and riding a camel through the desert.
Travels to: Uzbekistan
Map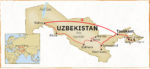 Itinerary
Days 1-4: Tashkent (Uzbekistan), Fergana Valley

The trip begins in Tashkent, Uzbekistan's capital and largest city. Spend a day wandering through its main market, Chorsu Bazaar, and touring the city's most noteworthy sights, including Independence Square and Kukeldash Madrassah. Then take the train to the Fergana Valley, an oasis of cotton fields and melon plantations that's the most fertile region in Central Asia. In the towns of Kokand, Fergana, Margilan, and Rishtan, visit a 19th century khan's palace, a bazaar, a silk-maker's workshop, a ceramicist's studio, and dine in the home of a local family.

HIGHLIGHTS

Tashkent's park-like Independence Square – formerly Lenin Square, rechristened and adorned with a new monument following Uzbekistan's independence in 1991
The monumental 16th century Islamic architecture of Tashkent, including Kukeldash Madrassah, Kaffal-Shashi Mausoleum, and Barak-Khan Madrassah
Khudayar Khan's Palace in Kokand, known in the 19th century as one of Central Asia's most luxurious palaces, currently being restored to its former glory
Touring a silk master's workshop in Margilan, a town that's been a center of silk production since the ninth century
A tour and lunch at a ceramics master's studio in Rishtan, famed for brilliantly colored traditional pottery
A dinner of Uzbek specialties in a private home in Fergana

Days 5-7: Samarkand, Shahrisabz

Travel by train to blue-tiled Samarkand, the conqueror Tamerlane's ancient capital, hailed by UNESCO as "the crossroad of cultures." A tour takes you to the massive Bibi Khanum Mosque, Ulug Bek's incredible observatory, and the gracefully proportioned Registan Square. Make a day trip to Tamerlane's hometown, UNESCO-listed Shahrisabz, to see the remains of Ak Saray (White Palace).

HIGHLIGHTS

UNESCO-listed Samarkand's Registan Square, bordered by three beautiful madrassahs
The 14th century conqueror Tamerlane's architectural legacy in Samarkand, including Bibi Khanum Mosque, the largest of its day, and Ulug Nek Observatory
Lunch with a family in their Samarkand home
Shahrisabz's Ak Saray, a monumental palace complex that was one of Tamerlane's most ambitious architectural undertakings

Days 8-9: Kyzyl Kum Desert

Enter the vast Kyzyl Kum (Red Sand) Desert, where caravans and conquerors have traveled for thousands of years. Visit the 16th century Hassan and Hussein Mosque, and explore an ancient well system built during the reign of Alexander the Great. Spend the night in a yurt camp, eating dinner under a dome of stars. The next morning, get a taste of caravan life by taking a ride on a camel.

HIGHLIGHTS

Kyzyl Kum Desert, where Silk Road caravans once crossed
Hassan and Hussein Mosque, where two grandsons of Mohammed are entombed
The ancient well system in the town of Nurata
A night in a desert yurt camp, followed by a camel ride the next morning

Days 10-11: Bukhara

Arrive at Bukhara, Central Asia's most ancient living city. Its UNESCO-listed Old Town encompasses more than 140 protected monuments, including the Lyabi-Hauz Plaza at the heart of the city and the Ark Citadel, Bukhara's original fortress. On the first evening have dinner in the teahouse of a madrassah, accompanied by a costume show. The following night dine with a local architect and get behind-the-scenes insights into how Bukhara's architectural treasures are preserved and renovated.

HIGHLIGHTS

Bukhara's evocative Old Town, with its ageless domed bazaars and central Lyab-i-Hauz Plaza, adorned with a reflecting pool
Ark Citadel, Bukhara's giant ancient fortress
Dinners at a madrassah teahouse and with a local architect

Days 12-15: Khiva, Nukus, Tashkent

Head northwest through the Kyzyl Kum Desert to Khiva, the last great oasis on the northern caravan route. Wander through the winding alleys of the UNESCO-listed Old Town, filled with minarets, cobbled alleys, mosques, and the beautifully preserved Kunya Ark, the original residence of the ruling khans. Make a day trip to the remote city of Nukus, the unlikely home of the world-class Savitsky Museum of avant-garde Russian art. Fly back to Tashkent for a traditional feast and a farewell toast to cap your journey.

HIGHLIGHTS

Khiva's Old Town (Ichon-Qala in Uzbek), a UNESCO World Heritage Site
Tash-Hauli Palace, built in the 19th century for the khan and his four wives
Dzhuma Mosque, famous for its carved wooden pillars
Kunya Ark, the original residence of the khans
Savitsky Art Museum, the world's second largest collection of Russian avant-garde art
Dates &amp Prices
Small group tour – max 12 travelers
Land tour price, per person. Based on double occupancy and minimum group size of 4 travelers.
What is a Partial Single Supplement?
2023 Dates

Tour, double occupancy

$5,150

Plus internal airfare

$125

Partial single supplement

$695

2024 Dates

Tour, double occupancy

$5,295

Plus internal airfare

$125
What's Included
Tour Includes

Accommodations, as noted in the itinerary.
Most meals, as noted in the itinerary.
A daily supply of bottled water.
Arrival/departure airport transfers on the tour start/end date. MIR will arrange for all travelers to be met upon arrival and seen off upon departure whether or not we make your flight arrangements.
Ground transportation throughout tour by private van or coach. (Type of vehicle depends on group size.)
Services of experienced, English-speaking local guides, drivers, and other staff, including a MIR Tour Manager.
Guided sightseeing tours and entrance fees, as outlined in the itinerary.
Special events, excursions, and cultural performances, as outlined in the itinerary.
Gratuities to local guides, drivers, and other service personnel, including servers at group meals.
Complete pre-departure information, including detailed packing list, reading list, and Touring with MIR handbook with country-specific information, maps, and travel tips.
Final document packet, including luggage tags, final updates, and more.
Assistance booking your custom flight arrangements, on request. (Please note, international airfare is not included in the land tour cost.)
Customized visa information and instructions. (Please note, visa fees are not included in the tour price.)

Not Included

International airfare and taxes/fuel surcharges.
Internal airfare. (Internal airfare is quoted separately and subject to change by airlines.)
Meals and drinks not specified as included in the itinerary.
Single supplement (or partial single supplement where applicable), if requested or required.
Gratuities to Tour Manager.
Expenses incurred as a result of delay, modification, or extension of a tour due to causes beyond MIR's control.
Travel insurance, including cancellation, medical, and evacuation insurance.
Visa and/or passport fees, excess-baggage charges, airport departure taxes, vaccination and other medical costs.
Optional pre- or post-tour extensions.
Items of a personal nature, such as phone calls, email, laundry, and alcohol.
Activity Level
Level 3: Medium
This small group tour features long days walking and standing while touring, some long segments of overland travel, uneven surfaces and steps, absent handrails, some stair-climbing, a night in rustic accommodations, and absence of elevators. Only those fit to travel and who are willing to accept local standards of amenities and services, and the physical challenges, should consider joining this program.
Travelers must be able to walk at least two miles a day, keeping up with fellow travelers. Overland transportation segments can be eight hours or more driving time, and road conditions can be roughly paved or unpaved, dusty, and uncomfortable. One night is spent in a rustic yurt camp with shared WC and shower facilities separate from yurts. There are no yurts with en suite toilet or shower facilities – shared WC facilities are centrally located. Electricity is not a constant throughout the itinerary. If you rely on electricity for CPAP, or for any other reason, you must have your own battery or other back-up, or please reconsider participation. The stay in the desert features an optional ride on a camel.
There are overall shortcomings in the tourism infrastructure, including some that can cause walking challenges such as unpaved sidewalks, uneven surfaces and steps, packed-dirt streets, broken pavement (streets or sidewalks), and a general absence of handrails or ramps. Some attractions are only accessible via steep staircases with tall uneven steps (80 or more steps at some sites) – these additionally may be spiral staircases and/or in narrow passages with limited light. Elevators are not available at touring sites, nor at a few of the hotels.
Past travelers have also encountered challenges with plumbing, bureaucratic service, variety of locally available foods, and availability and quality of public restrooms.
Accommodations vary from superior tourist class hotels to small, intimate properties – this itinerary does not use four or five-star properties.
Gallery