Classic Survey of Azerbaijan, Georgia & Armenia
Overview
The countries of the South Caucasus sit at the crossroads of Europe and Asia, and with this itinerary you experience the best of both worlds, in more ways than one. Each of the capital cities – Baku, Tbilisi, and Yerevan – is its own mix of old narrow streets, striking modern architecture, and cosmopolitan energy. Outside of the cities, the deep roots of tradition hold strong, evident in everything from hand-loomed Azerbaijani carpets to ancient Georgian wine-making techniques. Throw in fascinating, often novel medieval architecture, gorgeous mountain scenery, and a heartfelt dedication to hospitality, and you've got the makings of a wonderful adventure.
Travels to: Armenia, Azerbaijan, Georgia
Map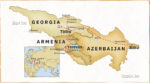 Itinerary
Days 1-5: Baku (Azerbaijan), Gobustan, Shemakha, Sheki

The journey begins in Baku, Azerbaijan's capital and a bustling business center for the Caspian oil industry. Wander the narrow stone streets of the UNESCO-listed medieval Old Town, stroll modern Fountain Square, and admire the dramatically lit Flame Towers skyscrapers. Make a visit to the UNESCO-listed petroglyphs of Gobustan, and on the following days travel to the towns of Shemahka, former capital of the Shirvan Khanate and home to Azerbaijan's largest mosque, and Sheki, where the historic center and Khan's Palace are UNESCO World Heritage sites.

HIGHLIGHTS

The winding streets, mosques, and tiny shops of Baku's walled Old Town
Vivid hand-loomed carpets at the State Museum of Azerbaijani Carpets and Applied Folk Art
The swooping architecture of Baku's Heydar Aliyev Cultural Center, designed by famed Iraqi-British architect Zaha Hadid
Gobustan's petroglyphs, providing a surprisingly rich portrait of daily life in ancient times
Shemakha's Juma Mosque, Azerbaijan's largest, built on the site of what once was its oldest mosque
Sheki's mosaic-covered Khan's Palace, a UNESCO World Heritage site

Days 6-8: Signagi (Georgia), Tbilisi

Cross the border into Georgia and enter the region of Kakheti, Georgia's wine country. Take a walking tour of the vineyards of Pheasant's Tears Winery, which uses traditional methods and organic grapes to produce some of the country's most esteemed wines. Continue to the charming town of Signagi to experience Georgia's exceptional cuisine and hospitality at a "Georgian Table" feast. Then it's on to hip, picturesque Tbilisi – the country's capital and by far its largest city, where pleasures include wandering the narrow streets of the red-roofed Old Town; a stroll down broad Rustaveli Avenue, Tbilisi's main thoroughfare; and a funicular trip into the surrounding hills to see the 4th century Narikala Fortress and the towering Mother Georgia monument.

HIGHLIGHTS

Touring and tasting at Pheasant's Tears Winery
The narrow streets and intricate wooden balconies of the hill town of Signagi
A Georgian Table feast, accompanied by a performance of traditional songs in a centuries-old, distinctly Georgian polyphonic style
Landmarks in and around Tbilisi, including the 4th century Narikala Fortress, the hillside Mother Georgia Monument, and the colorful Old Town

Days 9-10: Mtskheta, Ananuri, Gudauri, Kazbegi, Gori

Ascend into the heart of the Caucasus Mountains along the scenic Georgian Military Highway, built in the early 19th century and still the main road through the region. Along the way, make stops at UNESCO-listed Mtskheta, capital of the ancient eastern Georgian kingdom of Iberia; the 17th century Ananuri Fortress Complex; the Church of Tsminda Sameba (the Holy Trinity), situated at the foot of one of the Caucasus's highest peaks, Mt. Kazbek; Gudauri, the highest village on the highway; and Gori, the childhood hometown of notorious Soviet leader Josef Stalin.

HIGHLIGHTS

UNESCO-listed Mtskheta's two exceptional early Orthodox churches
Ananuri Fortress and neighboring Zhinvali Reservoir, which together make one of Georgia's prettiest settings
The remote 14th century Church of Tsminda Sameba, silhouetted against towering mountain peaks
Fresh mountain air and exceptional views at the alpine village of Gudauri
The Stalin House Museum, located in the wooden hut where the Soviet ruler spent his first years

Days 11-15: Yerevan (Armenia), Lake Sevan, Dilijan, Khor Virap, Garni, Geghard, Echmiadzin

Next stop, Armenia, the first nation to adopt Christianity as its official religion. The capital of Yerevan – a city older than Rome – is the base for day trips to some of the country's most fascinating sights: the pagan Temple of Garni; UNESCO-listed Geghard Monastery, carved into the side of a mountain; Echmiadzin, seat of the Christian Armenian Patriarch and another UNESCO World Heritage Site; and the little monastery of Khor Virap, which has fantastic views of Mt. Ararat.

HIGHLIGHTS

Yerevan's Cascade – a massive, magisterial staircase in the center of the city adorned with waterfalls and a world-class sculpture garden
Lake Sevan, one of the world's largest Alpine lakes and a summer resort popular with locals
A live a cappella concert at the pagan Temple of Garni, situated on a cliff and built from huge basalt blocks
The intricately carved, distinctly Armenian khachkar stone crosses of Geghard Monastery
The Cathedral at Echmiadzin, a major pilgrimage site dating from the 4th century
The view of looming, snow-capped Mt. Ararat from Khor Virap
Dates &amp Prices
Small group tour – max 16 travelers.
Land tour price, per person. Based on double occupancy and minimum group size of 5 travelers.
2023 Dates

Apr 30 - May 14

Sold Out!

Tour, double occupancy

$8,295

2024 Dates

Tour, double occupancy

$8,495
What's Included
Tour Includes

Accommodations, as noted in the itinerary.
Most meals, as noted in the itinerary.
A daily supply of bottled water.
Arrival/departure airport transfers on the tour start/end date. MIR will arrange for all travelers to be met upon arrival and seen off upon departure whether or not we make your flight arrangements.
Ground transportation throughout tour by private van or coach. (Type of vehicle depends on group size.)
Services of experienced, English-speaking local guides, drivers, and other staff, including a MIR Tour Manager.
Guided sightseeing tours and entrance fees, as outlined in the itinerary.
Special events, excursions, and cultural performances, as outlined in the itinerary.
Gratuities to local guides, drivers, and other service personnel, including servers at group meals.
Complete pre-departure information including detailed packing list, reading list, and Touring with MIR handbook with country-specific information, maps, and travel tips.
Final document packet including luggage tags, final updates, and more.
Assistance booking your custom flight arrangements, on request. (Please note, international airfare is not included in the land tour cost.)
Customized visa information and instructions. (Please note, visa fees are not included in the tour price.)

Not Included

International airfare and taxes/fuel surcharges.
Meals and drinks not specified as included in the itinerary.
Single supplement (or partial single supplement where applicable), if requested or required.
Gratuities to Tour Manager.
Expenses incurred as a result of delay, modification, or extension of a tour due to causes beyond MIR's control.
Travel insurance including cancellation, medical, and evacuation insurance.
Visa and/or passport fees, excess-baggage charges, airport departure taxes, vaccination and other medical costs.
Optional pre- or post-tour extensions.
Items of a personal nature such as phone calls, email, laundry, and alcohol.
Activity Level
Level 3: Medium
This small group tour features long days walking and standing while touring, some long segments of overland travel, foot traverses of two border points while carrying/rolling baggage, some uneven surfaces and steps, absent handrails, some stair-climbing, and absence of elevators. Only those fit to travel and who are willing to accept local standards of amenities and services and the physical challenges of the program should consider joining.
 Travelers must be able to walk at least two miles a day, keeping up with fellow travelers. Border crossings may require walking ¼ to ½ -mile while managing baggage, and bags may need to be carried rather than rolled, as the road/sidewalk surface is not always paved or smooth. 
There are overall shortcomings in the tourism infrastructure of these developing destinations, including some that can cause walking challenges such as unpaved sidewalks, uneven surfaces and steps, packed-dirt streets, broken pavement (streets or sidewalks), and a general absence of handrails or ramps. Some attractions are only accessible via steep staircases with tall uneven steps – these additionally may be spiral staircases and in narrow passages with limited light. Elevators are not available at touring sites, nor at a few of the hotels.
Past travelers have also encountered challenges with plumbing, bureaucratic service, variety of locally available foods, and availability and quality of public restrooms. 
Accommodations vary from four and five star properties in the main cities to a small private hotel in Sheki with more basic amenities.