Multi-Region
Treasures of Uzbekistan
Photo credit: Abdu Samadov
error_outline
New in 2023!
Uzbekistan In-depth Aboard the Golden Eagle
Overview
Embark on an enlightening eleven-day journey to Uzbekistan, where the majestic Silk Road beckons. Delight in an extraordinary experience all around the country as you traverse this magical land aboard the Golden Eagle Luxury Private Train. From its bustling bazaars and Soviet monoliths to picturesque Islamic architecture, explore how East meets West while discovering Uzbekistan's captivating historical identity.
This trip goes beyond the spectacularly beautiful buildings with hands-on learning experiences including the time-honored art of paper making and how to make the celebrated regional rice dish, 'plov.'
Travels to: Uzbekistan
Photos and details: Discover what life is like aboard the Golden Eagle.
Map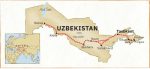 Itinerary
Days 1-2: Tashkent (Uzbekistan)

Begin your journey in Tashkent, the 2200-year-old Uzbek capital. Tour the city's most noteworthy sights including Independence Square and the Museum of Applied Arts. Board the Golden Eagle private train to start your railway adventure.

HIGHLIGHTS

Explore the Khast Imam complex in Tashkent's old town, home to one of the world's oldest Qurans
Compare and contrast the two fascinating halves of Uzbekistan's capital – the old and the new
Kick off the journey with a champagne reception and Karnay-Surnay performance (a musical ensemble of the national wind instrument) on the Tashkent train station platform

Day 3: Fergana Valley

Head east to explore the cities of Fergana Valley. In Kokand, gaze upon the tiles of the majestic Palace of Khudayar Khan and visit the Jami Mosque. In Rishtan, discover the secrets of the ancient craft of ceramics; in Fergana visit the home of the infamous Russian General, Skobelev; and in Margilan, learn about the art of silk weaving.

HIGHLIGHTS

Visit the silk-making workshops of Margilan in the Fergana Valley
Stop in to the ceramics center of celebrated ceramic's master, Rustam Usmanov
View the agricultural countryside of Uzbekistan's heartland

Days 4-6: Navoi, Nukus, Khiva

Continue to the southern region of the Karatau Mountain range and learn about Stone Age petroglyphs in the Sarmish Gorge archaeological site. Enjoy an open-air barbecue and a folklore performance before setting off for Nukus. In Nukus, visit the Igor Savitsky State Museum, also known as the 'Louvre in the Sands.' Choose to travel by road to visit some of the desert citadels in the 'Valley of Fifty Fortresses,' or stay on board and watch the Uzbek landscapes unfold outside your window as the train heads towards Khiva. In the ancient city of Khiva, join a walking tour including visits to the Palace of Nurulla Bay and a stop in at the Photography Museum. Reboard the train for the ride to Bukhara.

HIGHLIGHTS

View ancient petroglyphs amidst a stunning desert landscape
Learn about the Kazakh nomadic heritage of this area though a folk performance and barbecue lunch
Explore the fascinating collections of the Savitsky Museum in Nukus
Opt for a road trip to the 'Valley of Fifty Fortresses' in the remote Karakalpakstan region
Explore the atmospheric, well preserved old town of Khiva, know as the Ichon Qala
Experience a tea ceremony in Khiva and admire the work of pioneering photographer and cinematographer of Uzbekistan, Khudaibergen Devanov

Days 7-8: Bukhara

Begin your architectural exploration of Bukhara with a visit to the Chor Minor Madrassa, then visit ancient mosques and the city's central Labi-Hauz Plaza. Re-board the train and head for our final touring destination, grandiose Samarkand.

HIGHLIGHTS

Wander the ramparts and corridors of the Ark Citadel, Bukhara's huge 2,000-year-old fortress
Take in iconic views of Bukhara's old town from atop the early Soviet Shukhov Water Tower
Old Bukhara's ageless domed bazaars and its central plaza, adorned with a reflecting pool
Enjoy a rooftop dinner in Bukhara, watching the sun set over Kalon Square

Days 9-11: Samarkand, Tashkent

In Samarkand, learn about the studies of stars in Ulug Bek's incredible observatory before visits to the Shah-i-Zinda Necropolis and the Meros Paper Mill, where paper is made by hand. Stand in the tiled expanse of the Registan Square, then try your hand at bartering at Siab Bazaar. And finally, take a master class in the art of making plov. One final short rail ride to Tashkent concludes the journey. Transfer to the airport for flights home.

HIGHLIGHTS

Marvel at Samarkand's Registan Square, bordered by three beautiful madrassas
Learn about the 14th-century conqueror Tamerlane's architectural legacy in Samarkand, including Bibi Khanum Mosque, the largest of its day, and Ulug Bek Observatory
Attend a dance performance and fashion show on Registan Square in Samarkand
Test your bartering skills at Samarkand's Siab Bazaar
Learn how to cook the Uzbek national rice dish, plov, at a cooking class
Dates &amp Prices
Minimum group size: Minimums vary – call for confirmation status
Land Tour Price, Per Person.
2023 Dates

Silver Class, double occupancy

$16,795

Silver Class, single occupancy

$24,995

Gold Class, double occupancy

$19,995

Gold Class, single occupancy

$34,595

Imperial Suite Class, double occupancy

$35,695

Imperial Suite Class, single occupancy

$69,995

2024 Dates

Silver Class, double occupancy

$17,595

Silver Class, single occupancy

$26,295

Gold Class, double occupancy

$20,995

Gold Class, single occupancy

$36,295

Imperial Suite Class, double occupancy

$37,495

Imperial Suite Class, single occupancy

$74,895
What's Included
Tour Includes

Accommodations, as noted in the itinerary.
All meals, from dinner on Day 1 through breakfast on final tour day, including a generous allowance of wine, local beer, and soft drinks with lunch and dinner.
Arrival/departure transfers, provided you arrive and depart on the tour start/end dates and in the tour start/end cities.
All guided off-train tours, as outlined in the itinerary.
Services of an experienced Train Tour Manager as well as local guides for scheduled off-train tours.
Complimentary tea, coffee, and mineral water from your car attendant at all times while on board the train.
All gratuities.
Baggage handling.
Complete pre-departure electronic document that includes detailed packing suggestions, reading list links, country-specific information, maps, travel tips and more.
Assistance booking your custom flight arrangements, on request. (Please note that international airfare is not included in the land tour cost.)

Not Included

International airfare, including taxes/fuel surcharges, and surface transport to the point of joining/leaving the tour. MIR is able to assist with arrangements, as detailed in the itinerary.
Meals and drinks not specified as included in the itinerary.
Single supplement (difference between double rate and single occupancy rate) if requested or required.
Optional pre- or post-tour extensions.
Expenses incurred as a result of delay, modification, or extension of a tour due to causes beyond MIR's control.
Visa fees, excess baggage charges, airport departure taxes, vaccination and other medical costs.
Travel insurance including cancellation, medical, and evacuation insurance.
Items of a personal nature such as phone calls, email, laundry, and alcohol.
Activity Level
Level 2: Moderate
This rail journey by private train features significant touring on foot, throughout which travelers are expected to keep up with other group members. Walking during touring days will be on a variety of surfaces, with many streets and sidewalks being uneven; and elevators generally not available during touring excursions, leading to some stair climbing. Challenges on board the train include long onboard distances with heavy doors, as well as steep steps and gaps to navigate while embarking and disembarking. Only those willing to accept local standards of amenities and services should consider joining this program.
Travelers must be able to walk a mile per day keeping up with other group members. Streets and sidewalks can be uneven or unexpected surfaces, and handrails are not always present. Steps, which may be required due to lack of elevators, may be steep and/or uneven, and may also lack handrails. The distance on board the train between sleeping and dining carriages may be significant, and there are many heavy doors to navigate when moving throughout the train. Getting on and off the train involves navigating steep steps, low platforms, and possible gaps between the train and the platform. Navigating rail stations may also involve traveling up and over steep steps/footbridges to cross tracks, or steep steps and dark tunnels to cross under to/from the train station. Although porterage is provided where possible, you may have to carry your baggage for short distances.
General shortcomings of the tourism infrastructure may include problems with bureaucratic service and availability and quality of public restrooms when not on board the train.
Gallery