error_outline
May 28 departure features the Rose Festival!
Through the Valley of the Roses to the Painted Monasteries
Overview
Explore the complex histories and fascinating cultures of Bulgaria and Romania, two East European countries whose rugged terrain and consequent isolation have helped preserve their heritage. Discover the luminous frescoes of the painted monasteries, breathe in the fragrance of the Valley of the Roses, and spend an afternoon visiting with villagers in a tiny Transylvanian town. Visit six different UNESCO World Heritage Sites in these two countries and explore a cave monastery, an ancient Thracian tomb, gorgeous castles, and massive citadels.
Read all about traveling on this tour from Patricia Schultz, author of the New York Times #1 bestseller, "1,000 Places To See Before You Die," Read Patricia's trip impressions here. 
Map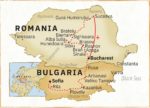 Itinerary
Days 1-3: Sofia (Bulgaria)

Begin the journey in Sofia, Bulgaria, a city with more than 7,000 years of history. Visit the serene Rila Monastery, founded in 927 AD as a retreat for hermits.

HIGHLIGHTS

Sofia, capital of Bulgaria, with its 4th century St. George Rotunda
10th century UNESCO-listed Rila Monastery, with its brightly colored stripes and beautifully detailed frescoes

Days 4-6: Plovdiv, Kazanluk, Veliko Tarnovo

Pause in the Thracian settlement of Plovdiv, the second oldest city in Europe, with its ancient Roman amphitheater and 19th century architecture. Continue through the beautiful countryside of the Valley of Roses toward Veliko Tarnovo, capital of the 12th century Second Bulgarian Empire. Here, the preserved remains of the Royal Fortress still stand at the top of Tsarevets Hill.

HIGHLIGHTS

Visit a local pottery workshop and learn about the glazing style unique to Bulgaria in Plovdiv
Kazanluk, center of Bulgaria's rose oil industry, in the fragrant Valley of Roses
Veliko Tarnovo, considered the historical and spiritual capital of Bulgaria

Days 7-9: Ruse, Bucharest (Romania), Suceava, Gura Humorului, Painted Monasteries

Before crossing the Danube, stop in Ruse to visit the Ivanovo Cave Monastery, dug into the cliffside during the Middle Ages. Tour Bucharest, Romania's capital, and contemplate Ceausescu's last folly, the 1,100-room Palace of the Parliament. Fly to Suceava to explore the heritage of Bucovina and its UNESCO-listed painted monasteries near Gura Humorului.

HIGHLIGHTS

Explore the UNESCO-listed Ivanovo Cave Monastery
Romania's capital, Bucharest, once called "Little Paris" for its tree-lined boulevards, Belle Epoque architecture, and exuberant culture
Ceausescu's last folly, the 1,100-room Palace of the Parliament
Painted monasteries of Bucovina, their walls frescoed with vivid 14th-15th century biblical scenes

Days 10-12: Sighisoara, Transylvania, Sibiu, Medieval Towns

Explore the birthplace of Vlad Dracul in the citadel of Sighisoara, drive via dramatic Bicaz Canyon, and enjoy a brandy tasting at the home of a local family. Stroll the Old Town Square in the Saxon town of Sibiu.

HIGHLIGHTS

Sighisoara, a UNESCO-listed medieval town in the heart of Transylvania, birthplace of Vlad Dracul
Explore the Bridge of Lies and the medieval plazas in Sibiu, the Piata Mare and Piata Mica
UNESCO-listed fortified Saxon churches of Saschiz and Biertan

Days 13-16: Brasov, Sinaia, Bucharest

Discover the medieval Romanian town of Brasov, encircled by thick stone walls. Visit Bran Castle, which served as Bram Stoker's model for Dracula's ancestral home. In Sinaia, visit Sinaia Monastery and admire the German-influenced 19th century Peles Castle before heading to Bucharest for a farewell dinner.

HIGHLIGHTS

Bran Castle, immortalized as Dracula's castle in Bram Stoker's novel
Sinaia Monastery, one of the oldest in Romania
Peles Castle, final resting place of several Romanian monarchs
Dates &amp Prices
Small group tour – max 16 travelers
Land tour price, per person. Based on double occupancy and minimum group size of 5 travelers.
2024 Dates

Tour, double occupancy

$7,695

Plus internal airfare

$200
What's Included
Tour Includes

Accommodations, as noted in the itinerary.
Most meals, as noted in the itinerary.
A daily supply of bottled water.
Arrival/departure airport transfers on the tour start/end date. MIR will arrange for all travelers to be met upon arrival and seen off upon departure whether or not we make your flight arrangements.
Ground transportation throughout tour by private van or coach. (Type of vehicle depends on group size.)
Services of experienced, English-speaking local guides, drivers, and other staff, including a MIR Tour Manager.
Guided sightseeing tours and entrance fees, as outlined in the itinerary.
Special events, excursions, and cultural performances, as outlined in the itinerary.
Gratuities to local guides, drivers, and other service personnel, including servers at group meals.
Complete pre-departure information, including detailed packing list, reading list, and Touring with MIR handbook with country-specific information, maps, and travel tips.
Final document packet, including luggage tags, final updates, and more.
Assistance booking your custom flight arrangements, on request. (Please note, international airfare is not included in the land tour cost.)

Not Included

International airfare and taxes/fuel surcharges.
Internal airfare. (Internal airfare is quoted separately and subject to change by airlines.)
Meals and drinks not specified as included in the itinerary.
Single supplement (or partial single supplement where applicable), if requested or required.
Gratuities to Tour Manager.
Expenses incurred as a result of delay, modification, or extension of a tour due to causes beyond MIR's control.
Travel insurance including cancellation, medical, and evacuation insurance.
Visa and/or passport fees, excess-baggage charges, airport departure taxes, vaccination and other medical costs.
Optional pre- or post-tour extensions.
Items of a personal nature such as phone calls, email, laundry, and alcohol.
Activity Level
Level 2: Moderate
This small group tour features long days walking and standing while touring, some long days in the touring vehicle, and some surfaces that may present walking challenges for those with limited mobility. Only those fit to travel and who accept the local conditions should consider joining this program.
Travelers must be able to walk one to two miles a day, keeping up with fellow travelers. Long days in the touring vehicle may cause driving after dark and late-in-the day arrivals in the next destination city. While touring on foot, footing can be an issue and travelers should be able to negotiate cobblestones, uneven surfaces (possibly steep and/or wet), and deal with situations without handrails or ramps. Some attractions are only accessible via steep staircases. Museums and some hotels may not have elevators.
Past travelers have also encountered challenges with plumbing, bureaucratic service, variety of locally available foods, and availability and quality of public restrooms.
Accommodations are planned to be roughly four-star properties, though some smaller properties may not align with a star-rating system and accommodations in smaller towns may not have the same amenities as those in the larger cities.
Gallery