error_outline
Flexible Private Trip — Book Your Dates for You & Yours
Myths, Mountains & Monasteries of Romania
Overview
Romania has everything – fortified medieval towns, gorgeous mountain landscapes, castles complete with vampire legends, fascinating ethnographic museums, and hospitable people – and travelers are just beginning to discover it. From the vibrant capital of Bucharest, roam the green, forested hills and meadows of this little-known country, visiting folktale villages that seem to have stepped out of the Middle Ages. Admire the gorgeous UNESCO-listed painted monasteries of Bucovina, walk in the footsteps of Bram Stoker's legendary literary creation Dracula at Bran castle, and get to know the traditions of the Romanian people.
Travels to: Romania
Map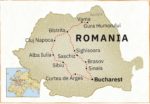 Itinerary
Days 1-2: Bucharest (Romania)

Known for its wide, tree-lined boulevards, glorious Belle Époque buildings, and reputation for the high life, Romania's capital was once dubbed "Little Paris." Take an introductory tour of the major sights in this dynamic city, including the colossal 1,100-room Palace of the Parliament. One of the grandiose schemes of Nicolae Ceaușescu, the nation's deposed and executed former president, the monumental palace is one of the largest buildings in the world; only the Pentagon has more floor space. Get a feel for the Romanian countryside with a visit to the Museum of the Romanian Peasant, which displays over 100,000 objects representative of traditional peasant life.

HIGHLIGHTS

Romania's cosmopolitan capital, Bucharest, once known as "Little Paris"
Ceausescu's last folly, the 1,100-room Palace of the Parliament, intended to house the Romanian Communist Party
Museum of the Romanian Peasant, notable for its textiles, costumes, icons, ceramics, and other items from traditional Romanian peasant life

Days 3-5: Transylvanian villages (Curtea de Arges, Sibiu, Alba Iulia, Cluj Napoca, Bistrita)

Continue your private tour north to Transylvania, a land of mixed Hungarian, Romanian, and Saxon heritage that inspired the most famous vampire legend of all time. En route, stop in one of Romania's oldest cities, Curtea de Arges, to admire its beautifully sculpted 16th century monastery. Spend a morning strolling Piata Mare, the medieval Old Town Square of Sibiu, then admire the star-shaped citadel in Alba Iulia, an important early Dacian and Roman stronghold. Explore the huge caverns of the Turda Salt Mine before continuing to bohemian Cluj Napoca, the "capital" of Transylvania since the Middle Ages. Tour its medieval city center, including the 14th century Gothic Church of St. Michael.

HIGHLIGHTS

Curtea de Arges Monastery, where legend states the builder's wife was entombed alive
Sibiu, an early Saxon walled town with a charming array of old houses and cobbled squares connected by tunnels, stairways, and hidden passages
Turda Salt Mine, where a theme park resides 400 feet underground

Days 6-7: Gura Humorului, Painted Monasteries

In the Moldavia region of northern Romania, discover Bucovina's masterful UNESCO-listed collection of painted monasteries with their Byzantine-style frescoes. Created from the 13th to 15th centuries, they served as "painted Bibles" for the largely illiterate communities of the region. Meet with the local proprietor of the Vama Egg Museum to learn about the history and techniques of traditional Romanian egg painting, an Orthodox Easter tradition. Enjoy the spectacular scenery of Bicaz Canyon and Red Lake en route to Agapia Monastery, built in the 17th century and today home to more than 400 nuns.

HIGHLIGHTS

Painted monasteries of Bucovina, their thick fortress walls frescoed with vivid 13th-15th century biblical scenes
Vama Egg Museum, celebrating the traditional Romanian craft of egg-painting

Days 8-10: Sighisoara, Saschiz, Brasov, Sinaia, Bucharest

Learn some of the legends surrounding Dracula in the handsome medieval citadel of Sighisoara – where Dracula's father, Vlad Dracul, lived and where Dracula is believed to have been born. In Saschiz, view the town's fortified church and glass icons, and meet with some of the villagers to learn about their way of life and their locally produced specialties. Explore Brasov, an old Transylvanian town with a history dating back to the 13th century; and visit Bran Castle, which served as Bram Stoker's model for Dracula's ancestral home. Stop in Sinaia to tour Peles Castle, one of the most important museums in the country and the final resting place of several Romanian monarchs. Stroll the 17th century Sinaia Monastery and its monks' library, which houses the earliest Romanian translation of the Bible. Return to Bucharest with a free evening to explore, shop, and prepare for departure.

HIGHLIGHTS

Sighisoara, with it's UNESCO-listed medieval Old Town
UNESCO-listed fortified Saxon church and glass icons of Saschiz
Brasov, an old Transylvanian town set at the foot of a mountain and filled with medieval architecture, cobbled streets, small houses, and the legendary Black Church
Bran Castle, immortalized as Dracula's castle in Bram Stoker's novel
Dates &amp Prices
Please note:
Private trip prices vary by season and are subject to hotel availability for your travel dates.
Listed prices below are based on double occupancy and a 2 traveler minimum.
Hotel upgrades, additional nights, and solo traveler prices are available on request.
Land tour price, per person, starting from:
2023 Dates

Available: January - December

Tour, double occupancy

$4,295
What's Included
Tour Includes

Shared accommodations as noted in the itinerary. Contact MIR for hotel upgrade prices.
Meals, as noted in the itinerary.
Restaurant tips for included meals.
One arrival and one departure transfer. Additional arrival and departure transfers available at additional cost.) MIR will arrange for travelers to be met upon arrival and seen off on departure, whether or not we make your air arrangements.
Ground transportation throughout itinerary by private vehicle (Type of vehicle depends on number of travelers in your group).
Services of an experienced, English-speaking guide who also serves as your driver - handling the excursions and transportation throughout the program.
Guided sightseeing tours and entrance fees, as outlined in the itinerary.
Special events, excursions, and cultural performances, as outlined in the itinerary.
Complete pre-departure information, including detailed packing list, reading list, and Touring with MIR handbook with country-specific information, maps, and travel tips.
Final document packet, including luggage tags, final updates, and more.
Assistance booking your custom flight arrangements, on request. (Please note that international airfare is not included in the land tour cost).

Not Included

International airfare and taxes/fuel surcharges.
Meals and drinks not specified as included in the itinerary.
Single supplement if requested or required.
Baggage handling.
Gratuities to local guides, drivers, porters, and other service personnel.
Expenses incurred as a result of delay, modification, or extension of a tour due to causes beyond MIR's control.
Travel-related insurance including cancellation, medical, and evacuation insurance.
Visa fees, excess-baggage charges, airport departure taxes, vaccination and other medical costs.
Optional pre- or post-tour extensions.
Items of a personal nature such as phone calls, email, laundry, and alcohol.
Activity Level
Level 2: Moderate but Customizable
This 'Essential' itinerary, which is designed for private travel in Romania, features long days walking and standing, and some possibly long days in the touring vehicle. Only those fit to travel and who accept the local conditions should consider joining this program.
There is a significant amount of touring on foot, and those travelers planning to take the program as written should be able to walk one to two miles a day comfortably. Footing can be an issue and travelers should be able to negotiate cobblestones, uneven surfaces (possibly steep and/or wet), and deal with situations without handrails or ramps. In the hotels, you may find that showers/baths have steep steps up or ledges, which can become slippery and require extra caution. Some attractions are only accessible via steep staircases. Museums rarely have elevators, and hotels may not have elevators as well.
A feature somewhat unique to Romania is the use of a national driver who also serves as your national guide throughout the program.
Past travelers have also encountered challenges with plumbing, bureaucratic service, variety of locally available foods, and availability and quality of public restrooms.
Accommodations in the basic program are generally three- to four-star hotels, some with basic amenities and services. Upgrades may be available, please call for details.
Gallery