Saudi Arabia: An American Perspective on Travel to the Kingdom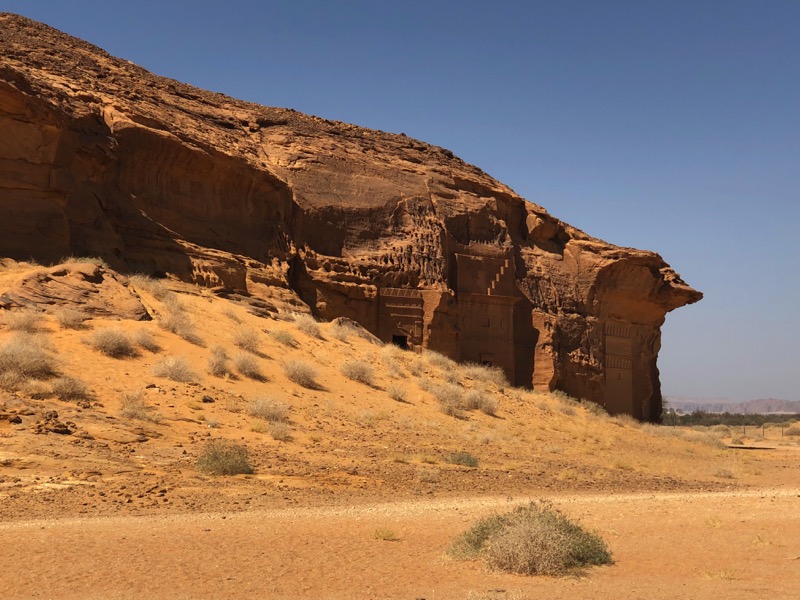 When the regional tourism authorities of NEOM and Al Ula invited myself and Douglas Grimes to visit the Kingdom of Saudi Arabia and provide our perspectives on tourism development here, we literally jumped at the opportunity. For 35 years we've explored the crossroads of Europe and Asia and parts of the Middle East, and Saudi Arabia has long been near the top of our list of places we most wanted to explore due to our fascination with contemporary politics and historical trade routes.
We realized at the outset of our trip planning that the imagery of The Kingdom in our minds was largely based on limited and dated information (mostly entirely negative, in our opinion) as portrayed in western press and government warnings. (Thankfully, now we are seeing that's changing a bit as travel writers have visited the Kingdom in the last few months and more information about the various changes and newfound freedoms sweeping the Kingdom are getting out into the travel and more mainstream press).
We could not have known just how impressed we would be with the hospitality, the modernity of the infrastructure, and the stunning natural landscapes and rock art we encountered literally all over the Kingdom.
The late October timeframe proved to be a great time to explore the country: while still hot, it was on the edge of the high season and that, combined with the Covid times, meant few foreign visitors to share the experience with.
We covered a significant territory over the course of our two-week exploration. From Seattle, we flew Qatar's fantastic new in 2021 non-stop service to Doha, and then on to Jeddah. After a few days in Jeddah, we split up to cover more ground with one of us (Doug) heading North to NEOM and the other (Annie) to Taif and Medina. We then reconnected in the northern city of Tabuk and rented a car and then drove ourselves to Al Ula and then across the deserts to Jubbah, Hail, Buraydah, Ushaiger, and finally to Riyadh.
What were our impressions?
1. Americans in General (Including Women) are Welcome.
---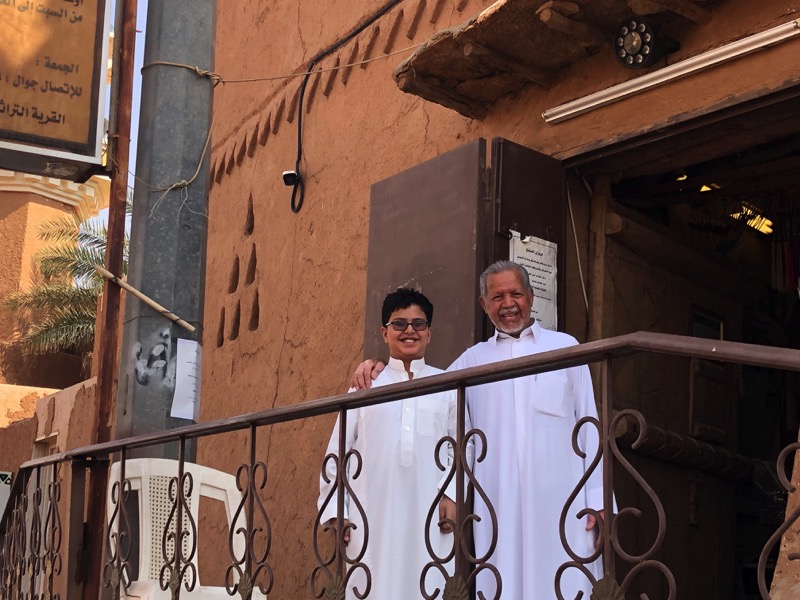 From the moment we applied for the e-visa online­ – and the fact it worked at all – was a pleasant surprise. That the whole process took less than five minutes and that the visa duration is for a generous 90-day stay good for multiple-entries for a year was an immediate indicator that the country is serious about making travelers feel welcome. [We were happy to pass on our kudos directly to one of our guides who turned out to have worked on the e-visa program in his full-time cybersecurity gig.]
And wow(!) how welcome we felt everywhere we went. From the moment we walked off the plane, it very quickly became apparent to us that a great many Saudis are much more familiar with America than most Americans are with the Kingdom. English language was widely spoken, and SO, SO, SO many individuals we met had at least briefly lived and studied in the U.S. – an instant conversation starter.
In our experience, the locals we encountered were nearly universally gracious, friendly, and helpful (well, except for the car rental folks and one hotel manager we encountered in Riyadh). From immigration authorities to hotel desk agents to guides to waiters to train station and airport personnel, to the folks we met in the souks, we were treated as welcome guests. Some locals are still more shy and reserved, and it was more work to engage in some cases; and it's definitely worth noting that many are still not interested in being photographed, especially women.
(click image to view larger photo)
As an American woman, I wondered if the general guidance for modest clothing – but abbaya and hijab head covering optional – would prove to be true in practice. I decided to test it out. I like to wear black, so I felt right at home in that regard given that black clothing on local women is nearly universal.
Nearly all local women are also covering their hair and many still cover their faces (niqab), though this is now a personal choice. In 2018, regulations were loosened and local women were no longer required to adhere to the Islamic dress code. Foreign women visitors are no longer required to wear the abbaya or cover their hair – and I went the entirety of two weeks without doing so either.
My independent travels included traveling by train at night, alone; taking Ubers (yes, Uber works here!) solo; exploring with male guides by car in the passenger front seat; and making my way through various airports. With one evening exception in Medina, I felt relatively comfortable not donning a head scarf or the full-length abbaya, at all. My attire generally consisted of long-sleeve shirts that covered my whole upper body (mid-thigh length), loose fitting pants, sandals (without socks), and frequently a sun hat. While many female travelers may prefer to wear at least an abbaya, and certainly would fit in with the cultural landscape that much more, I felt absolutely no negativity from locals expressed toward me for choosing not to do so.
Was my experience unique? I don't think so. The tidal wave of change that is sweeping the country now, which began a few years back in 2017 when the leadership embarked on the Saudi Vision 2030 campaign to modernize and transition the economy away from complete oil dependency, is ushering in a new era of tourism and the country is throwing out the welcome mat for foreign visitors.
2. American Retail Traditions are Alive and Well in KSA.
---
One aspect that added to our sense of 'comfort' in an odd way was the vast number of western food and retail establishments operating in the Kingdom. Given the significant number of expats living in Saudi Arabia, the volume of western food outlets we saw should not have come as much of a surprise to us as it did.
From the perspective of travelers who seek yet-to-be-fully-developed destinations, to see Dunkin, KFC, Domino's, and Starbucks signs all over Jeddah was also a notable disappointment. At the same time, such an American presence provided a backdrop of familiarity that probably eased any initial trepidation when entering the Kingdom.
It also underscored the feeling that America was somehow a much more known entity to Saudis than probably anyone could say of the opposite. (OK, agreed, not that we Americans all want to be known for our fast-food chains, but like it or not, the fact is these retail chains are highly successful enterprises that have made their mark worldwide and Saudi Arabia has imported this know-how as have many nations.)
3. Infrastructure is Developing Rapidly – Nearly Before Your Eyes.
---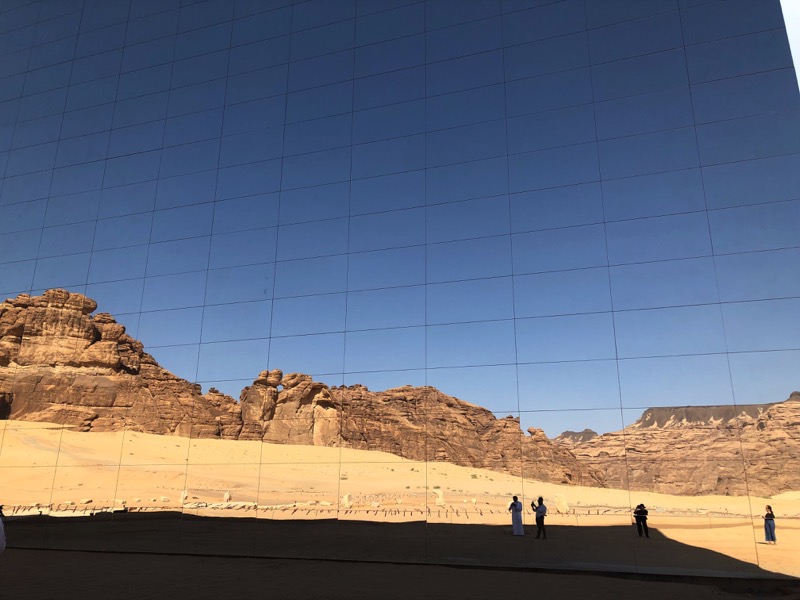 24/7 construction projects were underway everywhere in Jeddah, our first stop in the Kingdom, as well as in many other parts of the country as well. One can literally feel the transformation of this country taking hold.
As an example, our first hotel night was spent at the Radisson Blu Jeddah Corniche which overlooked a boardwalk and the Red Sea and that boardwalk area would become the new Formula 1 racetrack. It was impossible for us to believe that the massive construction project underway would be complete within the next one and half months, in time for the country's inaugural hosting of Formula 1 in early December 2021. But indeed, it happened on schedule.
Another example of an amazing development project is the Maraya Art Center in Al Ula. This one-of-a-kind, state-of-the-art and tastefully understated venue is actually the world's largest mirrored building. We've never seen anything quite like it – the building itself is simply stunning, and the setting in the midst of the Ashar Valley Canyon creates its very own special ambiance. The facility itself is a high-end theatre/lecture/musical events hall and the new rooftop restaurant, Maraya Social, by famed British chef Jason Atherton, is the newest edition.
(click image to view larger photo)
Fantastic roads, an impressive high-speed train, and pretty good hotel options all both surprised and delighted us. Newly paved roads were a joy to drive on throughout the entire country. And outside of big cities, aside from cargo trucks, the traffic was extremely light. Driving across this enormous country felt like the only way to really get a feel for the place, and traveling by vehicle is the way most travelers will experience it.
At some points on our journey, especially in the Northern part of the country, we went literally hours without seeing another car on the road. While in the cities the traffic was as manic as one would find in any major city in the U.S., Europe, or in Tehran or Moscow. We often wondered where people had learned to drive… when we asked, the answer was commonly "my uncle/brother/father taught me." We observed a universal tendency to 'drift,' as we called it, as in, many did not seem to be strictly observing the lines or lanes.
(click image to view larger photo)
I traveled from Jeddah to Medina by way of the new high-speed train. I was able to book a ticket online, and travel as a solo American female, without any hassles. Support staff in the railway station were plentiful and helpful. Young men were wearing smart looking western blazers, slacks and ties, and could be found throughout the station and on the platform, available to provide information and assistance – in English.
The internet wasn't working in the new terminal on the night I was there, and one of these young gents kindly offered me the use of his phone hotspot, which was much appreciated.
The train is so new it still smelled new. It was very comfortable, sleek, and the ride smooth in spite of getting up to 300km/hour! In a few short hours by way of a very comfortable seat and while enjoying English language announcements en route, I arrived late at night in Medina.
(click image to view larger photo)
In general, we found the hotel infrastructure in the country to be solid (and rapidly expanding), and better than we anticipated (our expectations were admittedly low as we travel a lot in places like Central Asia). Nearly every western chain brand has a presence here, at least in Medina, Riyadh, and Jeddah. And while many of these are mid-level properties, several are new and the room quality was very good in our opinion.
In Jeddah, a brand new chic Asilla Luxury Collection by Marriott property just opened across the street from the architecturally intriguing Galleria by Elaf. Some very nice (and very expensive) properties exist in the Al Ula region, including the Shadden Resort as well as the newly opened Habitas.
(click image to view larger photo)
And everywhere we traveled, we found there were suitably comfortable, modern, and well-equipped hotels – at least one – with all the facilities a cultural traveler could need. A notable lack of boutique and design hotels (aside from Jeddah and Al Ula) was apparent, but this is already slated to change rapidly in the coming years.
New hotels are planned by well-known brands such as Raffles, Six Senses, St. Regis, and Jumeirah in the Red Sea region. And Marriott International's portfolio in Saudi Arabia already includes 30 properties across 10 brands, with three new properties scheduled to open by 2025. In addition, new luxury hotels like Banyan Tree are scheduled to open soon in Al Ula.
In short, the hotel landscape in Saudi Arabia is going to progress quickly and what we would characterize as an already decent range of options will morph into an incredible portfolio of choices across the range of mid to high end pricepoints in the next multiple years. For now, hotels in general are reasonable, yet on the expensive side, especially in Al Ula where development is highly restrictive and the goal of tourism authorities is to focus on sustainability and high value travelers. We can expect Al Ula will likely focus exclusively on the higher-end properties going forward. Translation: expect to pay a lot to spend time in this incredible region, but in our opinion, it's worth it.
4. International Air Access is Very Good.
---
Saudi Air has non-stop flights from the U.S. to Jeddah and Riyadh from New York, Washington, and now Los Angeles. Emirates, Qatar, Turkish, Lufthansa, and Etihad all have regular service to multiple cities in the Kingdom. Even low-cost carriers are expanding service. In November 2021, Saudi carrier Flynas launched direct international service between Dubai and Al Ula to cater to those looking for a weekend getaway direct to the country's resort-like jewel: Al Ula. We found Qatar's service to be excellent and Doha would be a great stopover point for those who haven't yet explored Qatar.
5. Uniquely Saudi Experiences Abound.
---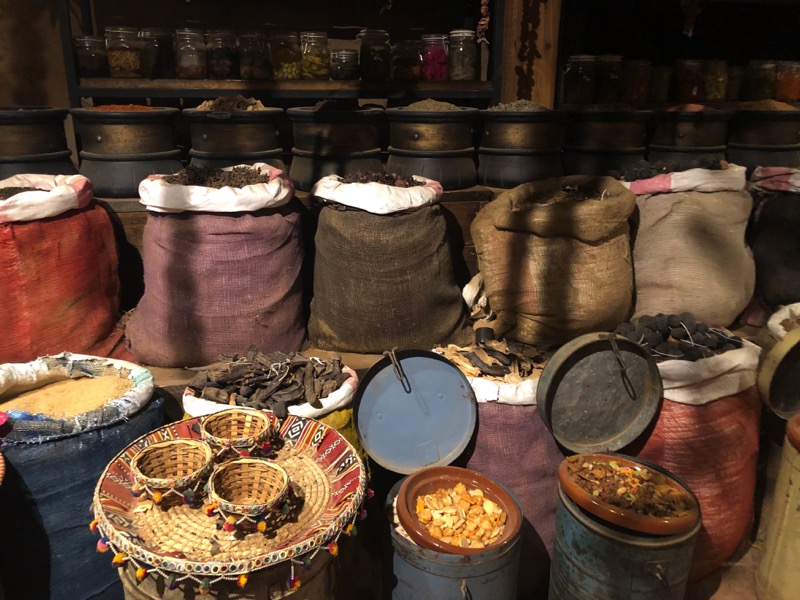 In spite of so much great infrastructure in general – which, to us, generally means a destination is more challenged on our 'likely chance to discover something unexpected around every corner' scale, we still felt it was quite easy to be delighted by our discoveries as we traveled around Saudi.
The people interactions were there to be sought out: from dining at restaurants frequented by Saudis in Jeddah to strolling chaotic animal markets mixing with locals, interacting with friendly vendors at the craft and date souqs (who gifted us tea, spices, and cookies in Buraydah), and the informal exchanges in restaurants and hotel lobbies in Medina.
(click image to view larger photo)
If you combine the sense of discovery inherent in traveling to a newly opened country, together with the natural splendors the country has to offer – from the coastal communities where NEOM is planned to gorgeous desert landscapes with wild camel sightings and more colors of sand than we'd ever seen before – this destination is already a worthwhile investment of travel time.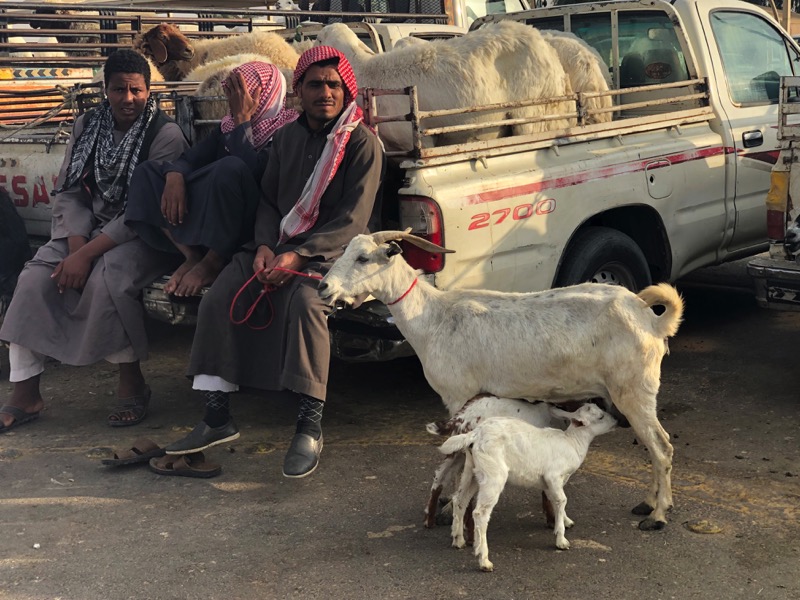 Add on the cultural treasures including impressive museums translating the historic trade routes of the region in Riyadh, and incredible rock art and archaeological discoveries literally popping up everywhere around Hail, Jubbah and in the Al Ula region, and you've got the makings of a destination that will very soon become a must-visit spot for intrepid travelers worldwide.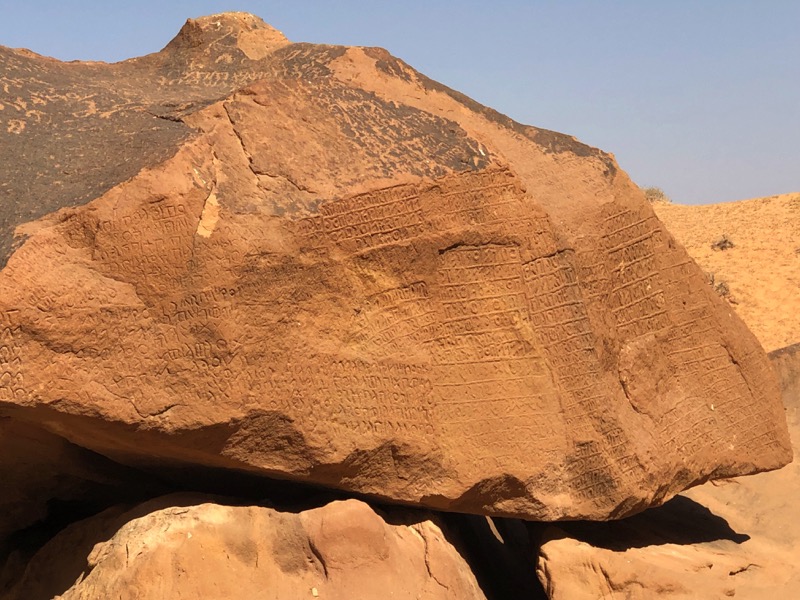 Travel to Saudi Arabia with MIR
With all this great tourism material to work with, it would be easy to visit with high expectations. Let's remember that tourism in Saudi Arabia only really first opened in September 2019 for a mere six months, and reopened again only in the fall of 2021. Organized tourism is extremely new here.
The hospitality industry by some measures is truly in its infancy, and the experience required to deliver top drawer service foreign travelers may be expecting within the travel sphere will take time to develop. It's worth mentioning that many in the local workforce have only recently joined (having had state jobs and family support in the past) and have limited (or no) prior work experience to draw from. Saudis are now encouraged to join the private sector, and it is wonderful to see women entering the workforce, especially in hospitality, as guides, in hotels, and at retail establishments.
In our opinion, the Kingdom is off to a very good start. There will be growing pains over the next few years as the country's grand tourism ambitions lead, and the local nascent tourism industry rushes to catch up. Travelers venturing here now need to come with modest expectations and will need to be highly flexible (especially on schedules and timing of visits) and always up for an adventure. While travel here isn't perfect or polished yet, the destination has rich offerings and the friendly people are another definite draw. The benefit to making a trip now is obvious – to get there before the masses do. In our minds, it's clear that Saudi will become a major tourist destination in the near future.
There are many things to take into consideration when planning a trip to Saudi Arabia. Visitors need to be aware of a wide variety of rules and abide by them – including that alcohol is still banned, modest clothing is required, photographing people without their consent is a no no, and some cities, like Mecca, remain completely off-limits to non-Muslim visitors.
If you're intrigued and want to learn more about this destination, give us a call to discuss the details. MIR has expanded its portfolio of destinations to include the Middle East and has recently launched new small group escorted tours to Saudi Arabia. We can also design fully customized private travel options as well as offer a suggested private itinerary, Essential Saudi Arabia.
Chat with one of our destination specialists now!