Deserts & Diversions in Tajikistan, Uzbekistan & Turkmenistan
Overview
This tour emphasizes the wide range of experiences you can have in the fascinating countries of Tajikistan, Uzbekistan, and Turkmenistan. You'll visit the rightfully famous Silk Road oasis cities of Samarkand, Bukhara, and Khiva; but you'll also head off the tourist path to discover an ancient archaeological site, an Aral Sea ghost town, a mountain-dwelling tribe untouched by outside influence, a strikingly gorgeous limestone canyon, and a lively Caspian Sea port. Accommodations range from an opulent seaside resort to a tent camp at the cusp of a glowing gas crater. If you're looking for new, authentic, unforgettable adventures, you'll be well served by this trip.
Note that with this itinerary, travelers already familiar with the sights of Samarkand, Bukhara, and Khiva can opt to skip them in favor of more off-the-beaten-path exploring.
Travels to: Tajikistan, Turkmenistan, Uzbekistan
Map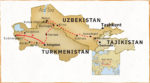 Itinerary
Days 1-3: Dushanbe (Tajikistan), Penjikent

Start your journey by taking in the sights Tajikistan's capital, Dushanbe, including lively Shohmansur Bazaar; the large, modern National Museum of Tajikistan; the small but fascinating Gurminj Museum of Musical Instruments; and, outside of town, the 18th century Hissar Fortress. Then travel overland to explore the site of a major archaeological dig at town of Penjikent.

HIGHLIGHTS

The covered Shohmansur Bazaar, which carries on Dushanbe's traditional role as a market town
Exuberant demonstrations frequently performed at the Gurminj Museum of Musical Instruments
The imposing towers of Hissar Fortress
The early medieval remains of a citadel, private homes, and two Zoroastrian temples at Penjikent's archaeological site

Days 4-9: Samarkand (Uzbekistan), Bukhara, Khiva

Cross the border into Uzbekistan and spend the next five days touring the country's three legendary UNESCO-listed Silk Road oasis cities: Samarkand, Tamerlane's blue-tiled capital; Bukhara, home of the beautifully composed Lyabi-Hauz Plaza; and Kiva, where the Old Town is a living museum, little changed in appearance over hundreds of years. For those on the trip who have previously visited these landmark cities, MIR offers some off-the-beaten path touring options to explore and meet locals in the surrounding villages and foothills.

HIGHLIGHTS

Samarkand's Registan Square, bordered by three beautiful madrassahs
The 14th century conqueror Tamerlane's architectural legacy in Samarkand, including Bibi Khanum Mosque – the largest of its day – and Ulug Nek Observatory
Old Bukhara's ageless domed bazaars and its central Lyab-i-Hauz Plaza, adorned with a reflecting pool
Ark Citadel – Bukhara's huge, ancient fortress
Khiva's exceptionally well-preserved Old Town
Tash-Hauli Palace and Dzhuma Mosque, two of Khiva's most impressive structures

Days: 10-12: Nukus, Kunya-Urgench (Turkmenistan), Dashoguz, Darvaza

Head west of Khiva to the desert city of Nukus, the unlikely home of the world-class Savitsky Museum of avant-garde Russian art. From there take a day trip to the former port city of Muynak, where fishing boats and freighters sit like ghosts, stranded by the shrinking Aral Sea. A short trip across the Turkmenistan border leads to the UNESCO-listed ruins of Kunya-Urgench, a medieval agricultural center. That evening, pitch camp in the desert beside the burning Darvaza Gas Crater, one of Turkmenistan's most unusual sights, nicknamed "the Door to Hell."

HIGHLIGHTS

Savitsky Art Museum, the world's second-largest collection of Russian avant-garde art
The beautiful Kutlug-Timur Minaret at the UNESCO-listed Kunya-Urgench ruins
The haunting port of Muynak, a remnant of disastrous Soviet civil engineering that caused the Aral Sea to shrink
Tent camping near the Darvaza Gas Crater as it glows in the dark

Days 13-14: Ashgabat, Nohur, Serdar

In Turkmenistan's capital of Ashgabat, explore the flamboyant gilded architecture that has sprung from the rubble of a massive 1948 earthquake, as well as the huge $100-million mosque in the village of Kipchak a few miles away. Journey out into the desert and up into the Kopet Dag Mountains to visit the isolated Nohur people, whose longstanding cultural traditions have felt little influence from the outside world.

HIGHLIGHTS

The opulent new architecture of Ashgabat, which holds a Guinness record for highest density of white marble buildings in the world
The exceptional collection and informative displays at Ashgabat's National Museum of Carpets
The $100-million Kipchak Mosque, with its 164-foot golden dome and room for 10,000 worshippers
A visit to a farm where renowned Akhal-Teke horses are bred, with the opportunity to take a ride
Panoramic views in the Kopet Dag Mountains
A visit to a silk-weaving workshop in a Nohur tribal village

Days 15-19: Yangykala, Turkmenbashi, Ashgabat

Dedicate a day to scenic, picturesque Yangykala Canyon, where striated limestone cliffs unfold before you in a strange, strikingly beautiful high desert panorama. Then for something completely different, head to Turkmenistan's only seaport – Turkmenbashi – and Awaza, a neighboring resort town studded with five-star hotels. Take a morning cruise along the Caspian coast and in the afternoon explore a local bazaar. The next day a one-hour flight gets you to Ashgabat in time to visit the bustling Sunday Altyn Asyr Oriental Market. Reminisce about your adventures that evening at a farewell dinner.

HIGHLIGHTS

Unusual, and unusually photogenic, Yangykala Canyon
A yacht cruise along the Caspian Sea coast
Shopping at Turkmenbashi bazaar – a good place to find deals on Caspian caviar
A final bazaar experience at Ashgabat's Altyn Asyr Oriental Market
Dates &amp Prices
Small group tour – max  16  travelers
Land tour price, per person. Based on double occupancy and minimum group size of  6  travelers.
What is a Partial Single Supplement?
2023 Dates

Tour, double occupancy

$7,595

Plus internal airfare

$175

Partial single supplement

$1,025
What's Included
Tour Includes

Accommodations, as noted in the itinerary.
Most meals, as noted in the itinerary.
A daily supply of bottled water.
Arrival/departure airport transfers on the tour start/end date. MIR will arrange for all travelers to be met upon arrival and seen off upon departure whether or not we make your flight arrangements.
Ground transportation throughout tour by private van or coach. (Type of vehicle depends on group size.)
Services of experienced, English-speaking local guides, drivers, and other staff, including a MIR Tour Manager.
Guided sightseeing tours and entrance fees, as outlined in the itinerary.
Special events, excursions, and cultural performances, as outlined in the itinerary.
Gratuities to local guides, drivers, and other service personnel, including servers at group meals.
Complete pre-departure information, including detailed packing list, reading list, and Touring with MIR handbook with country-specific information, maps, and travel tips.
Final document packet, including luggage tags, final updates, and more.
Assistance booking your custom flight arrangements, on request. (Please note, international airfare is not included in the land tour cost.)

Not Included

International airfare and taxes/fuel surcharges.
Meals and drinks not specified as included in the itinerary.
Single supplement (or partial single supplement where applicable), if requested or required.
Gratuities to Tour Manager.
Expenses incurred as a result of delay, modification, or extension of a tour due to causes beyond MIR's control.
Travel insurance including cancellation, medical, and evacuation insurance.
Visa and/or passport fees, excess-baggage charges, airport departure taxes, vaccination and other medical costs.
Optional pre- or post-tour extensions.
Items of a personal nature, such as phone calls, email, laundry, and alcohol.
Travel entry pass to Turkmenistan payable on arrival.
Activity Level
Level 4: Rigorous
This small group tour features long days walking and standing while touring, some long segments of overland travel, foot traverses of several border points while carrying/rolling luggage, some rustic accommodations, some uneven surfaces and steps, absent handrails, some stair-climbing, and absence of elevators. Only those fit to travel and who are willing to accept local standards of amenities and services, and the physical challenges, should consider joining this program.
Travelers must be able to walk at least two miles a day, keeping up with fellow travelers. Border crossings may require walking ¼ to ½ mile while managing luggage; and bags may need to be carried rather than rolled, as the road/sidewalk surface is not always paved or smooth. The rustic accommodations mentioned above include a very moderate guesthouse for one night in Turkmenistan and a desert tent camp for one night. The first is spent in a homestay/guesthouse where sleeping accommodations are shared with other group members in a large A/C indoor room or an oversize outdoor veranda, sleeping on mattresses placed on the floor; there are rustic outdoor WCs and an outdoor bucket shower. One night is spent tent camping at Darvaza in the desert in a temporary camp. Western style trekking tents with sleeping bags, mats, and pillows are provided. Expect rustic outhouse facilities with no running water. There is no electricity to charge phones or camera batteries, though there is a generator which provides lighting for the toilets and shower. If you rely on electricity for CPAP, or for any other reason, you must have your own battery or other back-up, or please reconsider participation.
There are overall shortcomings in the tourism infrastructure of these developing destinations, including some that can cause walking challenges such as unpaved sidewalks, uneven surfaces and steps, packed-dirt streets, broken pavement (streets or sidewalks), and a general absence of handrails or ramps. Some attractions are only accessible via steep staircases with tall uneven steps – these additionally may be spiral staircases and/or in narrow passages with limited light. Elevators are not available at touring sites, nor at a few of the hotels.
Past travelers have also encountered challenges with plumbing, bureaucratic service, variety of locally available foods, and availability and quality of public restrooms.
Gallery