Multi-Region
Grand Alpine Express
Photo credit: courtesy Golden Eagle
error_outline
New tour for 2023!
An Alpine Rail Odyssey Aboard the Golden Eagle Danube Express
Overview
Venture from Budapest, one of Central Europe's star attractions, west through the Alps of Austria and and Switzerland, stopping off to enjoy the cities and alpine views along the way. From Switzerland head south and then back east across northern Italy, stopping in classic destinations like Lake Como, Milan, and Verona. Then head back out of Italy on a jaunt into the lesser-known but equally stunning Slovenian Alps. This fantastic 11-day journey concludes amidst the canals and gondolas of Venice, on the Adriatic Sea.
Travels to: Austria, Hungary, Italy, Lichtenstein, Slovenia, Switzerland
Photos and details: Discover what life is like aboard the Golden Eagle Danube Express.
Map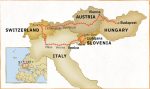 Itinerary
Days 1-2: Budapest (Hungary)

Start off with a Welcome Dinner and two nights in Hungary's capital, Budapest. Spend a full day exploring the UNESCO-listed city, strolling its broad avenues and marveling at the fine baroque, neoclassical, and art nouveau architecture.  On the third day board the Golden Eagle Danube Express and head west to Austria.

HIGHLIGHTS

Enjoy a welcome dinner on arrival in Budapest
Explore the Castle District, St. Matthias Church, and St. Stephen's Cathedral
Take in the panoramic views from atop Gellert Hill

Days 3-4: Vienna (Austria), Innsbruck

Stop in the afternoon of the third day in Austria's stunning capital, Vienna. Explore the Naschmarkt with its food and antique stalls, and then visit the beautiful Schönbrunn Palace. A concert of classical music rounds out the evening. The next day is a spectacular one with alpine views along the Semmering Railway and from aboard a cruise on lake Achen. The day ends amidst the medieval architecture of the Altstadt of the picturesque capital of Austria's Tyrol region, Innsbruck.

HIGHLIGHTS

The Naschmarkt, Schönbrunn Palace, and a concert of classical music in Vienna
The Semmering Railway and alpine scenery around Lake Achen
Innsbruck's Altstadt, with its mix of medieval architecture, the Hapsburg Imperial Palace, and the 18th-century baroque St. James Cathedral

Day 5: Zurich (Switzerland)

The train continues west, passing through more iconic alpine scenery and briefly crossing Liechtenstein. Then descend down to Switzerland's financial capital, Zurich. Take part in a fondue tasting this evening, a Swiss tradition.

HIGHLIGHTS

Watch the Alps roll by in western Austria and Lichtenstein
Pass along the shore of Lake Zurich in Switzerland
Try authentic Swiss fondue in Zurich

Days 6-7: Lake Como (Italy), Milan, Verona, Trieste

Head south out of the Alps, passing yet more gorgeous scenery along Lake Zug and Lake Lucerne, and while passing over St. Gotthard Pass into Italy. Once in Italy explore the Lake Como area before heading on to Milan, Italy's business capital. Then next day turn back east, passing though Verona on the way to Trieste.

HIGHLIGHTS

The Swiss Alps, including views of Lake Lucerne and St. Gotthard Pass
A cruise on Lake Como and the lakeside town of Bellagio
Pizza tasting and visits to the Gothic Duomo and the Teatro La Scala in Milan
UNESCO-listed Verona and its Roman amphitheater
Trieste, an Italian port city with an Austro-Hungarian background

Days 8-9: Lake Bled (Slovenia), Ljubljana, Postojna

Heading north from Trieste, enter Slovenia, formerly part of Yugoslavia and now one of Central Europe's highlights. Stop first at postcard-worthy Lake Bled, a beautiful lake with church on an island in the center. Then continue on to the capital, Ljubljana. Explore the cities architecture and wonderful bridges. The next day head down into the Postojna caves before crossing back into Italy.

HIGHLIGHTS

Stunning Lake Bled and its iconic central island and church
The interesting mix of baroque, Renaissance, neoclassical, and Austrian Art Nouveau styles in the Slovenian capital Ljubljana
Postojna Caves, the second largest cave system in Slovenia and home to a rare salamander

Days 10-11: Venice (Italy)

Your journey concludes in Venice, Italy. Queen of European cities by the 13th century, beautiful Venice still rules in travelers' hearts. Enjoy a walking tour of the city's most important sights. Then round out the experience with a short gondola ride on the canals. A farewell reception and departures the next morning bring this rail odyssey to a close.

HIGHLIGHTS

The Grand Canal, St. Mark's Square, St. Mark's Basilica, and the Rialto Market
A classic gondola ride along the canals
A farewell reception and dinner
Dates &amp Prices
Minimum group size: Minimums vary – call for confirmation status
Land Tour Price, Per Person.
2023 Dates

Deluxe Class, double occupancy

$16,295

Deluxe Class, single occupancy

$24,395

Superior Deluxe Class, double occupancy

$20,495

Superior Deluxe Class, single occupancy

$34,195
What's Included
Tour Includes

Accommodation aboard the Golden Eagle Danube Express private train.
Hotel accommodation per the itinerary.
All meals starting with dinner on Day 1 until breakfast on final tour day.
A generous allowance of wine or local beer, soft drinks and water with all lunches and dinners.
Complimentary tea, coffee and mineral water round the clock from your car attendant while on board the train.
Complimentary draft beer in the Bar Car for all passengers.
Arrival/departure transfers, provided you arrive and depart on the tour start/end dates and in the tour start/end cities.
All guided off-train tours, as outlined in the itinerary.
Services of an experienced Train Tour Manager as well as local guides for scheduled off-train tours.
All gratuities.
Baggage handling.
Complete pre-departure electronic document that includes detailed packing suggestions, reading list links, country-specific information, maps, travel tips and more.
Customized visa application and instruction kit (please note, visa fees are not included in the tour price).
Electronic final update bulletin, with any late news, updates and important information.
Assistance booking your custom flight arrangements, on request. (Please note that international airfare is not included in the land tour cost.)

Not Included

International airfare, including taxes/fuel surcharges, and surface transport to the point of joining/leaving the tour. MIR is able to assist with arrangements, as detailed in the itinerary.
Meals and drinks not specified as included in the itinerary.
Single supplement (difference between double rate and single occupancy rate) if requested or required.
Optional pre- or post-tour extensions.
Expenses incurred as a result of delay, modification, or extension of a tour due to causes beyond MIR's control.
Visa fees, excess baggage charges, airport departure taxes, vaccination and other medical costs.
Travel insurance including cancellation, medical, and evacuation insurance.
Items of a purely personal nature (laundry, telephone, bar account, photography at museums, etc.).
Drinks, beyond draft beer in the Bar Car, and beer and wine at set meals.
Activity Level
Level 2: Moderate
This rail journey by private train features significant touring on foot, throughout which travelers are expected to keep up with other group members. Walking during touring days will be on a variety of surfaces with many streets and sidewalks being uneven and elevators generally not available during touring excursions, leading to some stair climbing. Challenges on board on board the train include long onboard distances with heavy doors, as well as steep steps and gaps to navigate while embarking and disembarking. Only those willing to accept local standards of amenities and services should consider joining this program.
Travelers must be able to walk a mile per day keeping up with other group members. Streets and sidewalks can be uneven or unexpected surfaces, and handrails are not always present. Steps, which may be required due to lack of elevators, may be steep and/or uneven, and may also lack handrails. The distance on board the train between sleeping and dining carriages may be significant, and there are many heavy doors to navigate when moving throughout the train. Getting on and off the train involves navigating steep steps, low platforms, and possible gaps between the train and the platform. Navigating rail stations may also involve traveling up and over steep steps/footbridges to cross tracks, or steep steps and dark tunnels to cross under to/from the train station. Although porterage is provided where possible, you may have to carry your baggage for short distances.
General shortcomings of the tourism infrastructure may include problems with bureaucratic service, and availability and quality of public restrooms when not on board the train.
Gallery