Travel to the Balkans: A Beginner's Guide
A remarkably complex region, the beautiful Balkan Peninsula includes Albania, Bosnia and Herzegovina, Croatia, Kosovo, North Macedonia, Montenegro, Serbia, and Slovenia. It is a brilliant mosaic of competing cultures, ethnicities, languages and ideologies, and serves as a sampler of contrasting landscapes.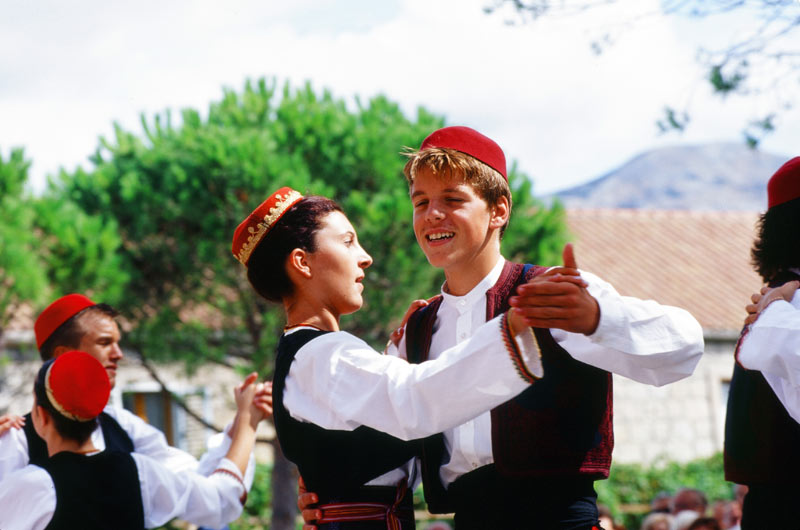 The region is a collection of cultures for the connoisseur. For anyone traveling there, it's hard to know exactly where to go and what to see.
Here's our Beginner's Guide to the Balkans to help you sort out these contrasting little countries and get the most out of your travel there.
Albania: Ancient roots and a bright future
---
Country cousin of Greece and Italy, Albania has miles of lovely Adriatic and Ionian Sea coastline, craggy mountains with isolated villages tucked into their steep valleys, and countless traces of ancient human civilization. Blessed with a climate that has preserved the Greek, Roman, Byzantine and Ottoman infrastructure, Albania encompasses the beginning of the Roman Via Egnatia road and has archaeological treasures dating from the Bronze Age through medieval Ottoman times.
Albania remains a beautiful country with a hospitable people whose isolation has enabled them to hold tight to their traditions. With its new highways, improved airport and a recent tip of the hat from Lonely Planet (which declared Albania the top country to visit in 2011), Albania is breaking out of its long isolation.
Enjoy an in-depth exploration of this remarkable country on our brand new small group tour Albania: Beyond the Guidebook.
(click image to view larger photo)
Bosnia and Herzegovina: Heart of the Balkans
---
A lovely Balkan country about a third the size of England, Bosnia and Herzegovina boasts traditional mountain villages, friendly people and a deep and rich culture. The capital, Sarajevo, has healed itself so beautifully that Lonely Planet named it the second-best city in the world back in 2010.
Bosnia and Herzegovina has worked hard to reinvent itself as a welcoming retreat celebrated for its natural beauty and intriguing tangle of cultures.
(click image to view larger photo)
Croatia: Europe's Little Darling
---
Croatia's Dalmatian Coast, north of Greece, shares the beauty of the Greek coast. In Croatia's capital, Zagreb, some of the grandeur of Belle Époque Vienna remains from the region's years under the Hapsburgs, while the coast inherited that laid-back, life-loving Italian feel from Rome and Venice.
Underlying these influences is a framework of fabulous Roman ruins, more than a thousand lovely islands and some of the best beaches in Europe, not to mention "Dazzling Dubrovnik."
(click image to view larger photo)
Kosovo: A New Nation, Energetic and Evolving
---
A beautiful mountainous place, land-locked Kosovo has a reputation for fine skiing and mountaineering, sadly interrupted by years of war and ethnic strife. Its UNESCO-listed medieval monasteries and the remains of its Ottoman heritage combine with the traditional hospitality of its people to entice travelers back to its charming cities and towns. Good roads, sophisticated cafés and shops and a forward-looking young population make this an inviting destination.
(click image to view larger photo)
North Macedonia: Jewel of Southeast Europe
---
Set just above Greece, the Republic of North Macedonia is a compact jewel of a country, blue with lakes and green with forested mountains. Its capital city, Skopje, was around before the time of Christ and its Ottoman influence shines in the old Turkish quarter, its streets lined with little cafés and cubbyhole shops.
An old song says that North Macedonia is "where the sun shines forever," and we have found it to be close to the truth.
(click image to view larger photo)
Montenegro: The New Riviera, Bountiful and Beautiful
---
Montenegro is one of the smallest nations in the world, but it lays claim to a bountiful culture, stunning terrain and centuries of fascinating history. Montenegro's 183 miles of fluted coastline draw sun worshippers from all over Europe, and its mountains, lakes, and rivers attract skiers, climbers, birders, and photographers.
Renowned for its hospitable people, Montenegro is proud of its evolving place in the world.
(click image to view larger photo)
Serbia: New Europe's Newest Playground
---
Halfway between the Adriatic and the Black Sea, Serbia encompasses gentle valleys, roughhewn mountains, venerable Roman bastions, ancient rock-faced roads and an irresistible capital city, Belgrade. Built in antiquity at the confluence of two rivers, Belgrade is a sophisticated yet casual European city that stays open all night.
Serbia is moving forward towards acceptance of its war-torn past and eventual acceptance into the European Community.
(click image to view larger photo)
Slovenia: A Small Package of Perfection
---
Just across the Adriatic Sea from Venice, the diminutive country of Slovenia has it all – coast, mountains, lakes, castles – and all within an hour or so of each other. Its beautiful Art Nouveau capital, Ljubljana, is a sophisticated mix of lively cafés, baroque churches, high culture, and a medieval castle.
Getting around this Euro-zone country is effortless and extremely rewarding. Slovenia offers the best of Europe without the crowds of travelers.
(click image to view larger photo)
Travel to the Balkans with MIR
MIR has over three decades of Balkans travel experience, with on-the-ground support and guides and tour managers that clients rave about. MIR's full service, dedication, commitment to quality, and destination expertise have twice earned us a place on National Geographic Adventure's list of "Best Adventure Travel Companies on Earth."
Explore seven Balkans countries on our 16-day Balkan Odyssey: Crossroads of Cultures small group tour, or dive deep into Albania on our new Albania: Beyond the Guidebook small group tour.
You can also travel independently, on your own dates, on these Balkans itineraries:
There are endless custom and private travel possibilities for having MIR build a Balkans trip tailored to your specific interests.