7 Balkan Nations: Touring from the Dalmatian Coast to the Dinaric Alps
Located on what was once a war-torn peninsula, the Balkans stand out today as some of the world's most diverse, complex and cosmopolitan countries: Serbia, Bosnia and Herzegovina, Croatia, Montenegro, Albania, Kosovo, and North Macedonia.
A journey through this beguiling region presents a brilliant mosaic of competing cultures, ethnicities, languages, and ideologies – and serves as a sampler of contrasting landscapes.
MIR's Balkan Odyssey: Crossroads of Cultures small group tour is a 16-day exploration of these seven countries that digs deeply into the drama and history of an astonishingly divergent region.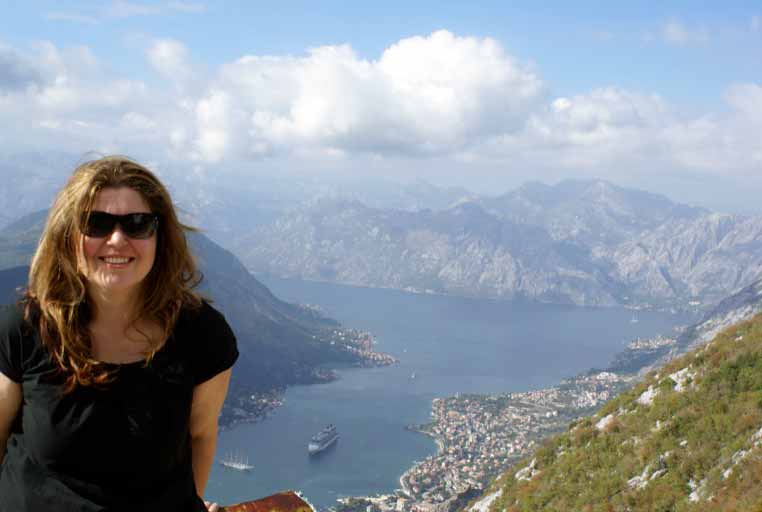 "In 20 minutes you feel like you're jumping from one planet to another," says MIR Director of Sales Joanna Millick, who helped create this tour after a three-week journey along the backroads of the Balkans.
"The surroundings are so different within a few miles of each other. From the Bay of Kotor on the Dalmatian Coast (Montenegro), you take 29 switchbacks on an old donkey path up into the Dinaric Alps (Bosnia & Herzegovina) and into a completely new landscape, going from the warm Adriatic Sea into the harsh mountains."
"And, as for cultures and religions, nowhere except for Jerusalem is there such diversity in one square mile as in Sarajevo: a Catholic cathedral, Jewish synagogue, Orthodox church, and a Muslim mosque all existing peacefully."
A Travel Route through the Balkans, Designed by Experts
---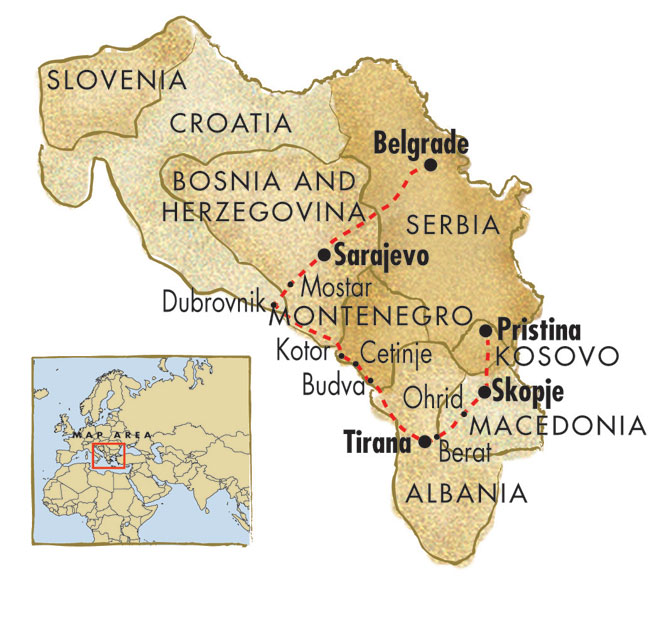 MIR's Balkan Odyssey small group tour explores small towns and bustling capitals of seven compact nations:
A Balkan Adventure That's Out of the Ordinary
---
As a traveler, you know that beyond the iconic monuments lie a multitude of encounters with local people, a kaleidoscope of experiences that can be found nowhere else on earth, and an expanse of human interaction that you can stumble upon through serendipity and good fortune – if you make the initial effort to be there.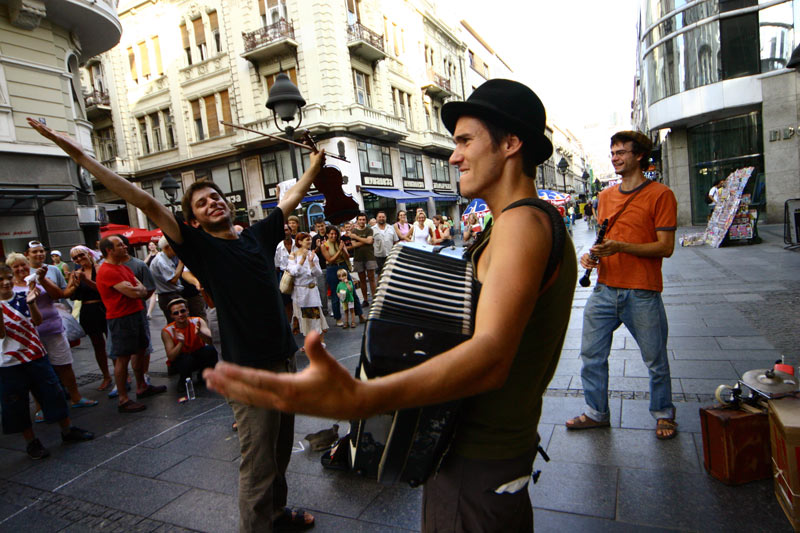 At MIR we seek to enhance each of our tours with experiences that no other tour company offers. Our vast overseas network of friends and acquaintances keeps its ear to the ground for new opportunities to meet and interact in a meaningful way with local people.
People are what fascinate the explorer in all of us – people and the things they do. Why go and see a culture's buildings without seeing what goes on inside, or hearing about who built them? How can you get to know a little about a civilization without meeting the people who live it?
(click image to view larger photo)
Here are some of the extraordinary experiences included in MIR's small group tour itinerary:
Wander the bohemian quarter of Belgrade, a vibrant and busy area filled with shops, coffee houses, and restaurants.
Visit the Sarajevo Tunnel Museum with a survivor who used the tunnel to escape the shelling; hear his personal story.
Take a leisurely walk on the wide city walls that have protected Dubrovnik since the 13th century.
Stop at the small alpine village of Njegusi in Montenegro and enjoy a tasting of the village's special cheese, Njeguski sir, and red wine made with the localized Vranac grape.
Enjoy a ride on the 2.6-mile cable car from the outskirts of Tirana up to Dajti Mountain for fabulous views of the city.
Explore Pristina, capital of Kosovo, the Balkans territory that declared independence from Serbia in February of 2008, and converse with its citizens.
Experience a Macedonian feast in Skopje with live music, Balkan dancing, and a table piled high with succulent dishes
The Most Powerful Travel Experience
---
Joanna found that many people who join this tour are trying to understand the complex 1990s ethnic conflicts in a region that was known as Yugoslavia for most of the 20th century. They appreciate these countries' heroes, such as Alexander the Great (here known as Alexander the Macedon) and Mother Teresa, and important sites such as the Princip Bridge, site of the beginning of World War I. But they also want to understand the reasons behind the more recent war that was all over their TV screens in the 1990s; and they want to talk to those who experienced it first-hand.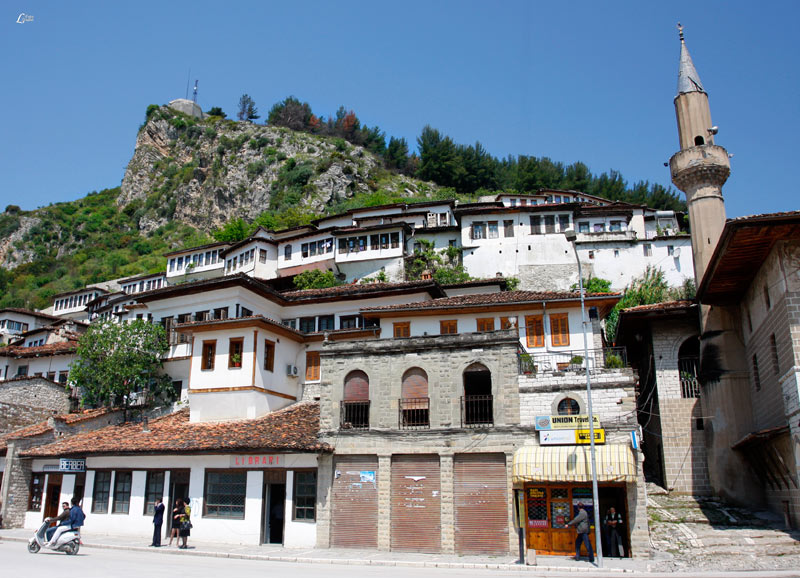 MIR travelers are especially touched by survivors' stories at the Sarajevo Tunnel Museum, and are moved by residents of Kosovo who spontaneously thank Americans on the MIR tour for "saving our lives."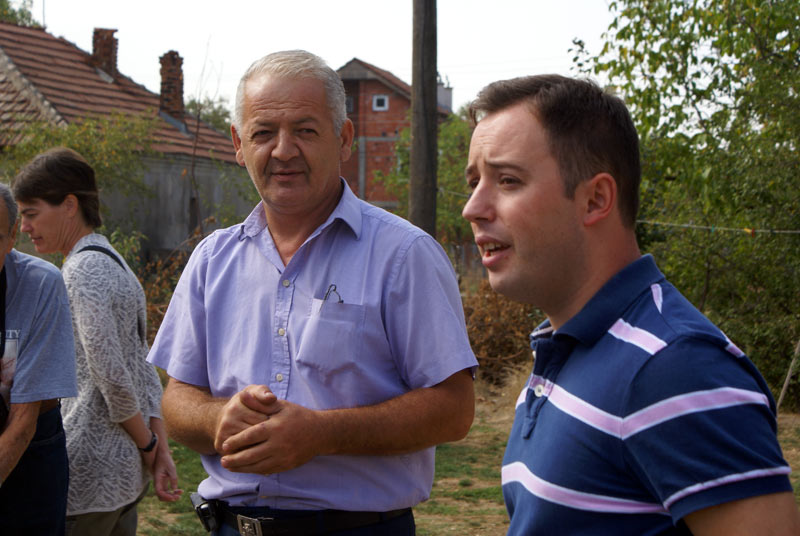 "This isn't World War I or II we're talking about," Joanna says. "These are real living people, real survivors who lost entire families to ethnic wars just a few years ago. They want to show their appreciation and gratefulness to the U.S. for stepping in, and they do this by inviting us into their homes and sharing their stories and family photos with us."
For Joanna, "these were the most powerful one-on-one experiences I've ever had on any of my MIR trips."
Fall in Love with the Balkans
---
Want to know more about some of the places and experiences you can have when traveling on MIR's Balkan Odyssey small group tour? You might enjoy these photo galleries and blog posts: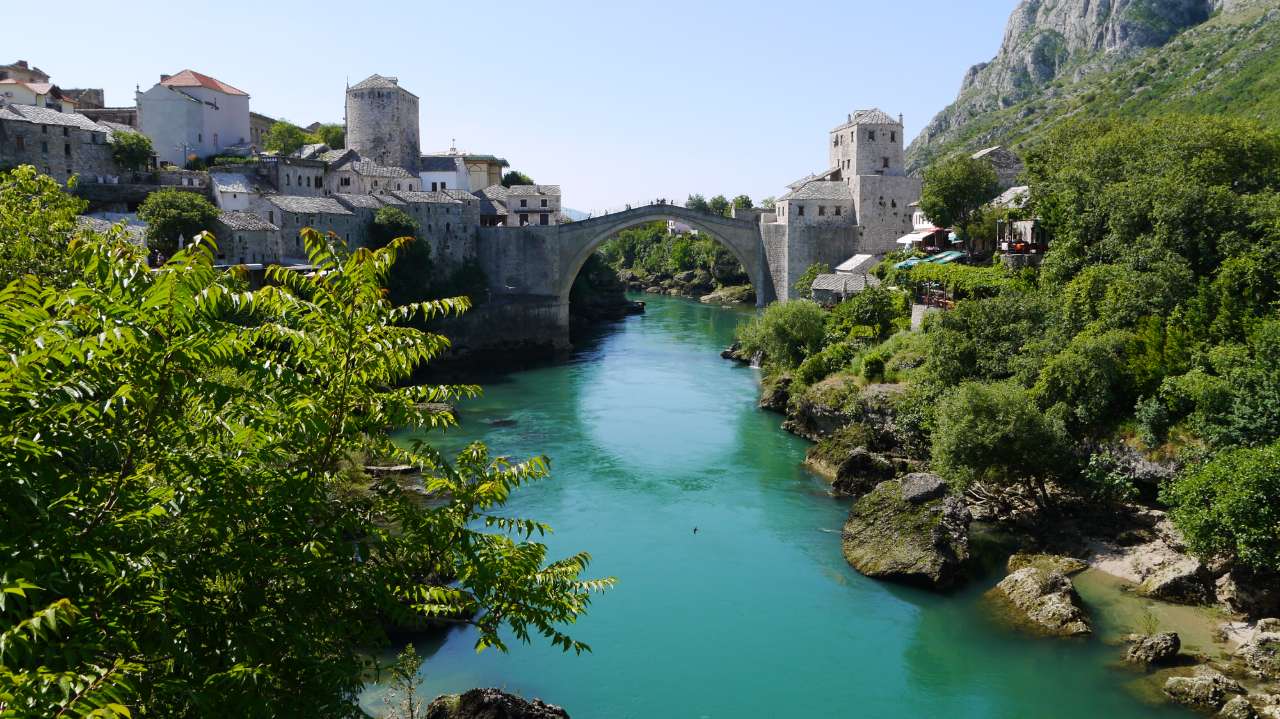 Extend Your Stay in the Balkans
Here are some ideas for adventures in the Balkans if you have more time for custom, private touring:
Travel to the Balkans with MIR
MIR has over three decades of Balkans travel experience with on-the-ground support, guides, and tour managers that clients rave about. Our full service, dedication, commitment to quality, and destination expertise have twice earned us a place on National Geographic Adventure's list of "Best Adventure Travel Companies on Earth."
Explore seven Balkans countries on MIR's 16-day Balkan Odyssey: Crossroads of Cultures small group tour.
You can also travel independently, on your own dates, on our Essential Balkans itinerary. There are endless custom and private travel possibilities for having MIR build a Balkans trip tailored to your specific interests.