error_outline
Flexible Private Trip — Book Your Dates for You & Yours – New!
Hike, Raft and Bike in a Balkan Gem
Overview
Slovenia is an adventurer's dream – lush mountains, turquoise rivers, hillsides dotted with ancient vineyards, cuisine dominated by local ingredients, and so much more! Hop off the beaten path and kayak, hike, raft, and cycle your way through this gem of a country from the political and cultural capital, Ljubljana, to the countryside of the Julian Alps and wine region of the "Slovene Tuscany." Admire tidy villages and towns, explore mountain gorges and valleys, coast down aquamarine rivers and lakes, and indulge in culinary and viticultural delights as you make your way through this 8-day active itinerary.
Travels to: Slovenia
Map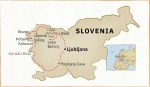 Itinerary
Days 1-2: Ljubljana (Slovenia), Postojna Cave

After arriving into Ljubljana, venture out to the Postojna Cave to explore the largest and most famous karst cave in Slovenia, riding a special train through its halls and tunnels and perhaps spotting the "human fish" – a rare proteus anguinus salamander that is the only cave vertebrate in Europe. Return to the city in the afternoon for a walking tour of Ljubljana's charming old town.

HIGHLIGHTS

An exploration of the Postojna Cave, an extensive cave system with special train and rare cave vertebrates
A walk through Ljubljana's charming old town with views of Ljubljana Castle, set high on a naturally fortified hill; a visit to Triple Bridge, one of the most popular photo ops in Slovenia; and stops along the way to taste the local specialties

Days 3-5: Bled, Triglav National Park, Bovec

Head north to beautiful Lake Bohinj in the Julian Alps of Triglav National Park for some kayaking on Slovenia's largest lake. Afterwards, continue on to Bled for a visit to the Church of the Assumption of Mary on Bled Island and an overnight at Tito's former summer residence, availability permitting. The next two days will be spent hiking and exploring the Triglav National Park while overnighting at a comfortable hotel in the mountain town of Bovec.

HIGHLIGHTS

Kayaking on Lake Bohinj, an alpine lake with crystal-clear waters
Boat ride on a traditional wooden pletna to lovely Bled Island, atop which sits the 15th century Church of the Assumption of Mary
Hiking in the Martuljek mountain range of Triglav National Park (part of UNESCO's Man and Biosphere project), taking in the views of two beautiful waterfalls and breaking for lunch at a rural hut along the way
Savoring a delicious meal prepared by locally acclaimed chef Tomaž Soldat at Mangrt Restaurant
Hiking through the Lepena Valley to the Krn Lakes, stopping to enjoy the beautiful Sunik Water Grove
Feasting on locally-grown ingredients at the award-winning Hiša Franko Restaurant, prepared by two Michelin star chef Ana Roš.

Days 6-8: Soca River, Kobarid, Goriska Brda, Ljubljana

Spend an adrenaline-filled morning rafting on the Soca River or head to an organic dairy estate for a more relaxing start to the day before paying a visit to the WWI museum in Kobarid and the Kolovrat mountain range on the Italian-Slovenian border. Continue on to Goriska Brda – the "Tuscany of Slovenia" – and spend the next day riding through this wine region on e-bikes, stopping to taste the local wine before heading back to Ljubljana for a farewell dinner.

HIGHLIGHTS

Rafting on the Soča River, riding the rapids for about 4.5 miles, or visiting an organic dairy estate
Learning about the region's history during WWI in Kobarid and visiting the Kolovrat range, an important site during the Battle of Caporetto in 1917
Tasting some home-cooked traditional Slovenian dishes during dinner at a private home
E-biking through Slovenian wine country, stopping for a wine tasting at one of the hospitable local vineyards along the way
Farewell dinner in Ljubljana
Dates &amp Prices
Please note:
Private trip prices vary by season and are subject to hotel availability for your travel dates.
Listed prices below are based on double occupancy and a 2 traveler minimum.
Hotel upgrades, additional nights, and solo traveler prices are available on request.
Land tour price, per person, starting from:
2023 Dates

Available: March - November

Tour, double occupancy

$7,595
What's Included
Tour Includes

Shared accommodations as noted in the itinerary. Contact MIR for hotel upgrade prices.
Meals, as noted in the itinerary.
Restaurant tips for included meals.
One arrival and one departure transfer. Additional arrival and departure transfers available at additional cost. MIR will arrange for travelers to be met upon arrival and seen off on departure, whether or not we make your air arrangements.
Ground transportation throughout itinerary by private vehicle and driver (type of vehicle depends on number of travelers in your group.)
Services of experienced, English-speaking national guide throughout the program.
Guided sightseeing tours and entrance fees, as outlined in the itinerary.
Expert guides for kayaking and river-rafting components.
Special events, excursions, and cultural performances, as outlined in the itinerary.
Use of hiking poles – advance request and size information needed.
Use of all required kayaking and rafting equipment (paddles, life vests, helmets, etc.)
Use of e-bike and related equipment.
Complete pre-departure information, including detailed packing list, reading list, and Touring with MIR handbook with country-specific information, maps, and travel tips.
Assistance booking your custom flight arrangements, on request. (Please note that international airfare is not included in the land tour cost).
Final document packet including luggage tags, final updates, and more.

Not Included

International airfare and taxes/fuel surcharges.
Meals and drinks not specified as included in the itinerary.
Single supplement, if requested or required.
Baggage handling.
Gratuities to national guides, activity guides, local guides, drivers, porters, and other service personnel.
Expenses incurred as a result of delay, modification, or extension of a tour due to causes beyond MIR's control.
Travel-related insurance, including cancellation, medical, and evacuation insurance. (Proof of insurance is required.)
Visa fees, excess-baggage charges, airport departure taxes, vaccination and other medical costs.
Optional pre or post-tour extensions.
Items of a personal nature such as phone calls, email, laundry, and alcohol.
Day pack for hiking portions and other active elements – all travelers should bring their own.
Specialty or comfort-only active gear including, but not limited to: hydration systems, cycling gloves, rash guard, etc.
Activity Level
Level 4: Rigorous
Please note: due to the active and adventurous nature of this tour a separate waiver, beyond the MIR Tour Reservation Form, is required for participation in this tour and must be completed no later than final payment.
Insurance is required and you will be required to show proof of insurance.
This "Active Essential" itinerary is designed to incorporate active elements such as hiking, biking, kayaking, and more into private journeys. Only those fit to travel, with a high level of physical fitness, and who are comfortable spending half the day or more in active settings (and who accept the local conditions) should consider joining.
While the accommodations are designed to be comfortable for travel in this part of the world and are rated as four-star hotels, some are on the smaller side with more basic amenities and services. It is important to keep in mind that Slovenia may not be up to the standards North American travelers expect. Services are improving in the region; nevertheless, you may encounter problems with plumbing, bureaucratic service, road conditions, unpaved sidewalks, uneven surfaces and steps, and availability and quality of public restrooms.
This is an adventuresome and active trip, with many active/athletic elements. It is rated as very rigorous touring due to the daily walking involved, some long driving days, the conditions of some roads, and the overall shortcomings of the tourism infrastructure as well as the active/athletic elements involved, such as walking in caves, kayaking, hiking, white-water rafting, and cycling. A significant amount of touring is on foot. Many streets are of cobblestones, some attractions are only accessible via steep staircases, and museums rarely have elevators. Flexibility and a sense of humor are essential components of the enjoyment of this trip.
Gallery
1/17

Daniel Ernst / www.slovenia.info

2/17

Paolo Petrignani / www.slovenia.info

3/17

Miha Krivic / www.slovenia.info

4/17

Dunja Wedam / www.slovenia.info

5/17

M.Tancic / www.slovenia.info

6/17

arhiv Turizem Bohinj / www.slovenia.info

7/17

Tomo Jesenišnik / www.slovenia.info

8/17

J. Skok / www.slovenia.info

9/17

Tomo Jesenišnik / www.slovenia.info

10/17

Hannes Becker / www.slovenia.info

11/17

Boris Pretnar / www.slovenia.info

12/17

Nino Verdnik / Slovenia Tourist Board / courtesy Jure Gaspersic

13/17

J. Skok / www.slovenia.info

14/17

Tomo Jeseničnik / www.slovenia.info

15/17

Iztok Medja / www.slovenia.info

16/17

Jošt Gantar / www.slovenia.info

17/17

arhiv ZTKMŠ Brda / www.slovenia.info