Multi-Region
Once Forbidden Lands of Central Asia & Iran
Photo credit: Lindsay Fincher
From Tashkent to Tehran via Turkmenistan
Overview
This journey spans three countries and over 2,500 years of history. In Uzbekistan you'll explore three legendary Silk Road cities, all UNESCO World Heritage Sites. In Turkmenistan you'll visit ancient Parthian fortresses and a grandiose modern capital built from white marble. And in Iran you'll experience centuries of spectacular Persian architecture, including one of the world's great ancient ruins.
Along the way, MIR's expert guides will immerse you in the culture at bustling bazaars, local restaurants, ceramics studios, and a horse farm specializing in a prized local breed. You'll experience the boundless hospitality that the people of all three countries pride themselves in, and you'll see how past and present come together in their daily lives.
Travels to: Uzbekistan, Turkmenistan, Iran
Map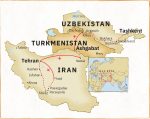 Itinerary
Days 1-3: Tashkent (Uzbekistan), Samarakand

The trip begins in Uzbekistan's capital and largest city, Tashkent, where you'll discover a mix of traditional and modern landmarks and visit a ceramics master in his studio. Then travel to blue-tiled Samarkand, the conqueror Tamerlane's legendary capital, hailed by UNESCO as "the crossroad of cultures." Touring includes stops at massive Bibi Khanum Mosque, gracefully proportioned Registan Square, and Ulug Bek Observatory, the site of crucial discoveries in 14th-century astronomy.

HIGHLIGHTS

The monumental 16th-century Islamic architecture of Tashkent, including Kukeldash Madrassah, Kaffal-Shashi Mausoleum, and Barak-Khan Madrassah
Tashkent's park-like Independence Square—formerly Lenin Square, rechristened and adorned with a new monument following Uzbekistan's independence from the Soviet Union in 1991
Discovering the brilliance of traditional Uzbek ceramics in the studio of a sixth-generation master
UNESCO-listed Samarkand's central Registan Square, bordered by three beautiful madrassahs
The 14th-century conqueror Tamerlane's architectural legacy in Samarkand, epitomized by Bibi Khanum Mosque, in its day the largest mosque in the world
Ulug Bek Observatory, where Tamerlane's grandson made historic advances in the study of astronomy

Days 4-7: Gijduvan, Bukhara, Khiva

Stop in the town of Gijduvan to tour one of Uzbekistan's most renowned ceramics workshops. Then it's on to Bukhara, Central Asia's most ancient living city. The Old Town, a UNESCO World Heritage Site, encompasses more than 140 protected monuments, including the Lyabi-Hauz Plaza at the heart of the city and the Ark Citadel, Bukhara's original fortress. Next, head northwest through the Kyzyl Kum Desert to Khiva, the last great oasis on the Silk Road's northern caravan route. Wander through the winding alleys of the UNESCO-listed Old Town, filled with minarets, cobbled alleys, mosques, and Kunya Ark, once the residence of the ruling khans.

HIGHLIGHTS

Witnessing the creation of brilliantly colored, intricately ornamented ceramics at the Narzulayev family workshop in Gijduvan
Bukhara's evocative Old Town, with its timeless domed bazaars and majestic Lyabi-Hauz Plaza
Ark Citadel, Bukhara's giant ancient fortress
Tasting plov, the quintessential Uzbek rice dish, at lunch in the home of a Bukhara family
The mix of palaces, mosques, and charming alleyways in Khiva's Ichon-Qala (Old Town)
Beautifully preserved Kunya Ark, the original residence of the khans

Days 8-9: Dashoguz (Turkmenistan), Ashgabat, Nisa

Cross the border into Turkmenistan and take an hour-long flight from Dashoguz to the capital, Ashgabat, a city of flamboyant gilded architecture built in the aftermath of a devastating 1948 earthquake. A trip outside of town takes you to the ruins of the ancient city of Nisa, a UNESCO World Heritage Site that was once the center of the Parthian Kingdom, and to a horse farm dedicated to the Akhal-Tekke breed.

HIGHLIGHTS

Exploring the ruins of Nisa's two fortresses, which show influences of ancient Greek and Roman culture
Getting to know the region's elegant Akhal-Tekke horses, one of the oldest cultured breeds in the world, on an owner-led farm tour
The opulent new architecture of Ashgabat, which holds a Guinness record for highest density of white marble buildings in the world
The brilliant, handwoven works on display at the National Museum of Turkmen Carpets
The $100-million Kipchak Mosque, with its 164-foot golden dome and room for 10,000 worshippers, located just outside Ashgabat

Days 10-13: Mashad (Iran), Tehran, Yazd

Upon entering Iran, the first stop is the city of Mashad, home to one of the country's holiest Shi'ite shrines. The following day, take the hour-and-a-half flight to Tehran, the bustling capital, where you'll get a window into Persian culture at Iran's finest museums. Another short flight takes you to Yazd, a traditional center of Zoroastrianism.  It's a city of such beauty and cultural significance that UNESCO designates it a World Heritage Site in its entirety.

HIGHLIGHTS

Mashad's Imam Reza Shrine, a major pilgrimage site decorated with the work of Al Reza Abbasi, Persia's most famous calligrapher
The extensive array of decorative arts, some dating back well over a thousand years, at Tehran's Reza Abbasi Museum
Tools of Neanderthals, prehistoric pottery, artifacts from Persepolis, and other archaeological treasures at the National Museum of Iran
The wide-ranging collection of art and sacred relics, including calligraphy, textiles, carvings, and carpets, at the National Islamic Museum of Iran
The many treasures of UNESCO-listed Yazd, including the Dowlat Garden, the Friday Mosque, and the Zoroastrian Fire Temple and Towers of Silence

Days 14-15: Pasargadae, Shiraz

Departing from Yazd, stop at the ruins of the city of Pasargadae, founded by Cyrus the Great in the 6th century BC, and then arrive in Shiraz, one of Iran's most beautiful and historically rich cities, renowned for its gorgeous gardens and intricate architecture. In the "City  of Roses and Nightingales" you'll explore a stunning, light-dappled mosque and people-watch at the shrine of a beloved poet.

HIGHLIGHTS

The limestone mausoleum of Cyrus the Great at the UNESCO-listed ruins of Pasargadae
The verse-engraved tomb of Iran's greatest lyric poet, Hafez, a site of pilgrimage and reverence surrounded by a lovely garden and a teahouse
The exquisite tilework and stained glass at Nasir-ol-Molk Mosque, where sunlight creates an explosion of color
Shiraz's Narenjestan Ghavam Museum, a grand 19th-century house set amid meticulously maintained gardens

Days 16-18: Persepolis, Isfahan

Proceed onwards to one of the world's great ancient archaeological sites, Persepolis, the ceremonial city of the Achaemenid Empire. Then it's on to one of Iran's great living cities, Isfahan, where beautiful, historic public spaces buzz with activity. Stroll through the centerpiece, UNESCO-listed Imam Square, and explore the spectacular buildings that surround it—the Imam Mosque, the Sheikh Lotfollah Mosque, and the Ali-Qapu Palace. Other Isfahan attractions include the Friday Mosque, the elegant bridges over the Zayandeh River, and the Armenian and Jewish quarters.

HIGHLIGHTS

The ornate columns and beautifully rendered bas-reliefs of the vast, UNESCO-listed Persepolis archaeological site
Taking in the scene at Isfahan's 22-acre Imam Square, one of the largest city squares in the world
The turquoise minarets and intricate tilework of the magnificent Imam Mosque
Eight hundred years of Persian architecture on display at UNESCO-listed Friday Mosque, the largest and most eclectic mosque in all of Iran
Discovering the legacies of minority cultures in Isfahan's Armenian and Jewish quarters

Days 19-20: Kashan, Tehran

On the way back to Tehran, stop in the oasis city of Kashan, located on the edge of the Dasht-e Kavir salt desert. It's famed for UNESCO-listed Bagh-e Fin, a spectacular Persian garden, and for its beautiful 19th-century merchants' houses, some of which are now open to the public. After a night in Tehran, depart the following day.

HIGHLIGHTS

Discovering opulent courtyards hidden behind the modest facades of Kashan's grand homes
The meticulous symmetry the late-18th-century Agha Bozorg Mosque, designed by the revered architect Ustad Ali Maryam
The beautiful, brilliantly engineered waterworks at Bagh-e Fin
Dates &amp Prices
Small group tour – max 16 travelers
Land tour price, per person. Based on double occupancy and minimum group size of 5 travelers.
2024 Dates

Tour, double occupancy

$8,395

Plus internal airfare

$350
What's Included
Tour Includes

Accommodations, as noted in the itinerary.
Meals as noted in the itinerary: 19 breakfasts, 17 lunches, and 14 dinners.
A daily supply of bottled water.
Arrival/departure airport transfers on the tour start/end date. MIR will arrange for all travelers to be met upon arrival and seen off upon departure whether or not we make your flight arrangements.
Ground transportation throughout tour by private van or coach. (Type of vehicle depends on group size.)
Services of experienced, English-speaking local guides, drivers, and other staff, including a MIR Tour Manager.
Guided sightseeing tours and entrance fees, as outlined in the itinerary.
Special events, excursions, and cultural performances, as outlined in the itinerary.
Baggage handling where available.
Gratuities to local guides, drivers, and other service personnel, including servers at group meals.
Complete pre-departure electronic document that includes detailed packing suggestions, reading list links, country-specific information, maps, travel tips and more.
Customized visa information and instructions. (Please note, visa fees are not included in the tour price.)
Assistance booking your custom flight arrangements, on request. (Please note, international airfare is not included in the land tour cost.)
Electronic final update bulletin, with any late news, updates and important information.

Not Included

International airfare and taxes/fuel surcharges.
Internal airfare. (Internal airfare is quoted separately and subject to change by airlines.)
Travel entry pass to Turkmenistan.
Meals and drinks not specified as included in the itinerary.
Single supplement (or partial single supplement where applicable), if requested or required.
Gratuities to Tour Manager.
Expenses incurred as a result of delay, modification, or extension of a tour due to causes beyond MIR's control.
Travel insurance, including cancellation, medical, and evacuation insurance.
Visa and/or passport fees, excess-baggage charges, airport departure taxes, vaccination and other medical costs.
Items of a personal nature, such as phone calls, email, laundry, and alcohol.
Optional pre- or post-tour extensions.
Activity Level
Level 3: Medium
This small group tour features long days walking and standing while touring, some long segments of overland and occasionally rough travel, uneven surfaces and steps, absent handrails, some stair-climbing, and absence of elevators. Only those fit to travel, who are willing to accept local standards of amenities and services and physical challenges of the program should consider joining this program.
Travelers must be able to walk at least two miles a day, keeping up with fellow travelers. There are overall shortcomings in the tourism infrastructure, including some that can cause walking challenges, such as unpaved sidewalks, uneven surfaces and steps, packed-dirt streets, broken pavement (streets or sidewalks) and a general absence of handrails or ramps. Some attractions are only accessible via steep staircases with tall uneven steps – these additionally may be spiral staircases, in narrow passages with limited light. Elevators are not available at touring sites, nor at a few of the hotels.
Past travelers have also encountered challenges with plumbing, bureaucratic service, variety of locally available foods, availability and quality of public restrooms.
Accommodations vary from superior tourist class hotels to small, intimate properties.
Gallery