error_outline
Departures are filling fast! Come explore the Kingdom with us!
Red Sands, Religion & Rock Art
Overview
Now is the time to visit Saudi Arabia. The kingdom is in the midst of a transformation, as it launches a major initiative to open up its traditionally isolated society to the outside world. The result is a "sweet spot" moment, when you can see the country's one-of-a-kind sights as they start to become accessible, ahead of the anticipated tourism boom.
This tour takes you to Saudi Arabia's most high-profile destinations, including the dynamic cities of Riyadh, Medina, and Jeddah, the monumental ancient tombs of Hegra, and the cliffs of Jubbah, decorated with thousands of astonishingly beautiful prehistoric petroglyphs. It also ventures beyond the main attractions to explore fascinating, sometimes surprising facets of the country. You'll traverse historic trade routes that have helped define the culture of the peninsula from its earliest days; discover medieval towns that showcase regional architecture; shop at traditional markets that remain central to daily life; visit niche museums devoted to distinctive features of Arab society; and take in a diverse landscape that includes towering canyons and scenic shorelines as well as vast, majestic desert.
Travels to: Saudi Arabia
Map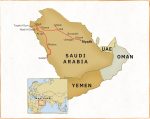 Itinerary
Days 1-3: Riyadh (Saudi Arabia), Ushaiger, Buraydah

Begin the journey in Riyadh, Saudi Arabia's capital and primary business hub. A welcome dinner introduces you to Saudi cuisine on the first evening, and the next day you'll explore the highlights of the city, including the National Museum, Masmak Fortress, and the UNESCO World Heritage-listed Al Turaif District. From Riyadh head overland to Buraydah, stopping off to learn about traditional Najdi architecture at the heritage village of Ushaiger along the way. In Buraydah visit the local women's market.

HIGHLIGHTS

Wander the exhibits of the National Museum, a beautifully designed, modern facility that is the primary repository of the Saudi national heritage and culture
Explore the ruins of the Al Turaif District, a UNESCO World Heritage Site and the original seat of the power of the Al Saud dynasty
Learn about Najdi architecture in Ushaiger, often cited as Saudi Arabia's most beautiful village, where labyrinthine walkways wind amongst traditional mud buildings
Sample the ubiquitous national sweet of Saudi Arabia, dates, right at their source near the date palm plantations of Buraydah

Days 4-7: Fayd, Hail, Jubbah, Tabuk, Neom

Before heading off to Hail, visit the spectacular camel market, where thousands of camels, goats, and sheep are haggled over. Stop off to view the massive citadel and surrounding archaeological sites at Fayd, once an important stop on the pilgrimage route from Baghdad to Mecca. Stop off to see Hutaymah Crater, a geological mystery. In Hail gaze down at the city and surrounding plains from the ramparts of A'arif Fort, which has guarded over area for over 400 years. From Hail you'll also take a day trip to the prehistoric petroglyphs at nearby Jubbah. These well-preserved examples of ancient rock art, now on UNESCO's World Heritage List, bear testament to time when the Arabian Peninsula had a much wetter climate.

Departing Hail you'll pass through some of the Arabian Peninsula's most picturesque desert, Al Nufud Al Kabir. Red dunes and craggy outcrops of rock dominate the landscape. Just past the western edge of the dune field lies the archaeological site and oasis of Tayma, inhabited since the Bronze Age and the site of significant archaeological finds. From Tabuk you'll head down to the Red Sea coast to learn more about the planned future "smart city" of NEOM. Then head south to the steep-sided and date palm-filled canyon at Tayeb Al Ism, where Moses is thought to have once sought refuge.

HIGHLIGHTS

Take in the sights, sounds, and smells(!) of the expansive livestock market in Buraydah, where thousands of camels, goats, and sheep are on offer
Meander through the ruins and museum at Fayd, learning about the history of the oasis as an important stop for pilgrims midway between Baghdad and Mecca
Gaze down at Hail from the mudbrick and stone ramparts of A'arif Fort, built in stages starting over 400 years ago
Imagine what the Saudi desert looked like during the Neolithic period, when the UNESCO-listed petroglyphs at Jubbah were first carved in rocks surrounding what was then a lake
Appreciate the vastness of Saudi Arabia as you pass through the starkly beautiful Al Nufud Al Kabir Desert
Marvel at the plans for the future, at the site of the high-tech "smart city" of NEOM

Days 8-10: Al Ula

Heading south to Al Ula, stop first at Saudi Arabia's answer to the Grand Canyon, Wadi Al Disah. Beautiful scenery abounds: rock formations jut up from the valley, waterfalls plummet down cliff-faces, and camel herds stroll through a canyon floor that transitions from desert red to lush green. Al Ula itself is arguably Saudi Arabia's most spectacular destination. The area is rich in history, archaeological wonders, and mesmerizing scenery. Over the course of two days, you'll visit the main sites and beyond. A focus point is Hegra, where rock-hewn Nabataean tombs rival (or perhaps surpass) the beauty of those at Petra. Elephant Rock, an immense massif reminiscent of an elephant, is among the natural marvels of the area.

HIGHLIGHTS

Contrast the red rock walls of grandiose Wadi Al Disah with the lush greenery of the papyrus and date palm-covered canyon floor
Be astounded by the intensely beautiful Nabataean tombs at Hegra, a UNESCO World-Heritage Site rivalling the similar site at Petra
Study the ancient graffiti, rock carvings and petroglyphs in myriad extinct and obscure languages, that cover the rock walls at Jebel Ikmah
Ponder how ancient Dadanite and Lihyanite architects managed to carve tombs and sculptures into a cliff face 150 feet above ground at Dadan
Take in the spectacular natural scenery at the Harrat Al Uwayrid lava fields and at the iconic Elephant Rock

Days 11-14: Medina, Jeddah

From Al Ula drive south to the holy city of Medina, a major Islamic pilgrimage site. The heart of the city is open only to Muslims, but the spectacle of the place is tangible everywhere. You'll be able to view the towering minarets of massive Masjid Al Nabawi (the Prophet's Mosque), which houses the tomb of the Prophet Muhammad, from a nearby square. It is a beautiful sight, particularly at night when the mosque is aglow in light. You'll also visit Mount Uhud, which provides an overview of the region and was the site of the Battle of Uhud, a critical event in Islamic history.

The Saudi Arabia tour comes to a close in the port city of Jeddah, which you'll reach by high-speed train from Medina. Jeddah is Saudi Arabia's second largest city and the largest port on the Red Sea, making it a cosmopolitan place. Sights here include the exceptional Taybet Museum, the UNESCO-listed old town area of Al Balad, and the pedestrian-friendly Jeddah Cornice, which is lined with palm trees and dotted with fountains.

HIGHLIGHTS

Watch the sun set over the holy city of Medina from stop Mount Uhud
Appreciate the sanctity and beauty of the Masjid Al Nabawi, one of Islam's most important pilgrimage sites, from nearby square
Wander the alleyways of Jeddah's UNESCO-listed old town, Al Balad, passing by souqs, traditional homes, and mosques along the way
Explore a trove of pre-Islamic and Islamic artifacts housed in the striking Abdul Raouf Khalil Museum
Listen to the waves as you people-watch and take in the scenery along the pedestrian-friendly Jeddah Corniche
Dates &amp Prices
Small group tour – max 16 travelers
Land tour price, per person. Based on double occupancy and minimum group size of 6 travelers.
2023 Dates

Oct 25 - Nov 7

New departure, now open!

Nov 29 - Dec 12

Only 4 spots left!

Tour, double occupancy

$9,295

2024 Dates

Tour, double occupancy

$9,695
What's Included
Tour Includes

Accommodations, as noted in the itinerary.
Most meals, as noted in the itinerary.
A daily supply of bottled water.
Arrival/departure airport transfers on the tour start/end date. MIR will arrange for all travelers to be met upon arrival and seen off upon departure whether or not we make your flight arrangements.
Ground transportation throughout tour by private van or coach. (Type of vehicle depends on group size.)
Services of experienced, English-speaking local guides, drivers, and other staff, including a MIR Tour Manager.
Guided sightseeing tours and entrance fees, as outlined in the itinerary.
Special events, excursions, and cultural performances, as outlined in the itinerary.
Gratuities to local guides, drivers, and other service personnel, including servers at group meals.
Complete pre-departure electronic document that includes detailed packing suggestions, reading list links, country-specific information, maps, travel tips and more.
Assistance booking your custom flight arrangements, on request. (Please note, international airfare is not included in the land tour cost.)
Customized visa information and instructions. (Please note, visa fees are not included in the tour price.)
Electronic final update bulletin, with any late news, updates and important information.

Not Included

International airfare and taxes/fuel surcharges.
Meals and drinks not specified as included in the itinerary.
Single supplement (or partial single supplement where applicable), if requested or required.
Gratuities to Tour Manager.
Expenses incurred as a result of delay, modification, or extension of a tour due to causes beyond MIR's control.
Travel insurance, including cancellation, medical, and evacuation insurance.
Visa and/or passport fees, excess-baggage charges, airport departure taxes, vaccination and other medical costs.
Items of a personal nature, such as phone calls, email, laundry, and alcohol.
Optional pre- or post-tour extensions.
Activity Level
Level 3: Medium
While this program is designed to be the most comfortable possible for travel in this region, it is rated as rigorous touring due to the daily walking involved, the length of some bus rides, and the overall shortcomings of the tourism infrastructure. This itinerary features a significant amount of touring on foot. Many streets are made of packed dirt, and some attractions are only accessible via steep staircases with tall uneven steps. Often the museums have no elevators. During touring excursions, availability of western toilets is unreliable in Saudi Arabia. Many public toilets encountered during touring, at museums, at restaurants, and so forth are squat toilets, and handrails may be inadequate.
It is important to keep in mind that parts of Saudi Arabia are not up to the standards North American travelers expect. Services are improving; however, you may encounter problems with bureaucratic service, road conditions, plumbing, unpaved sidewalks, uneven surfaces and steps, variety of locally available foods, and availability and quality of public restrooms. You are traveling in some areas that see relatively few travelers, and the infrastructure is not yet fully developed.
To reap the full rewards of this adventure, travelers must be able to walk at least a mile a day, keeping up with fellow travelers. Flexibility, a sense of humor, and a willingness to accept local standards of amenities and services are essential components to the enjoyment of this trip.
Gallery
1/20

Saudi Arabia Tourism

5/20

Saudi Tourism Authority

16/20

Saudi Arabia Tourism

19/20

Saudi Tourism Authority