error_outline
New tour for 2024! Connects to our Outposts of the Silk Road tour.
From the Wakhan Corridor to the Pamir Plateau
Overview
The Pamirs form one of the planet's most remote and stunningly beautiful landscapes. Snow-capped, craggy mountains ring a high-altitude plateau that is studded with azure lakes. Narrow river valleys trace verdant paths through the peaks, linking timeless villages where obscure languages have been spoken since before Marco Polo passed through. Starting from Tajikistan's capital, Dushanbe, set off on a breathtaking overland journey through these jagged mountains and plunging valleys along the Pamir Highway. Experience the majesty of the Wakhan Corridor, where for centuries Silk Road merchants and Great Game players passed under the shadows of the Hindu Kush. Enjoy conversations and home-cooked meals with local Pamiris in their bucolic mountain villages and with Kyrgyz semi-nomads in their yak-centric yurt camps. This is real adventure – the best of Central Asia.
MIR's experienced guides know the roads and know the people. They'll take you on an adventure you'll never forget.
Travels to: Tajikistan
Map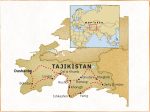 Itinerary
Days 1-4: Dushanbe (Tajikistan), Bokhtar, Kulob

Start in Dushanbe, the pleasant and leafy capital of Tajikistan. View one of world's largest reclining Buddhas – a relic of the region's ancient Buddhist past – and enjoy an introduction to local music before heading south to explore the plains and agricultural towns leading up to the Pamirs.

HIGHLIGHTS

Listen to the sounds of traditional Tajik and Pamiri music at a music museum in the Tajik capital, Dushanbe (named for the Persian word for Monday)
Explore the natural springs that make up Chiluchor Chashma, a natural wonder and an ancient pilgrimage site
Discover Tajikistan's ancient Buddhist past as you view the reclining Buddha in Dushanbe and Buddhist ruins in Bokhtar
Watch as the landscape around you transitions from the agricultural lowlands and hills of western Tajikistan to the soaring peaks and plunging valleys of the Pamirs east of Kulob

Days 5-6: Qal'ai Khumb, Khorugh

Wind along the Afghan border, in places mere feet away across the Panj River. Timeless villages line the river on both sides of the border, and the landscape becomes increasingly beautiful as the mountains rise up all around you.

HIGHLIGHTS

Admire the unmatched mountain scenery and plunging valleys along the Pamir Highway, one of the highest international highways in the world
Learn about the languages and cultures that make up the patchwork of peoples in the Pamirs, including the Shughnis, the Wakhis, and the Kyrgyz
Learn about the practice of Ismailism (a branch of Shia Islam), as you meet with practitioners at a jamaatkhana in the Pamiri capital Khorugh, set at 7,000 feet and near the Afghan border

Days 7-8: Ishkashim, Yamg, Langar

Enter the Wakhan Valley, just across from Afghanistan's Wakhan Corridor, a narrow spit of land separating Tajikistan from Pakistan. The valley is dotted with beautiful villages, hot springs, ancient forts, and Ismaili shrines.

HIGHLIGHTS

Explore Wakhi (and Silk Road) culture and history as you visit ruined forts, scenic villages, and Ismaili shrines along the Tajik side of the Wakhan Corridor
Look for camel caravans, largely unchanged over the centuries, descending on the Afghan side from highland pastures to lowland villages
Chat with friendly locals to learn more about their way of life in the deeply isolated region

Days 9-10: Jarty Gumbez, Murghob

Head up and out of the Wakhan, ascending to the high Pamir Plateau. This area was traditionally home to Kyrgyz yak herders – many still set up yurt camps in the summers. Look out for marmots, Bactrian camels, Marco Polo sheep, and other wildlife.

HIGHLIGHTS

Look for ibex, Marco Polo sheet, marmots, eagles, and even snow leopards as you traverse the high altitude passes and plateaus on your way to Jarty Gumbez
Chat with the semi-nomadic Kyrgyz, a minority in Tajikistan who make their home on the high plateaus of the Pamirs, herding yaks and living for some of the year in yurts
View a Neolithic hunting scene, painted thousands of years ago inside Shakhty Cave, not far from Murghob

Days 11-15: Ghudara, Bartang, Rushon, Dushanbe

Descend back down from the plateau, winding your way back to the Afghan border through Ghudara and the Bartang Valley, a deeply isolated and remote area. Stop to chat with friendly villagers and to view the stunning mountains as you go. Continue back to Dushanbe following a different route through the Rasht Valley (conditions permitting), making your path through Tajikistan an epic figure eight. Celebrate the end of the adventure back in the capital.

HIGHLIGHTS

Pass through the Bartang Valley, one of the most remote and spectacular parts of the Pamirs
Conditions permitting, avoid backtracking on your return to Dushanbe, instead venturing over Saghirdasht Pass to the Rasht Valley, a stronghold of Tajik traditions and culture
Dates &amp Prices
Small group tour – max 12 travelers
Land tour price, per person. Based on double occupancy and minimum group size of 5 travelers.
What is a Partial Single Supplement?
This tour connects to our Outposts of the Silk Road tour through Kyrgyzstan and Uzbekistan: July 31-August 17, 2024.
2024 Dates

Tour, double occupancy

$6,995

Partial single supplement

$375
What's Included
Tour Includes

Accommodations, as noted in the itinerary.
Most meals, as noted in the itinerary.
A daily supply of bottled water.
Arrival/departure airport transfers on the tour start/end date. MIR will arrange for all travelers to be met upon arrival and seen off upon departure whether or not we make your flight arrangements.
Ground transportation throughout tour by private jeeps, van, or coach. (Type of vehicle depends on group size and terrain.)
Services of experienced, English-speaking local guides, drivers, and other staff, including a MIR Tour Manager.
Guided sightseeing tours and entrance fees, as outlined in the itinerary.
Special events, excursions, and cultural performances, as outlined in the itinerary.
Gratuities to local guides, drivers, and other service personnel, including servers at group meals.
Complete pre-departure electronic document that includes detailed packing suggestions, reading list links, country-specific information, maps, travel tips and more.
Electronic final update bulletin, with any late news, updates and important information.
Assistance booking your custom flight arrangements, on request. (Please note, international airfare is not included in the land tour cost.)
Customized visa information and instructions. (Please note, visa fees are not included in the tour price.)

Not Included

International airfare and taxes/fuel surcharges.
Meals and drinks not specified as included in the itinerary.
Partial single supplement, if requested or required.
Gratuities to Tour Manager.
Expenses incurred as a result of delay, modification, or extension of a tour due to causes beyond MIR's control.
Travel insurance, including cancellation, medical, and evacuation insurance.
Visa and/or passport fees, excess-baggage charges, airport departure taxes, vaccination and other medical costs.
Optional pre- or post-tour extensions.
Items of a personal nature, such as phone calls, email, laundry, and alcohol.
Baggage handling.
Activity Level
Level 4: Rigorous
This Explorer Series program, by nature, is designed to be comfortable for western travelers, but is a very adventurous program to a rustic part of the world. Accommodations will vary widely, and will include three and four-star hotels in Dushanbe, Bokhtar, Qal'ai Khumb, and Khorugh (collectively 8 nights). In Murghob and Rushon (total 2 nights) the hotels are very simple and while rooms are private, restroom facilities may be shared. Very basic guesthouses are used for the other four nights (Yamg, Langar, Jarty Gumbez, and Ghudara) with shared sleeping accommodations and shared outhouse WCs. Shared accommodations may be mixed-sex. Running water, electricity, internet, and cell service may not be available for several stretches along this itinerary, especially in Yamg, Langar, Jarty Gumbez, and Ghudara. Even if available, the service may be frustratingly weak (this includes electricity, which can at times be weak and unreliable in some of these areas).
Some drives will be more than eight hours and have significant segments along dirt roads, unpaved roads, or poorly maintained and therefore very bumpy asphalt. Expect rough, dusty roads, for long periods of time. To reap the full rewards of this adventure, travelers must be able to walk at least two miles a day, keeping up with fellow travelers, and must enjoy the sense of adventure that comes with overland travel over dusty, rough roads.
A large part of the trip is at a high elevation, ranging from 7,000 to over 15,000 feet (the highest points on the itinerary are en route from Langar to Jarty Gumbez and Murghab and then on to Ghudara. This stretch includes the Ak-Baital Pass at 15,270 feet above sea level, the Khargush pass at 14,252 feet above sea level, an overnight in Jarty Gumbez at over 13,000 feet above sea level, and an overnight in Murghob at 11,869 feet above sea level.
If you rely on electricity for CPAP, or for any other reason, you must have your own battery or other back-up, or please reconsider participation.
Those with a history of medical problems, particularly cardiac or respiratory, must consult a doctor before considering this trip.
Services are improving in the region; however, you may encounter problems with plumbing, bureaucratic service, road conditions, unpaved sidewalks, uneven surfaces and steps, and availability and quality of public restrooms. In some places, established public restrooms will be Eastern-style. In other places where there are no restrooms, the group will make "bush stops." Hot running water is not a constant in this part of the world, as municipal water systems are sometimes under repair in the warmer months and some guesthouses or yurt camps do not offer running hot water. We are traveling in some areas which, relatively speaking, have seen few travelers, and the infrastructure is not yet fully developed. Air conditioning is a luxury and often not available in facilities outside capital cities.
This program is rated as rigorous touring due to the daily walking involved (with some hiking), extended travel at high altitudes, several very long driving days and the overall shortcomings of the tourism infrastructure. This itinerary features a significant amount of touring on foot, and long days of driving – required to experience some of the spectacular scenery.
Flexibility, a sense of humor and a willingness to accept local standards of amenities and services are essential components to the enjoyment of this trip.
Every effort has been made to make the information in this schedule accurate. However, trip itineraries are always subject to change. We will do our best to inform you in advance of any changes, but due to the nature of travel in Central Asia, this may not always be possible. This tour maintains a focus on cultural interaction and we will be visiting private homes and sharing meals with local residents. It is therefore important that tour members have a desire to involve themselves in the local culture in order to fully enjoy this trip. If you are looking for a less adventurous experience, MIR offers other scheduled small group tour options featuring more comfortable accommodation and which do not venture into the remote and undeveloped Pamir region. Please ask for details on these tours (Journey Through Central Asia) as well as a custom private journey which may be a better match for your interests and physical capabilities.