Travel Inspiration: What's New in Tajikistan
We're in regular communication with our friends and colleagues overseas and appreciate their insight so much, we thought you'd also appreciate a first-hand update from the international MIR network. We are tapping the network of guides, tour managers, partners, and staff in our affiliated ground offices to relate their first-hand accounts from MIR's destinations in our new blog series: Reporting in from MIR Destinations.
Recently, our blog introduced you to several of our tour managers. As the world gradually reopens, you may be wondering what's happening in a specific destination you're planning on visiting sometime in the future. This blog series will provide field reports with detailed updates and conditions on the ground.
We have previously shared destination reports from Mongolia & China, Central & East Europe, the Baltics, the Balkans, and the South Caucasus & Turkey. This batch is from Central Asia. Read a dispatch from some of the countries in this region:
Reporting in from Tajikistan
Information current as of December 2, 2020.
1. Let's start with the status of international flights into Tajikistan – what's the situation?
Dilshod: Tajikistan has reopened regular international flights between Dushanbe and two key cities: Dubai, UAE on Fly Dubai and Istanbul, Turkey on Turkish Airlines. Both of these routes operate twice a week. We are still waiting on the restoration of air connections with Tashkent, Uzbekistan and Moscow, Russia, which should restart any day now.
All passengers arriving in Tajikistan need to show proof of a negative COVID 19 test taken within 48 hours prior to boarding their flights. Temperature checks are conducted in the airport upon arrival to Tajikistan and secondary COVID 19 tests are required for those who arrive with a high temperature. Travelers arriving with a high temperature are accommodated at a quarantine facility for up to 24 hours until the results of the second test are available.
Tajikistan's e-visa system remains up and running, and US citizens are permitted to enter the country per normal visa requirements.
(click image to view larger photo)
2. What's new in Tajikistan?
Dilshod: When the borders closed and flights were canceled due to the pandemic, the Tajikistan government canceled or rescheduled the majority of festivals and major events. We look forward to these celebrations in 2021 as well as additional holidays such as the Non (bread) Celebration and the Day of Honey Festival.
In early July, the Ministry of Culture and Tourism hosted the celebration of National Handicrafts Masters. This two-day event was held in Dushanbe's Iram (Paradise) Park, and artists from each of Tajikistan's districts displayed their creativity in traditional Tajik crafts.
(click image to view larger photo)
The Tajik Melon and Watermelon Celebration was held in Dushanbe's largest bazaar, Mehrgon, at the end of August to mark the agricultural harvest. The range of melons available here is nothing short of amazing – we grow about 25 varieties.  Every month is associated with a different melon from among those we love the most. For example, the first melons (handalak) are harvested in the month of May; in early June an even larger melon called kampircha appears; and by the end of June, we're feasting on kukcha and zardcha melons. Kukcha, which means green, are among my absolute favorites, as are the largest yellow melons, called torpedo for obvious reasons. Melon harvesting stretches all the way into October in Tajikisitan.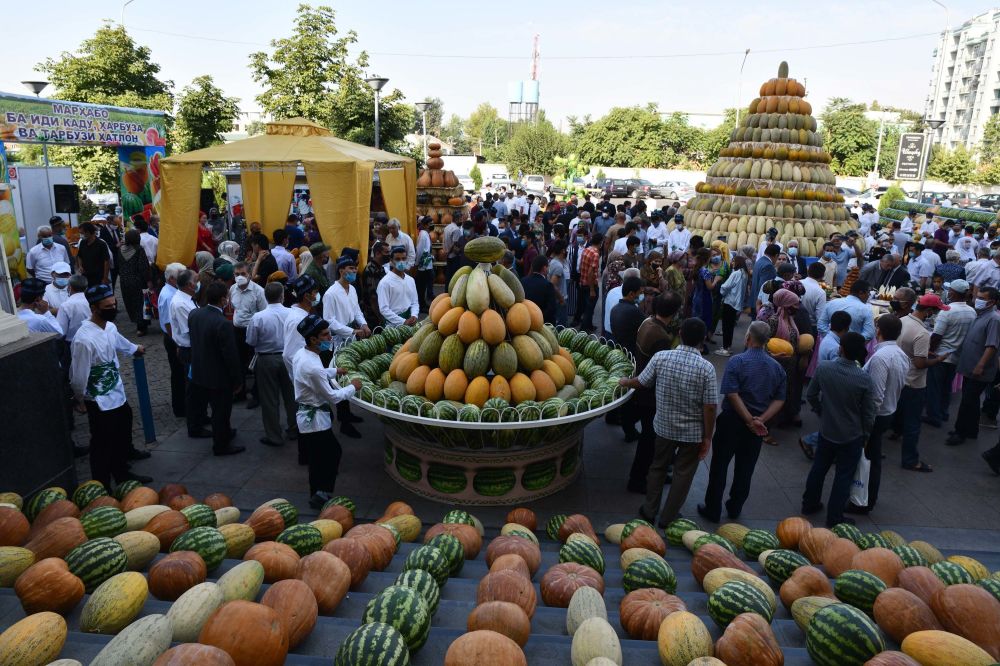 This bazaar is a favorite destination for Tajiks to wander among the stalls within the airy indoor market and to browse the vendors selling local produce, bread, prepared food, clothes, shoes, carpets, and of course, melons.
In the beginning of September, the city of Penjikent celebrated the 5,500-year-old archaeological site of Sarazm. The President of Tajikistan participated in this celebration personally. Sarazm means "where the land begins" – an apt name for this ancient archaeological site where humans first settled in Central Asia. Located in northwestern Tajikistan in the Zerafshan River Valley and discovered in 1976, Sarazm is Tajikistan's first UNESCO World Heritage Site and is officially known as the "Proto-Urban Site of Sarazm." This thriving metallurgical center reached its apex in 3,000 BC at the beginning of the Bronze Age, when it was rich in metals, minerals, and especially turquoise. Archaeologists also discovered evidence of wheat and barley and concluded that this fertile valley was an agricultural center as well, with early farmers tilling the soil and nomadic herders tending their animals.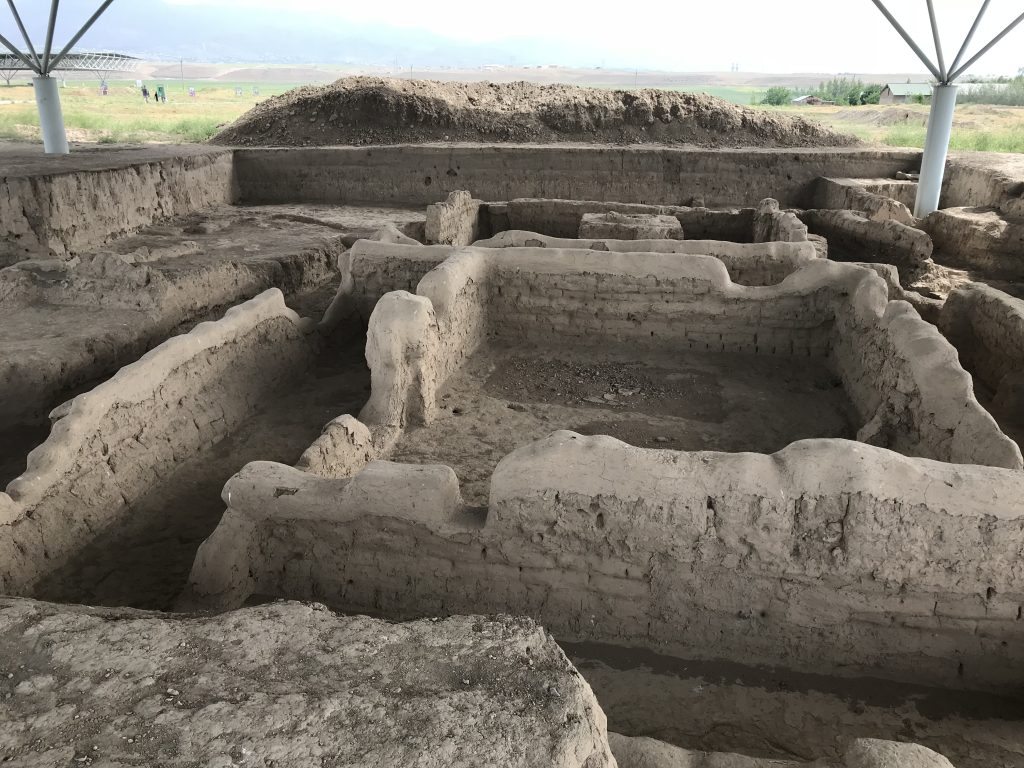 I should also mention that on October 11th, Tajikistan held Presidential elections. There were five final candidates in the race, which concluded with a resumptive victory for the current President, Mr. Emomali Rakhmon, who was officially sworn in on the 30th of October and will serve for another seven years.
3. How strong is the USD these days?
Dilshod: The global crisis has had a significant impact on Tajikistan, especially on supply chains – leading to a significant increase in prices for food products in stores, cafes, and restaurants. Our currency has fallen against the dollar, with the Tajik Somoni (TJS) down 9.5%. The current rate is about 11.3 TJS to the dollar.
(click image to view larger photo)
4. What's the first dish and/or beverage you most like to introduce visitors to?
Dilshod: Traditional Tajik cuisine is heavily influenced by Persian, Afghan, and Uzbek cuisines. The top of my list of dishes to recommend is plov, also known as osh. Like other Central Asian countries, plov is Tajikistan's national dish and is made of rice with shredded carrots, yellow turnips, and pieces of meat cooked in oil or mutton fat (traditionally sheep's tail) in a special pot with a narrow bottom called a kazan. Bulbs of garlic are also added and served on top of the finished plov and other types of fruits and vegetables can be added. Traditionally, plov is eaten with the hands, and this can still be seen in rural areas.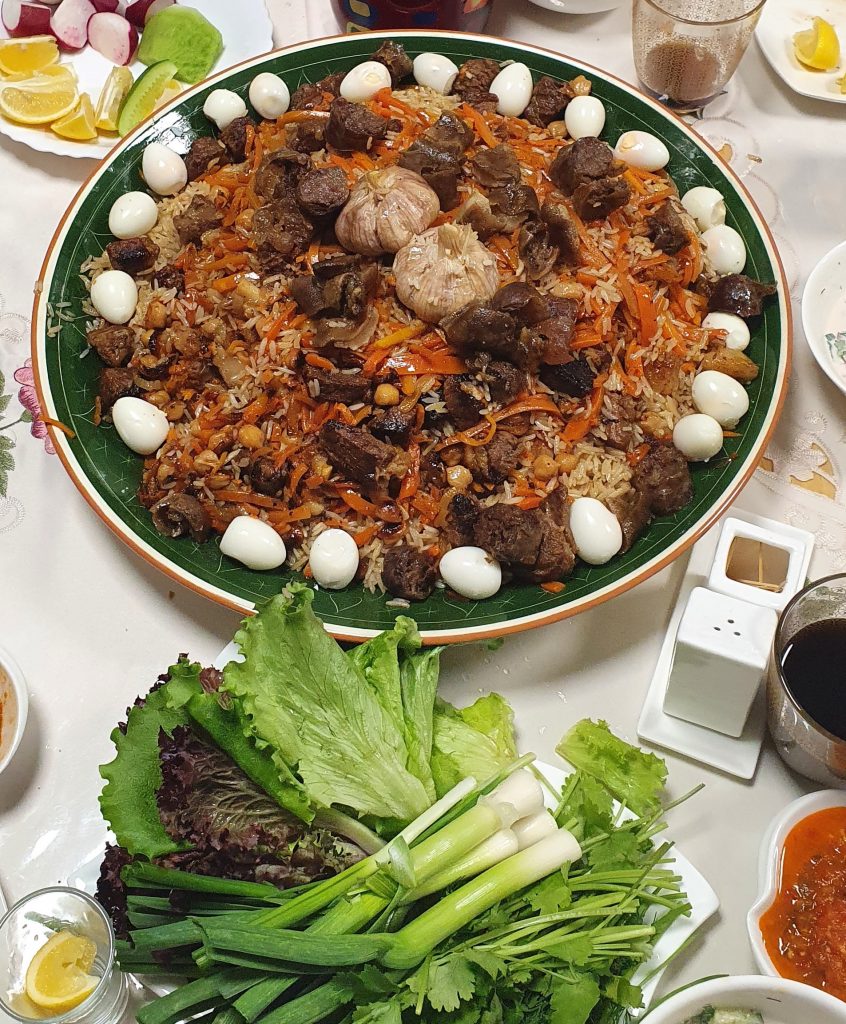 Another Tajik dish that I would recommend is qurutob, a communal vegetarian dish whose name comes from the method of its preparation. Balls of dried salty cheese (qurut, or kurt) are dissolved in water and the liquid is poured over strips of thin flatbread called patyr (or fatir). The dish is topped with fried onions and other vegetables before serving.
Along with plov and qurutob, you must try our green tea. Tea accompanies every meal in Tajikistan and is often offered to guests as a gesture of hospitality. It can be taken with or without sugar or honey and is drunk from small cups called piala. Since tea is so popular, chaykhana (or teahouses) are common gathering places in Tajikistan.
(click photo to view larger image)
I should also mention that non, a flatbread popular throughout our area, is so important here that if a Tajik has food but no non, he will say he is out of food. Shashlik, barbecued meat grilled on skewers with vegetables, is also a common dish I would recommend and can be found on any street corner in Central Asia.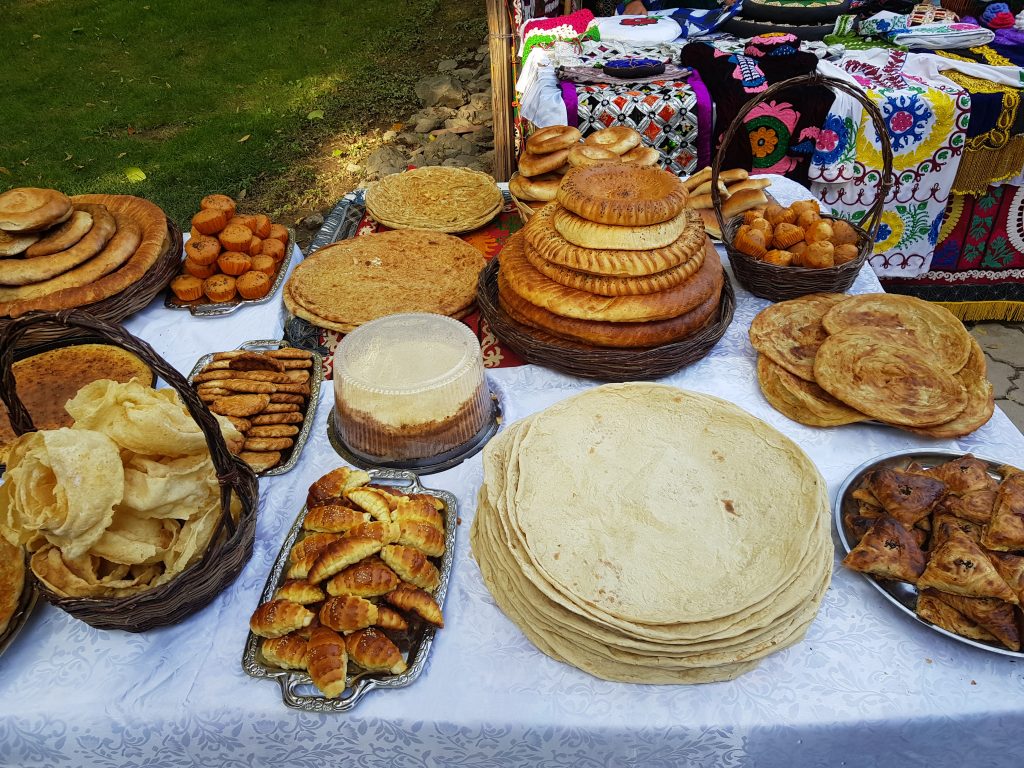 Other popular dishes you should try during your visit are our meat and vegetable soups (such as shurbo and piti), meat soups with noodles (lagmon and urgo), mantu (steamed meat dumplings), sambusa (a triangular pastry stuffed with meat and onion and baked in a tandir oven), and qurut balls (the dried salty cheese used to make qurutob). And don't forget our abundant fruit – especially our grapes and melons!
Tajikistan – Dramatic Scenery and Isolated Village Life
Located in the heart of the Silk Road in Central Asia, Tajikistan is an under-visited destination colored with the influence of Persia and Russia and ripe for discovery. From the Zoroastrian ruins of Penjikent to the stunning vistas on the "Roof of the World" in the Pamir Mountains, MIR can take you on countless adventures here. You'll be far from the beaten path, yet welcomed like long-lost family.
Whether you're thinking of traveling sooner or later, don't miss out on the dramatic mountain scenery and colorful bazaars of Tajikistan. Check out all the travel options for yourself.
Questions about traveling in Tajikistan? Joanna Millick loves planning trips to Tajikistan and is happy to chat anytime.
No matter your travel style, there's a Tajikistan adventure that's right for you.