error_outline
Private Trip — Book Privately on Set Dates (September 26-October 3, 2022)
World Nomad Games - Turkey 2022
Overview
For the past three years the World Nomad Games have been in held in the heart of traditional nomadic lands: Kyrgyzstan. In 2022, for the first time ever, they will be held in Turkey, in the town of Iznik near Bursa and Istanbul. Turkey traces its heritage back to nomadic roots in the mountains and steppes of Central Asia. It is also a well-connected, comfortable destination with Istanbul one of the most exciting cities to visit on the planet. These qualities make it an ideal host for this year's games.
On this eight-day, private itinerary you'll start in the Byzantine and Ottoman capital, Istanbul, replete with outstanding sights, a food scene that is both trendy and traditional, and a topography that begs to be photographed. Then head to nearby Bursa, just a short drive into Asia. Spend the next three days watching the exhilarating games and learning more about nomadic cultures from around the world. The trip concludes back in Istanbul. For those looking to explore a bit more of Turkey, an optional three-day post-tour to Cappadocia, with its otherworldly landscapes and ancient churches, can also be booked.
This journey is designed to be booked privately, ideal for individuals, couples, or friends. The dates are set and timed around the games.
Travels to: Turkey
Map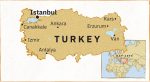 Itinerary
Days 1-2: Istanbul (Turkey)

After arriving into Istanbul, spend the next day exploring the Sultanahmet area – Istanbul's atmospheric Old Town where the city's finest monuments including the Blue Mosque, Hagia Sophia, Topkapi Palace, the Hippodrome, and the Basilica Cistern are found.

HIGHLIGHTS

Exploring the historic Sultanahmet district with visits to UNESCO-listed Topkapi Palace, the Great Palace of the Ottoman sultans from the 15th to 19th centuries; UNESCO-listed Hagia Sophia, originally built by Byzantine Emperor Justinian around 537 CE; the UNESCO-listed Blue Mosque, with its towering minarets and layered domes; and the Basilica Cistern, an underground forest of columns under Istanbul.
Stopping by the Hippodrome of Constantinople, once used for chariot races and public gatherings, and a popular gathering place for Istanbullus for two millennia.
Strolling on the rooftops of the Grand Bazaar, just like James Bond in Skyfall (only Bond was on a motorcycle!).

Days 3-6: Bursa and the World Nomad Games

Head from European Istanbul across the Bosphorus to the Asian side, and then make your way to the small town of Gemlik (near Bursa and Iznik) on the Sea of Marmara. Spend four nights here witnessing the Opening Ceremony, events, and Closing Ceremony of the World Nomad Games, which will be held in the town of Iznik.

HIGHLIGHTS

Crossing the Bosphorus Suspension Bridge, which towers over the Bosphorus Strait and links European Turkey to Asian Turkey.
Attending the Opening Ceremony, Closing Ceremony, and events of the World Nomad Games.
Learning about nomadic cultures from around the world at the games, with representatives from Kyrgyzstan, Kazakhstan, Uzbekistan, Tajikistan, Mongolia, Turkey, and more in attendance.

Days 7-8: Bursa and Istanbul

After the closing ceremony of the games, tour a few of the main sights in Bursa. Then head back to Istanbul for a final overnight (or opt for the Cappadocia post-tour).

HIGHLIGHTS

Wander the alleyways of Cumalikizik village, UNESCO-listed and an excellent and well-preserved example of Ottoman village architecture.
Marvel at the gorgeous Iznik tilework at the Ulu Cami Mosque and Green Mosque in Bursa.

Optional Post-tour to Cappadocia

For those hoping to explore a bit more of Turkey, head by plane to the scenically and culturally spectacular region of Cappadocia. Spend three days exploring the dramatic landscapes, charming villages, ancient churches, and underground cities of the area. Then head back to Istanbul again, where the trip concludes.

HIGHLIGHTS

Head down into the rock-hewn walkways and rooms of the Kaymakli Underground City, carved into soft volcanic rock and inhabited for centuries.
Watch a master potter at work in his studio in the timeless village of Avanos.
Stare up in awe at the elaborately painted cave churches of Goreme National Park, some with frescoes dating back over a millennium.
Soar up above the crags, mountains, and villages of Cappadocia on a sunrise hot air balloon ride (optional and paid for separately, on the spot).
Dates &amp Prices
Please note:
Listed prices below are based on double occupancy and a 2 traveler minimum.
Additional nights in Istanbul and solo traveler prices are available on request.
While bookable on a private basis, the trip dates must be September 26-October 3, 2022 to match the dates of the World Nomad Games.
The optional post-tour would then be October 3-5, 2022.
Optional Cappadocia post-tour pricing: 2 traveler minimum, from $1,795 per person, twin share; single supplement from $215 (see below for main tour pricing).
Land tour price, per person, starting from:
Call for dates and prices
What's Included
Tour Includes

Accommodations as noted in the itinerary.
7 breakfasts, 6 lunches and 5 dinners (main tour).
2 breakfasts, 2 lunches and 2 dinners (post-tour).
Restaurant tips for included meals.
Services of experienced, English-speaking local guides, drivers, and other staff.
One arrival and one departure transfer. Additional arrival and departure transfers available at additional cost.) MIR will arrange for travelers to be met upon arrival and seen off on departure, whether or not we make your air arrangements.
Ground transportation throughout the itinerary by sedan or minivan (type depends on group size).
Guided sightseeing tours and entrance fees, as outlined in the itinerary.
Special events, excursions, and cultural performances, as outlined in the itinerary.
Complete pre-departure electronic document that includes detailed packing suggestions, reading list links, country-specific information, maps, travel tips and more.
Assistance booking your custom flight arrangements (on request; please note that international airfare is not included in the land tour cost).
Electronic final update bulletin, with any late news, updates and important information.
World Nomad Games entrance fees.
Roundtrip flights from Istanbul to Kayseri and back, for the optional post-tour, in economy class.

Not Included

International airfare and taxes/fuel surcharges.
Meals not specified as included in the itinerary.
Single supplement if requested or required.
Items of a personal nature (phone calls, email, laundry, alcohol, excess baggage, etc).
Gratuities to guides, drivers, and support/service staff (at restaurants, hotels, etc.).
Visa/passport fees, airport departure fees.
Hot air balloon ride on the Cappadocia post-tour ($250-$350 to be paid locally, on the spot).
Expenses incurred as a result of delay, modification or extension of a tour due to causes beyond MIR's control.
Travel and trip cancellation insurance.
Activity Level
Level 2: Moderate, but Customizable
This private itinerary features long days walking and standing, some stair climbing, cobblestones or unpaved sidewalks and streets, uneven surfaces and steps, absent handrails, and lack of elevators. While some of these challenges are inherent in the destinations and sites, as a private trip some of the touring (the Istanbul and Cappadocia touring, not the World Nomad Games) can be modified as needed for those travelers who are looking for a less challenging (or more challenging) program.
There is a significant amount of touring on foot, and those travelers planning to take the program as written should be able to walk at least a mile a day comfortably. Some attractions are only accessible via steep staircases with tall, uneven steps, and handrails are not always in place. Interior staircases may involve steep steps inside narrow passageways with limited light. Touring will be over a variety of surfaces, such as cobblestones, bricks, packed or loose dirt, or gravel, including uphill or downhill sections.
Past travelers have also encountered challenges with bureaucratic service, plumbing in and out of hotels, and availability and quality of public restrooms.
Accommodations in the basic program are comfortable, four-star hotels.
Gallery