What's the Best Time of Year to Visit Uzbekistan? Central Asia?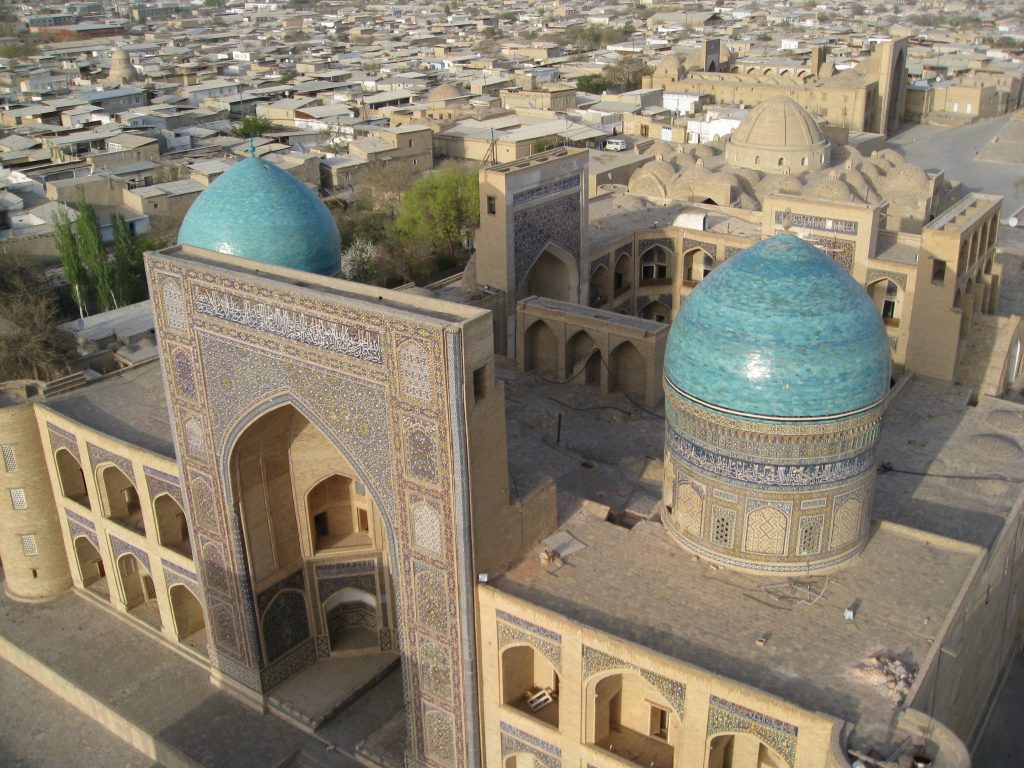 A Month-by-month Guide to When and Where to Travel in Central Asia
What's the best time of year to visit Uzbekistan? What about the other countries in Central Asia: Kazakhstan, Kyrgyzstan, Tajikistan, and Turkmenistan? As travel planners with a passion for Central Asia and a long history in the region, we get asked those questions a lot.
The bottom line is that the nations of Central Asia – known collectively as the 5 'Stans – are a diverse and fascinating lot covering a vast swath of geography. We could answer the above questions by simply stating that the spring and fall are best for travel to Central Asia, but that does much of the region (and our travelers!) a disservice.
A longer, more nuanced answer that takes into account the amazing diversity on offer in the 5 'Stans is needed to fully answer those questions. This blog is that longer, more nuanced answer. So, below is a month-by-month breakdown of Central Asian highlights, one that may help guide your travel planning.
January and February
---
These are the cold months in Central Asia. If you are a skier, Kazakhstan, Kyrgyzstan, and Uzbekistan all boast ski resorts in the mountains near their major cities, and it is relatively easy to get up to and explore in the snow a bit. Tajikistan also has alpine and ski facilities, though not as developed as in the other three countries.
Mountain travel, yurt stays, and hiking are generally not possible anywhere in Central Asia during these months. The road conditions can be challenging. One exception is the high-altitude Pamir Plateau in eastern Tajikistan. The roads there freeze solid in the winter, and the scant annual snowfall is quickly whisked away by the wind. Wildlife descends from the higher slopes of the Pamirs, making that the best time to spot rare creatures like snow leopards and Marco Polo sheep.
(click here to view larger photo)
Most travelers shy away from the oasis cities of Uzbekistan during these months. It can be a good time to visit though, especially if you don't mind the cold and the risk of a little rain or snow. Other travelers are few and far between, and the air is often crisp and the skies blue. Both elements make January and February an excellent time to visit Samarkand, Bukhara, or Khiva for photography. The blue Timurid domes of Samarkand are beautiful when draped with a light covering of snow. Others may simply enjoy a visit when the cities are at their most natural, relatively free of other travelers.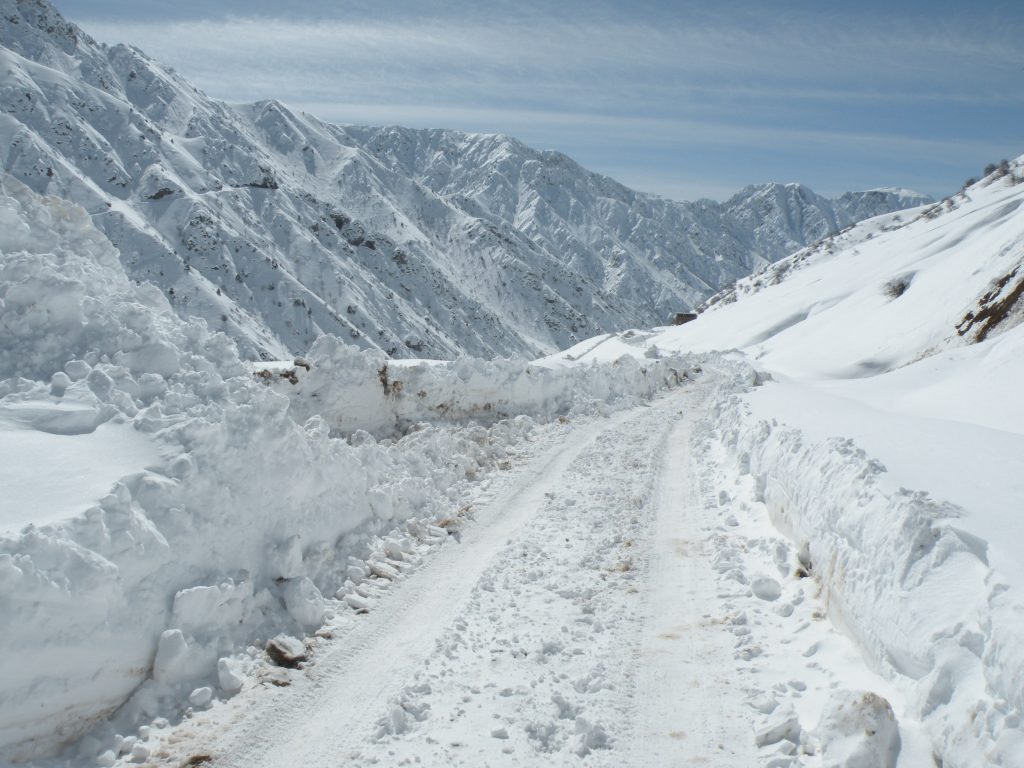 March
---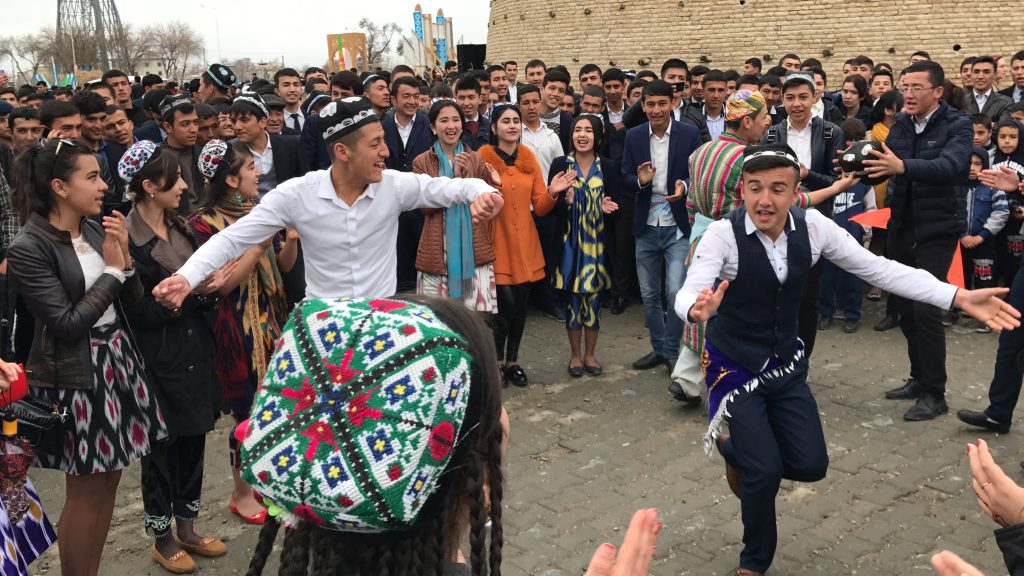 March is a favorite month for many Central Asians. The weather is getting warmer. Flowers are beginning to bloom. And March is also the month of the vernal equinox, an astronomical milestone celebrated widely in the region as Navruz, a colorful festival of renewal and life. Navruz festivities can be observed anywhere in Central Asia, but they are at their most colorful and most extravagant in Uzbekistan. MIR's Backstreets & Bazaars of Uzbekistan small group tour is timed to coincide with Navruz.
Tajikistan is another good choice for the festival. The parades and celebrations in the country's capital, Dushanbe, can be as spectacular as those in Uzbekistan. Wherever you go for Navruz, you are sure to see locals decked out in their finest and most colorful clothes, sample seasonal delicacies made only around Navruz, and witness a host of ancient traditions and customs intrinsic to the coming of spring in Central Asia. Take a look at this blog on the festival, Celebrating Navruz in Uzbekistan.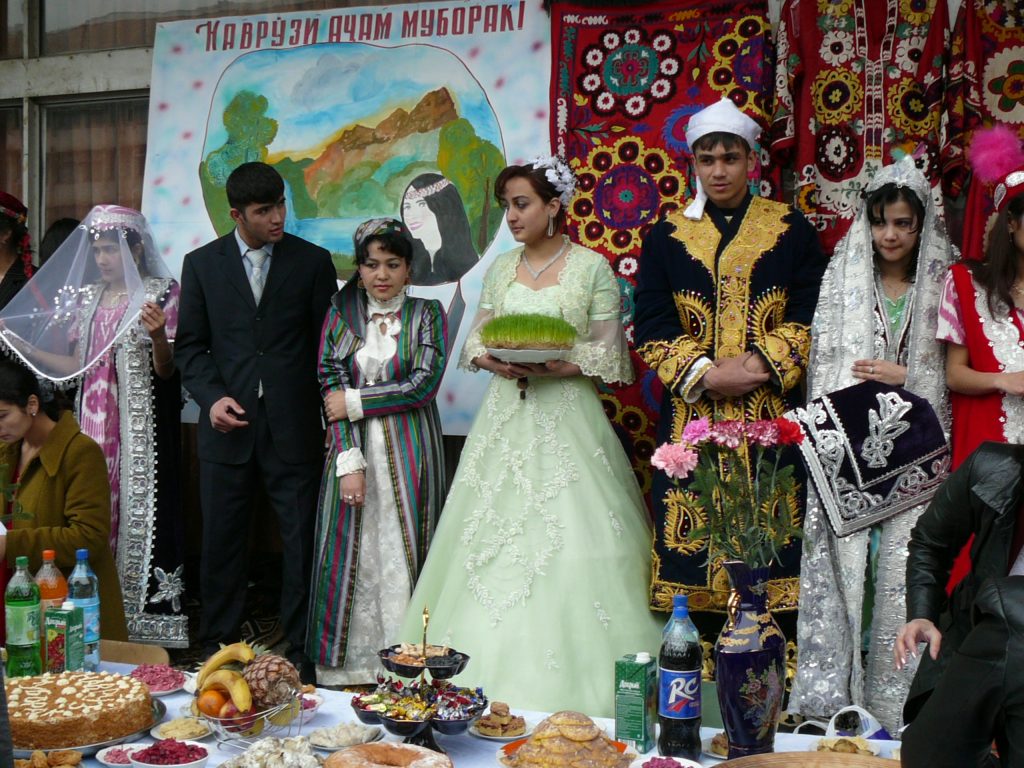 Another March highlight are the horse games ubiquitous in the region. There are a range of different games, especially in Kyrgyzstan, but the most famous is a polo-like sport known as buzkashi (in Tajiki), uloq tortish (in Uzbek), kokpar (in Kazakh), and kokboru (in Kyrgyz). The Tajiki name means literally and aptly a "goat pull." Horseback riders, often wearing old tank helmets, compete to carry a goat carcass from end of the field to the other. The result is nothing short of spectacular, and the crowds that throng the bigger matches are a cultural experience in and of themselves. Matches are played throughout the cooler months in Central Asia, from fall through to early spring, but they reach their crescendo in March around Navruz. MIR's Backstreets & Bazaars of Uzbekistan small group tour includes a match in the countryside outside of Samarkand.
(click here to view larger photo)
April and May
---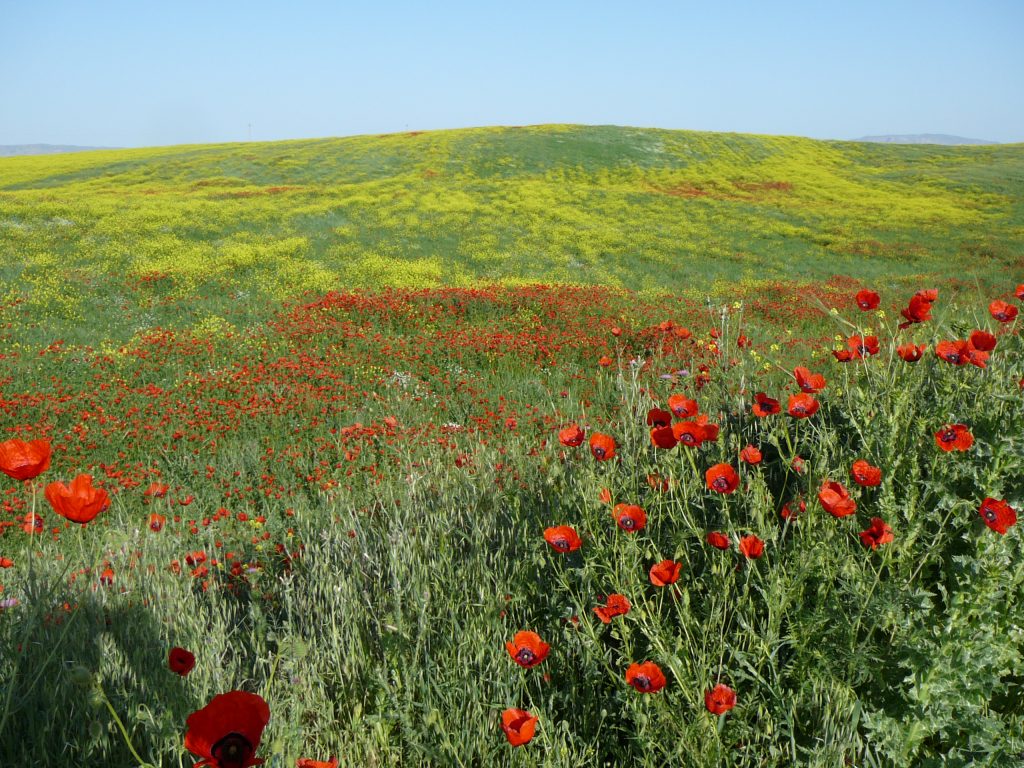 April and May are peak season in Uzbekistan and Tajikistan. This is primarily because the weather has warmed but is not yet hot. If your primary goal is to see the Silk Road oasis cities of Samarkand, Bukhara, and Khiva, and if you want to do so when the temperatures are in the 70s and 80s Fahrenheit, April and May are the best months to come.
A lesser-known reason to visit during the spring is the precipitation. March and April are the rainiest months throughout the region, which means that April and May are the greenest months. Mountains that for much of the year are khaki-colored are strikingly verdant for those two months. This is also wildflower season at the lower elevations. Whole fields in southern Tajikistan are covered in brightly colored wild poppies. The foothills outside of Tashkent are dotted with wild tulips and other blooms. And the gardens behind the walls of nearly every home in the old towns of Bukhara and Samarkand are filled with blooming apricots, pomegranates, cherries, and more.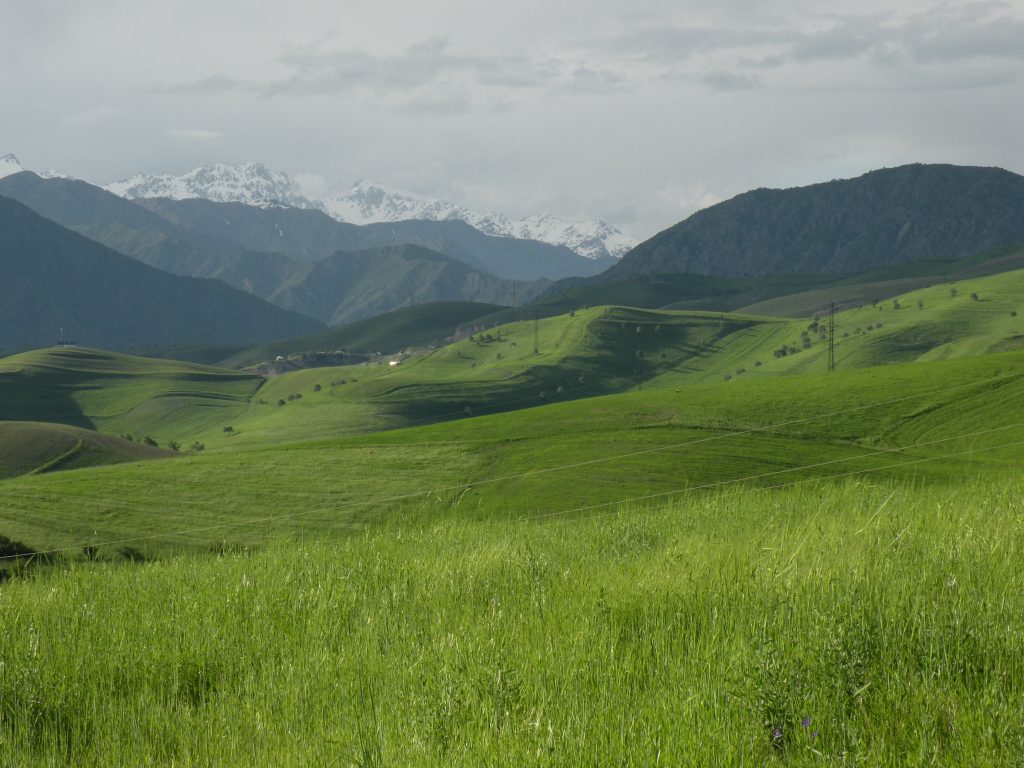 Towards the end of May each year Uzbeks and travelers from around the world gather together in Bukhara to celebrate the city's Silk Road heritage with the annual Silk & Spice Festival. This is the city's premier festival. There is a parade, great people watching, and vendors selling their wares (silks and spices featured prominently, of course). If you can't make it to Central Asia for Navruz, but still want to take in a great festival, this is your best option. You can read more about the festival in this blog, Silk & Spice Festival of Bukhara, Uzbekistan. As with Navruz, MIR offers a small group tour timed to coincide with the festival: Uzbekistan: Land of Silk & Spice.
(click here to view larger photo)
June
---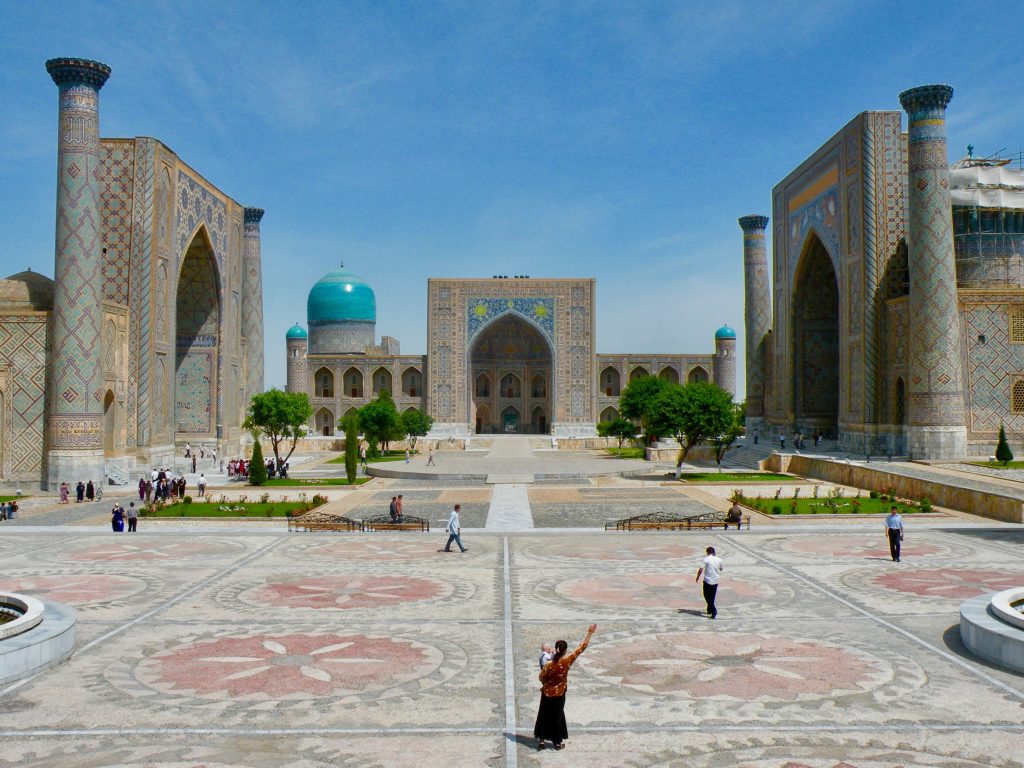 June is a shoulder season in Central Asia. The weather in the lowlands is getting quite warm, but still not scorching hot like in July and August. The countryside is still quite green, though starting to dry out. The oasis towns of Samarkand, Bukhara, and Khiva are noticeably less crowded than in May, but still quite busy. If you don't mind touring in the 90s Fahrenheit some days and prefer lighter crowds, June can be a good choice.
(click here to view larger photo)
In the more mountainous regions of Kyrgyzstan and Tajikistan shepherds are ascending to higher elevations with their flocks of sheep, goats, and yaks, chasing the greenery as the lowlands dry up. In Kyrgyzstan yurt camps set up around the best mountain pastures, called jailoos (pronounced jie–low). Some hiking routes though are still not recommended as they can been snowed over or waterlogged through the end of the month.
Overall, June is the ideal month if you are hoping to see the Silk Road oasis headliners, don't mind a little heat, and also plan to head up for a taste of the mountains. It is also worth noting that with its higher latitude Kazakhstan is pleasant throughout the summer months.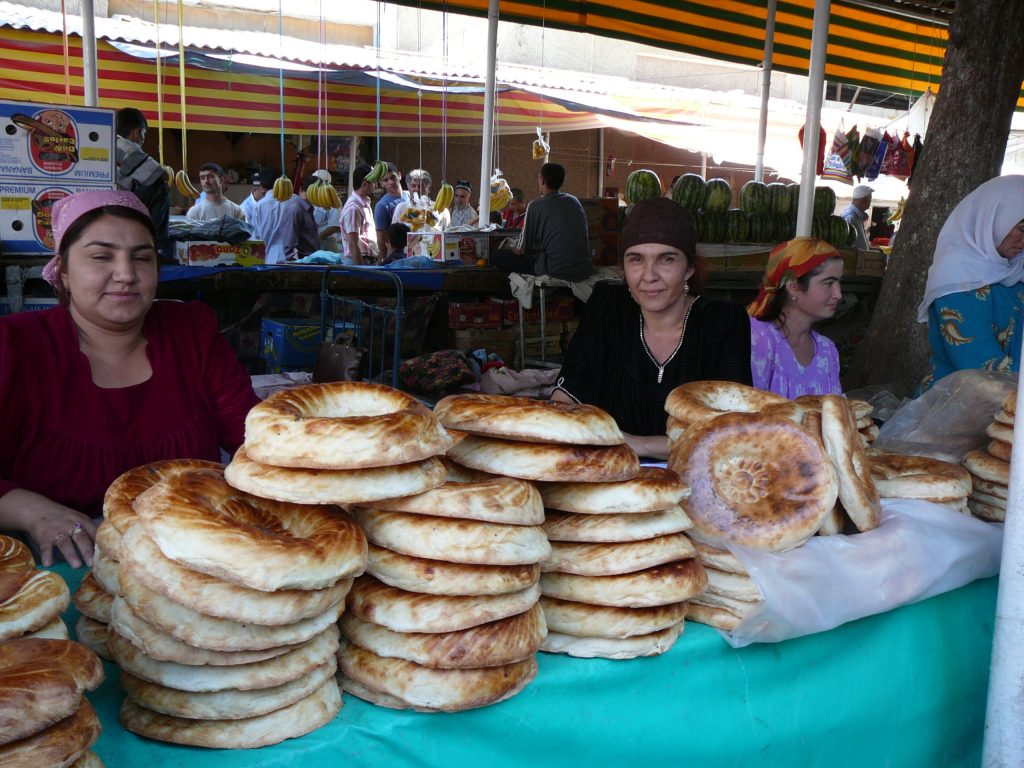 July and August
---
July and August are prime time for the mountains. The lowland cities in Uzbekistan, Tajikistan, and Turkmenistan are scorching hot, but up in the mountains it remains cool through the summer. The Pamirs are probably the most famous mountain range, and rightfully so. You can read about some of our top recommendations in the Pamirs here: Top 10 Places to Discover in Tajikistan. It is a spectacular region, both culturally and scenically. A typical Pamirs trip is primarily a road-trip but hiking and trekking can be arranged as well. For those with a sense of adventure hoping to get truly off the grid and experience some of the most remote and untouched territory on the planet, the Pamirs is for you.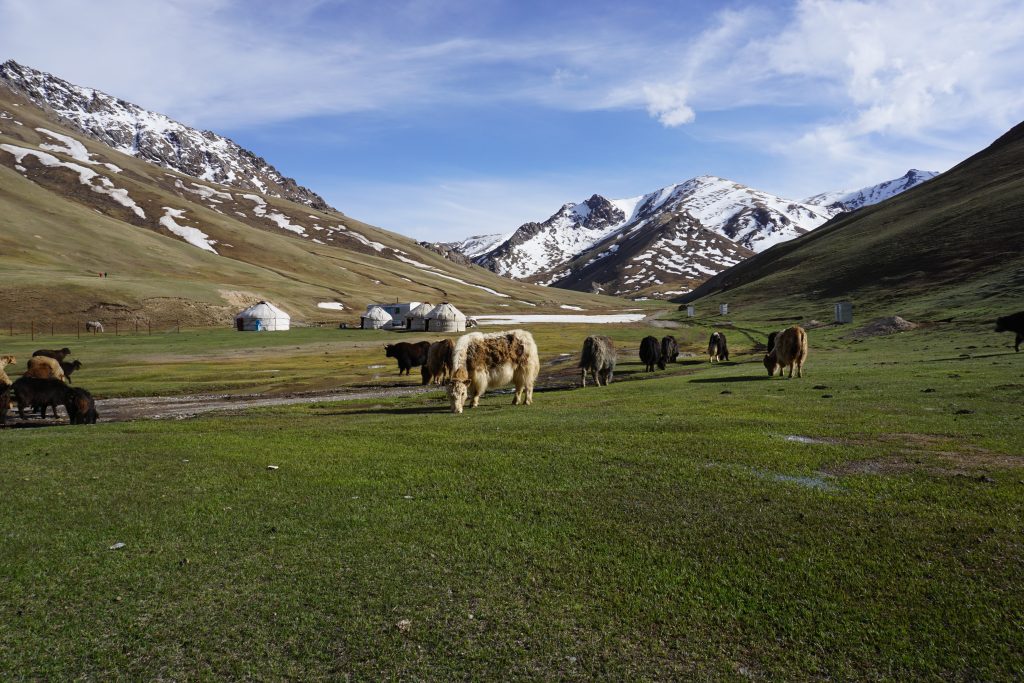 In nearby Kyrgyzstan the Alay and Tien Shan ranges dominate. Hiking, trekking, and yurt stays are the primary activities here. While the yurts can be rustic, they are the best way to experience authentic Kyrgyz hospitality and to learn about the seminomadic lifestyle still led by many locals. Horseback riding, fishing, and rafting are other options in the Kyrgyz mountains. The infrastructure for travelers in the mountains of Kyrgyzstan is a bit more developed than that in Tajikistan. Trips can be designed to match a range of fitness and skill levels, making this a good fit for anyone from families to casual day hikers to elite trekkers.
(click here to view larger photo)
Read more about exploring the outdoors in Kyrgyzstan, Tajikistan, and beyond in our blog posts The Great Outdoors: 7 Unusual Destinations to Go Camping and Kyrgyzstan: Why I Love This Unfamiliar Frontier. Please also check out our Pamir Highway: From the Tien Shan to the High Pamirs small group tour.
Meanwhile, elsewhere in Central Asia, most of Uzbekistan and Turkmenistan are devoid of travelers. It is extremely hot during the days, and we would only recommend going if you truly don't mind the heat and want to visit at a time when you know few others will be around.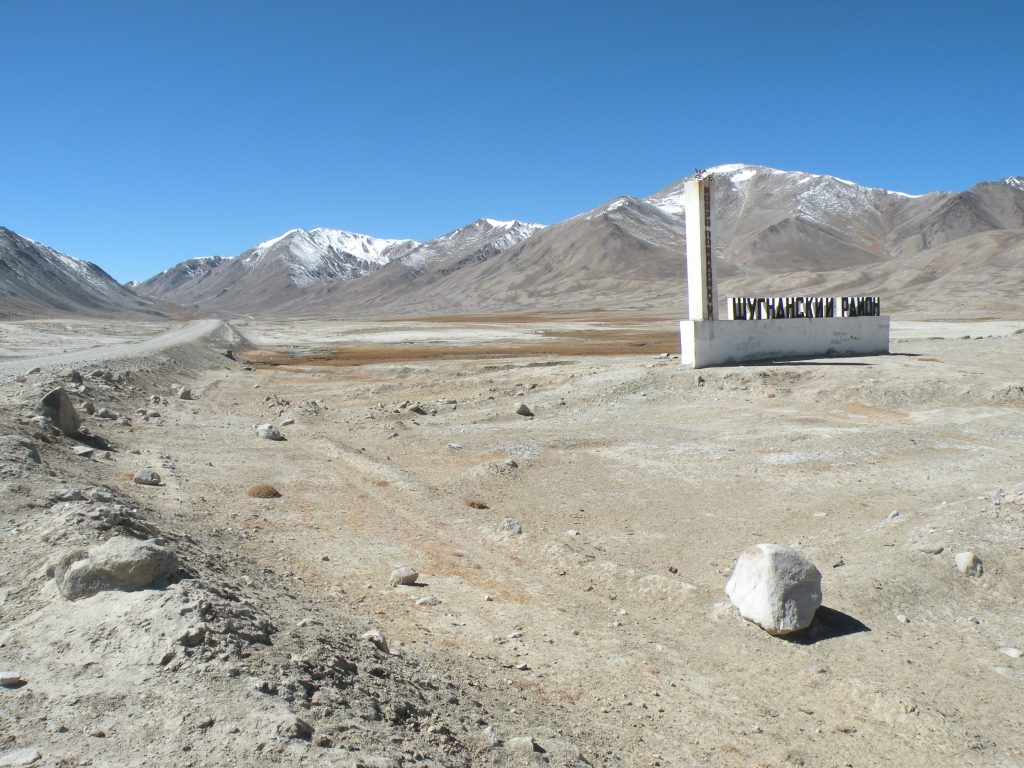 September and October
---
September and October form the second high season in Central Asia. As temperatures cool, the travelers return. Both months are great, but we would recommend September over October if you plan on heading up to the mountains at all, and October over September if you are averse to temperatures over 90°F or so. Turkmenistan in particular can still be quite warm in September. The greenery of spring is long gone by September, but the landscapes are still beautiful. You can expect clear, blue skies daily with next to no rain and few clouds.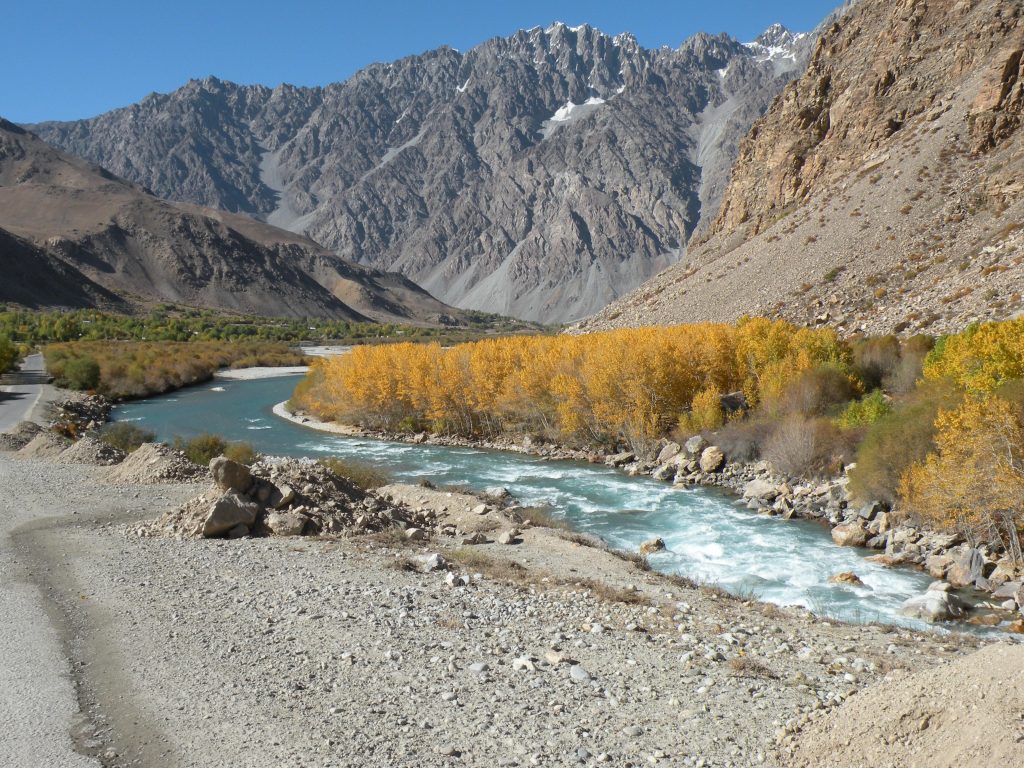 The bazaars are filled with the best of the region's produce in the fall. Almaty is famous for its oversized apples. Tajikistan and Uzbekistan for their fragrant melons. Bright orange persimmons, a huge range of grapes, pomegranates, plums, and much more can be purchased cheaply and easily at any market, all with flavor that puts their U.S. equivalents to shame. A culinary highlight of Uzbekistan and Tajikistan in fall are pumpkin samosas. Samosas are flaky pastries, much like their better-known Indian counterparts. In central Asia they are typically filled with a mixture of ground meat (beef or mutton), onions, and cumin. In the fall though they are often made with a mixture of pumpkin, cumin, and onion ­– perfect for vegetarians and tasty for anyone.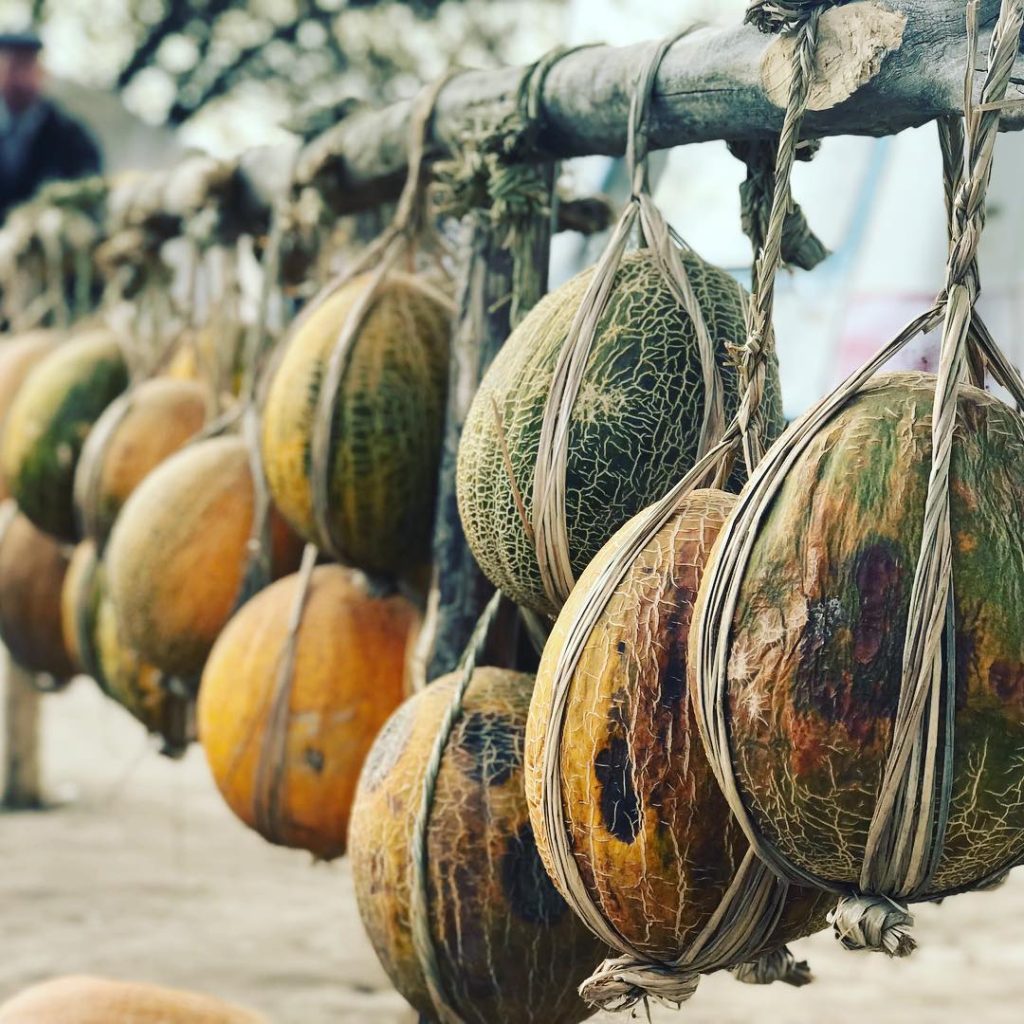 (click here to view larger photo)
The fall months are also wedding season in Central Asia, a legacy of times past when such events were held in the fall after the harvest season concluded. Central Asians are deeply hospitable across the board, and travelers in the fall often find themselves invited to weddings. Music, dancing, and often vodka make for a fun and engaging way to get to know Central Asian culture.
Many of MIR's most popular trips to Central Asia are timed to coincide with the spring and fall high season. Check out Journey Through Central Asia: The Five 'Stans or Silk Route Odyssey: Caravan Across Uzbekistan.
November
---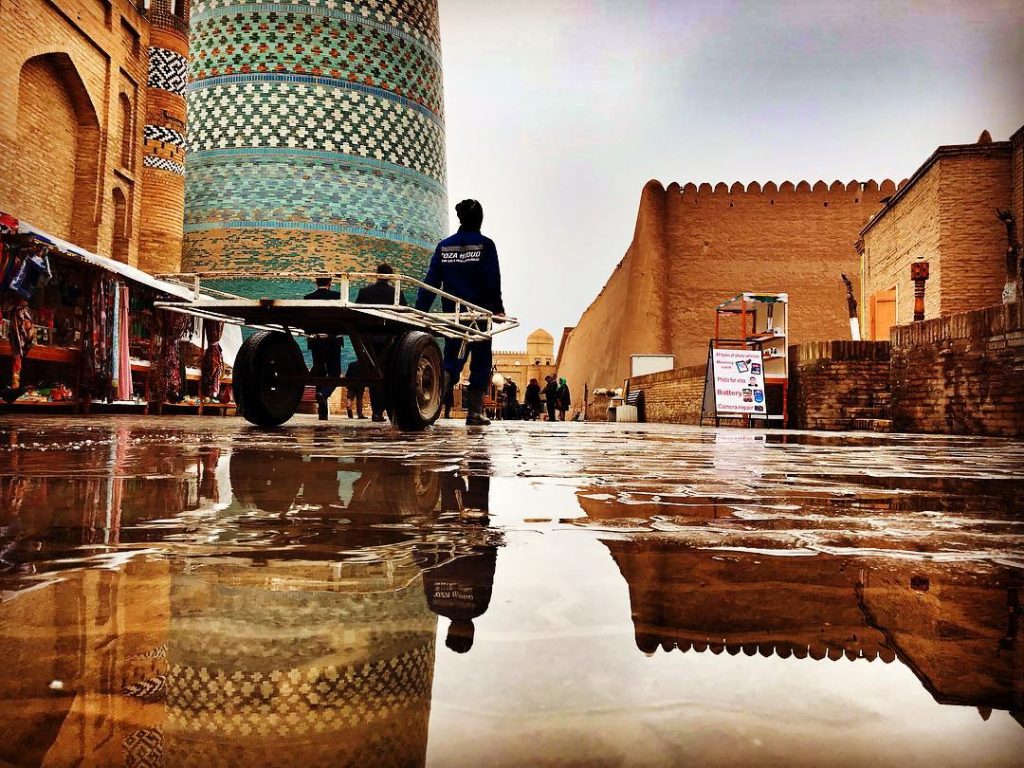 November is the tail end of the fall high season. The early part of the month is still warm enough (especially in Turkmenistan and Uzbekistan) that there are plenty of travelers around. The rains and snows of winter don't typically arrive until later in December or even January. Most trees have lost their leaves by late November – much earlier in the mountains. As with June, November is very much a shoulder season, only rather than hot weather it is chilly weather that one must contend with. For those willing to pack a sweater and a jacket, it can be a great time to visit.
(click here to view larger photo)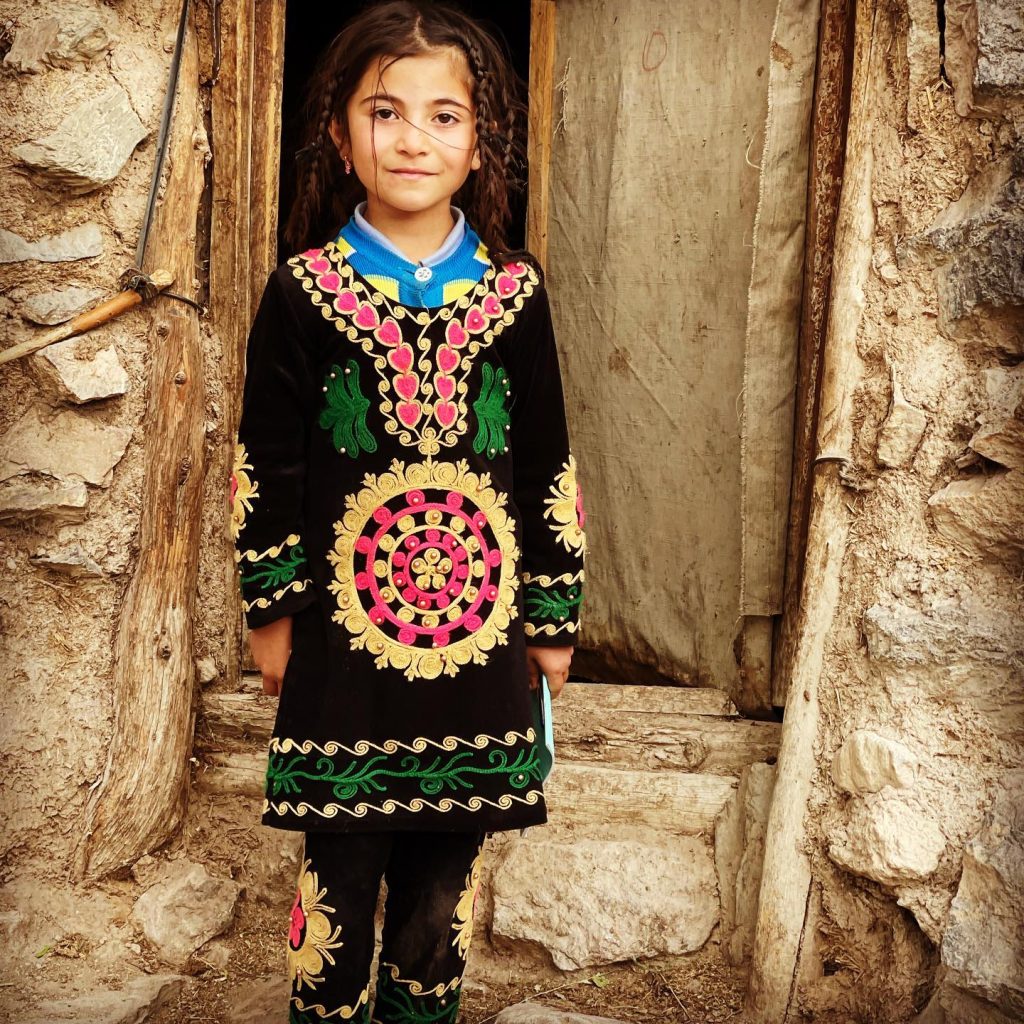 December
---
December is very much like January and February in Central Asia. Travelers are scarce. The mountains have a fresh coat of snow. The month can be good for photographers looking for cityscapes devoid of people or cold-tolerant adventurers with time off work over the holidays. A key difference and a potential draw for some are the New Year's holidays and the lead up to them. Christmas itself is not really celebrated in Central Asia, but the New Year is a huge deal. Streets and public buildings are decorated, parties are held, and in the capitals and larger cities there are often fireworks shows. Santa Claus even makes an appearance in the form of Father Frost, here associated with the New Year, not Christmas. It all makes for an interesting time to visit. Just bear in mind that absolutely everything will close in the afternoon on New Year's Eve and not reopen until the January 2.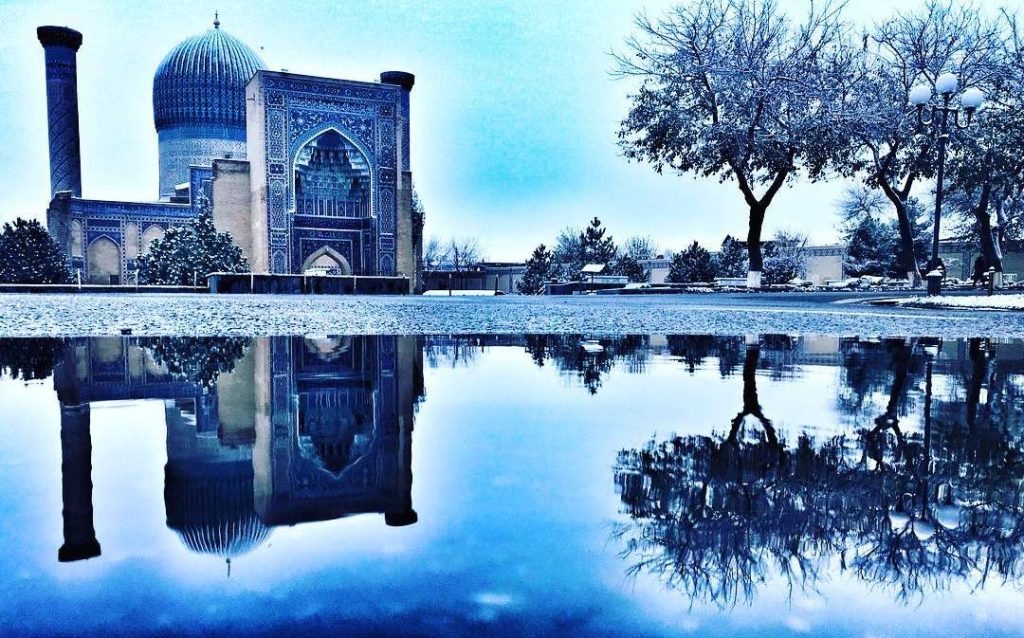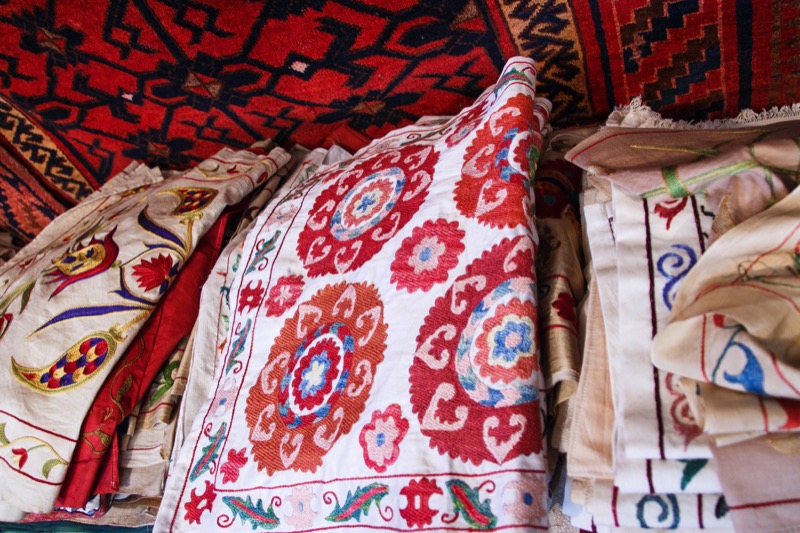 Whether you are looking for a small group tour to cover the highlights when the weather is at its best or a customized private adventure through the remote mountains of Kyrgyzstan or Tajikistan, MIR is here to help. Take a look at our small group tours, our pre-planned private journeys, or customize your own trip. Our travel planners are ready!
Chat with one of our destination specialists today!