8 Favorite Moments from MIR's "Albania: Beyond the Guidebook" small group tour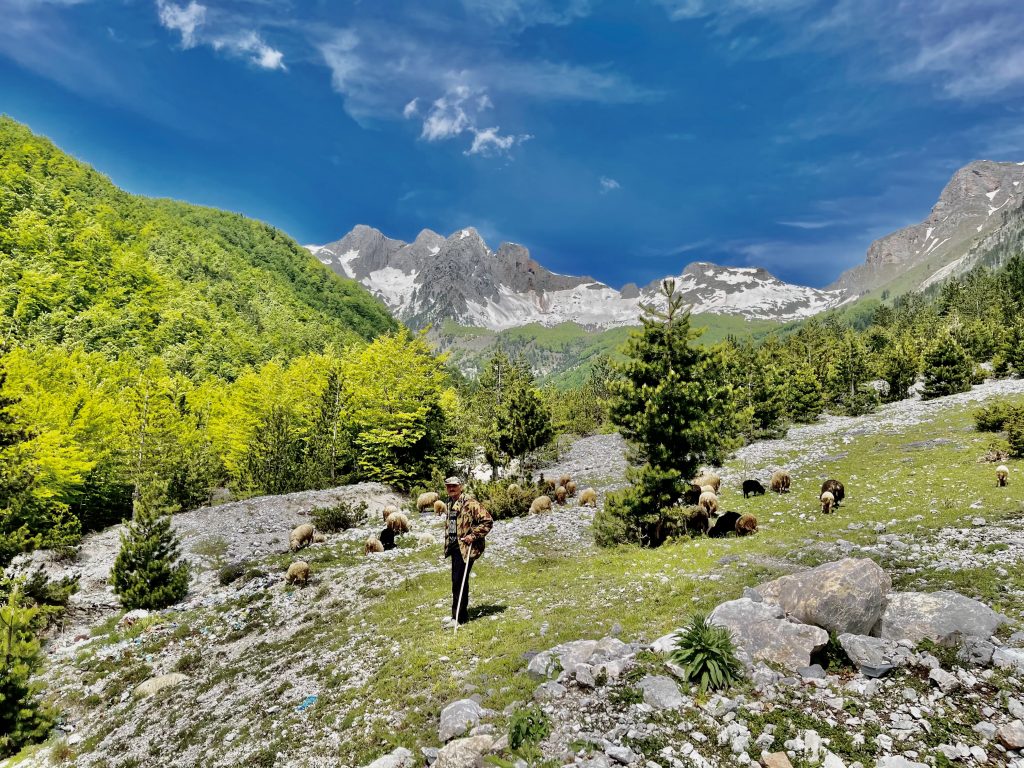 Michel Behar, one of MIR's most experienced and popular tour managers, recently led the May/June 2021 departure of a new MIR small group tour to Albania. Here he shares his insights into why Albania is so intriguing, and why this underrated destination is a 'must-visit' for every intrepid traveler.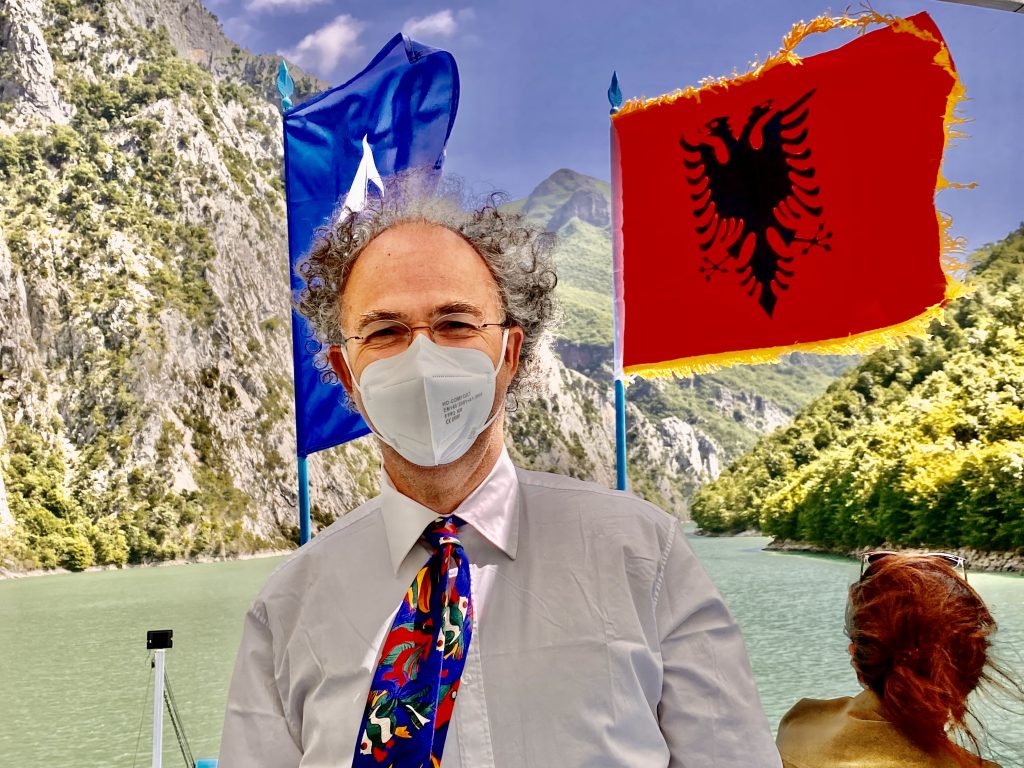 I just got back from leading MIR's inaugural Albania: Beyond the Guidebook small group tour, and what a wonderful itinerary it is! I was reminded of all the things that impressed me about Albania on my two previous trips, but wow, how things have changed.

I remember Albania as a hermit country back in 1986 – almost impossible to visit and where people stared at us as we passed. 35 years later, this country is still authentic and not spoiled by mass tourism.
Albania now has more terraces where you can have a cup of coffee than Spain, and they all seem to be thriving. I can't think of any country that has changed as much in such little time.
(click image to view larger photo)
This time during our May 2021 tour, the country was still devoid of tourists. Even though the pandemic had subsided almost completely here, we were the only western group touring the country and the first U.S. group since the end of 2019. We ran into the U.S. Ambassador to Albania in the town of Voskopoje, and a few hours later a clip of the friendly exchange had been posted on the Instagram account of the Albanian Prime Minister.

We spent 14 days crisscrossing this amazingly diverse country slightly larger than the Netherlands. Despite its small size, there was more than enough to fill up an entire two weeks.
Here Are My 8 Favorite, Stand-out Experiences:
1. Incredible Diversity of
Nature
---
We ventured north to Valbone where foreigners rarely visit. The mighty alpine, jagged mountains with steep cliffs covered with a plethora of pine trees are good for walking and hiking for various fitness levels. We stopped by a 150-year-old water mill, visited a local school with only 20 schoolchildren, took photos of the bunkers from the 1950s nicknamed 'pillboxes,' and hiked along a fast-flowing creek to a tiny hamlet where we had Turkish coffee.
(click image to view larger photo)
The lush green mountains with Mediterranean vegetation in the south are unbelievable. The winding mountain road near the border with Greece offers commanding views on the Vjosë River, the last untamed river in Europe, and pine tree forests.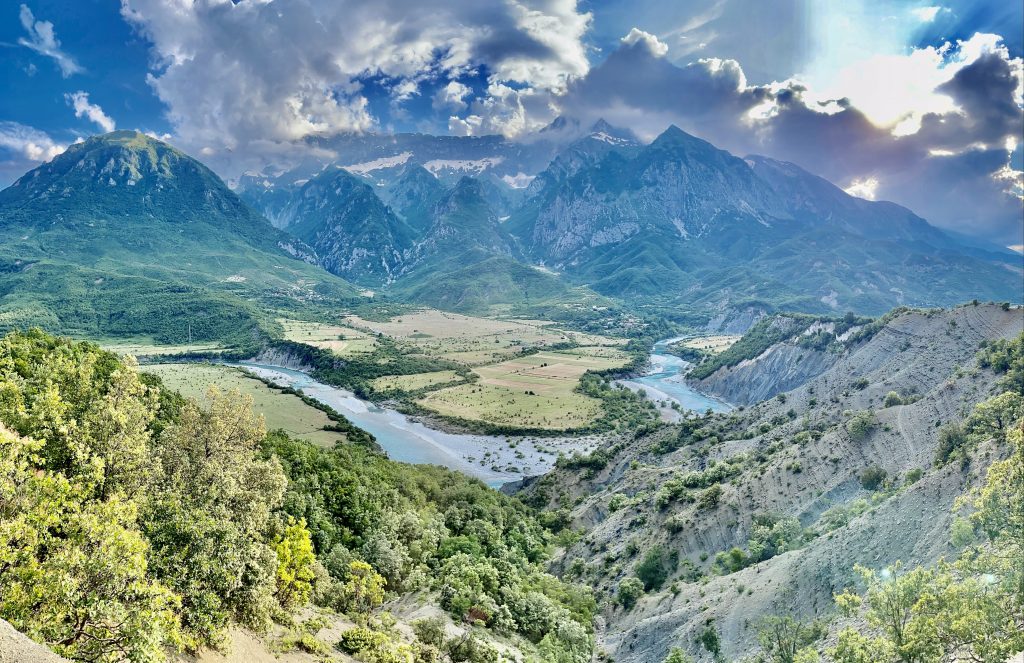 Subtropical Saranda and other sea resorts further south have wide beaches and are so close to the Greek island of Corfu that one can see its houses. Nearby, we visited a mussel farm and helped clean the mussels that we later savored. During the socialist era, mussels were one of the main export products of Albania, along with cigarettes and brandy.
(click image to view larger photo)
The plain of Delvina is speckled with fruit trees. Passing the Ionian coast on a winding road dotted with tangerine, orange, and olive trees offers great views from the steep rocky cliffs. Sea fishing villages lie below, and four of the Eptanisi Greek islands can be seen in the distance.

Vlorë has turned into a huge sea resort with a promenade flanked by palm trees that reminds me a bit of Miami Beach.
(click image to view larger photo)
2. The Locals
---
(click image to view larger photo)
The way people welcome guests in Albania is simply incredible. We had a number of heartwarming encounters, including:
An impromptu visit with a couple in tiny Dragobi, a hamlet of 80 people, as well as in Rehova, about the same size, where we visited two families who organized quite a party for us.
The family we visited in Përmet has lived in the same house for six generations. We were lucky to taste their fresh walnuts preserved in lime and sugar and drink a glass of rakija to their health. This small town is famous for its jams. At breakfast we devoured the very tasty sweet walnuts, figs, plums, cherries and oranges, and wild honey.
(click image to view larger photo)
3. Mighty Fortresses with Great Views
---
Albanians have a long history of protecting their nation against foreign invaders by building citadel towns. Their ancestors, the Illyrians, fought the Romans. The first one was queen Teuta in the 3rd century BC.
Much later, in the 15th century, national hero Skanderbeg fought the Ottomans. From the vantage of the hotel in Krujë, we could admire the grand fortress he built towering above the historical Turkish bazaar. Below that the lower town stretches all the way to the plains.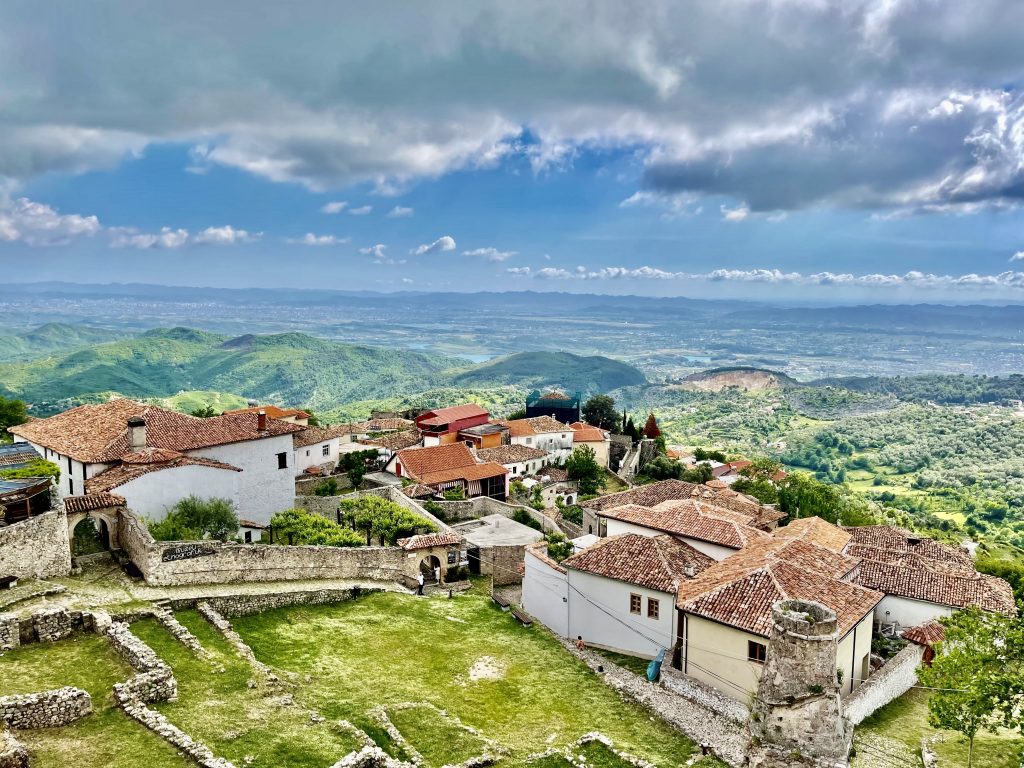 The UNESCO-listed Ottoman citadel cities of Berat and Gjirokastrë are very well preserved and unique with houses seemingly built on top of each other.
The Gjirokastrë citadel was first built in 800 BC. The Ottomans built a new structure on top of that for military purposes, which included a prison. It was in use until 1968 before being converted into a museum in 1971. The complex now also houses a weapons museum dedicated to the Partisan resistance of the Nazis, as well as a U.S. spy plane, which landed due to a navigation error in 1957.
(click image to view larger photo)
In Gjirokastrë, the Skenduli house was inhabited until 1981, when the owners were forced to move. The family still owns it, and we were lucky to be shown around by a family member. The charming three-story structure has 64 windows, 24 doors, 4 hammams, and 9 chimneys!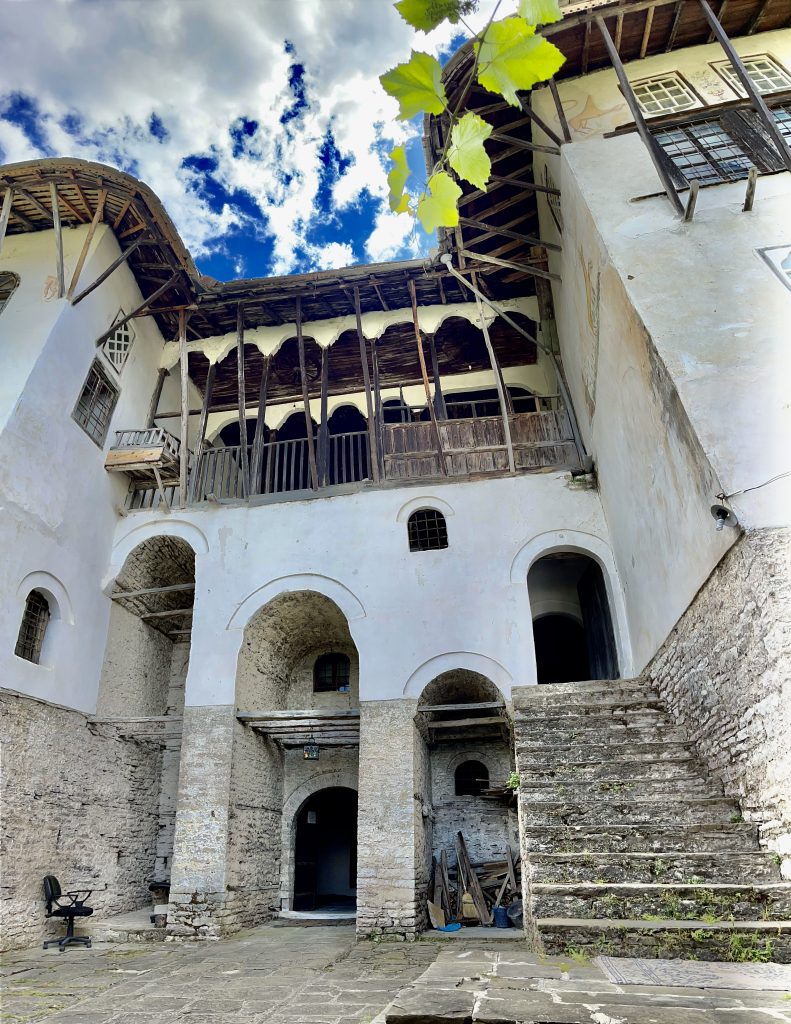 In Berat, the Gorica (Christian) quarter with 100 families and 200 abandoned houses is fascinating. The castle, founded by Illyrians in the 13th Century, has reportedly been continuously inhabited by some 100 families, who still make use of one of the remaining 8 churches – there were originally 32!
4. Roman Excavations
---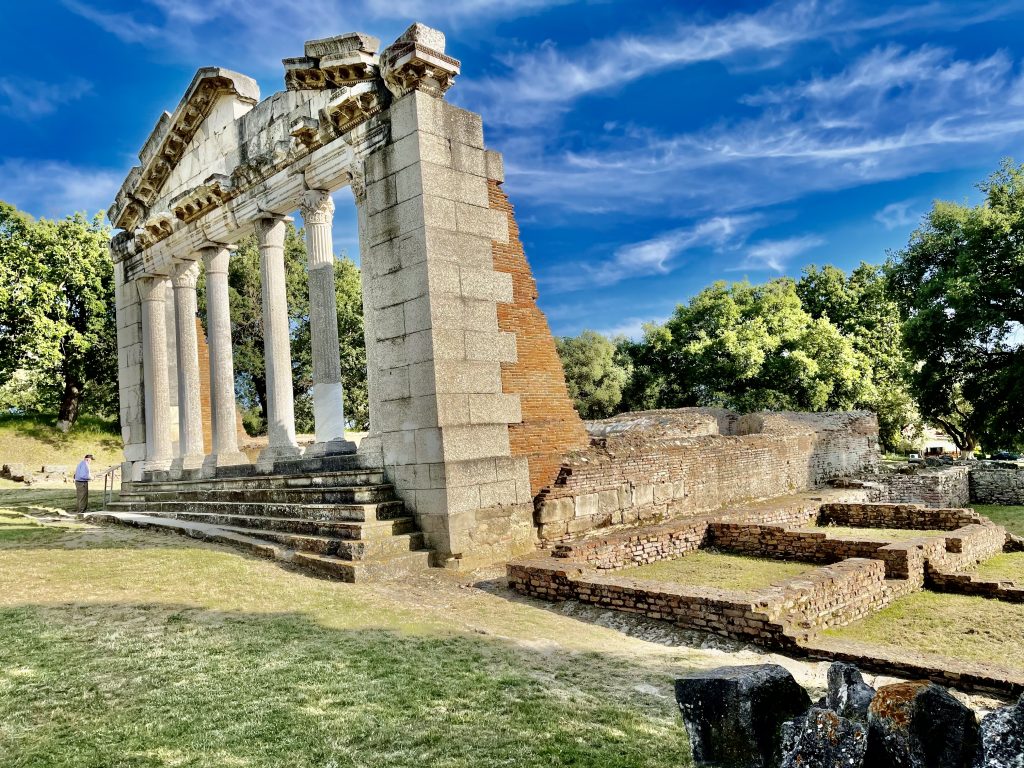 The Via Egnatia, a Roman road leading from the Albanian coastal city of Durrës to Constantinople via Apollonia, is supposedly the first paved road outside Italy, demonstrating the importance of Albania in ancient times. We saw the remains of this historical road in Elbasan after having coffee in an atmospheric restaurant on top of a Byzantine castle still surrounded by Ottoman ramparts.
Butrint is a coastal city beautifully located in a lagoon. It was declared a national park opposite the Greek island of Corfu, and encircled by ramparts from the 4th century BC. This Illyrian/Greek city was dedicated to Asclepius, the God of medicine, and was expanded by Caesar. At one point it had 30,000 inhabitants.
(click image to view larger photo)
The biggest surprise was the Greek inscriptions testifying that Illyrian women had the right to release slaves. The city was only abandoned in the 6th Century AD and became a Venetian stronghold in the 14th century.
Apollonia was a cosmopolitan trade city in the 7th Century BC and twice as big as Butrint at one point. Octavian Augustus, Caesar's nephew and inventor of the tax system, went to school here.
(click image to view larger photo)
5. Church Treasures
---
Albania has some of the best icons and iconoclasts of the entire Balkan region. The best ones are preserved in a newly opened museum in Korcë, partially funded by Greece.
The Onufri Museum in Berat has some of the best icons by Onufri, a painter from the Renaissance era, famous for the emotions of the saints and using warm colors, was a standout.
(click image to view larger photo)
Voskopoje, a village that has dwindled to 500 or so inhabitants from 40,000 inhabitants in the 18th century, once hosted 24 orthodox churches. Two thirds of them were destroyed under the Hoxha regime, and just one is still active.
(click image to view larger photo)
My favorite one was perhaps the tiny Assumption of Christ church in Mborje, just outside Korcë, possibly dating back to the 10th century.
6. Outstanding Food & Beverage
---
Albanian food is truly great. Of all the things to do in Albania, be sure to give the local cuisine a try! Greek and Italian influences make for hearty offers for vegetarians, and some of the restaurants are surprisingly fancy.
(click image to view larger photo)
My favorites were the grilled vegetables; lakror, a folded pancake with ricotta and spinach; delicious yogurt; and byrek, a filled filo pastry.
(click image to view larger photo)
Albania has a lot to offer for carnivores as well, including lamb stew and steaks. And in Tirana and on the coast, we enjoyed delicious mussels and fish such as koran – an endemic fish from Lake Ohrid, one of the oldest lakes in Europe. The selection of rakija and of wines was also a very pleasant surprise.
(click image to view larger photo)
7. Religious Tolerance and the Concept of Besa
---
Being Albanian is overriding and the only thing that really matters. Whether people practice Islam, Orthodox Christianity, or Roman Catholicism, one's religion has always been deemed irrelevant.
The concept of Besa (protecting guests) is unique. Jewish refugees were hidden during the Second World War, and virtually all survived. It was the only Jewish community that increased during that era.
(click image to view larger photo)
Around the city of Korcë, orthodox churches are well preserved and the recently opened icon museum contains icons dating back to the 14th century.
We visited the headquarters of the Bektashi Sufi order, to which some 5 % of all Albanians belong. An award granted by the American Jewish Congress for propagating coexistence and religious tolerance is proudly displayed.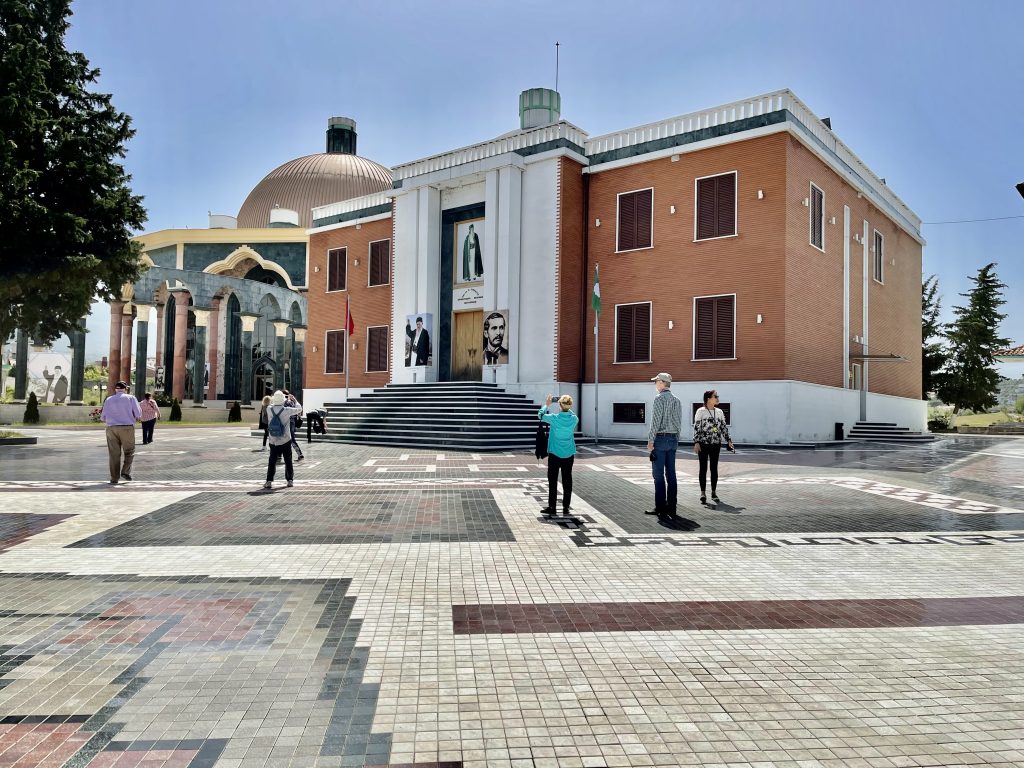 8. Stepping Back in Time to the Communist Era
---
Many people associate Albania with the Communist Era, and the country was hermetically closed from the end of the Second World War until the early 1990s.
For those interested in this kind of architecture, you won't be disappointed. You can experience the communist xenophobic past in the Bunk'Art museum in Tirana and visit the 'pillboxes' that were built throughout the country to defend Albania against foreign invasion.
(click image to view larger photo)
Travel to Albania with MIR