A Seven Nation Journey Through History
Overview
From low-lying Belgrade up through the Dinaric Alps, down to the Dalmatian Coast of Croatia and back up to mountainous North Macedonia, this overland journey ties together seven wildly divergent Balkan countries. Catholic, Muslim, Orthodox, politically contradictory, and ethnically varied, this kaleidoscopic region offers an apprenticeship in diversity.
Travels to: Albania, Bosnia and Herzegovina, Croatia, Kosovo, North Macedonia, Montenegro, Serbia
Map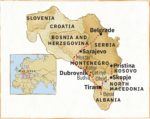 Itinerary
Days 1-4: Belgrade (Serbia), Sarajevo (Bosnia and Herzegovina)

Begin in Serbia's capital, Belgrade, an ancient settlement swiftly becoming one of the hippest places in Europe. Explore Skadarlija, the bohemian quarter filled with art galleries, coffeehouses, and restaurants. Travel overland to the East-meets-West capital of Bosnia and Herzegovina, Sarajevo, surrounded by the Dinaric Alps. Visit the Sarajevo Tunnel Museum with a survivor of the 1990s wars, who used the tunnel to escape Serbian shelling during the Siege of Sarajevo.

HIGHLIGHTS

Serbia's capital, Belgrade, an ancient settlement swiftly becoming one of the hippest places on Europe
Kalemegdan Fortress, Belgrade's ancient citadel that includes remnants of the early Roman and Byzantine towns
Skadarlija, Belgrade's lively artists' quarter bursting with shops, coffee houses, and restaurants
Sarajevo, capital of Bosnia and Herzegovina and site of 1984 Winter Olympics
Princip Bridge, the Sarajevo assassination site of Archduke Ferdinand

Days 5-6: Mostar, Dubrovnik (Croatia)

Visit Mostar and its UNESCO-listed Ottoman-era Stari Most, or Old Bridge. Continue to Croatia's Dubrovnik – a UNESCO World Heritage Site – on the sparkling Dalmatian Coast; at one time it was as important as Venice. Walk atop the thick city walls and visit the Museum of Dubrovnik in the Rector's Palace.

HIGHLIGHTS

Mostar's UNESCO-listed Old Bridge and surrounding area
Dubrovnik, a UNESCO-listed Old Town set atop a walled peninsula jutting into the Adriatic Sea

Days 7-9: Kotor (Montenegro), Cetinje, Budva, Shkodra (Albania), Kruja, Tirana

Travel south along the meandering Adriatic Coast to Montenegro, visiting the UNESCO-listed fortified town of Kotor, which dates from Illyrian and Roman times. Stop by 15th-century Cetinje on the way to Budva, a medieval walled town on the sea once favored by Yugoslav President Tito. Explore Kruja and its citadel where one of the most powerful leaders of medieval Europe, Gjergj Skanderbeg, defeated the Ottomans in 1450. Continue to Tirana, Albania's capital, where grim Soviet-style buildings have been repainted in bright colors, and new shops and restaurants abound. Ride the cable car up Dajti Mountain for outstanding city and forest views.

HIGHLIGHTS

Kotor's fortress from Illyrian and Roman times, a UNESCO World Heritage Site on the Dalmatian Coast
Serbian Orthodox "New Cetinje Monastery," built in 1701; holy relics
Walled Old Town of Budva, a seaside resort dating from Roman times
Kruja's  fortress, ethnographic museum, and medieval Turkish bazaar
Albania's capital, brightly-painted Tirana

Days 10-12: Durres, Berat, Apollonia, Ohrid (North Macedonia)

Explore the massive Roman amphitheater and baths in Durres, dating from the time of Emperor Hadrian; the dramatic Ottoman architecture of UNESCO-listed Berat; and the ancient ruins of Apollonia, mentioned by both Aristotle and Cicero. Head north to North Macedonia, spending two nights in the red-roofed, cobblestone town of Ohrid, located on a deep lake by the same name. Ohrid abounds in ancient archaeological sites, including an amphitheater and a fortress. Both town and lake are UNESCO-listed.

HIGHLIGHTS

Durres and its Roman amphitheater – largest in the Balkans
Berat, with one of the Balkans' best-preserved medieval citadels, towering above the Old Town
Ruins of ancient Apollonia, built as far back as 558 BC and surrounded by a Roman wall
UNESCO-listed Ohrid, with its antiquities, red-roofed old houses, lakeside setting, and outstanding collection of medieval icons

Days 13-16: Skopje, day trip to Pristina (Kosovo)

Head northeast to Skopje, North Macedonia's capital and largest city, where Saint (Mother) Teresa was born. Its Ottoman influence can be seen best in the wonderful old Turkish quarter. Take a day trip into Kosovo, the Balkan territory that declared independence from Serbia in 2008. Celebrate the trip with a North Macedonian feast featuring live music, Balkan dancing, and a generous spread of regional delicacies.

HIGHLIGHTS

North Macedonia's capital and largest city, Skopje, where Saint (Mother) Teresa was born and raised
Memorial House of Saint Teresa, built over the site where she was baptized
Pristina, capital of Kosovo, the Balkans territory that declared independence from Serbia in 2008
15th-century Imperial Mosque and hammam (public bath) in Pristina
Dates &amp Prices
Small group tour – max 16 travelers
Land tour price, per person. Based on double occupancy and minimum group size of 6 travelers.
2022 Dates

Tour, double occupancy

$8,095

2023 Dates

Tour, double occupancy

$8,195
What's Included
Tour Includes

Accommodations, as noted in the itinerary.
Most meals, as noted in the itinerary.
A daily supply of bottled water.
Arrival/departure airport transfers on the tour start/end date. MIR will arrange for all travelers to be met upon arrival and seen off upon departure whether or not we make your flight arrangements.
Ground transportation throughout tour by private van or coach. (Type of vehicle depends on group size.)
Services of experienced, English-speaking local guides, drivers, and other staff, including a MIR Tour Manager.
Guided sightseeing tours and entrance fees, as outlined in the itinerary.
Special events, excursions, and cultural performances, as outlined in the itinerary.
Gratuities to local guides, drivers, and other service personnel, including servers at group meals.
Complete pre-departure information, including detailed packing list, reading list, and Touring with MIR handbook with country-specific information, maps, and travel tips.
Final document packet, including luggage tags, final updates, and more.
Assistance booking your custom flight arrangements, on request. (Please note, international airfare is not included in the land tour cost.)

Not Included

International airfare and taxes/fuel surcharges.
Meals and drinks not specified as included in the itinerary.
Single supplement (or partial single supplement where applicable), if requested or required.
Gratuities to Tour Manager.
Expenses incurred as a result of delay, modification, or extension of a tour due to causes beyond MIR's control.
Travel insurance, including cancellation, medical, and evacuation insurance.
Visa and/or passport fees, excess-baggage charges, airport departure taxes, vaccination and other medical costs.
Optional pre- or post-tour extensions.
Items of a personal nature, such as phone calls, email, laundry, and alcohol.
Activity Level
Level 2: Moderate
This small group tour features long days walking and standing while touring, and some possibly long days in the touring vehicle. Only those fit to travel and who accept the local conditions should consider joining this program.
Travelers must be able to walk one to two miles a day while keeping up with fellow travelers. Footing can be an issue and travelers should be able to negotiate cobblestones, uneven surfaces (possibly steep and/or wet), and deal with situations without handrails or ramps. Some attractions are only accessible via steep staircases. Museums rarely have elevators.
Past travelers have also encountered challenges with plumbing, bureaucratic service, variety of locally available foods, and availability and quality of public restrooms.
Accommodations are designed to be the best available for travel in this part of the world; some are quite small, moderate three-star to four-star hotels with very basic amenities and services.
Gallery