error_outline
Flexible Private Trip — Book Your Dates for You & Yours
Croatia, Montenegro, Albania, North Macedonia, Kosovo, Serbia, and Bosnia and Herzegovina
Overview
Explore seven Balkan countries on this compact overland tour through history, taking in the capitals, countryside, and competing cultures of the Balkan Peninsula. This nearly-circular driving itinerary begins on the Dalmatian Coast in Split and ends in the walled town of Dubrovnik. Along the way, survey the capitals and classic sites of the meeting point of ancient Greece and Rome, Christianity and Islam.
Travels to: Albania, Bosnia and Herzegovina, Croatia, Kosovo, North Macedonia, Montenegro, Serbia
Map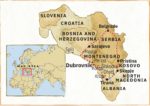 Itinerary
Days 1-12: Around the Balkans; start in Split/end in Dubrovnik

This circular driving itinerary begins in Split, Croatia, heads over to Bosnia and Herzegovina and Serbia, down to North Macedonia, Kosovo, Albania, up to Montenegro,  and circles back to the Adriatic Sea and Dubrovnik, Croatia on the sun-washed Dalmatian Coast.

During your tour of the Balkans, witness this region's diverse landscape varies from towering white limestone cliffs bordering the blue Adriatic Sea to the wild and rugged mountains of the Dinaric Alps – once instrumental in dividing ethnic groups that flourished in their own individual valleys. Get a feel for the historical forces that jostled the Balkan countries, sometimes sending them on colliding paths. A meeting point of ancient Greece and Rome and of Christianity and Islam, the Balkans are a crucible of cultures and religions.

Along this winding route, admire five UNESCO World Heritage Sites including the walled, red-roofed Old Town of Dubrovnik; the medieval Adriatic seaport of Kotor; Romanesque-Gothic island town of Trogir; North Macedonia's Ohrid region; and the historic Ottoman Old Bridge area in Mostar.

HIGHLIGHTS

Split, a UNESCO World Heritage Site on the Dalmatian Coast and home to Emperor Diocletian's 3rd-century palace
UNESCO-listed island town of Trogir; Cathedral of St. Lawrence
Mostar's UNESCO-listed Old Bridge and surrounding area
Sarajevo, capital of Bosnia and Herzegovina; location of 1984 Winter Olympics
Princip Bridge, the Sarajevo assassination site of Archduke Ferdinand
Serbia's capital, Belgrade, an ancient settlement swiftly becoming one of the hippest places in Europe
Kalemegdan Fortress, Belgrade's ancient citadel that includes remnants of early Roman and Byzantine towns
Skadarlija, Belgrade's artists' quarter filled with shops, coffee houses, and restaurants
North Macedonia's capital and largest city, Skopje, where Saint (Mother) Teresa was born and raised
UNESCO-listed Ohrid, with its antiquities, red-roofed old houses, lakeside setting, and outstanding collection of medieval icons
Pristina, capital of Kosovo, the Balkans territory that declared independence from Serbia in February of 2008
Kotor's fortress from Illyrian and Roman times, a UNESCO World Heritage Site on the Dalmatian Coast
Dubrovnik, UNESCO-listed Old Town set atop a walled peninsula jutting into the Adriatic Sea
Dates &amp Prices
Please note:
Private trip prices vary by season and are subject to hotel availability for your travel dates.
Listed prices below are based on double occupancy and a 2 traveler minimum.
Hotel upgrades, additional nights, and solo traveler prices are available on request.
Land tour price, per person, starting from:
2023 Dates

Available: April - October

Tour, double occupancy

$8,395
What's Included
Tour Includes

Shared accommodations as noted in the itinerary. Contact MIR for hotel upgrade prices.
Meals, as noted in the itinerary.
One arrival and one departure transfer. Additional arrival and departure transfers available at additional cost.) MIR will arrange for travelers to be met upon arrival and seen off on departure, whether or not we make your air arrangements.
Ground transportation throughout itinerary by private vehicle (type of vehicle depends on number of travelers in your group.)
Services of experienced, English-speaking local guides, drivers, and other staff, as noted in the itinerary.
Guided sightseeing tours and entrance fees, as outlined in the itinerary.
Special events, excursions, and cultural performances, as outlined in the itinerary.
Complete pre-departure information, including detailed packing list, reading list, and Touring with MIR handbook with country-specific information, maps, and travel tips.
Final document packet, including luggage tags, final updates, and more.
Assistance booking your custom flight arrangements, on request. (Please note that international airfare is not included in the land tour cost).

Not Included

International airfare and taxes/fuel surcharges.
Meals and drinks not specified as included in the itinerary.
Single supplement if requested or required.
Baggage handling.
Gratuities to local guides, drivers, porters, and other service personnel.
Expenses incurred as a result of delay, modification, or extension of a tour due to causes beyond MIR's control.
Travel-related insurance, including cancellation, medical, and evacuation insurance.
Visa fees, excess-baggage charges, airport departure taxes, vaccination and other medical costs.
Optional pre- or post-tour extensions.
Items of a personal nature, such as phone calls, email, laundry, and alcohol.
Activity Level
Level 2: Moderate, but Customizable
This 'Essential' itinerary, which is designed for private travel, features long days walking and standing, and some possibly long days in the touring vehicle. Only those fit to travel and who accept the local conditions should consider joining this program.
There is a significant amount of touring on foot, and those travelers planning to take the program as written should be able to walk one to two miles a day comfortably. Footing can be an issue and travelers should be able to negotiate cobblestones, uneven surfaces (possibly steep and/or wet), and deal with situations without handrails or ramps. In the hotels, you may find that showers/baths have steep steps up or ledges, which can become slippery and require extra caution. Some attractions are only accessible via steep staircases. Museums rarely have elevators, and hotels may not have elevators as well.
Past travelers have also encountered challenges with plumbing, bureaucratic service, variety of locally available foods, and availability and quality of public restrooms.
Accommodations in the basic program are generally three to four-star hotels, some quite small with basic amenities and services. Upgrades may be available, please call for details.
Gallery