error_outline
Flexible Private Trip — Book Your Dates for You & Yours
Valleys and Villages of Three Balkan Beauties
Overview
Albania boasts miles of Adriatic and Ionian Sea pristine coastline, as well as spectacular Roman ruins. Land-locked Kosovo has a reputation for exceptional skiing and mountaineering, sophisticated cafés and shops, and a forward-looking young population. And North Macedonia is a compact jewel of a country, blue with lakes and green with forested mountains. Visit all three – from mountains to sea – on this 10-day tour across the little-traveled, yet fascinating southern Balkan Peninsula.
Travels to: Albania, Kosovo, North Macedonia
Map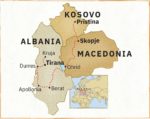 Itinerary
Days 1-3: Tirana (Albania), Kruja

Begin your tour in Tirana, Albania's capital, exploring Skanderbeg Square in the city center and learning about the long, often-troubled history of Albania at the National History Museum. Take a day trip to Kruja to see its fortress, marking the last stand before Albania fell to the conquering Ottoman Turks in 1478.

HIGHLIGHTS

Albania's capital, brightly-painted Tirana
Skanderbeg Square, named in honor of the national hero responsible for defeating the Ottomans
Et'hem Bey Mosque and its rare frescoes
Bunk'Art, a contemporary arts and culture center housed inside a massive, five-story underground atomic shelter
Kruja's fortress, ethnographic museum, and medieval Turkish bazaar
Visit to a local workshop where craftspeople create traditional Albanian skullcaps called qeleshe, made from a single piece of felt

Days 4-5: Durres, Apollonia, Berat

In Durres, Albania's second-largest city, visit the Roman amphitheater and ancient baths dating from the days of Emperor Hadrian. Explore the ruins of ancient Apollonia, built as far back as 558 BC. Arrive in Berat, situated on one of the oldest continuously inhabited sites in Albania. The town reflects its dual Ottoman roots and Albanian heritage. Here, examine the outstanding collections of the Onfuri Museum, featuring gilded icons and liturgical objects created by Albanian artists from the 16th to 20th centuries.

HIGHLIGHTS

Durres and its Roman amphitheater – largest in the Balkans
Ruins of the ancient town of Apollonia, built as far back as 558 BC and surrounded by a Roman wall
13th century Byzantine church and monastery of Shen Meri (Saint Mary), overlooking the ruins of a Roman bath
Berat, with one of the Balkans' best-preserved medieval citadels, towering above the Old Town

Day 6: Ohrid (North Macedonia)

Situated on Lake Ohrid in North Macedonia, this town by the same name is one of the oldest human settlements in Europe; together they are a UNESCO World Heritage Site. Ohrid's St. Pantaleon Monastery is the oldest Slav monastery in the world, while the 11th-century Church of St. Sophia boasts well-preserved medieval frescoes. Visit the archaeological site of Plaoshnik, featuring the painstaking reconstruction of 9th-century St. Clement's Church, faithfully rebuilt according to its Byzantine architectural plans. Discover the monastery of St. Naum, founded in 900 by a student of the Macedonian monks Cyril and Methodius.

HIGHLIGHTS

UNESCO-listed Ohrid, North Macedonia, with its antiquities, red-roofed old houses, and resplendent collection of medieval icons
Icon Gallery of Ohrid, tracing the evolution of artistic sacred styles from the 11th to 19th centuries
Painstaking, faithful reproduction of St. Clement's Church, first constructed in 893
10th century monastery of St. Naum, a student of Macedonian monks Cyril and Methodius
Old Town farmers' market

Days 7-10: Skopje, Pristina (Kosovo)

On the drive to Skopje today, stop along the way at the hillside Monastery of Sveti Jovan Bigorski, or St. John the Baptist. North Macedonia's capital and largest city, Skopje is where Saint (Mother) Teresa was born and raised. Before touring Skopje, take a day trip to Pristina, the capital of Kosovo – the Balkan territory that declared independence from Serbia in 2008. Admire the 14th-century Church of the Holy Virgin on the grounds of the Gracanica Monastery, one component of the UNESCO World Heritage Site of the "Medieval Monuments in Kosovo." Meet and talk with a local family of Kosovan Albanians to learn what life was like during the war years. Next, explore Skopje, browsing the largest bazaar in the Balkans to find hand-loomed carpets, antique silver, spices, woven pillows, and nargileh (water pipes). Visit the Memorial House of Saint Teresa (formerly Mother Teresa), built over the site where she was baptized nearly 100 years earlier. Stroll along Macedonia Square, taking note of the prominent white fountain topped with a massive eight-story figure of Alexander the Great mounted on his equally massive steed.

HIGHLIGHTS

Macedonia's capital and largest city, Skopje, where Saint (Mother) Teresa was born and raised
Pristina, capital of Kosovo, the Balkan territory that declared independence from Serbia in 2008
Bill Clinton Boulevard, with its 10-foot statue of the former U.S. president
UNESCO-listed 14th-century Church of the Holy Virgin, located on the grounds of Serbian Orthodox Gracanica Monastery
Meeting with local family of Kosovan Albanians
Skopje Old Bazaar and Old Stone Bridge, built by Mehmet the Conqueror Memorial
House of Saint (Mother) Teresa
Macedonia Square, with its massive equestrian statue of Alexander the Great
Dates &amp Prices
Please note:
Private trip prices vary by season and are subject to hotel availability for your travel dates.
Listed prices below are based on double occupancy and a 2-traveler minimum.
Hotel upgrades, additional nights, and solo traveler prices are available on request.
Land tour price, per person, starting from:
2023 Dates

Available: January - December

Tour, double occupancy

$4,995
What's Included
Tour Includes

Shared accommodations as noted in the itinerary. Contact MIR for hotel upgrade prices.
Meals, as noted in the itinerary.
One arrival and one departure transfer. Additional arrival and departure transfers available at additional cost.) MIR will arrange for travelers to be met upon arrival and seen off on departure, whether or not we make your air arrangements.
Ground transportation throughout itinerary by private vehicle (type of vehicle depends on number of travelers in your group.)
Services of experienced, English-speaking local guides, drivers, and other staff, as noted in the itinerary.
Guided sightseeing tours and entrance fees, as outlined in the itinerary.
Special events, excursions, and cultural performances, as outlined in the itinerary.
Complete pre-departure information, including detailed packing list, reading list, and Touring with MIR handbook with country-specific information, maps, and travel tips.
Final document packet, including luggage tags, final updates, and more.
Assistance booking your custom flight arrangements, on request. (Please note that international airfare is not included in the land tour cost).

Not Included

International airfare and taxes/fuel surcharges.
Meals and drinks not specified as included in the itinerary.
Single supplement if requested or required.
Baggage handling.
Gratuities to local guides, drivers, porters, and other service personnel.
Expenses incurred as a result of delay, modification, or extension of a tour due to causes beyond MIR's control.
Travel-related insurance, including cancellation, medical, and evacuation insurance.
Visa fees, excess-baggage charges, airport departure taxes, vaccination and other medical costs.
Optional pre- or post-tour extensions.
Items of a personal nature, such as phone calls, email, laundry, and alcohol.
Activity Level
Level 2: Moderate, but Customizable
This 'Essential' itinerary through Albania, North Macedonia, and Kosovo, which is designed for private travel, features long days walking and standing, and some possibly long days in the touring vehicle. Only those fit to travel and who accept the local conditions should consider joining this program.
There is a significant amount of touring on foot, and those travelers planning to take the program as written should be able to walk one to two miles a day comfortably. Footing can be an issue and travelers should be able to negotiate cobblestones, uneven surfaces (possibly steep and/or wet), and deal with situations without handrails or ramps. In the hotels, you may find that showers/baths have steep steps up or ledges, which can become slippery and require extra caution. Some attractions are only accessible via steep staircases. Museums rarely have elevators, and hotels may not have elevators as well.
Past travelers have also encountered challenges with plumbing, bureaucratic service, variety of locally available foods, and availability and quality of public restrooms.
Accommodations in the basic program are generally three to four-star hotels, some quite small with basic amenities and services. Upgrades may be available, please call for details.
Gallery