error_outline
Our most underrated and amazing destination - don't miss out!
An Experiential Small Group Tour to the Emerging Nation of Albania
Overview
Experience the abundant natural beauty and hospitality of Albania, with a small group tour. This burgeoning Balkan nation ready to step into the spotlight after decades of isolation and obscurity under totalitarian rule. Discover the country's communist history, marvel at forgotten remnants of Greco-Roman and Ottoman architecture, admire spectacular vistas in the wild Albanian Alps, and step into the lives of hospitable villagers who still hold tight to ancient traditions.
Travels to: Albania
Map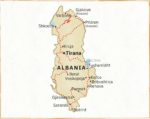 Itinerary
Days 1-2: Tirana (Albania)

Begin your Albanian tour in the colorful capital, Tirana, admiring its eclectic architecture and fascinating communist relics. Visit the Bektashi World Center, headquarters of the liberal Bektashi order of Sufism, and meet with the founder of the Women's Museum to discover Albanian women's significant contributions to this country's history.

HIGHLIGHTS

Albania's capital, brightly painted Tirana
Bektashi World Center, a religious complex housing the Bektashi dervish sect, a unique liberal order melding Shia and Sufi Islamic beliefs
Tirana Women's Museum, established by Elsa Ballauri, director of the Albanian Human Rights Group and the She-Culture Project

Days 3-5: Shkodra, Valbone

Drive to one of Albania's most notorious communist internment camps, Spac Prison, and listen to a firsthand account of life here from a former prisoner. Head to Lake Skadar and soak up the Italian ambiance of lakeside Shkodra, one of the oldest towns in Albania. Enjoy a day of hiking in the pristine Valbone Valley National Park, taking in the spectacular scenery of the secluded Albanian Alps.

HIGHLIGHTS

Spac Prison, the most notorious of Albania's communist internment camps created under President Enver Hoxha
Walking tour of Shkodra, nestled on the shores of Lake Skadar near the Adriatic Coast
Venice Art Mask Factory, where exquisitely detailed Venetian masks are fashioned by hand
Scenic ferry ride on Lake Koman, surrounded by lush hills and deep gorges
Hiking along ancient forested trails in the remote alpine mountains and valleys of Valbone Valley National Park

Days 6-8: Kruja, Ohrid, Korce

In Kruja, browse the medieval Turkish bazaar and visit a workshop that specializes in making traditional Albanian skullcaps called qeleshe. Explore the Albanian side of UNESCO-listed Lake Ohrid, and marvel at Korce's impressive collection of thousands of medieval icons. Learn about Albania's rich culinary heritage over a cooking class in a village home.

HIGHLIGHTS

Kruja's fortress, ethnographic museum, and medieval Turkish bazaar
Visit to a local qeleshe (skullcap) workshop
Pogradec's ancient Illyrian fortress overlooking Lake Ohrid
Traditional lunch in Tushemisht Village of popular fish endemic to Lake Ohrid
Korce's Museum of Medieval Art and its thousands of icons; first Albanian school
Meeting with priest at 18th-century Orthodox Church of St. Nicholas, named for one of Albania's most beloved saints
Cooking class in a village home in Boboshtica

Days 9-10: Permet, Gjirokastra

Spend a night in Permet, renowned for its folk music traditions and fiery raki alcoholic drink. Continue through the mountains to the UNESCO-listed Ottoman town of Gjirokastra, exploring its charming cobblestone streets and traditional tower houses (kule).

HIGHLIGHTS

Tasting of locally made fruit preserves and raki in Permet
Visit to a local school in Permet UNESCO-listed Gjirokastra, with its 13th century citadel and National Military Museum
Faithfully restored Ottoman-era Skenduli House, owned by same family since early 1700s
House Museum of Ismail Kadare, award-winning author and Albanian cultural icon

Days 11-14: Butrint, Saranda, Berat, Tirana

Make a stop at the 6th-century BC ruins of Butrint before dipping down to Saranda, dubbed "capital" of the lush Albanian Riviera. Drive along the breathtaking Ionian Coast to UNESCO-listed Berat, home to striking Ottoman mosques and the 13th-century Berat Castle, one of the Balkans' best-preserved medieval citadels. Back in Tirana, witness the city's exciting contemporary arts scene at the Bunk'Art Museum before celebrating the journey at a farewell dinner.

HIGHLIGHTS

UNESCO World Heritage Site of Butrint with its 2,500-year-old fortifications, 3rd century BC amphitheater, temples, public baths, and houses
Lake Butrint boat ride and mussel tasting – considered Albania's best bivalves
Saranda, lively resort town on the Albanian Riviera
Berat, with one of the Balkans' best-preserved medieval citadels, towering above the Old Town
Tirana's Bunk'Art , a former secret underground atomic shelter that's now a massive museum and contemporary arts space
Dates &amp Prices
Small group tour – max 16 travelers
Land tour price, per person. Based on double occupancy and minimum group size of 6 travelers.
2024 Dates

Tour, double occupancy

$5,395
What's Included
Tour Includes

Accommodations, as noted in the itinerary.
Most meals, as noted in the itinerary.
A daily supply of bottled water.
Arrival/departure airport transfers on the tour start/end date. MIR will arrange for all travelers to be met upon arrival and seen off upon departure whether or not we make your flight arrangements.
Ground transportation throughout tour by private van or coach. (Type of vehicle depends on group size.)
Services of experienced, English-speaking local guides, drivers, and other staff, including a MIR Tour Manager.
Guided sightseeing tours and entrance fees, as outlined in the itinerary.
Special events, excursions, and cultural performances, as outlined in the itinerary.
Gratuities to local guides, drivers, and other service personnel, including servers at group meals.
Complete pre-departure information, including detailed packing list, reading list, and Touring with MIR handbook with country-specific information, maps, and travel tips.
Final document packet, including luggage tags, final updates, and more.
Assistance booking your custom flight arrangements, on request. (Please note, international airfare is not included in the land tour cost.)

Not Included

International airfare and taxes/fuel surcharges.
Meals and drinks not specified as included in the itinerary.
Single supplement (or partial single supplement where applicable), if requested or required.
Gratuities to Tour Manager.
Expenses incurred as a result of delay, modification, or extension of a tour due to causes beyond MIR's control.
Travel insurance, including cancellation, medical, and evacuation insurance.
Visa and/or passport fees, excess-baggage charges, airport departure taxes, vaccination and other medical costs.
Optional pre- or post-tour extensions.
Items of a personal nature, such as phone calls, email, laundry, and alcohol.
Activity Level
Level 3: Medium
This small group tour features long days walking and standing while touring, some hiking, and some possibly long days in the touring vehicle. Only those fit to travel and who accept the local conditions should consider joining this program.
Travelers must be able to walk one to two miles a day while keeping up with fellow travelers. Footing can be an issue and travelers should be able to negotiate cobblestones, uneven surfaces (possibly steep and/or wet), and deal with situations without handrails or ramps. Some attractions are only accessible via steep staircases. Museums rarely have elevators.
Past travelers have also encountered challenges with plumbing, bureaucratic service, variety of locally available foods, and availability and quality of public restrooms.
Accommodations are designed to be the best available for travel in this part of the world, some are quite small, moderate three-star to four-star hotels with very basic amenities and services.
Gallery