Photo credit: Dragan Bosnic, Branko Jovanovic, Srdjan Veljovic, NTOS archive
Belgrade for Beginners: What to See & Do in Serbia's Charismatic Capital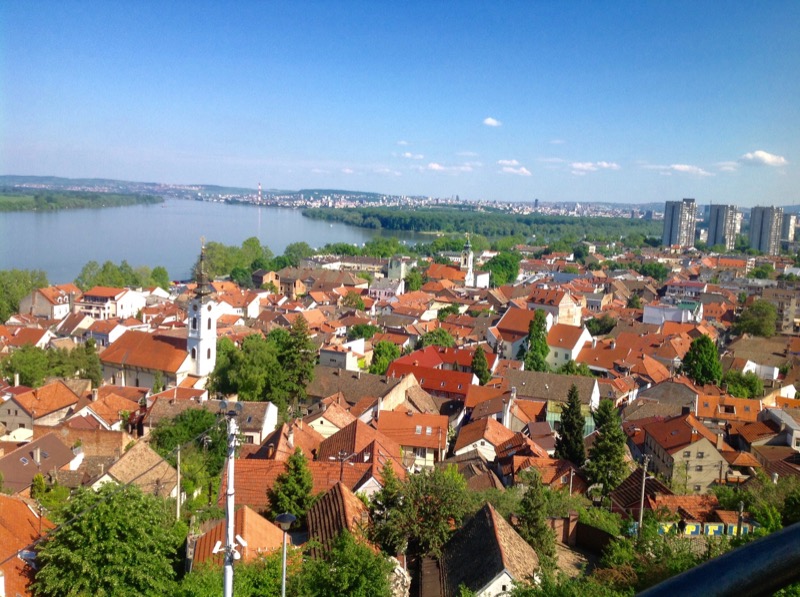 Long overlooked by many modern-day travelers, Serbia's capital Belgrade is one of the largest and most important cities in the Balkans. Once troubled by violent conflicts following the breakup of the former Yugoslavia, the city has since shrugged off the shadows of its tumultuous past to re-emerge as one of Europe's hippest and most happening hubs of urban cool.
With a youthful population, Belgrade is well known for its edgy and exuberant nightlife. But look beyond the boisterous bars and you'll find a fascinatingly complex and creative capital waiting to be discovered. Remnants of Belgrade's past rulers are scattered across the city, from ancient Roman ruins to grand art nouveau buildings designed during the reign of the Hapsburgs. Neighborhoods abound with trendy boutiques and outdoor eateries, and the laid-back café culture, burgeoning artistic and cultural scene, and freewheeling sociable atmosphere all add to the city's irresistible charms.
With its vibrant history and energy, Belgrade makes a great place to begin or end a journey through the Balkans. But since tourists are just beginning to hear the buzz about Belgrade, the time to go there is now — before the masses arrive.
Here are some of our favorite ways to explore this dynamic city on the Danube:
Ramble Through Roman Ruins at Kalemegdan
---
One of the highlights of Belgrade is its ancient citadel, Kalemegda – a name bestowed by the Turks meaning "fortress amid battlefields." Originally founded by the Celts in the 3rd century BC, the fortress offers incredible insights into Belgrade's layered past.
(click image to view larger photo)
More than 100 battles were fought here, and the fortress was destroyed and rebuilt more than 40 times. Today the citadel includes what is left of Celtic and Roman Singidunum and the Byzantine, Turkish, and Austro-Hungarian fortifications that followed. The Despot Gate and the Roman Well are found in the fortress' Upper Town, and the 18th century Turkish baths in the Lower.
While you're walking about Kalemegdan, be sure to head to one of the lookout points on the fortress walls. Here you can catch unmatched views of the Sava and Danube Rivers, perfect for a sunrise or sunset photo op.
Admire the Awe-inspiring Scale of the Church of St. Sava
---
The monumental Church of St. Sava is the world's second largest Orthodox church. Begun in 1935 over the spot where St. Sava's remains were burned in 1595, the white marble and granite edifice can seat nearly 11,000 worshipers. The church's huge central dome, which weighs an estimated 4,000 tons, was finally lifted into place in 1989 — it took 40 days for specially constructed hydraulic machines to set it on top of the church.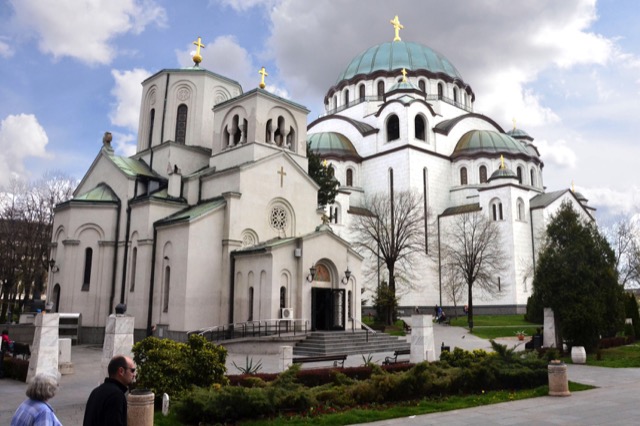 Wars and economic strife have frequently interrupted its construction, setting projects for the interior design back decades with the church nearing completion roughly 85 years after it was initiated. The interior contains some 17,000 square meters of Murano glass mosaics and frescoes.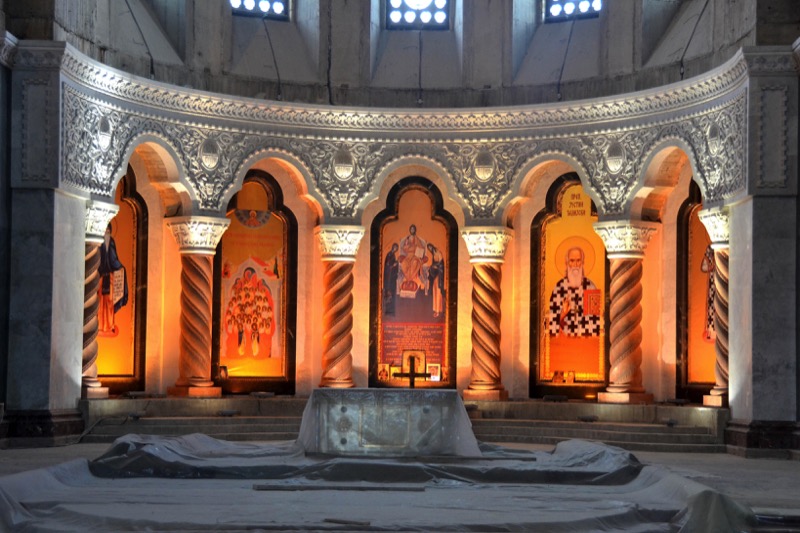 Stroll the Spirited Streets of Skadarlija
---
Skadarlija is the bohemian quarter of Belgrade and has often been compared with Paris' Montmartre district. Originally called the Gypsy Quarter, this romantic cobbled neighborhood became the center of bohemian life in the 1900s when writers and artists used to hang out all night in the local taverns and cafés. The area had numerous inns that played host to many of Serbia's best-loved authors and actors.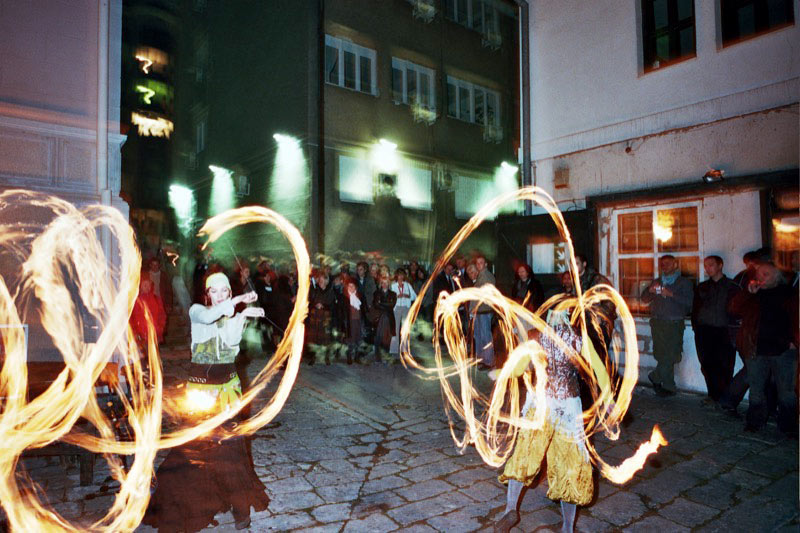 Today, Skadarlija is a vibrant and busy area filled with shops, coffee houses, traditional restaurants, and street musicians. It's a great place to go for an evening stroll, linger over a hearty meal, and catch a creative performance while you soak up the spirit of Old Belgrade.
Discover the Legacy of Legendary Tito
---
Josip Broz Tito, the infamous communist and revolutionary statesman, served as leader of a united Yugoslavia from 1944 until his death in 1980. Simultaneously praised and despised in Serbian history, his lasting influence can still be seen throughout the city.
Tito's mausoleum, called the "House of Flowers," is set in the winter garden complex near his former home in Belgrade. Built in 1975, the House of Flowers was designed as a retreat for the Yugoslav leader, who was buried here according to his wishes in 1980. Attached to the mausoleum is the fascinating Museum of Yugoslav History, a must for those interested in the tumultuous history of the Balkans.
(click image to view larger photo)
Beneath Belgrade's posh Topcider district is a hidden nuclear bunker ordered by Tito in 1948, the year Yugoslavia broke with Joseph Stalin. Concerned about a retaliatory nuclear attack, Tito built several bunkers across the country. This one was rediscovered by the public in 2004. A nearly 200-foot elevator descends to a six-story underground complex of more than a square mile.
Unleash Your Inner Scientist at the Nikola Tesla Museum
---
Belgrade's Nikola Tesla Museum is dedicated to the inventor and visionary renowned for his work with electromagnetism and his role in furthering the science of electricity, robotics, radar, and theoretical physics. An ethnic Serb born in what is now Croatia, Tesla became an American citizen and worked for Thomas Edison for a time.
The museum contains books, original documents, photos, and technical exhibits from Tesla's collections, as well as his cremated remains, which are housed in a golden "Tesla ball"-shaped urn.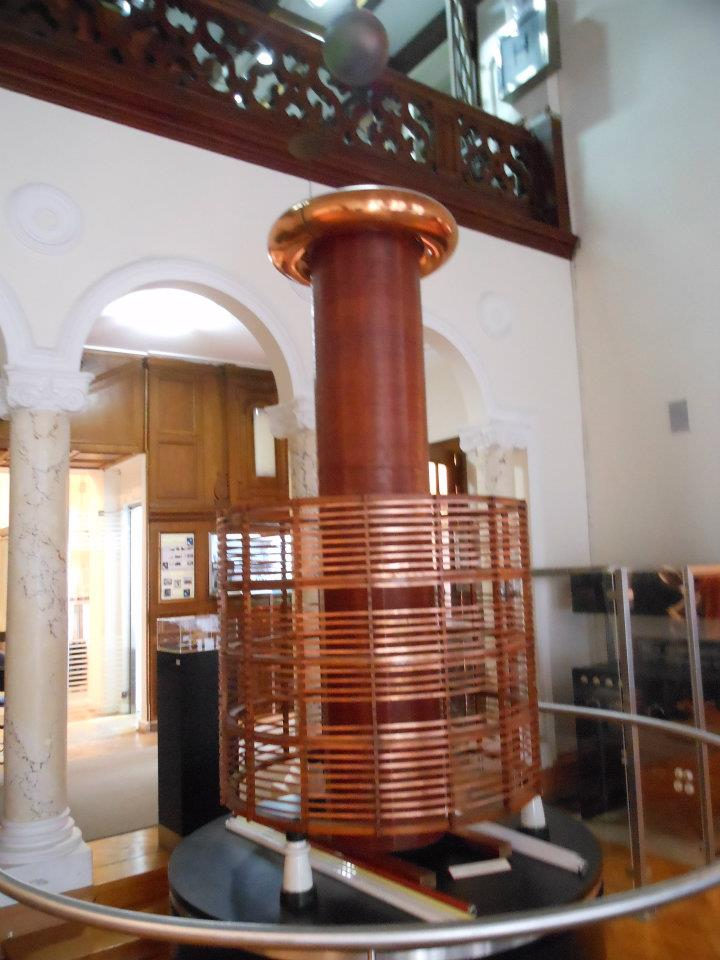 Head For the Hip Hangouts Along Knez Mihailova
---
Knez Mihailova is the pedestrianized main thoroughfare in the Old Town, and one of the most popular hubs for Belgrade locals. Stretching almost 2/3 of a mile from the Kalemegdan Fortress to the Palata Albanija, the street is lined with numerous cafés, restaurants, trendy boutiques, and galleries, as well as dozens of restored art nouveau landmarks and ornate mansions from the late 1870s.
(click image to view larger photo)
Many of the city's best art and cultural centers are located here and host regular exhibitions and concerts free and open to the public, including the Serbian Academy of Sciences and Arts, the Serbian Association of Fine Arts, and the Goethe-Institut. Street performers and amateur artists often arrive in the late afternoon and evening hours, adding to the swirl of Belgrade's vibrant, edgy street life.
Taste Traditional Fare in Belgrade's Taverns
---
Serbian cuisine is just as delightfully dynamic as its history, and the best way to savor it is at one of the city's old-school kafane, or taverns. Brimming with hearty and inexpensive dishes, kafane are the way to go when you need to fill up after a long day of walking around the city.
Grilled meats, called rostilj, make a common appearance on kafane menus. If you happen to be a meat lover, you won't want to miss out on one of Serbia's signature dishes – cevapi or cevapcici, a plate piled with juicy, flavorful sausages made from pork, beef, or lamb served with flatbread and a clotted cream-like condiment known as kaymak. Cabbage and beans are also beloved throughout the country and make their way into homey dishes like pasulj, a smoky Balkan bean stew, and Serbian cabbage rolls called sarma.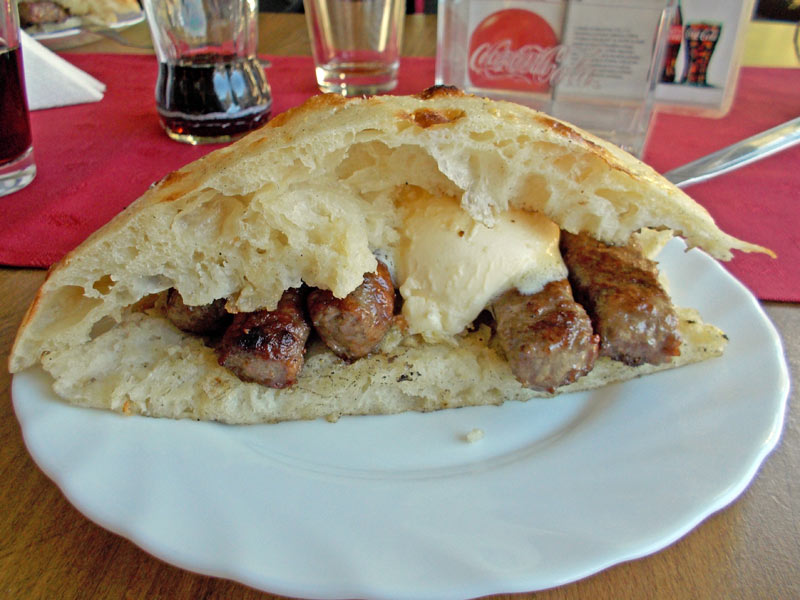 You'll find excellent kafane all across Belgrade, but one of our favorites is the famous ? ("Upitnik") Kafana, the oldest in the city. Built in 1823, the tavern was originally named after a nearby church that took offense at the booze-filled tavern making reference to a house of God. The owner put a question mark on the tavern's signage as a temporary solution while the dispute was being resolved, but the quirky name stuck and has been used ever since.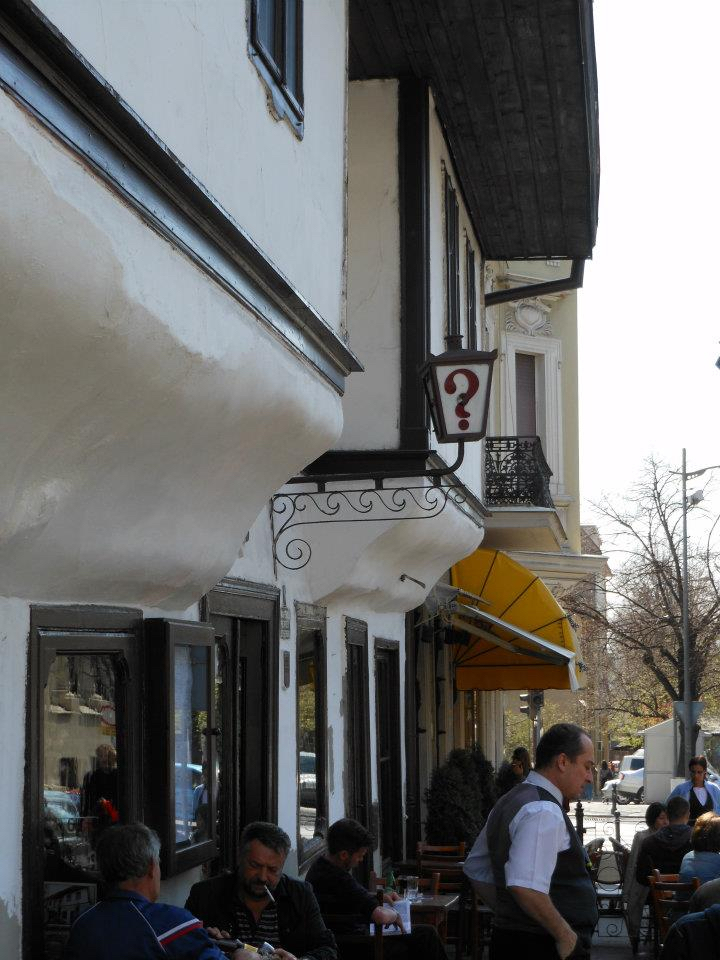 Board a Helicopter to Uvac Canyon
---
For something truly unique, climb aboard a helicopter and get a bird's-eye view of the steep-sided, meandering Uvac Canyon just outside Belgrade. Named one of the Seven Serbian Wonders of Nature in 2008, the curvy canyon wanders among limestone cliffs that reach up to 1,000 feet above the river.
(click image to view larger photo)
The canyon is surrounded by some 18,000 acres of protected area, which support a recovering population of griffon vultures with wingspans of up to 10 feet. Two caves boast rich ecosystems left by water dripping from the limestone, with stalactites, columns, and stalagmites.
If You Have More Time…
Visit Vibrant Novi Sad

---

Novi Sad is Serbia's second city, both in size and in cultural importance. Thousands of music-lovers flock here every year to attend Serbia's wildly popular EXIT music festival, but the city is also well known for its beautiful beaches, parks, and excellent creative arts scene. Novi Sad was designated an upcoming European Capital of Culture for 2021, the first non-EU city to be presented with the prestigious title.

A view of Petrovaradin Fortress from the Danube. Photo credit: Dragan Bosnic, Branko Jovanovic, Srdjan Veljovic, NTOS archive

A highlight of a city tour is the Petrovaradin Fortress, perched on a bluff on the right bank of the Danube. Construction of the fortress began in 1692, but there is evidence of much older fortifications on the site. The fortress sits over 12 miles of tunnels and galleries, which were part of its siege protection.

Revel in the Remarkable History of Nis

---

Nis is one of the Balkans' oldest cities. Settled in pre-history by Neolithic tribes, it became an important crossroads town in Roman times. Naissus, as it was called then, was the meeting-point of five Roman roads, including the Via Militaris, and was the birthplace of Constantine the Great.

The city and its surrounds are dotted with reminders of Nis' eventful history, including the ruins of the Felix Romuliana – the imperial palace of Roman Emperor Galerius and one of Europe's largest and best-preserved sites from the Late Roman period. Galerius commissioned the site in 298 BC after his victory over the Persians. Though much of the complex has been reduced to rubble, the original columns and foundation still remain. Excavations have revealed several important finds, including gold coins, a sculpture of the goddess Diana, and portraits of Roman emperors made from rare Egyptian porphyry stone. UNESCO named the Felix Romuliana a World Heritage Site in 2007.

Nis' Stambol Gate at sunset. Photo credit: Dragan Bosnic, Branko Jovanovic, Srdjan Veljovic, NTOS archive

For 245 years, Nis was ruled by the Ottoman Empire. Beautiful Nis Fortress was built during that time, and is one of the most important monuments of Turkish rule in the Balkans. The early 18th century fortress, overlooking the Nisava River, was built over other, older, fortresses from Roman and Byzantine times. Surrounded by a large moat, thick ramparts and four gates, Nis Fortress guarded the city for many years.

Savor Serbian Wine Country

---

Serbia doesn't immediately spring to mind when discussing the world's great wine regions, but a new generation of independent producers and small-scale vineyards that have cropped up in recent years have slowly started to put this under-the-radar country and its wines on the map.

Serbia's long-standing viticultural traditions date back to Roman times, and its rich soil and warm climate allow it to produce a wide range of high-quality red and white varietals. The indigenous Prokupac grape is used in many of the country's wines, creating varietals with earthy, peppery, and berry-forward notes.

Serbian wines are typically aged in oak barrels to impart tannic or vanilla flavors. Photo credit: Ia Tabagari

There are nine well-known wine regions in Serbia, with most situated in the central and southwestern parts of the country. Fruska Gora is one of the oldest wine-making regions, and is just over an hour's drive away from Belgrade. Other important regions include the Timok Valley in eastern Serbia, the wine routes around Vrsac and Smederovo in the west, and the vineyards surrounding Subotica to the north.
Travel with MIR to Belgrade, Serbia & Beyond…
MIR has over three decades of Balkans travel experience with on-the-ground support, guides, and tour managers that clients rave about. MIR's full service, dedication, commitment to quality, and destination expertise have twice earned us a place on National Geographic Adventure's list of "Best Adventure Travel Companies on Earth."
It's easy to add a visit to Belgrade before or after our Balkans tours, or incorporate it into any independent trip to the Balkans. MIR specializes in personalized, private journeys, and we'd love to take your ideas and weave them into a trip tailored especially for you!
Here are four ways to explore Belgrade and beyond with MIR: