Dubrovnik in Photos: Croatia's Picture-Perfect Coastal Town
Croatia's sweetheart seaport city, Dubrovnik, is known by many names: "Pearl of the Adriatic," "Village of Oak," "Thesaurum Mundi – Treasure of the World." It might also be dubbed "Survivor," as Dubrovnik has been stunningly rebuilt since it was besieged and bombarded during the 1990s Yugoslav Wars. The town's also quite a star, renamed "King's Landing" in the popular TV fantasy series, "Game of Thrones."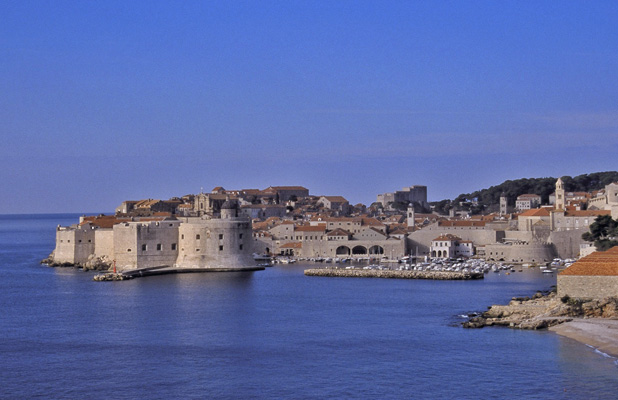 Perched on a peninsula jutting into the shimmering Adriatic Sea along the Dalmatian Coast in the Balkans, Dubrovnik is a walled medieval city of white houses, red-tiled roofs, and a pedestrian-only cobblestone Old Town. Year after year, UNESCO-listed Dubrovnik makes the must-see lists of places to visit and explore. The views from its hills, walls and streets illustrate why Dubrovnik is such a dazzling destination.
Views from Dubrovnik's Hills
---
First known as Ragusa, a 7th-century coastal settlement with walls built around it to protect from invaders, it grew into a prosperous city-state rivaling Venice. Later, the settlement was renamed Dubrovnik – from dubrava, or "oak tree." Destroyed by a massive earthquake in 1667, Dubrovnik was rebuilt in a baroque style, replete with narrow stone streets.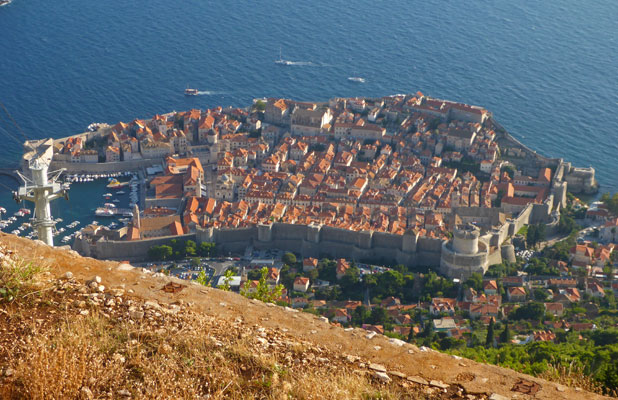 Dozens of well-worn stone stairways lead to scenic overlooks on the Old Town and Adriatic Sea. Faster and less strenuous is a three-minute cable car ride to Srd Hill for the best bird's-eye views, where it's said on a clear day you can see 37 miles away.
(click image to view larger photo)
Views from Dubrovnik's Walls
---
Along with Dubrovnik's hilltop views, its rugged stone seawalls and landwalls – and the views from those walls – draw visitors into the history of this rock fortress town. Today's existing walls are up to 20 feet thick and 80 feet high, for centuries protecting Dubrovnik from enemy attack. The mile-long wall walkway encircles the Old Town, with turrets, towers, red-tiled roofs, and Adriatic Sea views.
(click image to view larger photo)
In Harm's Way
High above the car-free streets and looking out from these ancient walls, visitors may find it hard to visualize the now-repaired destruction of this beloved city. Dubrovnik's 1979 designation as a UNESCO World Heritage Site for its cultural and historical significance theoretically protected the city from wars and hostile attacks.
(click image to view larger photo)
In reality, during the 1991-92 "Siege of Dubrovnik" in the 1990s Yugoslav Wars, the city was surrounded and hit by heavy Serb shelling and Yugoslav naval bombardment for eight months. More than half of Dubrovnik's historic buildings and homes were damaged, killing hundreds and making refugees of thousands.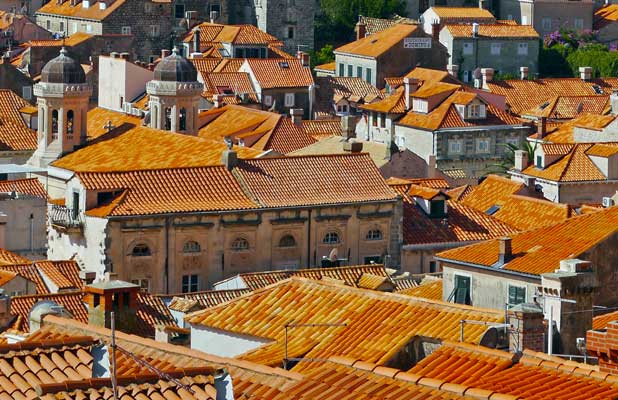 Dubrovnik was so painstakingly rebuilt through a restoration program and world-wide donations that it may be difficult to discern what is original, and what is new or repaired – save for the telltale roof tiles that don't perfectly match the original red ones. (The tile factory shut down in the 1950s.)
View from Dubrovnik's Streets
---
Dubrovnik remains – as author George Bernard Shaw once gushed – the "pearl of the Adriatic," adding "those who seek paradise on earth should come to Dubrovnik." And they do. Today, Dubrovnik is one of the most popular travel destinations in Europe. Even the late Pope John Paul II loved this seaport city so much that he was made an honorary citizen.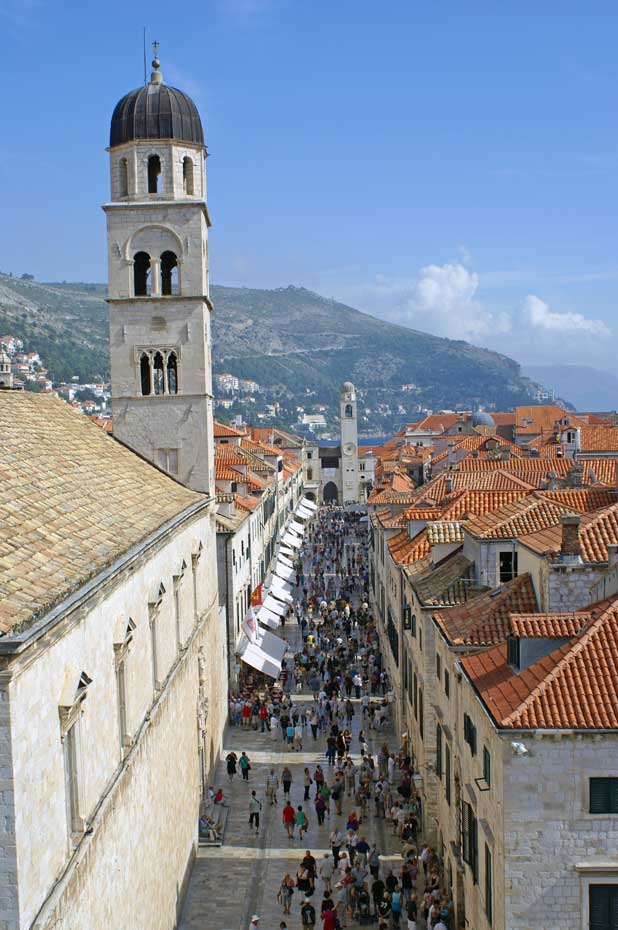 Dazzling Dubrovnik
Street-level views of Dubrovnik are equally as intriguing as views from the the city's hills and walls – including ancient Onofrio Fountain and religious sites such as the city's beloved St. Blaise Cathedral and Assumption Cathedral.
(click image to view larger photo)
An oasis in the town center, the Franciscan Monastery complex includes one of the world's oldest working pharmacies as well as Dubrovnik's oldest garden, which dates from the 14th century. The Old Town's labyrinth of narrow and often steep streets are lined with shops, cafés, clubs, and homes. At Pile Gate and Ploce Gate, the drawbridges visitors walk today were once wooden gates that lifted above the moat to protect the town from invaders.
(click image to view larger photo)
Beaches and swimming holes are favorite spots to cool off and relax, while seafood restaurants and cafés feature local dishes such as ocean fish, shellfish, squid, kebabs, and zeljanica (filled phyllo-pastry pies) along with Dalmatian wines. Of its dozens of festivals, Dubrovnik's most famous – and longest – is the season-spanning Summer Festival, with 45 days of theatre, ballet, and music.
(click image to view larger photo)
Learn More About Dubrovnik, Croatia and the Balkans
Dubrovnik in the News:
Travel with MIR to Dubrovnik, Croatia, and Beyond
MIR has over two decades of Balkans travel experience with on-the-ground support, guides, and tour managers that clients rave about. MIR's full service, dedication, commitment to quality, and destination expertise have twice earned us a place on National Geographic Adventure's list of "Best Adventure Travel Companies on Earth."
It's easy to add a visit to Dubrovnik before or after one of our Balkans tours, or to incorporate it into any private independent trip to the Balkans. MIR specializes in personalized private journeys, and we'd love to take your ideas and weave them into a trip tailored especially for you.
Here are four ways to explore Dubrovnik and beyond with MIR:
Balkan Odyssey: Crossroads of Cultures – small group tour. This overland journey ties together seven of the wildly divergent Balkan countries: Albania, Bosnia and Herzegovina, Croatia, Kosovo, North Macedonia, Montenegro, and Serbia.
Venice to Istanbul by Private Train – an 11 day rail journey through 9 countries.
Essential Balkans – a private, independent trip traveling on your own dates using our itinerary of the seven Balkan countries.
Your handcrafted, private itinerary – customized to your dates, interests, and pace. Travel wherever, however, and with whomever you like, relying on our expert assistance.