error_outline
Flexible Private Trip — Book Your Dates for You & Yours!
Cultural and Culinary Wonders of the Adriatic's Coastal Gem
Overview
Situated off the Adriatic Sea in a true cultural crossroads, the dynamic country of Croatia has something for everyone: rugged Dalmatian Coast, picturesque seaside towns, stunning natural wonders, amazing food and wine, and a fascinating history that enthralls travelers year after year. Starting from the capital, explore the history and beauty of this coastal gem on a 13-day itinerary that travels over an underlying framework of fabulous Roman ruins, more than a thousand lovely islands, and five UNESCO World Heritage sites as you enjoy Michelin-star meals, wild truffles, oysters fresh out of the sea, historical old towns, ancient churches, and sun-drenched islands.
Travels to: Croatia
Map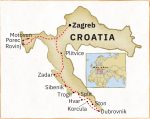 Itinerary
Days 1-2: Zagreb (Croatia)

After arrival and a night at a centrally located hotel, start your exploration of Croatia with a full day tour of the capital, Zagreb, and surrounding areas. Zagreb's commercial area dates to the 19th century, but its Old Town centers around the medieval cities of Gradec, now a hilly residential section dotted with lovely 19th century homes, and Kaptol, once the ecclesiastic town with a neo-Gothic cathedral and new pedestrian area.

HIGHLIGHTS

Iconic St. Mark's Church in the upper town, famous for its 1880 tile roof
Interactive tour of the Croatian Parliament, or Sabor, where Croatia's secession from the Austro-Hungarian Empire was declared in 1918
Open-air museum in Kumrovec, where Josip Broz Tito was born
The compact Renaissance Veliki Tabor Castle, set on a hill with a panoramic view of the surrounding countryside

Days 3-4: Rovinj, Istrian Peninsula

Set off for the town of Rovinj on the narrow, picturesque Istrian Peninsula near the Italian border. Rovinj is distinct for its coastline of pastel buildings rising up to a hill with a Venetian bell tower. Like much of Croatia's Adriatic coast, the city was part of the Republic of Venice during the Middle Ages and Renaissance, and much of its architectural character was shaped by this. You'll also explore the Istrian villages of Motovun, Livade, and Porec.

HIGHLIGHTS

An overnight at the historic 16th century Casa Garzotto in the heart of Rovinj's Old Town
The medieval hill town of Motovun, where most of the population speaks Italian
Truffle tasting in the small town of Livade, around which the beautiful hills and valleys produce the wonderful Istrian white truffle as well as traditional black truffles
The UNESCO-listed Euphrasian Basilica in Porec, the best-preserved and most complete early Christian cathedral in the entire region

Days 5-6: Plitvice, Zadar, Sibenik

Depart the Istrian Peninsula for Zadar, with a visit to the UNESCO-listed Plitvice Lakes en route. The mountainous karst landscape of Plitvice Lakes National Park is the country's biggest attraction outside of the Adriatic Coast, and the park encompasses a series of waterfalls connecting 16 beautiful lakes. A port city of 70,000 on the Dalmatian coast, Zadar has been inhabited since Neolithic times and is the site of a 3rd century Roman forum and 9th century pre-Romanesque stone church. Spend a night in Zadar and continue on to the lovely town of Sibenik, which dates back to the 9th century.

HIGHLIGHTS

Wander the wooden footbridges, take a boat ride, and hop on a mini-train at UNESCO-listed Plitvice Lakes National Park
Tour the port city of Zadar with its 3rd century Roman forum, 9th century St. Donato's church, and concealed seaside organ pipes played by random sea waves.
Tour the lovely seaside town of Sibenik with its UNESCO-listed Cathedral of St. James and 17th century Barone Fortress.
Stroll through the Medieval Mediterranean Garden designed to accurately represent the medieval monastery gardens of Dalmatia
Learn about local cheese and olive-oil traditions in Pakovo Selo and try some for yourself
Enjoy a sumptuous dinner at Michelin-starred Pelegrini Restaurant in Sibenik with views overlooking UNESCO-listed St. James Cathedral

Days 7-9: Split, Trogir, Hvar

Continue on to Split to explore Croatia's second largest city. Located on the Dalmatian Coast, Split has everything from palm-lined promenades and rocky beaches to ancient Roman ruins. The UNESCO-listed Diocletian's Palace makes of the majority of the Old Town and has evolved into a fascinating combination of old and new. Spend the next day touring the beautifully-preserved town of Trogir, founded by Greek colonists in the 3rd century BC, as well as the ruins of ancient Salona, once the capital of the Roman province of Dalmatia. Then, catch a ferry to the Island of Hvar to spend a night in the medieval town of Hvar.

HIGHLIGHTS

Explore Split's Old Town – the remnants of the UNESCO-listed Diocletian's Palace
Tour the UNESCO-listed Old Town of Trogir, filled with Gothic and Romanesque churches, palaces, and buildings including the Cathedral of St. Lawrence
Explore the ruins of Salona, once a 1st century BC Greek marketplace that become the capital of the Roman province of Dalmatia
Dine at the Grain of Salt Restaurant in Split, one of the best restaurants in all of Croatia
Catch a ferry to Hvar to explore the island laying claim to the most sunny days in Croatia
Indulge in a food and wine pairing dinner at a local restaurant on Hvar

Days 10-13: Ston, Dubrovnik, Korcula

Catch the ferry back to the mainland and make your way to Dubrovnik with stops in Pljesac to visit the Edivo Vina Winery, the first (and only) underwater winery in Croatia, and in Ston to take a boat excursion out to the oyster beds for an oyster-tasting experience fresh from the sea. In Dubrovnik, explore the pedestrian Old Town and walk the town's ramparts to get a feel for this medieval city. The next day, enjoy a day trip to the town of Korcula located on Korcula Island with its 14th and 15th century churches. Korcula also lays claim to being the birthplace of the legendary explorer Marco Polo and is renowned for its white wines. The trip concludes with a transfer to the airport in Dubrovnik in time for your departure flight.

HIGHLIGHTS

Tour the Edivo Vina Winery and, if you choose, dive to the watery wine cellar where the amphorae and wine are aging in saltwater
Take a boat out to the oyster beds from Ston for a private oyster-tasting excursion accompanied by snacks and local wine
Enjoy a leisurely walk on the wide city walls that have protected Dubrovnik since the 13th century
Visit the Museum of Dubrovnik in Rector's Palace
Check out the beautiful 17th century Assumption Cathedral, built in the Roman baroque style of the remains of several former churches
Tour the Franciscan Monastery and its church
Board a cable car up to Srd Hill for the finest views of the city and the blue Adriatic sea, and enjoy a picnic of local Croatian food and wine
(Optional) Head out from Dubrovnik on a half-day kayaking excursion to explore the hidden caves and secret beaches of nearby Lokrum Island
Farewell dinner at Michelin-starred 360 Restaurant in Dubrovnik
Dates &amp Prices
Please note:
Private trip prices vary by season and are subject to hotel availability for your travel dates.
Listed prices below are based on double occupancy and a 2 traveler minimum.
Hotel upgrades, additional nights, and solo traveler prices are available on request.
Land tour price, per person, starting from:
2023 Dates

Available: April - October

Tour, double occupancy

$10,495
What's Included
Tour Includes

Shared accommodations as noted in the itinerary. Contact MIR for hotel upgrade prices.
Meals as noted in the itinerary: Daily hotel breakfasts, 3 lunches, and 4 dinners.
Restaurant tips for included meals.
One arrival and one departure transfer. Additional arrival and departure transfers available at additional cost. MIR will arrange for travelers to be met upon arrival and seen off on departure, whether or not we make your air arrangements.
Ground transportation throughout itinerary by private driver and vehicle (type of vehicle depends on number of travelers in your group). Note, one vehicle and driver will be used throughout the itinerary.
Services of experienced English-speaking local guides in each city as noted on the itinerary.
Guided sightseeing tours and entrance fees, as outlined in the itinerary.
Complete pre-departure information, including detailed packing list, reading list, and Touring with MIR handbook with country-specific information, maps, and travel tips.
Assistance booking your custom flight arrangements, on request. (Please note that international airfare is not included in the land tour cost.)
Final document packet including final updates and more.

Not Included

International airfare and taxes/fuel surcharges.
Meals and drinks not specified as included in the itinerary.
Single supplement, if requested or required.
Baggage handling.
Gratuities to local guides, drivers, porters, and other service personnel.
Expenses incurred as a result of delay, modification, or extension of a tour due to causes beyond MIR's control.
Travel and trip-related insurance including cancellation, medical, and evacuation insurance. (Proof of insurance is required.)
Visa fees/passport fees if required. (U.S. passport holders do not require any visas for this program).
Optional pre or post-tour extensions.
Excess-baggage charges, airport departure taxes, vaccination and other medical costs.
Items of a personal nature such as phone calls, email, laundry, alcohol, excess baggage, etc.
Activity Level
Level 3: Medium
Insurance is required and you will be required to show proof of insurance.
It is important to keep in mind that less developed parts of Croatia may not be up to the standards North American travelers expect. Services are improving in the region; nevertheless you may encounter problems with plumbing, bureaucratic service, road conditions, unpaved sidewalks, uneven surfaces and steps, and availability and quality of public restrooms. Some areas, relatively speaking, have seen few travelers and the infrastructure is not yet fully developed.
While this program is designed to be the most comfortable possible for travel in this region, this is an adventuresome trip. It is rated as rigorous touring due to the daily walking involved, some long driving days, the conditions of some roads, and the overall shortcomings of the tourism infrastructure. This itinerary features a significant amount of touring on foot. Many streets are cobblestone, and some attractions are only accessible via steep staircases. There is a guided half day kayaking excursion built into the program, with the strenuousness and risks thereby implied; as well as an oyster gathering excursion by boat. Some travel is by ferry boat, which may include steep steps or ramps, uneven surfaces, raised thresholds, and the like. Museums rarely have elevators. Flexibility and a sense of humor are essential components of the enjoyment of your trip.
Every effort has been made to ensure that the information in this schedule is accurate. However, trip itineraries are always subject to change. We do our best to inform you in advance of any changes, but due to the nature of travel in this country, this may not always be possible.
Gallery
1/15

Croatian Tourist Board

3/15

Croatian National Tourist Board

9/15

Croatian Tourist Board

10/15

Croatian Tourist Board

14/15

Croatian National Tourist Board