Multi-Region
North Caspian Caravan
Photo credit: Andrey Astafyev
error_outline
Modified itinerary without Russia will be available soon!
Buddhism & Badlands in Southern Russia & Kazakh Mangystau
Overview
Take in the culture, history, and landscapes of one the world's least touristed regions, where Europe meets Central Asia at the mouth of the Volga River and around the northern rim of Caspian Sea. The tour starts in Volgograd, formerly Stalingrad and the site of one of WWII's longest and most tragic battles. Continue south across the Pontic Steppe to Elista, the capital of Kalmykia. Kalmykia is a Buddhist and Mongolian enclave, the only such place in Europe. Then travel overland to Astrakhan, situated at the mouth of the Volga River and a major caviar production center. The final portion of the trip features the Mangystau Region in the far west of Kazakhstan. The highlights here include stark badlands, richly hued by minerals laid down over millennia, fossils from the Cretaceous Period, and the culture and traditions of the once nomadic Kazakhs.
Travels to: Russia, Kazakhstan
Map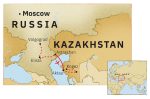 Itinerary
Days 1-2: Volgograd (Russia)

Begin in Volgograd, known during WWII as Stalingrad. Here one of the most important battles of the war was fought, at unprecedented human cost. Meet with veterans and then visit the immense Mother Russia monument on Mamaev Kurgan, the high ground where much of the fighting took place.

HIGHLIGHTS

Dive deep into the WWII history of the USSR, an incredibly important part of modern Russian identity, as you explore the battlefields, museums, and monuments that dot modern Volgograd
Meet with a Russian WWII veteran to hear a firsthand account of the Battle of Stalingrad, and perhaps about subsequent events in the veteran's life
Walk along Volgograd's scenic Central Embankment, taking in views of the river and the monuments that dot it as you go

Days 3-4: Elista

Travel south to Elista, the capital of Mongolian and Buddhist Kalmykia and an occasional destination of the Dalai Lama.  Visit a temple to attend a prayer service and chat with a local monk, learning more about the religion as it is practiced here in its westernmost reaches. The next day explore futuristic Chess City, built amidst scandal for the 1998 Chess Olympiad. An ethno-village showcasing Kalmyk customs and traditions rounds out your time here.

HIGHLIGHTS

Participate in a prayer service and then chat with a Tibetan Buddhist monk in Kalmykia – the homeland to Europe's only ethnically Mongolian population
Chat with a representative of Elista's chess-playing community at Chess City, and learn how the history of chess in the city ties in with the famed Soviet story of Ostap Bender in The Twelve Chairs
Learn about Kalmyk culture and cuisine at an ethnic village on the steppes outside of Elista

Days 5-7: Astrakhan

Travel overland to Astrakhan, Russia's 17th century "Window on the East" guarding the rich Volga River Delta. Learn about the modern Caspian caviar industry at a farm where sturgeon are cultivated sustainably. Then sample caviar and a range of dishes featuring sturgeon over dinner. The next day head out into the delta on a boat, looking for blooming lotuses and nesting birds, including cormorants and eagles.

HIGHLIGHTS

Learn about modern caviar production in Astrakhan, center of the exclusive Caspian fishery, and sample caviar and other sturgeon-based dishes
Head out on the Volga Delta, the largest inflow to the Caspian Sea and a Ramsar Convention Wetland, to spot waterbirds and possibly blooming lotuses
Sample beer and fish aboard a floating brewery as it sails on the Volga River

Days 8-9: Aktau (Kazakhstan)

Fly across the northern reaches of the Caspian Sea to the capital of Kazakhstan's Mangystau Region, Aktau. You'll visit the gold-domed Aktau Central Mosque and stroll the Caspian waterfront where a memorial to the poet Taras Shevchenko stands. Shevchenko, for which the town was named from 1964 to 1991, was exiled near here for nearly seven years in the 1850s.

HIGHLIGHTS

Explore the religious traditions of Western Kazakhstan at a local orthodox church and the town's central mosque
Learn the story of Taras Shevchenko's exile and life in Aktau and the surrounding wilderness
Feel the cool Caspian breeze as you walk the promenade in Aktau, stopping to people-watch and appreciate the monuments set up along the way

Days 10-13: Mangystau District

Spend the final days of this journey exploring Kazakhstan's remote Mangystau Region. You'll start with three nights at a yurt camp in the badlands to the northeast of Aktau, exploring canyons, mesas, villages, and archaeological sites. In the Cretaceous Period these were the shores of the Tethys Sea. Fossilized ammonites, shark teeth, and other sea life are scattered throughout.

HIGHLIGHTS

Explore the badlands of Kazakhstan's Mangystau Region, searching for Cretaceous fossils deposited in what was then the Tethys Sea
Hike up Mount Airakty, looking out for camels, wild sheep, and petroglyphs as you go, and from the top gaze across the spectacular Airakty-Shumanai Valley and the geoglyphs that decorate the desert floor
Overnight in a traditional Kazakh yurt and learn more about the nomadic heritage of the area

Days 14-15: Ustyurt Plateau, Karakiya District

You'll then travel south to a tent camp on the edge of the Ustyurt Plateau. The landscapes here are spectacular – reminiscent of the Painted Desert in Arizona or the Badlands of South Dakota, but far more remote and almost devoid of roads and other travelers. Finally return overland to Aktau for your last night in Kazakhstan.

HIGHLIGHTS

View the immense and expanding dune fields at the Tuyesu Sand Dunes
Hike up to panoramic viewpoint above the Boszhira Valley, one of Kazakhstan's most spectacular scenes
Look up at some of the world's brightest stars from outside your tent on the edge of the remote and wild Ustyurt Plateau
Dates &amp Prices
Small group tour – max 12 travelers
Land tour price, per person. Based on double occupancy and minimum group size of 6 travelers.
What is a Partial Single Supplement?
2023 Dates

Apr 30 - May 14

Please call for updated info on the 2023 departure!

Tour, double occupancy

$7,495

Plus internal airfare

$600

Partial single supplement

$650
What's Included
Tour Includes

Accommodations as noted in the itinerary. In the cities (Volgograd, Elista, Astrakhan, and Aktau) hotels are of the three to four star level (collectively 10 nights). The single night in the Boszhira Valley is spent in tents with very rustic, camping conditions. The three nights at the Kogez Ethnic Village are spent in traditional Kazakh yurts with shared facilities.
Most meals, as noted in the itinerary: 14 breakfasts, 13 lunches, and 13 dinners.
A daily supply of bottled water.
Arrival/departure airport transfers on the tour start/end date. MIR will arrange for all travelers to be met upon arrival and seen off upon departure whether or not we make your flight arrangements.
Ground transportation throughout tour by private mini-coach, jeep, or van. (Type of vehicle depends on group size and terrain, and will vary from country to country.)
Services of experienced, English-speaking local guides, drivers, and other staff, including a MIR Tour Manager.
Guided sightseeing tours and entrance fees as outlined in the itinerary.
Special events, excursions, and cultural performances, as outlined in the itinerary.
Gratuities to local guides, drivers, and other service personnel, including servers at group meals.
Complete pre-departure electronic document that includes detailed packing suggestions, reading list links, country-specific information, maps, travel tips and more.
Electronic final update bulletin, with any late news, updates and important information.
Customized visa information and instructions. (Please note, visa fees are not included in the tour price.)
Assistance booking your custom flight arrangements, on request. (Please note, international airfare is not included in the land tour cost.)

Not Included

International airfare and taxes/fuel surcharges.
Meals and drinks not specified as included in the itinerary.
Single supplement (or partial single supplement where applicable), if requested or required.
Gratuities to Tour Manager.
Expenses incurred as a result of delay, modification, or extension of a tour due to causes beyond MIR's control.
Travel insurance, including cancellation, medical, and evacuation insurance.
Visa and/or passport fees, excess-baggage charges, airport departure taxes, vaccination and other medical costs.
Baggage handling.
Items of a personal nature, such as phone calls, email, laundry, and alcohol.
Optional pre- or post-tour extensions.
Activity Level
Level 4: Rigorous
This Explorer Series program, by nature, is designed to be comfortable for western travelers, but is a very adventurous program to a rustic part of the world. Accommodations will vary widely and will include three and four-star hotels in the cities (Volgograd, Elista, Astrakhan, and Aktau – collectively 10 nights). The single night in the Boszhira Valley is spent in tents with very rustic camping conditions. The three nights at the Kogez Ethnic Village are spent in traditional Kazakh yurts with shared facilities. Yurts, and especially tents, can be cold at night, and hot water and/or showers are often unavailable.
Services are improving in the region; however, you may encounter problems with plumbing, bureaucratic service, road conditions, unpaved sidewalks, uneven surfaces and steps, and availability and quality of public restrooms. In some places, established public restrooms will be Eastern-style. In other places where there are no restrooms, the group will make "bush stops." Hot running water is not a constant in this part of the world, as municipal water systems are sometimes under repair in the warmer months and some guesthouses or yurt camps do not offer running hot water.  We are traveling in some areas which, relatively speaking, have seen few travelers, and the infrastructure is not yet fully developed. Air conditioning is a luxury and not available in facilities outside capital cities.
This program is rated as rigorous touring due to the daily walking involved (with some hiking), extended travel in very remote areas, several very long driving days, and the overall shortcomings of the tourism infrastructure – particularly in the Mangystau Region. This itinerary features a significant amount of touring on foot, and long days of driving – required to experience some of the spectacular scenery.
This program makes use of yurts and tents in the Mangystau Region. These accommodations are extremely basic – toilets are often shared among all group members as are showers, and they may not have electricity. If you rely on electricity for a CPAP machine, or for any other reason, you must have your own battery or other back-up, or please reconsider participation.
Those with a history of medical problems, particularly cardiac or respiratory, must consult a doctor before considering this trip. Some drives will be more than four hours and have significant segments along dirt roads, unpaved roads, or poorly maintained and therefore very bumpy asphalt. Expect rough, dusty roads, for long periods of time. To reap the full rewards of this adventure, travelers must be able to walk at least four miles a day, keeping up with fellow travelers, and must enjoy the sense of adventure that comes with overland travel over dusty, rough roads. Flexibility, a sense of humor and a willingness to accept local standards of amenities and services are essential components to the enjoyment of this trip.
Every effort has been made to make the information in this schedule accurate. However, trip itineraries are always subject to change. We will do our best to inform you in advance of any changes, but due to the nature of travel in Central Asia and Russia, this may not always be possible. This tour maintains a focus on cultural interaction and we will be visiting private homes and sharing meals with local residents. It is therefore important that tour members have a desire to involve themselves in the local culture in order to fully enjoy this trip. If you are looking for a less adventurous experience, MIR offers other scheduled small group tour options featuring more comfortable accommodation and which do not venture into the remote and undeveloped Mangystau Region. Please ask for details on these tours (including Journey Through Central Asia) as well as a custom private journey which may be a better match for your interests and physical capabilities.
Gallery