On the Trail of Frankincense and Fortresses
Overview
Despite its oil-derived prosperity, tradition and heritage remain deeply important in Oman. Skyscrapers and extravagance are distinctly absent here, and in their stead one finds understated but elegant architecture, timeless villages, vibrant markets, and world-class historical sights. This 12-day journey and tour covers Oman from top to bottom, starting in the scenic coastal capital of Muscat. Then head southeast along the Gulf of Oman to Sur, an area famous for sea turtles and shipbuilding traditions. Proceed inland to the Wahiba Sands, where the Bedouin have made their home for generations. Continue to the remarkably fertile and mountainous Jebel Akhdar region, where you'll explore charming villages and take in spectacular scenery. After visiting the historical city of Nizwa and archaeological sites nearby, head back to the capital to catch a flight to Salalah. The tour concludes there, in the capital of Oman's Dhofar Governorate, a center of the frankincense trade for millennia.
An optional post-tour is available to Dubai and Abu Dhabi in the nearby UAE, providing an interesting contrast to Oman and showcasing an entirely different approach to modernity and wealth.
Travels to: Oman
Map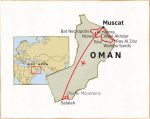 Itinerary
Days 1-4: Muscat (Oman), Ras al Jinz

Muscat, the capital of Oman, is a major port city that has long been a conduit between the Arabian Peninsula to the rest of the world. Less glitzy but more charming than Dubai, Muscat is known for its historic bazaars, traditional whitewashed architecture, and old-school Arabian hospitality. Among your stops here are the Mutrah Souq, the National Museum of Oman, and the Sultan Qaboos Grand Mosque. Learn more about the role of women in modern Omani society at a local sewing cooperative. A drive along the water takes you to Wadi Tiwi, a deep gorge that's among Oman's most beautiful natural sights, and the coastal town of Sur, from where you'll go on a turtle-watching expedition at Ras Al Jinz Reserve.

HIGHLIGHTS

Take in the timeless Arabian vistas of old Muscat and the handicraft-filled Mutrah souq
Explore the history and heritage of Oman at the well-curated National Museum, with exhibits focusing on the country's maritime history, currency, irrigation systems, Islam, and much more
Learn about the role of women in modern Omani society at the Sidab Women's Sewing Cooperative
Stop at spectacular wadis (gorges) and pristine beaches as you drive along Oman's coastline
Watch sea turtles serenely emerge from the Arabian Sea to nest at the Ras al Jinz Reserve

Days 5-6: Sur, Wahiba Sands, Ibra, Jebel Akhdar

Finish off the coastal section of the tour by watching traditional dhows being built in the Sur shipyard, followed by a visit to the Sur Maritime Museum. Then head inland for an exhilarating drive into Wahiba Sands, where you'll meet Bedouins who call the desert home. The next day, travel into the Al Hajar Mountains to Jebel Akhdar, which means "Green Mountain" in Arabic. Take in spectacular views, meet locals, and hike through timeless villages.

HIGHLIGHTS

See how traditional Omani dhows are constructed at Sur's shipyard, and learn more about the maritime history of the area at a local museum
Chat with a Bedouin family and learn about their culture and traditions amidst the stark and boundless Wahiba Sand Dunes
Experience the vast beauty and limitless stars of the desert at night, while bedding down in a well-appointed, air-conditioned chalet
Stop at a weekly women's market in Ibra
Hike between villages on the slopes of Jebel Akhdar in the Al Hajar Mountains, one of the most rugged and spectacular landscapes on the Arabian Peninsula

Days 7-9: Al Hamra, Nizwa, Bat & Wadi al Ayn

From Jebel Akhdar continue your exploration of Oman's interior. Settle in for two nights in Al Hamra, a date palm-studded village near history-rich Nizwa. This welcoming and traditional area is dedicated to heritage. Explore forts and castles and wander the souq and Friday livestock market in Nizwa. Head back to Muscat via the UNESCO-listed and millennia-old beehive-shaped tombs at Bat and Wadi al Ayn.

HIGHLIGHTS

Learn about the history of the Nizwa Imamate as you explore its historical capital
Wander the ramparts and corridors of the Ya'rubid Jibreen Castle, surrounded by date palms in the desert near Bahla and Nizwa
Marvel at the hustle and bustle of the souq and Friday livestock market in Nizwa
Explore Oman's deep history at the 5,000-year-old UNESCO-listed tombs at Bat and Wadi al Ayn

Days 10-12: Salalah

Head to Salalah in Oman's remote Dhofar Governorate to explore souqs filled with tropical fruit and to learn about the important role the frankincense trade has played here for millennia. Venture out of the city to view the peaks and wadis of the Dhofar Mountains, a unique area sheltering a range of rare flora and fauna, watered by annual monsoon rains and mists.

HIGHLIGHTS

Explore two UNESCO-listed sites related to the ancient frankincense trade: Al Baleed Archaeological Park and the Museum of the Land of Frankincense
Marvel at the rugged but comparatively lush scenery, unique to Dhofar, at Wadi Darbat, Ayn Razat Spring, and the Tawi Attair and Tayq Sinkholes
Shop for tropical fruit or frankincense at Salalah's Haffa Souq or at the fruit plantations that dot the city

Optional Post-tour, Days 1-4: Dubai (UAE), Abu Dhabi

Touch down in Dubai and begin exploring this city of superlatives. Spend time in the Al Fahidi Historical District, home to Persian-inspired windcatchers. Enjoy lunch and learn from an expert on local culture at the Sheikh Mohammed Centre for Cultural Understanding. Head across the Dubai Creek on an abra boat and stroll through the souqs on the opposite side. You'll ascend to the observation deck of Burj Khalifa, the tallest building in the world. Finally, take a day trip to Abu Dhabi. Like Dubai, Abu Dhabi—the UAE's capital—has transformed itself over the past half-century into a thriving, cosmopolitan city. Touring here includes the Louvre Abu Dhabi, the Sheikh Zayed Grand Mosque, and the Qasr Al Watan Presidential Palace. You'll refuel with a 24-carat-gold-sprinkled cappuccino at a luxurious hotel, the Emirates Palace.

HIGHLIGHTS

Cross the historic Dubai Creek in a local abra boat
Have lunch in the Al Fahidi Historical Neighborhood at the Sheikh Mohammed Centre for Cultural Understanding, where locals share traditional food and provide insights into Emirati culture
Take the 2,717-foot elevator ride to the Burj Khalifa observation deck and then step out to spectacular 360-degree views
Explore the traditional gold, spice, and produce markets (souqs) of Dubai
Enjoy the exceptional art of the Louvre Abu Dhabi, including pieces on loan from Paris's Louvre, Musee d'Orsay, and Centre Pompidou, as well as works from the museum's own collection
Marvel at the striking mix of modern and traditional design at the Sheikh Zayed Grand Mosque, the largest mosque in the UAE and the only one in Abu Dhabi open to non-Muslims
Drink a cappuccino sprinkled with 24-carat-gold dust at the luxurious Emirates Palace
Dates &amp Prices
Small group tour – max 16 travelers
Land tour price, per person. Based on double occupancy and minimum group size of 6 travelers.
The prices below are for the main tour to Oman. The optional post-tour to the UAE is $2,095 per person (double occupancy) in January, $2,195 in November. The single supplement for the post-tour is $425 in January, $450 in November. Airfare from Salalah to Dubai is not included.
2024 Dates

Tour, double occupancy

$7,595

Plus internal airfare

$225
What's Included
Tour Includes

Accommodations, as noted in the itinerary.
Most meals, as noted in the itinerary.
A daily supply of bottled water.
Arrival/departure airport transfers on the tour start/end date. MIR will arrange for all travelers to be met upon arrival and seen off upon departure whether or not we make your flight arrangements.
Ground transportation throughout tour by private van or coach. (Type of vehicle depends on group size.)
Services of experienced, English-speaking local guides, drivers, and other staff, including a MIR Tour Manager.
Guided sightseeing tours and entrance fees, as outlined in the itinerary.
Special events, excursions, and cultural performances, as outlined in the itinerary.
Gratuities to local guides, drivers, and other service personnel, including servers at group meals.
Complete pre-departure electronic document that includes detailed packing suggestions, reading list links, country-specific information, maps, travel tips and more.
Assistance booking your custom flight arrangements, on request. (Please note, international airfare is not included in the land tour cost.)
Customized visa information and instructions. (Please note, visa fees are not included in the tour price.)
Electronic final update bulletin, with any late news, updates and important information.

Not Included

International airfare and taxes/fuel surcharges.
Internal airfare. (Internal airfare is quoted separately and subject to change by airlines.)
Meals and drinks not specified as included in the itinerary.
Single supplement (or partial single supplement where applicable), if requested or required.
Gratuities to Tour Manager.
Expenses incurred as a result of delay, modification, or extension of a tour due to causes beyond MIR's control.
Travel insurance, including cancellation, medical, and evacuation insurance.
Visa and/or passport fees, excess-baggage charges, airport departure taxes, vaccination and other medical costs.
Items of a personal nature, such as phone calls, email, laundry, and alcohol.
Optional pre- or post-tour extensions.
Activity Level
Level 3: Medium
This small group tour features long days walking and standing while touring, several long days of overland travel (some on poor quality roads), lengthy foot traverses of two border points while carrying/rolling your own luggage, unpaved sidewalks and streets, uneven surfaces and steps, absent handrails, significant stair-climbing, and absence of elevators. Only those fit to travel and who are willing to accept local standards of amenities and services, and the physical challenges, should consider joining this program.
Travelers must be able to walk at least two miles a day, keeping up with fellow travelers. A few drives on poor-quality roads may last as long as 8-10 hours driving time (with comfort stops). Some border crossings may require walking up to about a half-mile while managing your own baggage; and in some cases, bags may need to be carried during these crossings rather than rolled, as the road/sidewalk surface is not always paved or smooth.
There are overall shortcomings in the tourism infrastructure of these developing destinations, including some that can cause walking challenges such as unpaved sidewalks, uneven surfaces and steps, packed-dirt streets, broken pavement (streets or sidewalks), and a general absence of handrails or ramps. Some attractions are only accessible via steep staircases with tall uneven steps – these can also be spiral staircases and/or in narrow passages with limited light. Elevators are not available at touring sights, nor at a few of the hotels.
Past travelers have also encountered challenges with plumbing, bureaucratic service, variety of locally available foods, and availability and quality of public restrooms.
Accommodations vary from four and five star properties to relatively basic and simple hotels in the more remote cities.
Gallery
1/13

Courtesy of Desert Adventures

5/13

Courtesy of Desert Adventures

7/13

Courtesy of Desert Adventures

8/13

Courtesy of Desert Adventures

9/13

Courtesy of Desert Adventures

10/13

Courtesy of Desert Adventures

12/13

Courtesy of Desert Adventures

13/13

Courtesy of Desert Adventures