Multi-Region
Tibet & China Rail Discovery
From Urumqi to Lhasa by Private Train
Overview
Roll across Western China to discover the teeming Sunday Market in exotic Kashgar, where Marco Polo may have shopped; the ancient karez underground irrigation system in Turpan that caused the desert to bloom; and the Mogao Caves at Dunhuang, where generations of pilgrims carved and painted images of the Buddha. Then hop a special high-altitude train, ascending from the Tibetan Plateau to Lhasa at 12,000 feet, passing the world's highest railroad station along the way. Explore the "City of the Sun," with its massive UNESCO-listed Potala Palace, sacred Jokhang Temple, and the lively Barkhor Market.
Photos and details: Discover what life is like aboard the Shangri-La Western Express.
Map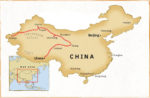 Itinerary
Days 1-2: Urumqi (China)

A tour of Urumqi includes a visit to the fascinating Xinjiang Regional Museum, with its collection of local mummies, including the "Loulan Beauty," the nearly 4,000-year-old body of a woman in fur sandals believed to be of Indo-European descent.

HIGHLIGHTS

Urumqi, capital of the Xinjiang Uighur Autonomous Region of China
Xinjiang Regional Museum with the "Loulan Beauty" ancient mummy

Days 3-4: Kashgar

2,000-year-old Kashgar is unlike any other place in China, retaining the immense appeal of medieval Asia. Explore its Old Town and browse its cacophonous Sunday Market, one of China's best.

HIGHLIGHTS

Kashgar's Old Town and its ancient dirt lanes between mud-brick Uighur houses with ladders leading up to the roofs
Kashgar Sunday Market and its unrivaled animal bazaar

Day 5: Turpan

Near Turpan, the hottest city in China, explore the ruined city of Jiaohe, built in the 2nd century. Learn about the ancient karez, the long-lived underground wells that collect and distribute the glacial meltwater from the Tien Shan Mountains. Enjoy a meal of traditional favorites with a local family.

HIGHLIGHTS

Turpan, the hottest city in China, located in the "Valley of Fruits"
Ruined city of Jiaohe, built in the 2nd century
2,000-year-old gravity-fed karez system in Turpan, bringing water from the glaciers of the Tien Shan
Home-cooked meal with a family

Day 6: Dunhuang

Explore the oasis town of Dunhuang, which ancient travelers had to pass through on their way to and from their destinations. Take a short camel ride at Crescent Moon Lake, and visit the UNESCO-listed Mogao Caves, where tradition says that a 4th-century Buddhist monk carved and decorated the first cave at the place where he had a vision of a thousand Buddhas.

HIGHLIGHTS

Bactrian camel ride at the edge of the Taklamakan Desert
Mogao Thousand Buddha Caves, UNESCO World Heritage Site near Dunhuang

Day 7: Jiayuguan

Today's stop is in Jiayuguan, in the middle of the Hexi Corridor, the narrow desert valley that funneled caravans from X'ian through to Dunhuang. The only remnants of the Great Wall built during the Ming Dynasty are located here; the wall climbs up from the valley floor to the summit of Black Mountain.

HIGHLIGHTS

Hexi Corridor, natural protection from northern tribes
Westernmost fortress of the Great Wall

Day 8: Xining

Xining is the capital of Qinghai Province. Visit the Tibetan Buddhist monastery of Ta'er Si, and stop at the 600-year-old Dongguan Mosque. This beautifully painted mosque combines Chinese and Islamic architectural features.

HIGHLIGHTS

Xining, formerly the Tibetan province of Amdo
Tibetan Buddhist monastery of Ta'er Si, with yak-butter sculptures
Visit to Shuijingxiang Market

Days 9-12: Golmud, Lhasa (Tibet)

Board the special high-altitude train running from Golmud to Lhasa. Meet Chinese, Tibetan, and foreign travelers, and admire the pristine lakes and glaciered peaks of the Tibetan Plateau from the comfort of the train. Pass by Tangula, the world's highest railroad station. In Lhasa, stroll through the gardens of 18th century Norbulingka, the former summer residence of the Dalai Lamas. Light a yak-butter candle in Lhasa's massive UNESCO-listed Potala Palace, a maze of over a thousand rooms with thousands of altars and statues. Wander the Barkhor Market, bargaining for yak-wool boots or Tibetan fur hats.

HIGHLIGHTS

High-altitude railway from Golmud to the Tibetan Plateau
Tangula Station, near the highest spot on 16,600-foot Tangula Pass
UNESCO-listed Potala Palace, with thousands of altars and statues
Jokhang Temple, the most sacred site in Tibet since the 7th century
Barkhor Market, the old market of Lhasa
Dates &amp Prices
Minimum group size: Minimums vary – call for confirmation status
Land Tour Price, Per Person.
Call for dates and prices
What's Included
Tour Includes

Accommodations, as noted in the itinerary.
All meals, from dinner on Day 1 through breakfast on final tour day, including a generous allowance of wine, local beer, and soft drinks with lunch and dinner.
Arrival/departure transfers, provided you arrive and depart on the tour start/end dates and in the tour start/end cities.
All guided off-train tours, as outlined in the itinerary.
Services of an experienced Train Tour Manager as well as local guides for scheduled off-train tours.
Complimentary tea, coffee, and mineral water from your car attendant at all times while on board the train.
All gratuities.
Baggage handling.
Complete pre-departure information, including detailed packing list, reading list, and Touring with MIR handbook with country-specific information, maps, and travel tips.
Assistance booking your custom flight arrangements, on request. (Please note that international airfare is not included in the land tour cost).

Not Included

International airfare, including taxes/fuel surcharges, and surface transport to the point of joining/leaving the tour. MIR is able to assist with arrangements, as detailed in the itinerary.
Meals and drinks not specified as included in the itinerary.
Single supplement (difference between double rate and single occupancy rate) if requested or required.
Optional pre- or post-tour extensions.
Expenses incurred as a result of delay, modification, or extension of a tour due to causes beyond MIR's control.
Visa fees, excess baggage charges, airport departure taxes, vaccination, and other medical costs.
Travel insurance, including cancellation, medical, and evacuation insurance.
Items of a personal nature, such as phone calls, email, laundry, and alcohol.
Activity Level
Level 3: Medium
This rail journey by private train features touring at high elevations and significant touring on foot, throughout which travelers are expected to keep up with other group members. Walking during touring days will be on a variety of surfaces, with many streets and sidewalks being uneven, and elevators generally not available during touring excursions – leading to significant stair climbing. Challenges on board the train include long onboard distances with heavy doors as well as steep steps and gaps to navigate while embarking and disembarking. Only those willing to accept local standards of amenities and services should consider joining this program.
The elevation in Tibet is over 10,000 feet. The altitudes can cause difficulty even in healthy travelers, and potential problems can include headaches, shortness of breath, and other more serious complications. Those with a history of medical problems, particularly cardiac or respiratory, must consult a doctor before considering this trip.
Travelers must be able to walk two miles per day keeping up with other group members. Streets and sidewalks can be uneven or have unexpected surfaces, and handrails are not always present. Steps, which may be required due to lack of elevators, may be steep and/or uneven, and may also lack handrails. The distance on board the train between sleeping and dining carriages may be significant, and there are many heavy doors to navigate when moving throughout the train. Getting on and off the train involves navigating steep steps, low platforms, and possible gaps between the train and the platform. Navigating rail stations may also involve traveling up and over steep steps/footbridges to cross tracks, or steep steps and dark tunnels to cross under to/from the train station. Although porterage is provided where possible, you may have to carry your baggage for short distances.
General shortcomings of the tourism infrastructure may include problems with bureaucratic service and availability and quality of public restrooms when not on board the train.
Gallery