Silk & Spice Festival of Bukhara, Uzbekistan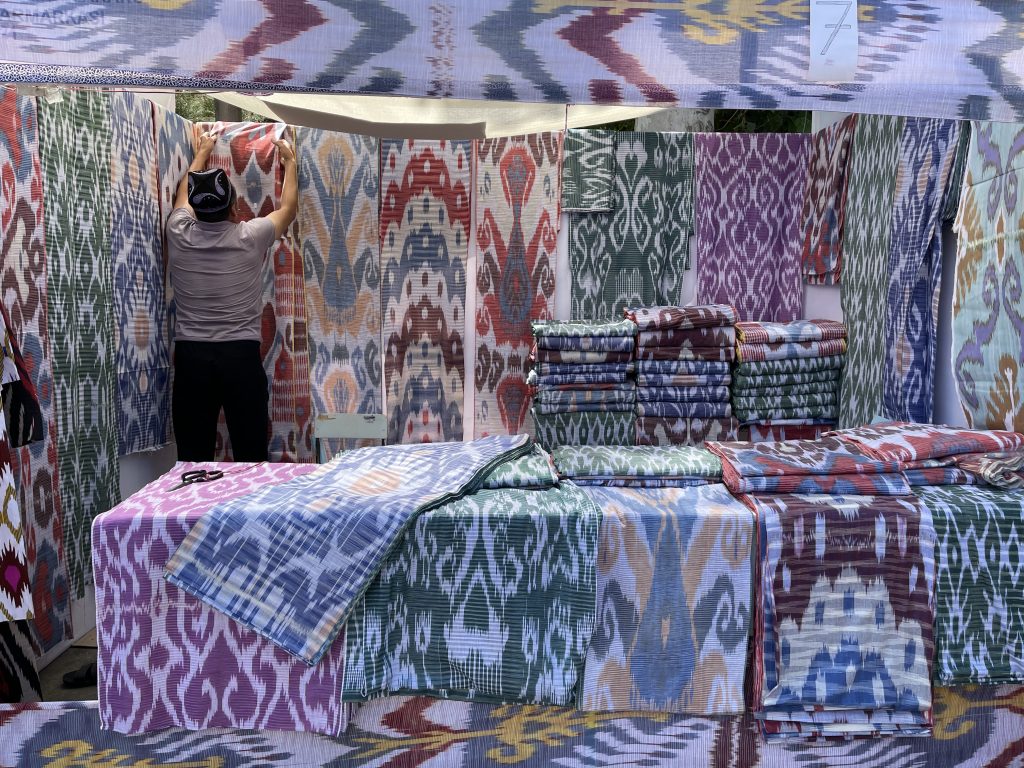 Born and raised in Samarkand, Abdu Samadov is full of inside information about Uzbekistan. He has studied in England and the U.S. and is fluent in English, Farsi, and Russian. Abdu guides MIR travelers throughout Central Asia, enthusiastically sharing his regional knowledge along the way. Read on to learn what Abdu discovered on his visit to Uzbekistan's Silk and Spice Festival, which takes place annually in Bukhara and has inspired a new MIR tour.
---
Surrounded by harsh deserts, the Silk Road oasis town of Bukhara has for millennia tempted travelers with its cool shade, fruit orchards, and warm hospitality. Sogdians, Turkic peoples, Arabs, Persians, Mongols, and Russians have all passed through and occupied this territory. While much has changed over the years and all these cultures have left a mark, Bukhara is still a welcoming place. It is perhaps for that reason that the town was chosen to host Uzbekistan's Silk and Spice Festival, which is now held in Bukhara annually. The festival was created with a few primary objectives: to revive the cultural legacy of the Silk Road and to showcase the rich traditions of local artisans to visitors.
I recently had the opportunity to attend this colorful festival.

Here Are My Top Four Favorite Silk and Spice Festival Experiences:
1. People-watching in Bukhara
---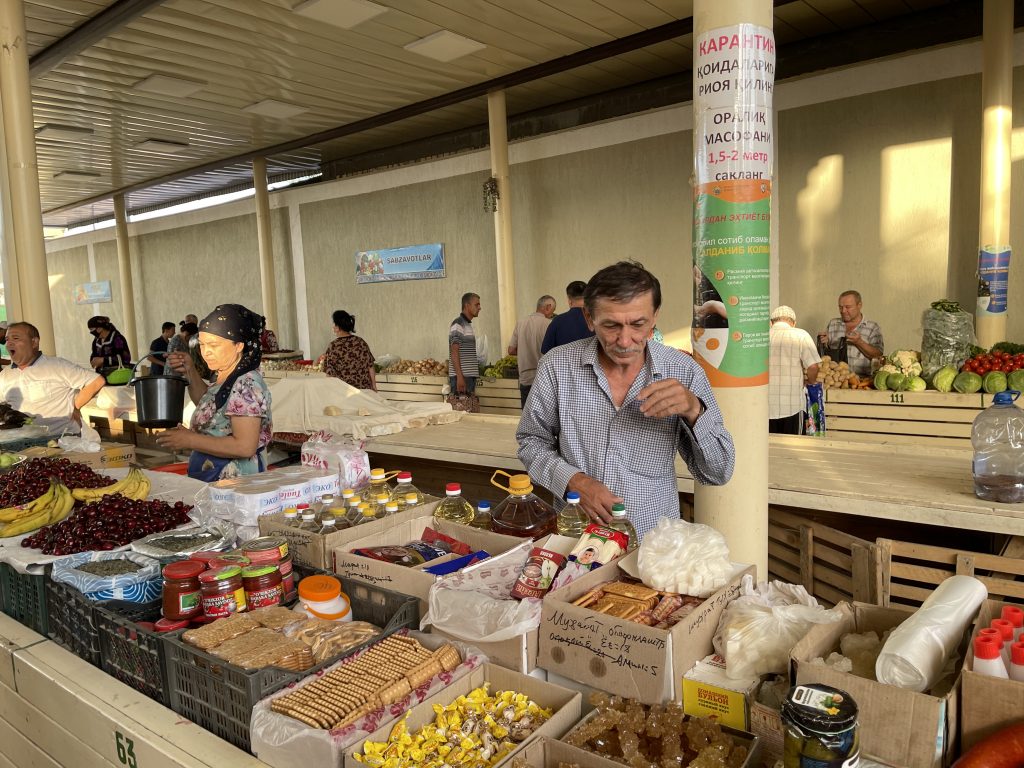 Bukhara is a great place for people-watching, even when the festival is not happening. You can see kids playing in mud-brick back alleys, old men with white beards and traditional caps sipping tea, and women going about their daily shopping in colorful dresses. The architectural monuments spread throughout the old town area make for a wonderful backdrop.
The Silk and Spice Festival amplifies all of this and provides one of Uzbekistan's best opportunities for people-watching. There is a parade that takes place during the festival that leads from the Ark Citadel to the Lyabi Hauz Plaza, winding past the markets and madrassas of the old town. Thousands of artists, musicians, dance troupes, and ordinary locals walk this route wearing ornate costumes, showcasing their crafts, dancing, and singing folk songs. You might even see a few camels and horseback riders in the parade. The best part is that if you are so inclined, you are very welcome to join in and walk part of the parade route yourself! For people-watching and photography, I would recommend staking out a spot across from the Kalon Mosque and Minaret. The minaret, Bukhara's tallest, makes a great background.
(click image to view larger photo)
Of course, one of the best places to people-watch in Bukhara is at the Lyabi Hauz Plaza, where the parade ends. As a former water source and current open square, this plaza has been at the heart of Bukhara's social scene for centuries. Men play dominos, kids play and race, and women chat. Parade or not, I enjoy sitting in a local tea house under the shade of an ancient mulberry tree, sipping tea, eating kebabs, and gazing across the water at the myriad people in the plaza – locals and foreigners alike. Traders and locals were likely people-watching and enjoying a meal here in much the same way back when caravans laden with spices and silks regularly passed through. Some of these same mulberry trees may have been growing back then, too!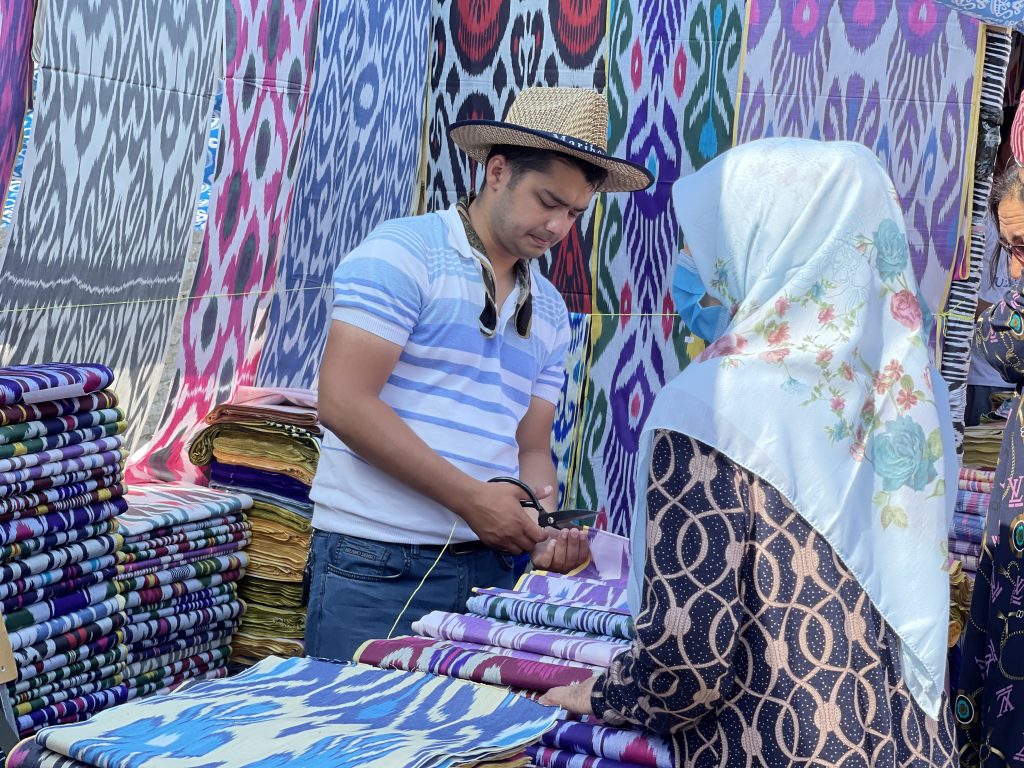 A third great place to people-watch is the Bahauddin Naqshband Mausoleum, a pilgrimage site honoring the life and work of its namesake, a revered scholar and founder of the Sufi Naqshbandi Order. This shrine is frequented by locals of all sorts, men and women, young and old. Many pilgrims come with a specific wish, often related to children, parents, health, finances, or business. The shrine is renowned across Uzbekistan, and as such it attracts visitors all over the country. Many visitors come from rural areas, often wearing colorful and traditional clothing. Most are friendly and eager to chat. Strike up a conversation to hear stories and learn more about their lives.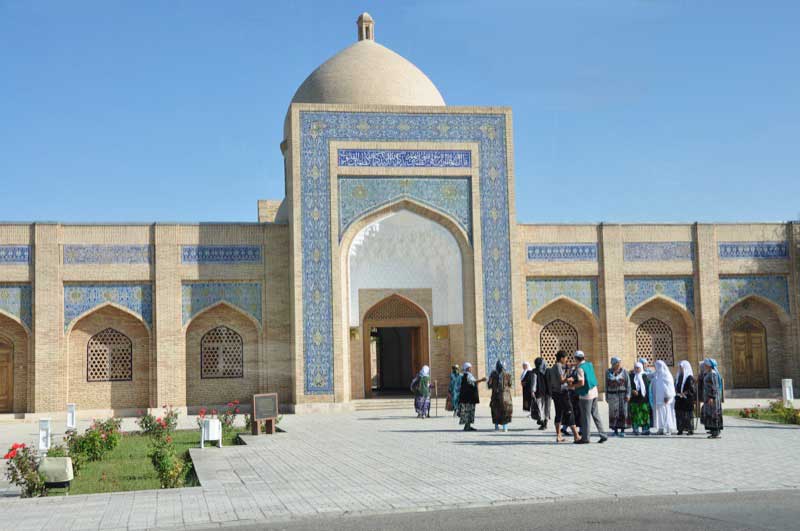 2. Artisans and Shopping
---
As with people-watching, the shopping is great in Uzbekistan year-round. The variety of crafts, the colors, the materials used, and the quality will impress even discerning shoppers. Amazingly, and rarely in the modern world, most of the crafts are made locally and not imported.
The Silk and Spice Festival brings in the best of Uzbekistan's artisans, along with top artists and craftspeople from neighboring countries including Kazakhstan, Kyrgyzstan, Tajikistan, and Turkmenistan. There are typically blacksmiths from Shahrisabz, silk-weavers from Margilan, jewelry artisans from Samarkand, and spice producers from Khorezm, all exhibiting and selling their wares. You can meet and chat with ceramicists, embroiderers, carpet-weavers, leather makers, goldsmiths, woodcarvers, shoemakers, and miniaturists from all over.
One of the most sought-after products at this festival is silk. The center of silk production in Central Asia is the Fergana Valley. Silkworms are raised on mulberry leaves and their cocoons are unraveled to yield the raw material. Textile masters then use natural dyes to produce stunning pieces using traditional Uzbek ikat designs. Several different classes of fabric are produced by the weavers, from pure silk to silk and cotton blends.
(click image to view larger photo)
Of course, spices are also an important component of the festival. Uzbekistan's rich cuisine uses various spices brought in by traders over the centuries. The famous kebabs of the region rely on cumin, black pepper, turmeric, and juniper. Saffron (and safflower), garlic, parsley, dill, basil, cinnamon, chili peppers, coriander seeds, bay leaves, sesame seeds, cilantro, mint, thyme, and caraway are all used widely and featured at the festival. Look out for unique and hard-to-come-by spices like the barberries used in local rice dishes or the black nigella seeds used to top Uzbek breads and pastries.
(click image to view larger photo)
3. Music and Dance
---
Impromptu dance and music performances are another of my favorite components of the Silk and Spice Festival. Music is hugely important to Uzbeks and often featured on the itineraries of visitors to the country. One can book tickets to attend scheduled performances during the tourist high seasons, and MIR can also arrange private performances and meetings with musicians most anytime. Both can be wonderful, enriching experiences. It is a real joy though to be exploring the atmospheric labyrinth of this town and come across a group singing, dancing, or playing instruments in the street, free of charge, for the sheer joy of it. Locals will often join in, dancing along, and you can as well.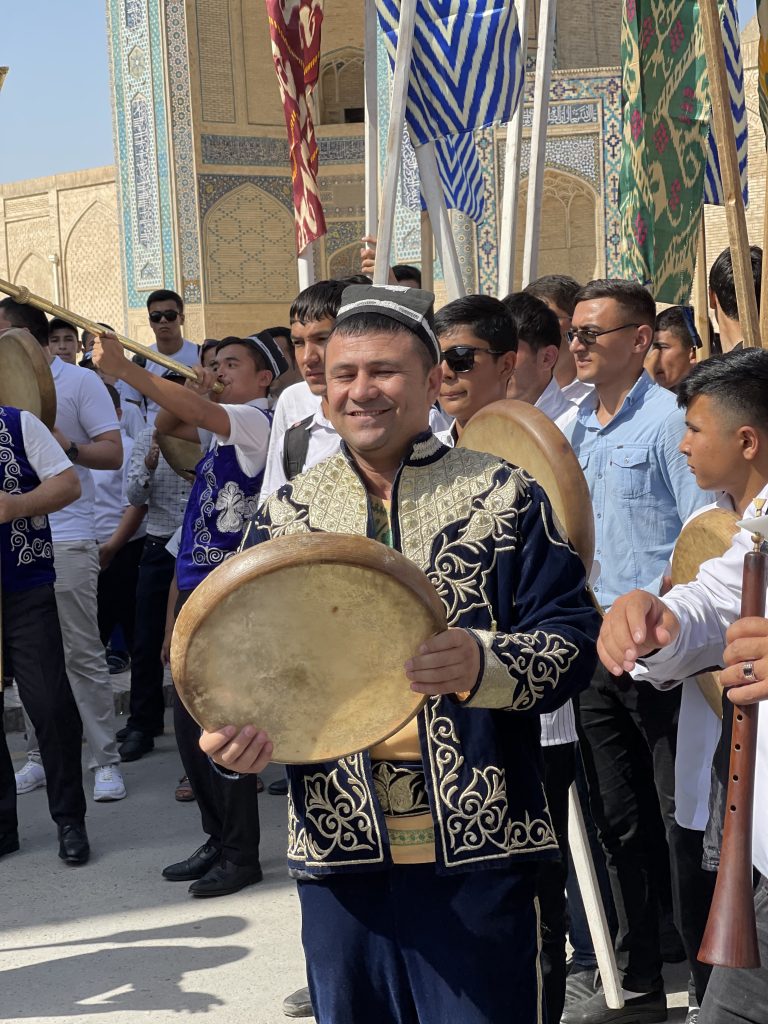 A common performance type is mavrigi. Mavrigi is a collection of folk songs that evolved in Bukhara over the course of centuries. While the better-known shashmaqom was the court music, mavrigi belonged to the ordinary, working-class people. This lively music is fun, whether you are inclined to join in or just watch from the sidelines.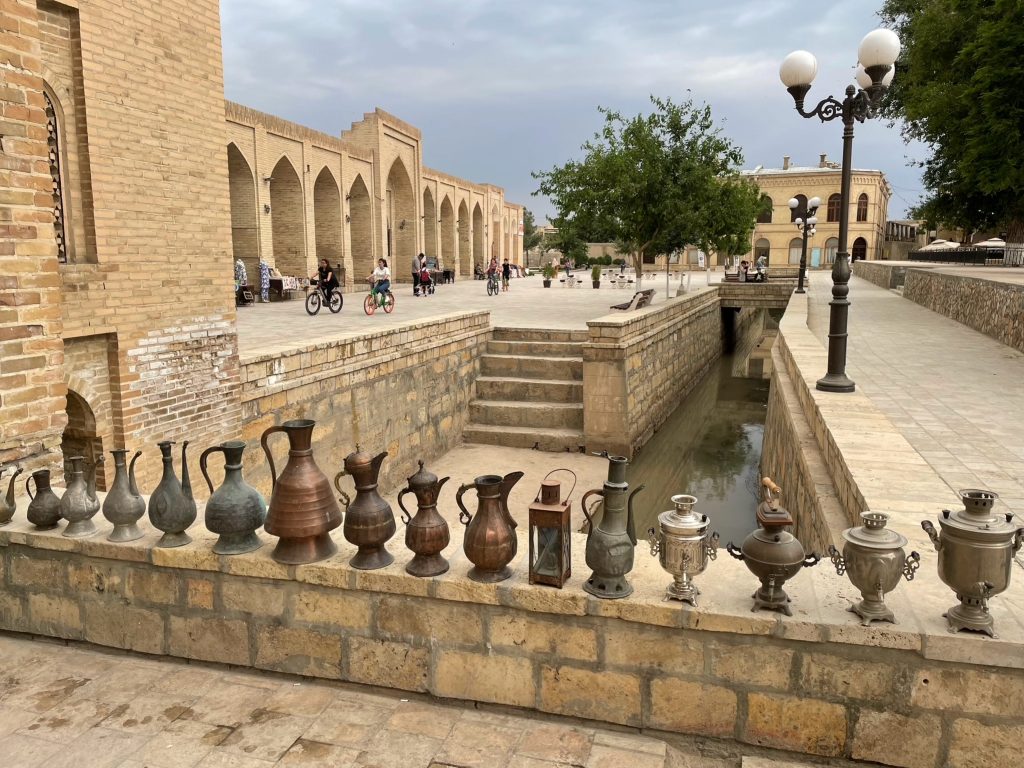 I love taking photos, and the Silk and Spice Festival is one of the best events of the year for photography in Uzbekistan. The people, the music and dance, the spices, and the arts and crafts are all highly photogenic. And of course, its turquoise domes, khaki walls, blue skies, and colorful inhabitants make Bukhara a perpetually beautiful city. Whether you are into portraits, detail photography, action shots, or architecture – you'll have countless opportunities to take that perfect shot.
I would recommend an early morning walk around the Lyabi Hauz Plaza and the Kalon Mosque and Minaret. The light is good and few people will be around. This is the best time to get those architecture shots. You can also venture over to the Ark Citadel for a beautiful cityscape, or the Bolo Hauz Mosque for reflection shots using the pool there. Look for men returning from or heading to morning prayers, women sweeping the streets, youths on bicycles ferrying freshly baked bread, or more senior residents out for their morning strolls.
(click image to view larger photo)
Then spend the late morning and afternoon strolling the streets and markets taking detailed shots of the architecture, spices, or arts and crafts. Strike up conversations with locals and ask questions about them or the products they are selling. You'll almost always find your opening is met by a warm smile and eagerness to share. This is a great way to get permission for portrait photography. Look out for impromptu performances as you stroll.
As the afternoon wears on the city will turn golden, yielding more excellent opportunities to photograph the architecture. Look for kids playing in the alleys after school, or men playing dominos or sipping tea. As dusk falls some buildings and monuments are lit up, which can also make for good pictures. The Chor Minor, in a quieter area of the old town, is a great one to photograph at night.
Plan your journey to Uzbekistan to take place towards the end of May if you would like to experience this wonderful festival. Or simply join MIR's new small group tour, Uzbekistan: Land of Silk and Spice.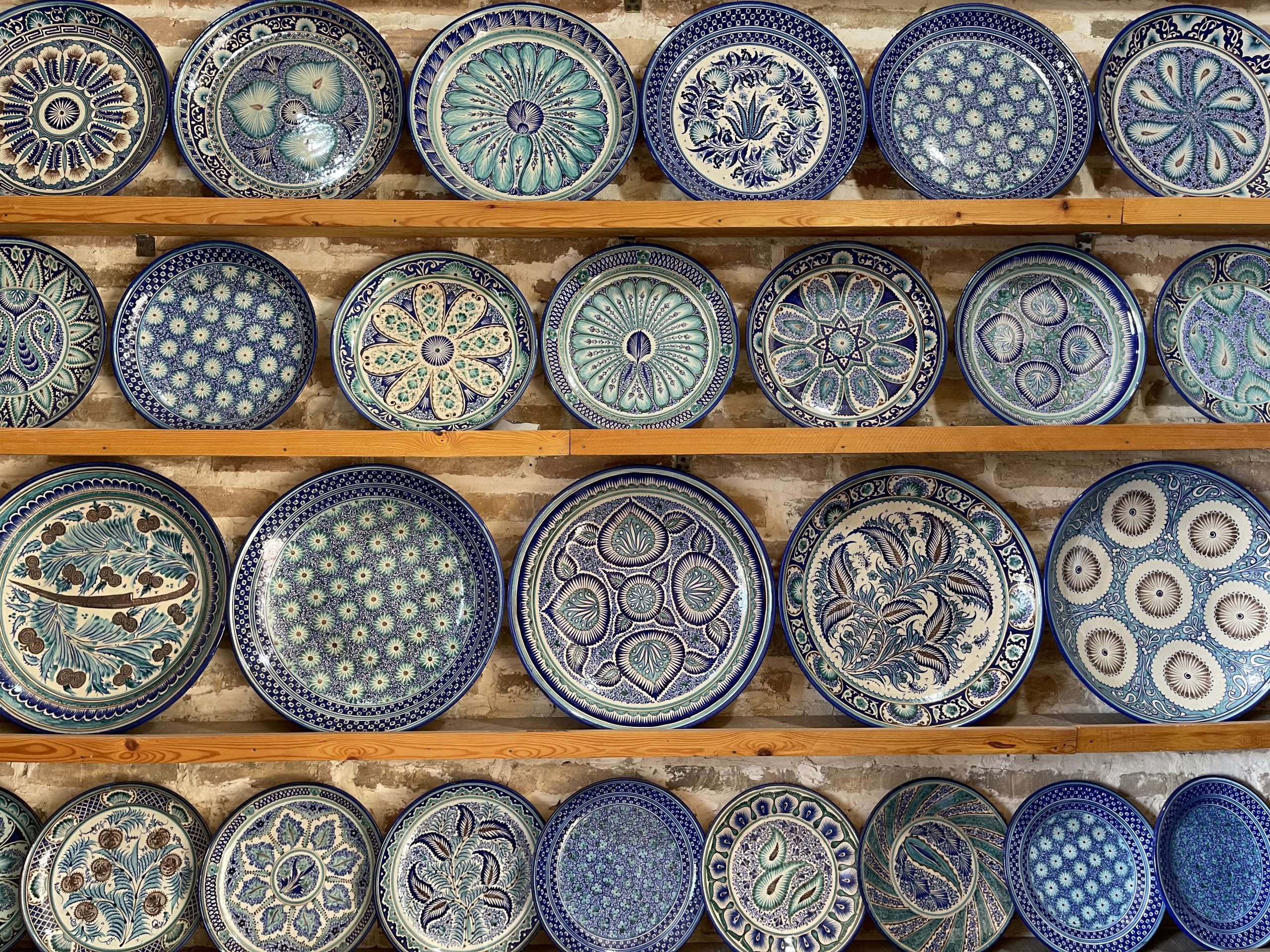 Travel to Uzbekistan with MIR