Travel Inspiration: What's New in Georgia
We're in regular communication with our friends and colleagues overseas and appreciate their consistent updates so much, we thought you'd also appreciate a first-hand update from the international MIR network. We are tapping this network of guides, tour managers, partners, and staff in our affiliated ground offices to relate their first-hand accounts from MIR's destinations in our new blog series: Reporting in from MIR Destinations.
Recently, our blog introduced you to several of our tour managers. As the world gradually reopens, you may be wondering what's happening in a specific destination you're planning on visiting sometime in the future. This blog series will provide field reports with detailed updates and conditions on the ground.
Our first set of destination reports comes from the region of the South Caucasus and Turkey. Read a dispatch from each country in this region:
Reporting in from Georgia
Information current as of February 1, 2021.
Let's start with the status of international flights into Georgia – what's the situation?
Tvalta: As of February 1, 2021, Georgia has reopened international flights and is allowing anyone who is fully vaccinated to enter the country by plane. Non-vaccinated citizens of select countries (including the USA and EU countries) are now allowed to enter by plane without a quarantine requirement, but these travelers must present a negative PCR test taken within the 72 hours prior to arrival and they will be required to take a second PCR test (at their own expense) on their third day in Georgia.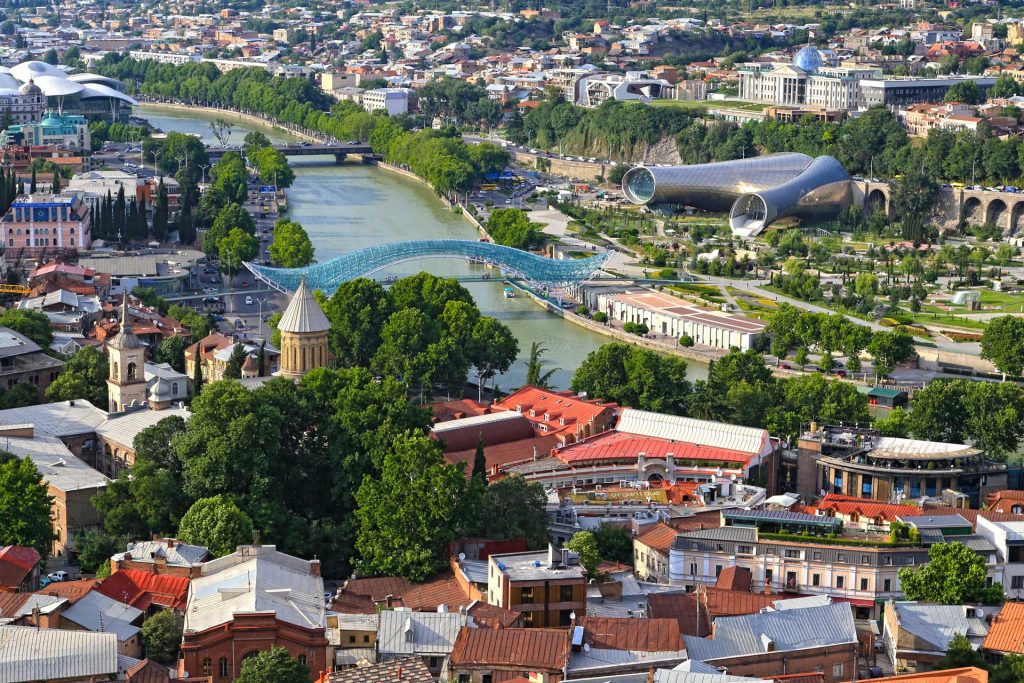 What's new in Georgia?
Tvalta: Calling all Digital Nomads! At the end of August, the Georgian government announced a new visa-free entry program called Remotely From Georgia, which is designed to lure a different kind of traveler during this very different time. Modeled after similar programs launched in some other countries like Estonia, the new program entitles digital nomads from 95 countries (including the U.S.) working remotely to park themselves in Georgia for between six months and a year.
After meeting the current entry requirements (that include unconditional entry for vaccinated travelers from Feb 1, 2021 and an expanded list of countries requiring testing without quarantine), remote-worker visitors are then free to explore all that Georgia has to offer. And we're not the only ones who can't say enough good things about this little gem of a country.
It might interest you to learn more about Georgia's experience in preparing the tourism sector during these challenging times, and in this brief video you can see some amazing images of Georgia and hear a bit more from the first deputy head of the Georgian National Tourism office.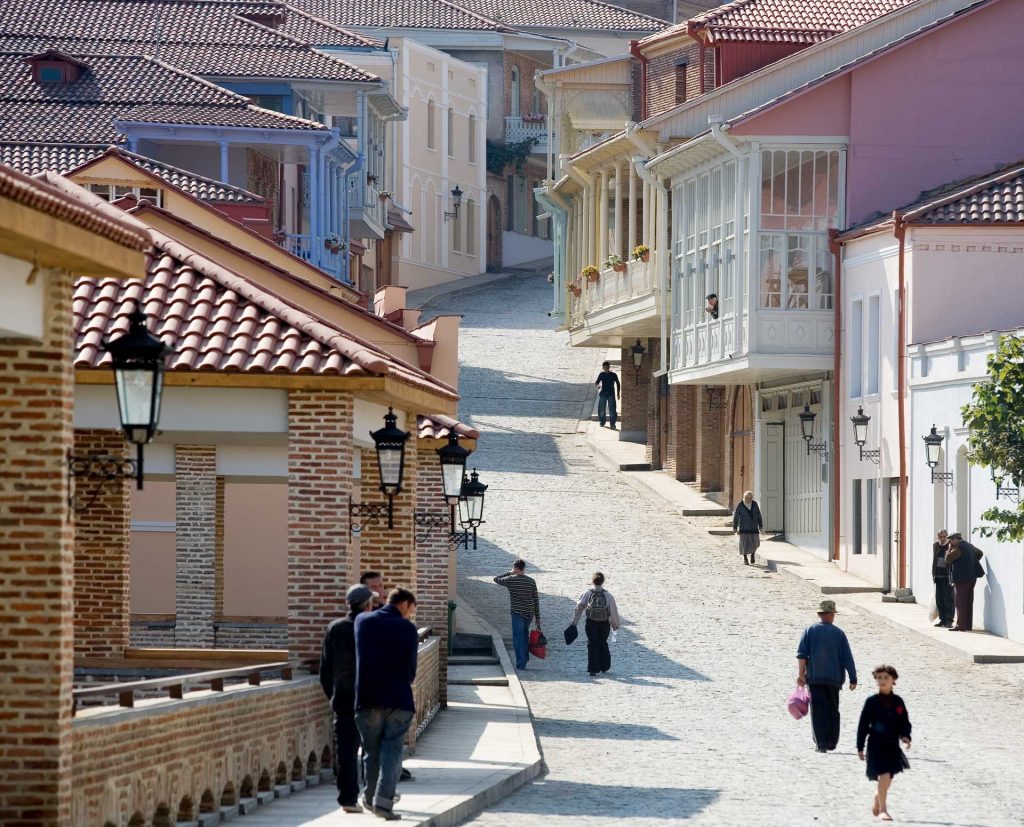 The hotel scene didn't slow down in 2020, with several new properties officially opening their doors in the capital as well as further afield. In Tbilisi, there is a new 4-star Vera Hills Boutique Hotel in the Vera district — a less trodden area by tourists, but still close to major sites and some of the best restaurants and bars in the city.
Another new property is the small but modern 3-star Ornament Boutique hotel in the quiet Chugureti district of Tbilisi. In the wine region of Kakheti, the enchanting Vazisubani Estate near Telavi recently opened their doors. This luxury retreat on a lavish countryside estate with award-wining vineyards was once the home of a 19th century Georgian nobleman.
I'm also personally very excited about a new property in the remote mountains of Tusheti called Hotel Nabadi. It's located in the village of Omalo, an area that has lacked hotels due to its remoteness and difficulty to access. I traveled to Tusheti twice this season and loved every minute of it. It's still the most wild part of Georgia but the improvements in infrastructure will allow an increasing number of visitors to experience it.
As Georgia has seen such growth in the past few years, the future for tourism remains very bright. In 2019, 9.4 million international visitors came to Georgia – not bad for a country with a population of approximately just under 4 million!
And more good news to share: Marriott Tbilisi, one of our favorite properties in town and one used often on MIR programs, has completed its long-anticipated renovations. Check out this virtual tour of the property and learn more about the protocols Marriott Tbilisi has put in place.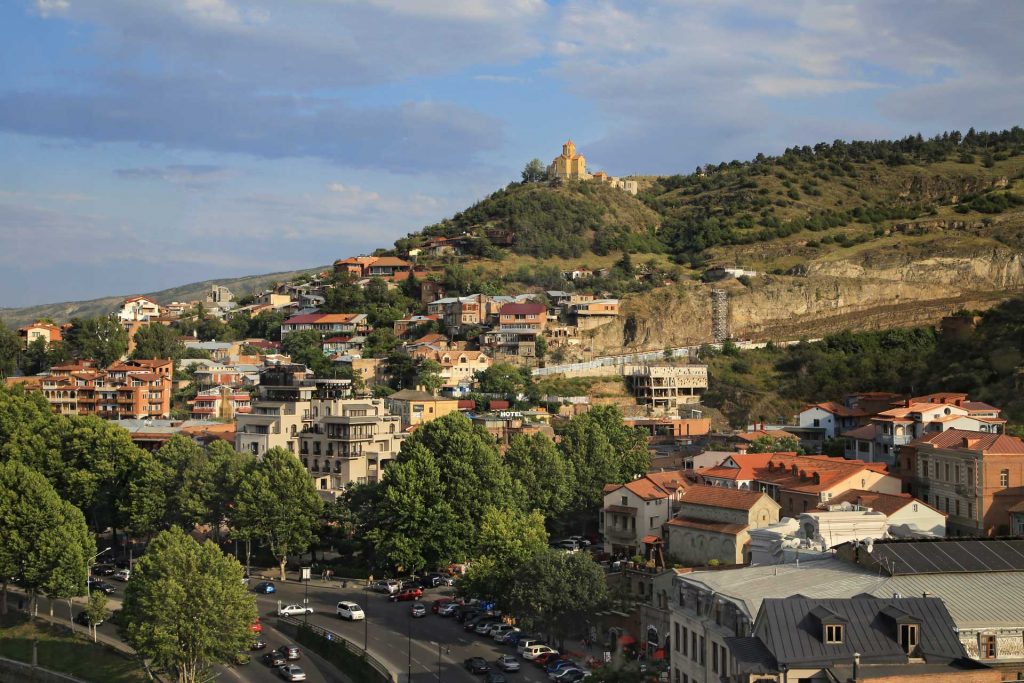 Other worthwhile mentions:
A new dendrological park opened mid-July that we're excited to include on future itineraries that travel out toward the Black Sea coast. Some of you may have heard about the Tbilisi Botanical Gardens. Shekvetili Dendrological Park will be another highlight for those interested in flora and fauna, and who would enjoy strolling its roughly 150-acre garden to learn more about thousands of species of local and world flora and over 50 bird species.
The modern and much anticipated Bolnisi Museum was unveiled on Museum Day in May 2020 by the Georgian National Museum. Accessible as a day trip from Tbilisi, the permanent exhibition features Bronze Age cultures, early Christian architecture and the history of the first hominids (the discovery very close by at Dmanisi of five 1.8 million-year-old H. erectus skulls have made the Dmanisi site crucial to the study of human evolution). A special exhibition hall is dedicated to the history of the German population who emigrated from Southern Germany to Georgia 200 years ago. A number of Germany institutions and the University of Toronto collaborated with Georgian colleagues on this exhibition celebrating the multicultural history of a region where Armenians, Azerbaijanis, Ossetians, Greeks, Russians, Germans, and others lived with Georgians.
We are very proud that Georgia was chosen to host the World Tourism Organization's (UNWTO) Executive Council 112th session, that took place September 15-17, 2020 in Tbilisi. We are the first country outside of Spain to have hosted this prestigious event that delegates from 24 countries attended. (The UNWTO is the United Nations agency that oversees the promotion of responsible, sustainable and universally accessible tourism.)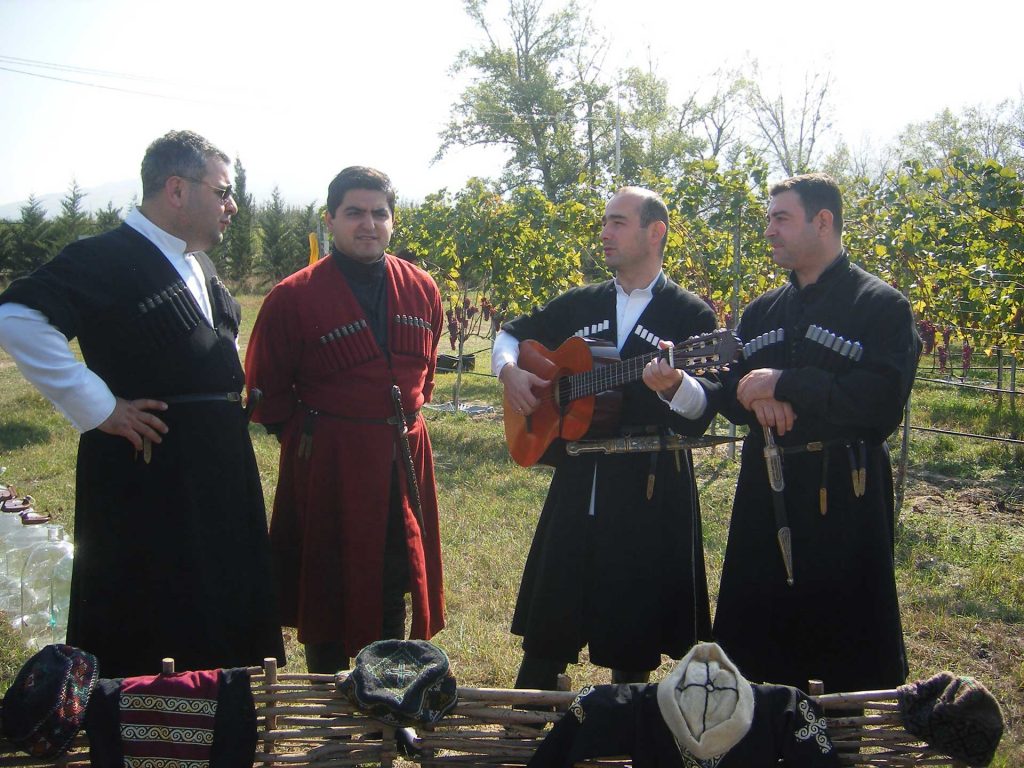 How strong is the USD these days?
Tvalta: The USD has risen steadily against the Georgian Lari over the past five years, but has fallen from its high as the Georgian Central Bank has done its part to prop up the currency.
Georgia remains a very good value destination – the main riches of our country that we share with guests are those that come from the land itself:
An incredible array of natural wonders including three of Europe's highest peaks, the Black Sea citrus plantations, and the frescoes tucked into caves located in semi-desert landscapes.
Haunting polyphonic singing that will give you shivers.
Natural, organic wine made in a traditional way, in qvevri – a continuation of Georgia's 8000 year unbroken tradition of winemaking. UNESCO added this tradition to the intangible cultural heritage list in 2013.
(click image to view larger photo)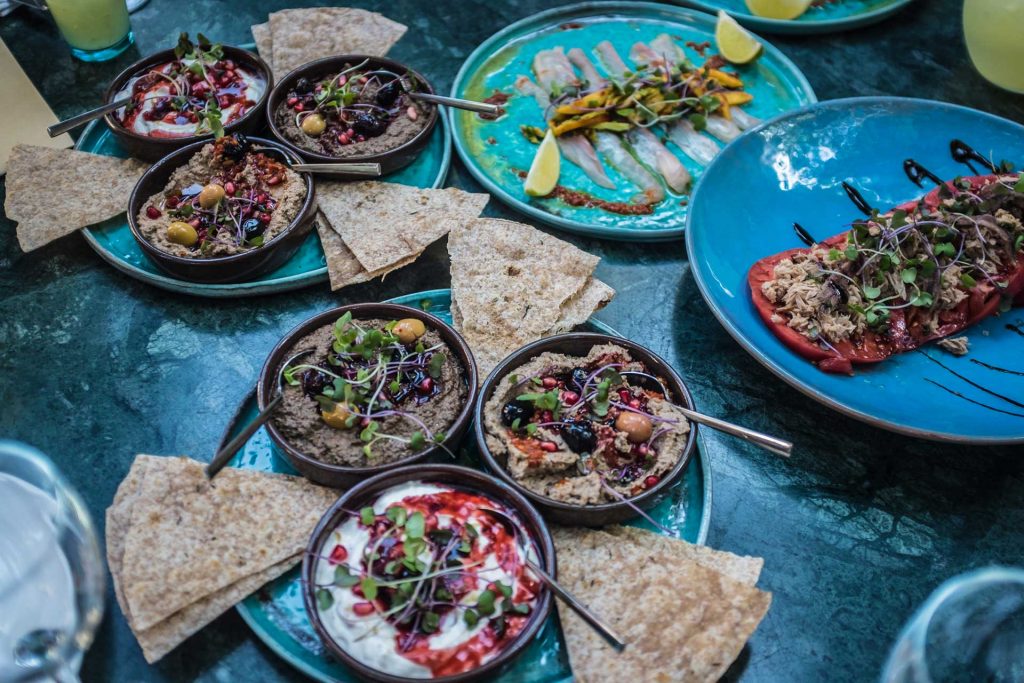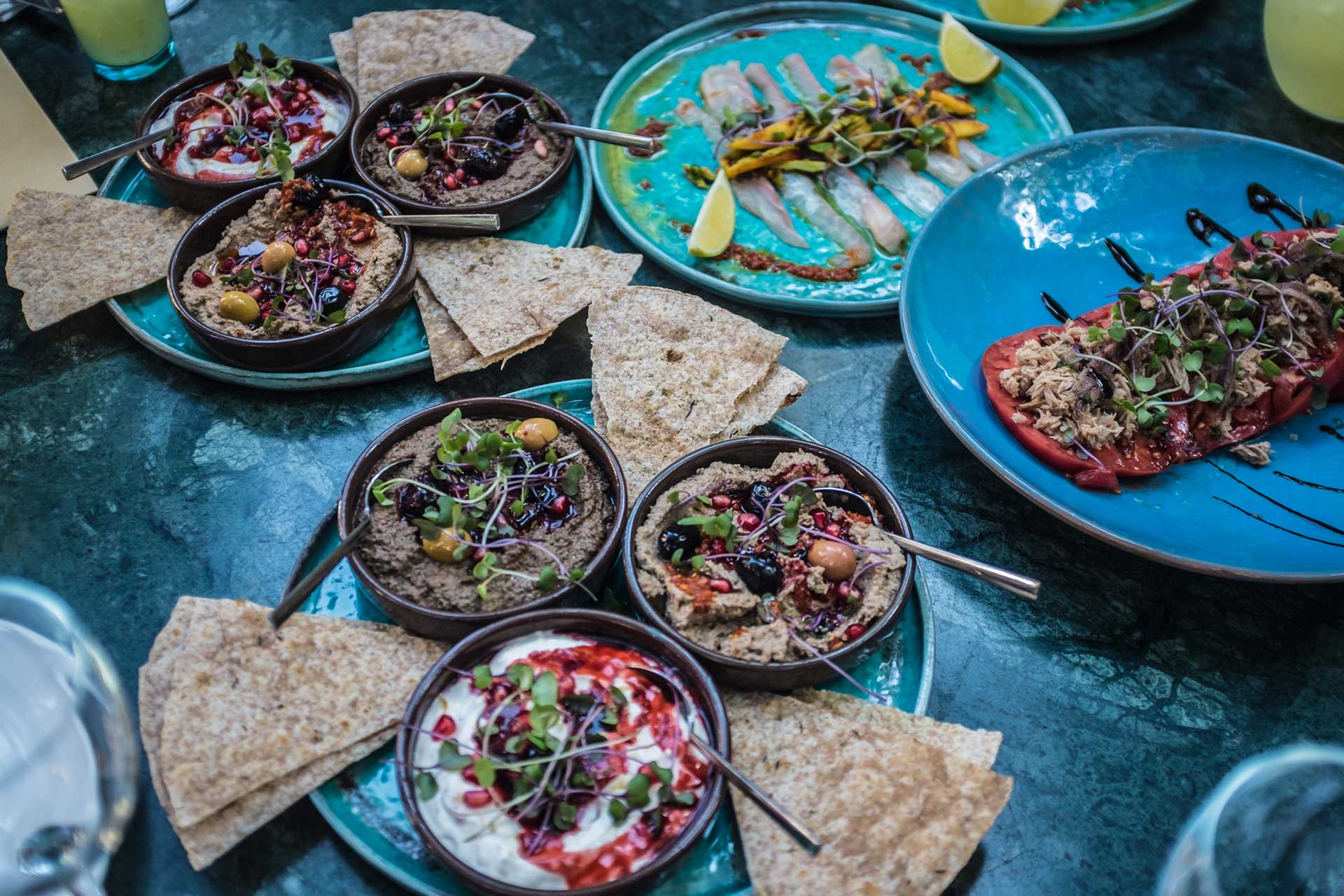 What's the first dish and/or beverage you most like to introduce visitors to?
Tvalta: Well, that's a challenging question for a Georgian to answer, as our table traditions of food and wine are the centerpiece of our hospitality. Our style is to have a 'Georgian table' overflowing with lots of different dishes ranging from chicken in crushed walnut sauce, to puff pastries, to little meat dumplings called khinkali.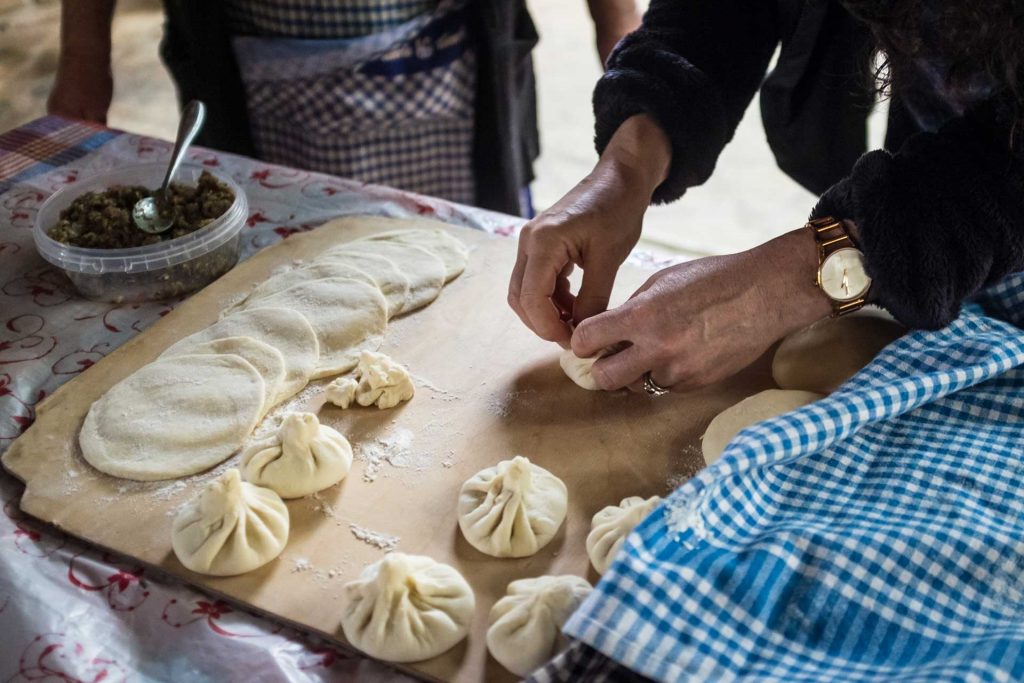 While the most well-known dish is probably khachapuri, a savory cheese pie like you've never tasted, the dish we most like travelers to taste is chakapuli, traditionally made with lamb, but we prefer it with mushrooms – especially when locally foraged. This Georgian stew features tarragon leaves, pepper, coriander, dry white wine, garlic, green onions, and most importantly tart cherry plums – red and green – that are a staple in Georgian cooking.
(click image to view larger photo)
Served alongside it we can't think of anything better than a long skin contact Rkatsiteli natural wine. Rkatsiteli, translated from Georgian as 'red stem,' is one of Georgia's ancient grape varieties used to produce white wine. In the traditional Georgian wine-making method dating back to 6000 BC of using clay-pots called qvevri buried in the ground, the stems are tossed right in with the grape skins and juice and naturally fermented.
(click image to view larger photo)
We'd then follow a great meal accompanied by Rkatsiteli with the favorite nightcap in Georgia: chacha. Enjoyed at tables throughout the country, an evening in Georgia wouldn't be complete without this strong spirit – a distilled beverage made after the wine from the grape residue.
Georgia: A Slice of Paradise between Mountain and Sea
A Destination with Everything Intrepid Travelers Seek
Whether you're thinking of traveling sooner or later, with MIR as your guide, you'll tour vineyards in the land that invented wine, indulge in sumptuous feasts, explore UNESCO-listed monasteries and towers, and travel into the mountains to hear polyphonic folksongs.
Read more about why we love Georgia so much. Questions about traveling in Georgia? Our VP, Annie Lucas, is simply mad about the country and one of our resident experts on all things Georgian. She's happy to chat and send you her Georgia article list on request.