Travel Inspiration: What's New in Azerbaijan
We're in regular communication with our friends and colleagues overseas and appreciate their consistent updates so much, we thought you'd also appreciate a first-hand update from the international MIR network. We are tapping this network of guides, tour managers, partners, and staff in our affiliated ground offices to relate their first-hand accounts from MIR's destinations in our new blog series: Reporting in from MIR Destinations.
Recently, our blog introduced you to several of our tour managers. As the world gradually reopens, you may be wondering what's happening in a specific destination you're planning on visiting sometime in the future. This blog series will provide field reports with detailed updates and conditions on the ground.
Our first set of destination reports comes from the region of the South Caucasus and Turkey. Read a dispatch from each country in this region:
Reporting in from Azerbaijan
Information current as of September 8, 2020
Let's start with the status of international flights into Azerbaijan – what's the situation?
Kamil: Azerbaijan Airlines (AZAL) resumed its domestic and some of the international flights starting July 1st, 2020. Currently, Azerbaijan's national air carrier AZAL is operating flights to Istanbul, Berlin, and London. Turkish Airlines (with service to Istanbul), Belavia Airlines (flying to Minsk), and Fly Dubai (serving Dubai) also resumed their flights in July.
While the flights are mostly carrying Azerbaijani citizens and foreign residents of Azerbaijan (each of whom is required to present a negative Covid-19 test prior to boarding) at this time, we're hopeful regulations will loosen up for foreign travelers soon. We anxiously await the reopening of the land border with Georgia which we hope will happen in October, and we shall see if that leads to a further opening later in the fall for other nationalities.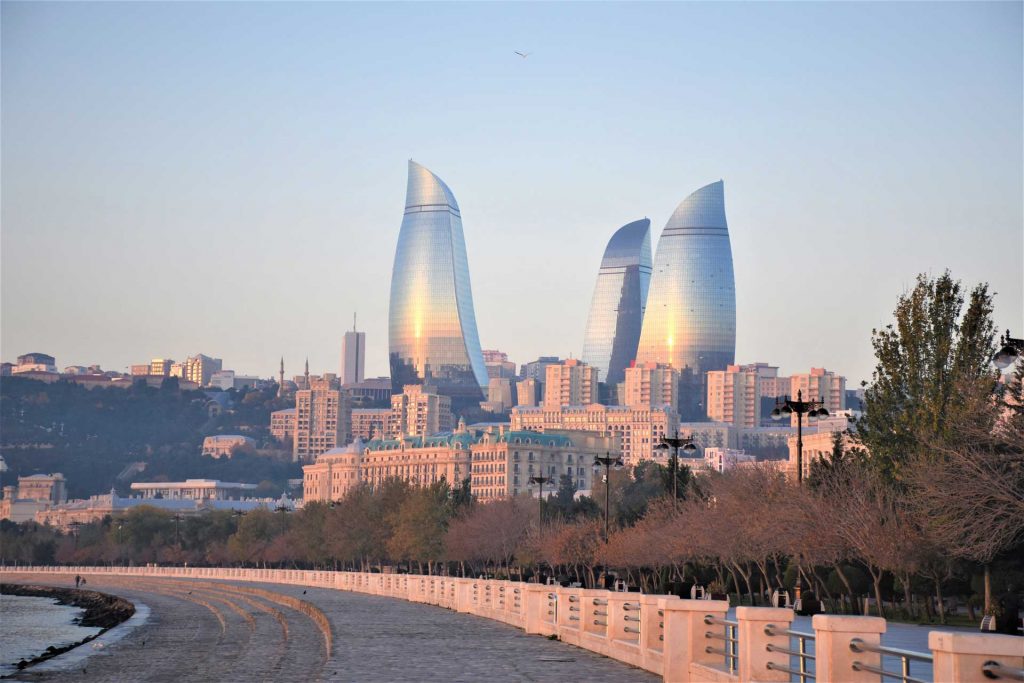 What's new in Azerbaijan?
Kamil: Here in Baku, we're looking forward to a return of visitors from all over the world, when the timing is right. The Azerbaijan Tourism Agency is focusing on development of tourism infrastructure, and one of the more interesting current projects is a new tourist zone being developed in the Balakhany district of Baku. This neighborhood of the city is known for its historical connection to oil production – a history linked to major figures of the 19th and 20th century international oil boom like the Swedish Nobel brothers, the Rothschilds, and the Rockefellers.
(click image to view larger photo)
The area around Baku has long been rich with oil. In the 1870s, the Nobels led an oil boom in Baku by investing in oil fields, pipelines, oil tankers, and factories to quickly advance the region's oil production. Encouraged by this success, the Rothschilds and Rockefellers soon followed. The competition among these families innovated the oil industry in the Caucasus and by 1901, Baku produced more than half the world's oil.
While the Rockefellers never resided in the city, both the Nobels and Rothschilds built residences that can still be seen and visited today. The ornate house built by the Rothschilds is now the National Museum of Art; and the opulent mansion built by the Nobels, named Villa Petrolea, is home to the House Museum of Nobel Brothers.
(click image to view larger photo)
The goal of the new tourist zone project is to enhance the living standards and economic opportunities of the Balakhany community. As part of this initiative, they have renovated some historically important buildings and are putting together some interesting new tourism concepts like the Balakhany Carpet Center, which allows weavers to create local pieces following traditional techniques and patterns.
There is also a new pottery center called Gilabi Ceramics – a small workshop-studio where local artisans can create paintings on ceramic.
(click image to view larger photo)
Eventually, they plan to refurbish three main streets in the neighborhood to bring back an authentic appearance to this historic area.
On the hotel front, the new Merchant Baku Hotel opened its doors in Spring 2020. The hotel is superbly situated at the very center of the city – close to the Old Town, Fountain Square, and the Baku promenade. In my opinion, it reflects the city's historical charm and comfort at the same time.
The Merchant Baku Hotel is set within a magnificent historical building that previously housed the Caspian Shipping Company since its beginnings in 1858. Located adjacent to the city's first commercial shipping dock, the hotel features impressive maritime murals depicting centuries-old ships on the Caspian Sea and white marble floors lavishly adorned with traditional Azerbaijani rugs, gracefully combining the fascinating and ornate history of its surroundings with contemporary style and luxury. All in all, a great addition to the city's hotel line-up.
How strong is the USD these days?
Kamil:The local monetary unit "Azeri Manat" lost value significantly to the USD back in 2015, and has since remained fairly stable.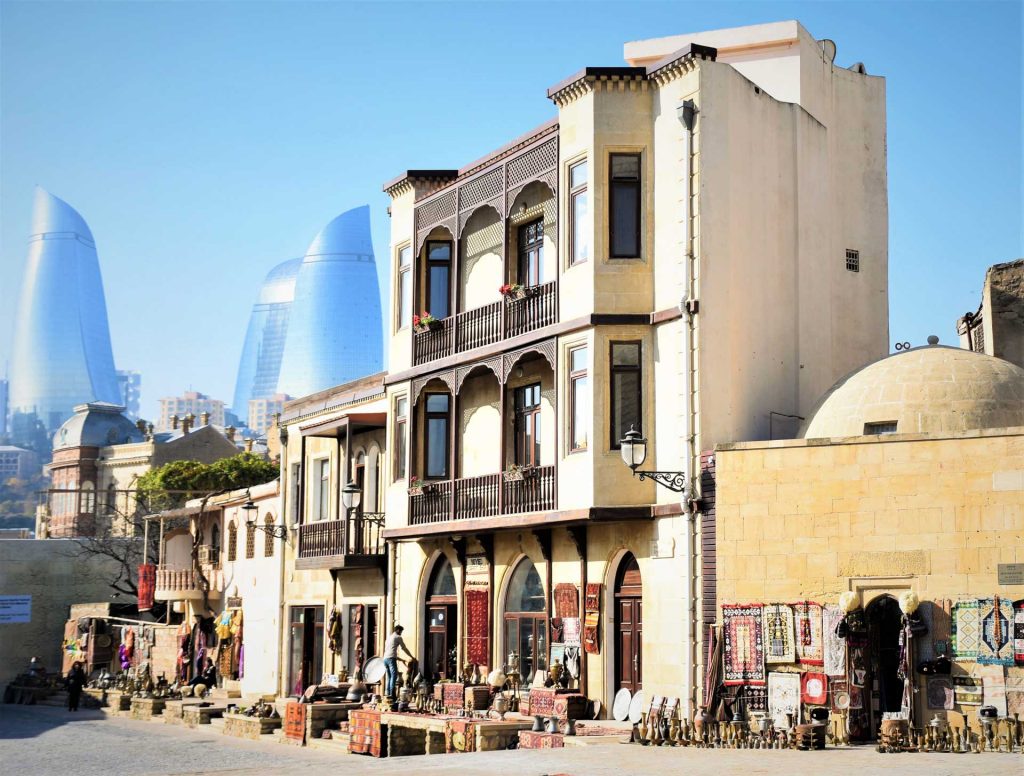 What's the first dish and/or beverage you most like to introduce visitors to?
Kamil:We are very proud to introduce the wide variety of dishes available in Azerbaijani cuisine which focus on the freshness of ingredients. Among many, perhaps a favorite is shah plov. The name of this pilaf already declares it as the king of pilafs. The most distinctive detail of shah plov is the crust, made of light and flaky flatbread that lines the dish where the pilaf is cooked. There are different ways of making shah plov, but all start with a base of saffron-infused rice. Chicken, meat, rice, raisins, nuts, dried apricots, roasted chestnuts, prunes and other dried fruits and seasonings are used as toppings. No family event or special occasion in Azerbaijan is complete without pilaf, which is considered the signature dish of Azerbaijani cuisine.
(click image to view larger photo)
Drinking tea in Azerbaijan is very pleasant due to the ancient traditions of tea ceremonies. Everyone who visits the country should take time to have tea at a traditional tea ceremony, featuring freshly brewed, strong, bright-in-color, hot black tea served in cups or crystal glasses, in particular armudu, or pear-shaped glasses.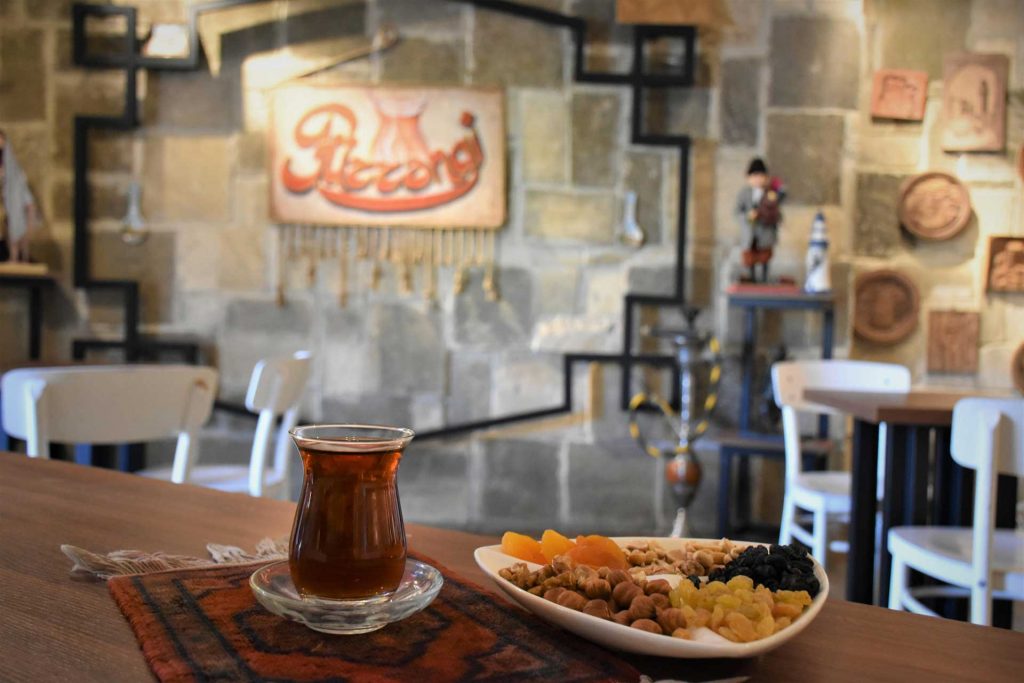 Azerbaijan: Where Tradition Meets Modernity
Unexpected Luxury & Other Travel Surprises
Whether you're thinking of traveling sooner or later, read more about what Azerbaijan has in store for inquisitive travelers.
In the capital city of Baku, you can shop in tiny, timeless markets that sit in the shadow of fancifully designed, cutting-edge skyscrapers, and the tourism infrastructure includes luxurious hotels and restaurants.
Azerbaijan's quaint villages and gorgeous countryside are home to beautiful old palaces and impressive religious structures, but the biggest highlight for many visitors is the overwhelming hospitality of the Azeri people and their fascinating cultural traditions – from carpet-making to mugham chants – practiced the same way they have been for hundreds, and sometimes thousands, of years.
Questions about traveling in Azerbaijan? Amy Stidger is a big South Caucasus travel fan herself. Feel free to pick her brain – she seeks just about any excuse to chat about how Baku blew her mind on her last trip there, and what options you have for exploring Azerbaijan with MIR.