Interview with Carla Capalbo: Award-Winning Author of "Tasting Georgia: A Food and Wine Journey in the Caucasus"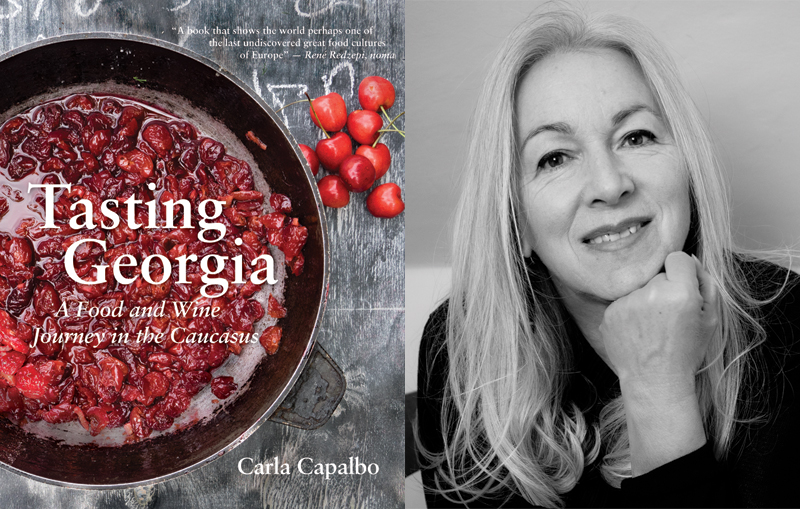 Sheltered among the soaring peaks and valleys of the Caucasus Mountains between Europe and Asia, the little republic of Georgia has been recognized time and time again as one of the world's greatest travel destinations — a fabulously beautiful country boasting breathtaking scenery, inviting Black Sea beaches, highland villages harking back to the Middle Ages, spine-tingling polyphonic singing, and unabashedly abundant feasts filled with sumptuous food and wine.
Georgia's exciting culinary fare is perhaps what has attracted the greatest amount of the world's attention, no doubt because of outlets like Instagram and its hundreds of photos of irresistible Georgian comfort foods such as rich and melty khachapuri bread. But beyond these enticing images of cheesy, carb-laden fan favorites, few people know what the real cuisine of Georgia is actually like.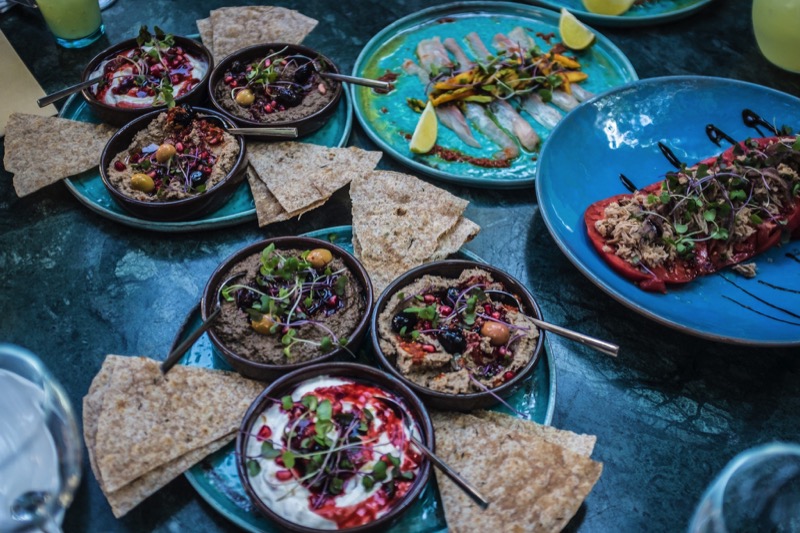 Now thanks to award-winning food, wine, travel writer, and photographer Carla Capalbo, foodies, travel buffs, and armchair readers alike can discover the extraordinary gastronomic traditions of this little-known country with her latest cooking compendium, Tasting Georgia: A Food and Wine Journey in the Caucasus.
Known for her detailed and personal travel books about food and wine, Carla was drawn to Georgia by its centuries-old winemaking traditions, but soon found herself equally smitten with its vibrant and varied local cuisine. She returned dozens of times over a period of several years, collecting stories and recipes that captured the full range of the country's remarkable culinary repertoire.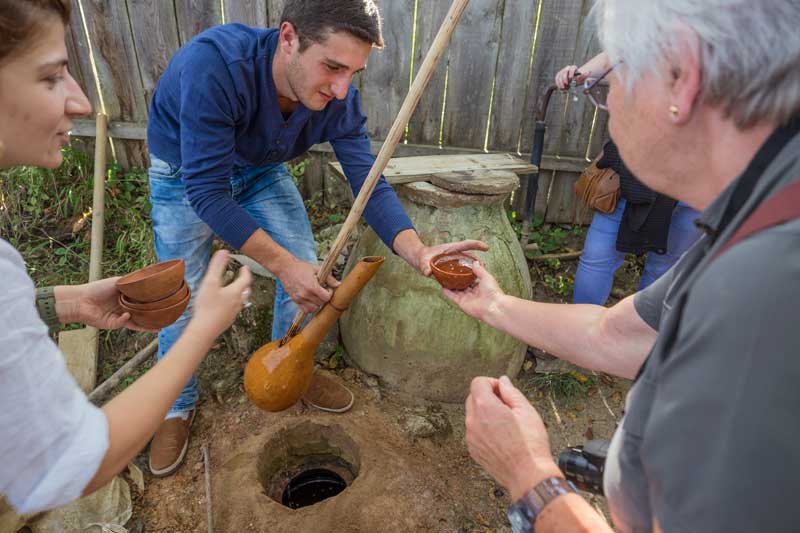 Equal parts travelogue and cookbook, Tasting Georgia gives readers an unprecedented peek into Georgian kitchens, offering insider travel tips, restaurant and winery recommendations, and a satisfying collection of recipes from each of the country's distinctive regions, including mouthwatering spicy ribs, slow-simmered chicken spiked with pomegranate juice, and eggs cooked in a rich sauce of fresh tomatoes and caramelized onions.

We caught up with Carla to find out more about her new book and about the intriguing culinary and cultural traditions of gorgeous Georgia.
(This interview has been edited for clarity and length.)
Many of your past books have focused on the culinary and winemaking traditions of Italy. How did you become interested in Georgia and what made you want to write a book about it?
The book I wrote before this one was about an area in northeastern Italy called Friuli, which is particularly famous for its white wines. One of the winemakers who I'd befriended there was Josko Gravner, and to my knowledge, he was the first non-Georgian to start making wines in Georgian qvevri. In a former life, I had been a sculptor, so when I first saw one of the qvevri out in Josko's vineyards, was just absolutely bowled over — I thought they were so beautiful. That beauty and energy was even more apparent when I went into his cellar and tasted the wine they held. From then on, I really made a determination to one day get to Georgia.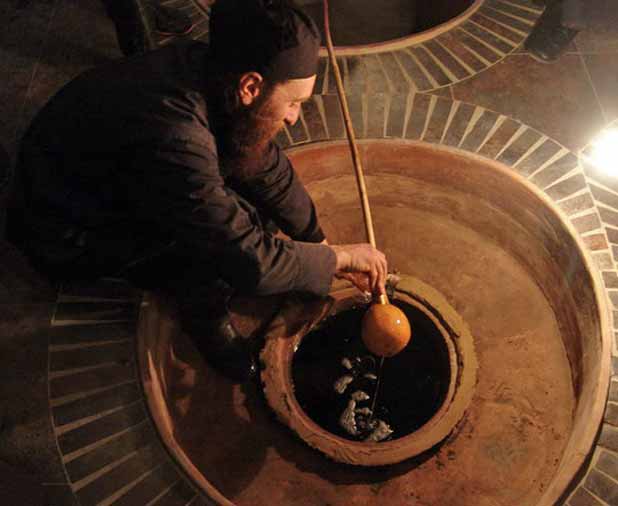 Well, it took about four years, but through friends in London who import Georgian wines, I had been invited to a qvevri symposium in Tbilisi. Within a few days of my visit, I had fallen completely in love with Georgia. I thought to myself, "God, I've really gotta go and get the best food and wine books I can here before I go back to London!" I was shocked to find that virtually nothing at the bookstores reflected what I had seen and tasted.
(click image to view larger photo)
I remember jokingly saying to one of my Georgian friends, "You know, this is crazy, but I feel a book coming on." And instead of saying, "You're nuts, you've only been here five days and you don't speak a word of Georgian," he said, "Oh my God, I love your books! If you want come and write a book about Georgia, we will help you." I had another project I was considering and kept weighing up the two, but in the end, my heart went for Georgia.
Georgia has become a much talked-about destination in recent years. Why do you think people should visit Georgia now?
Georgia has this very exciting aspect to it at the moment because it's both ancient and exotic, and at the same time quite familiar. I've lived in rural communities for such a long time, so even though I didn't have the language, I could read the Georgian landscape in a way that I understood. It struck me in a very deep way, the differences and the similarities between parts of Europe and Georgia.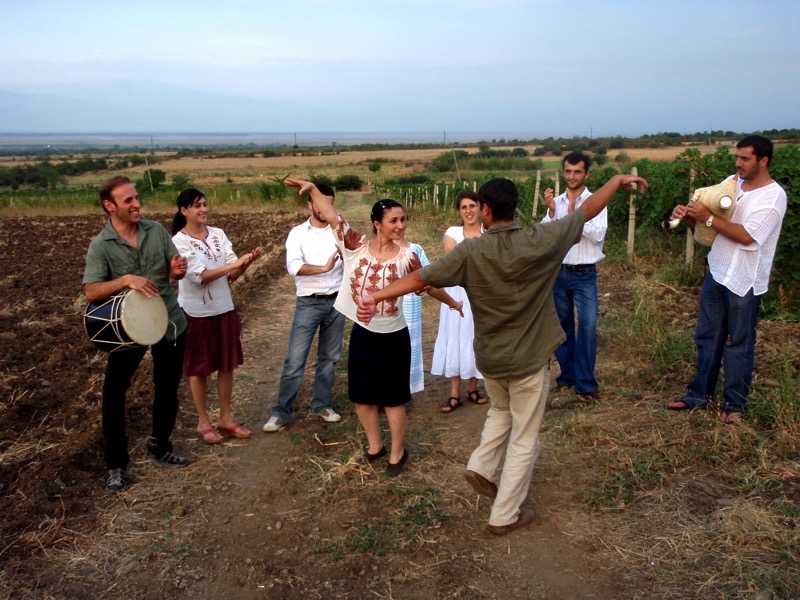 I also think that like so many Americans, I'm extraordinarily proud of my immigrant grandparents. I think their sacrifices are something we all need to keep reminding ourselves of and celebrating. What my grandparents gave up, as I'm sure most people from that generation did, was their families, their land, their history, and their roots to come to America. That's a big thing to do.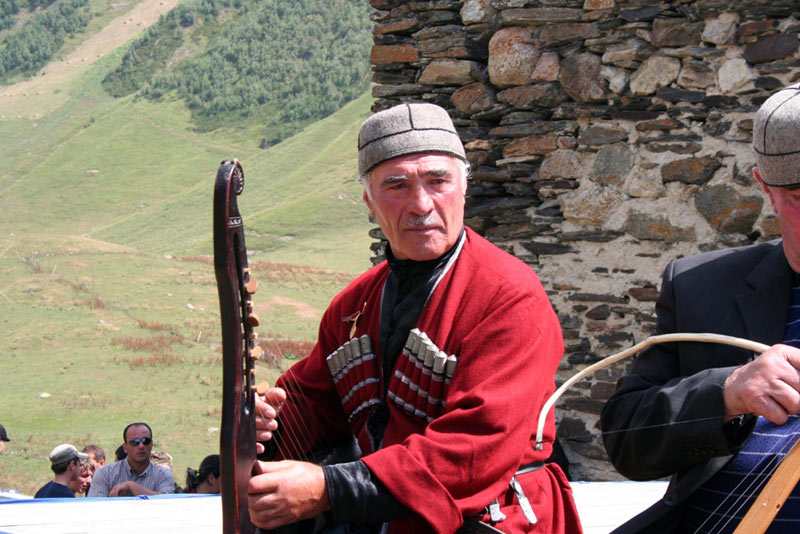 I felt that Georgia connected me to that generation, or even to a time beyond that generation, because some things just haven't changed there for so long. In the rural countryside, the animals are free; they have their dignity, they know where they're going, and then they come home every night, safe in the paddock. But the next morning they're just shooed out again and off they go. They don't get run over, they don't run away — they know who they are and where they belong. That's the relationship that people in Europe had with their animals 50 to 100 years ago, and they rarely have it anymore.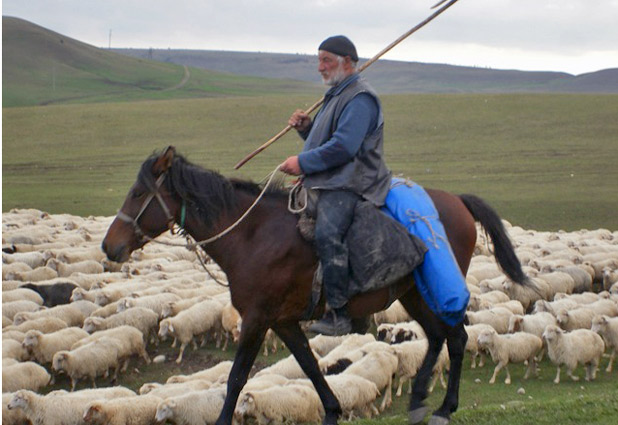 Qvevri wine-making has a similar emotional connection. It's just remarkable to see something that has just not been changed for so very, very long.
You share many of the same Georgian friends and acquaintances as Annie and Doug here at MIR. Is there a particular individual that you feel has been most influential in helping to shape the country's international reputation as a great food and wine destination?
There are Georgians who have done an enormous amount of work within Georgia itself, of course. I've said a lot about that in my book. But there are others who've been able to spread the word beyond Georgia's borders. My friend John Wurdeman [a resident Georgian expert, master winemaker of Pheasant's Tears Winery in Signagi, and a host on MIR's A Taste of Georgia small group tour] is undoubtedly one of those people.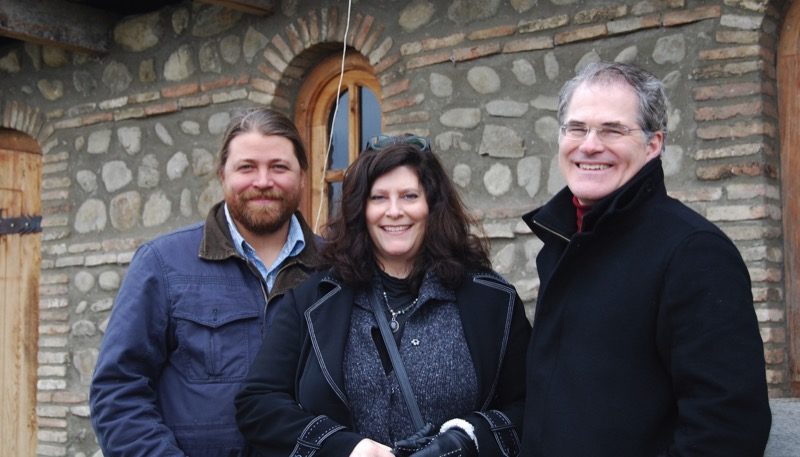 John is perfectly positioned: he's articulate, multi-cultural, friendly, and extraordinarily well-informed, with a larger-than-life personality. He was really the ideal partner for me to have when researching and writing my book. I got an enormous amount of support from him and his circle of friends, which included Annie and Doug at MIR, and then they introduced me to others, and so on. But without John, there was no way I would have done this book. I lived for over 20 years in Italy, and know certain areas there like the back of my hand, along with every producer there — John is that way in Georgia.
Most Americans aren't familiar with Georgian cuisine. What makes it so unique?
Everything on the Georgian table is absolutely delicious. Most dishes on the table are laden with lots of fresh vegetables, nuts, and delicate spices that when combined create complex flavors. They're vibrant too, since nearly every single dish features lots of fresh herbs. Some parts of the country might add a bit of chili spice to their dishes, but it's very mild, and if people want more heat, they can add more.
(click image to view larger photo)
Meat plays a significant role in the cuisine, but Georgia is also a great country for vegetarians and vegans. The climate in Georgia is quite similar to the Mediterranean, so fresh produce is bountiful: you'll see all these amazing fruits growing all over the country — grapes, cherries, wild strawberries —along with wild mushrooms and wild greens. People still forage a lot in Georgia, as they do in Italy. You walk down any little country road and you'll see two old ladies out for a stroll. They'll always have a basket or a bag with them, and they're always scanning the grassy verge to see what they can find there to take home to eat.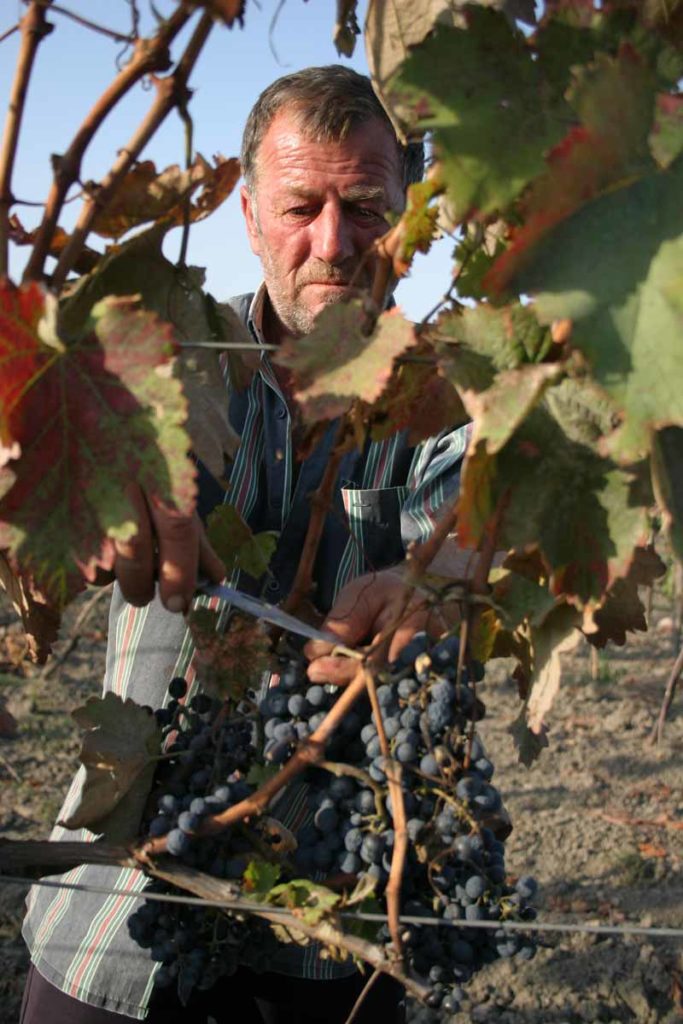 One of the things we found so fascinating about your book was discovering that Georgian cuisine isn't one-dimensional — flavors and culinary approaches vary from region to region. What are some things travelers should take note of when eating their way across the country?
What's interesting about Georgia is that it's no bigger than West Virginia, but the mountains there are really tall and steep, with many towns and villages separated by large peaks. Because of the geography, different kinds of flavors evolved all over the country, even among villages separated by only a few miles. And of course the ingredients, particularly the traditional foods that were available up at higher elevations, were not at all the same as down in the very fertile valleys in the eastern and western parts of the country.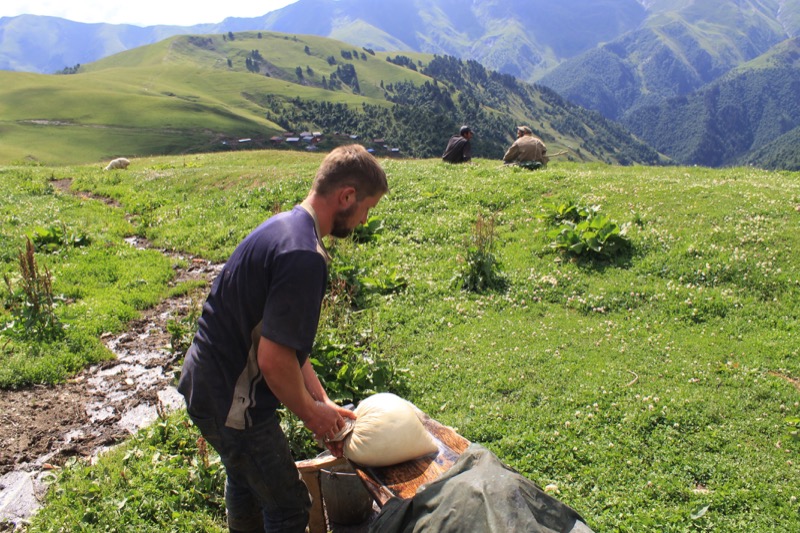 In the highlands, for instance, homes will often cook simple meat-filled or possibly potato-filled dumplings, whereas down in the valley, you're much more likely to just have a huge assortment of vegetables on the menu. And in the west near the Black Sea, it's quite humid and damp, so you tend to find more chili-spiced dishes and accompaniments, as well as items that include hazelnuts, which grow particularly well in that climate.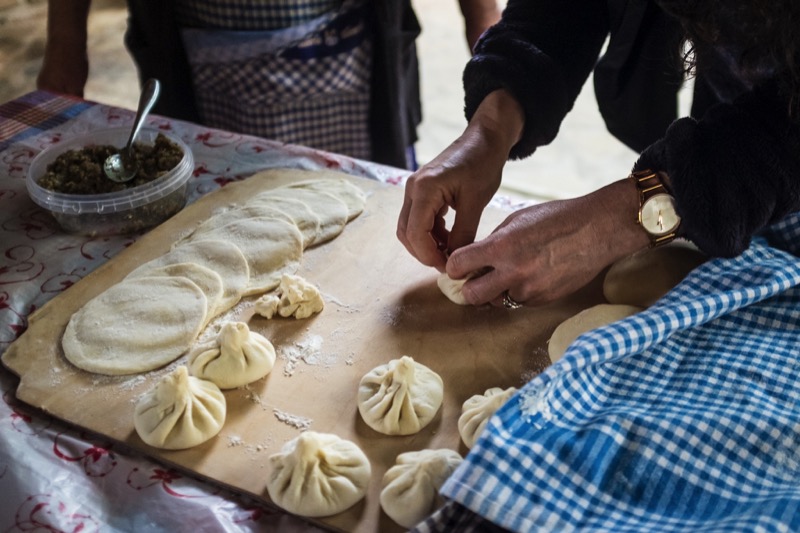 If you were going to introduce someone to Georgian food, what dishes would you recommend?
I would definitely recommend a couple of vegetable dishes made with walnut sauces or walnut paste of one kind or another, because I think that's a very traditional flavor profile. Georgians love to use lots and lots of fresh herbs, which often include cilantro, basil, dill, and mint. They'll blend these herbs all together and it just makes the dish even more colorful and scrumptious.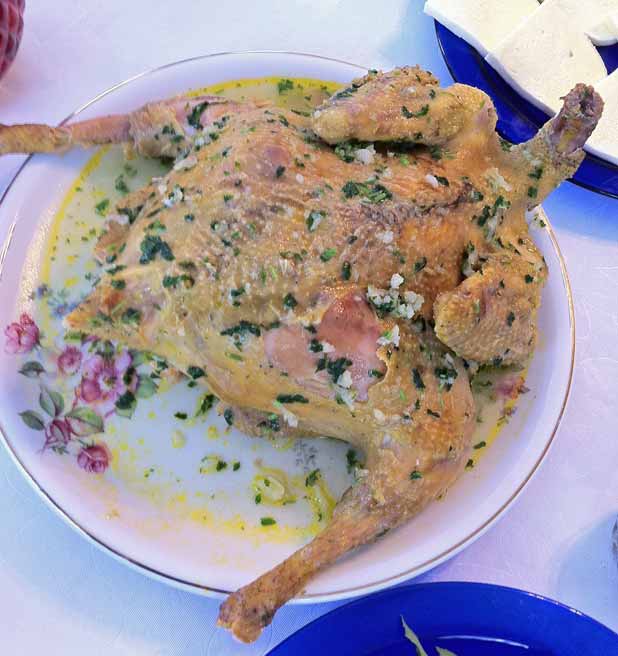 Another one I love very much is beets dressed with sour plum sauce. I love the combination of the sweetness you get from the beets paired with the sourness of the plums. Georgians use a particular type of unripe green plum to make most of their sauces. At home, I've been making similar sauces, but I just buy regular plums, since they're almost always under-ripe when I buy them anyway.
I think the other food you absolutely would have to taste — which is so delicious! — is the khachapuri, the cheese breads. And of course you can get the grilled meats, but grilled meats you can find everywhere. They're tasty, but less unique.
One of the most characteristic aspects of Georgian cuisine (which you discuss in detail in your book) is the "Georgian feast," or supra. Can you describe the significance of the supra and what a typical supra experience is like?
I think what's interesting about the Georgian feast is that the table is never empty; you never sit down to an empty table in Georgia. That, to me, has symbolic strength to it. In Georgia, the level of hospitality shown by the people is really very, very remarkable. Guests there are considered a gift from God, so for a Georgian host, the table isn't complete, really, unless there is a guest.
(click image to view larger photo)
One of the most wonderful things when you're at a supra is that there's this spontaneous singing that just erupts every so often during the meal. People sitting at all different bits of the table will just come together and sing. Sometimes there's actually a choir or group, but there doesn't have to be. Georgians love to sing and they sing when they eat. It's just a very natural thing to do there. I think that's something really unique and worth traveling for — you have to visit to get the whole range of this amazing culture.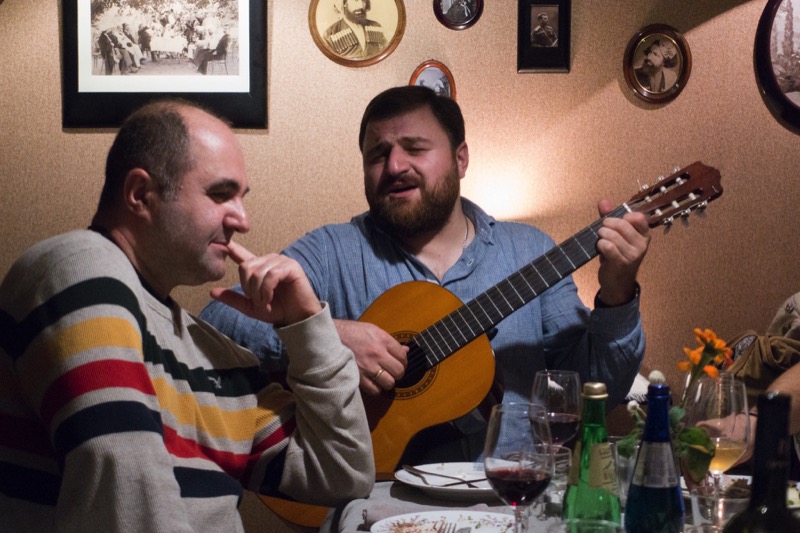 What dishes might you find at the Georgian supra?
At a supra, you'll often sit down to this colorful and vibrant collection of dishes that range from rich meats to big bowlfuls of vegetables — both raw and cooked — along with cheeses and lots and lots of fresh herbs. Georgian chefs also accent all of that with sour sauces, which give you that acidity that's so nice. There's always a range of flavors to stimulate your palate.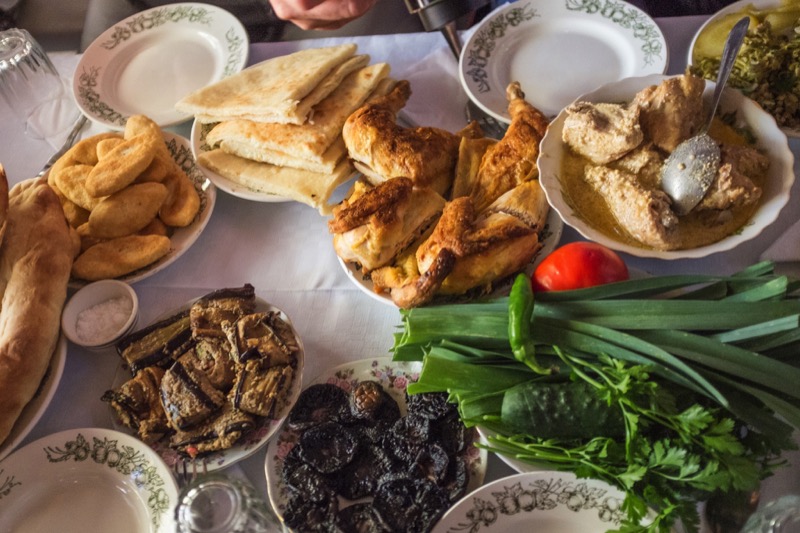 The other thing is that dishes aren't supposed to be eaten one at a time. In Georgia, you take a little bit from all the different dishes at the table, and then mix them all together into one large plate. That might sound like a lot of tastes going on in your mouth at once, but it all pairs brilliantly with the complex flavors of skin-macerated Georgian wines. Georgian cuisine somehow pulls out the complete range of flavors that these wines have.
(click image to view larger photo)
What were some of the biggest challenges in translating and adapting Georgian recipes for your book?
One of the more challenging aspects was trying to actually create a recipe from having seen Georgians cooking, because they just do it instinctively. They're not using cookbooks. During my visits to homes and restaurants, I'd ask for exact quantities of ingredients, and chefs would tell me, "Oh, you just add a handful or two, it depends." If you've been making and eating it all your life, then you just instinctively know how much of something to put in. But to recreate something, you need to have an idea of how to prepare it for the first time.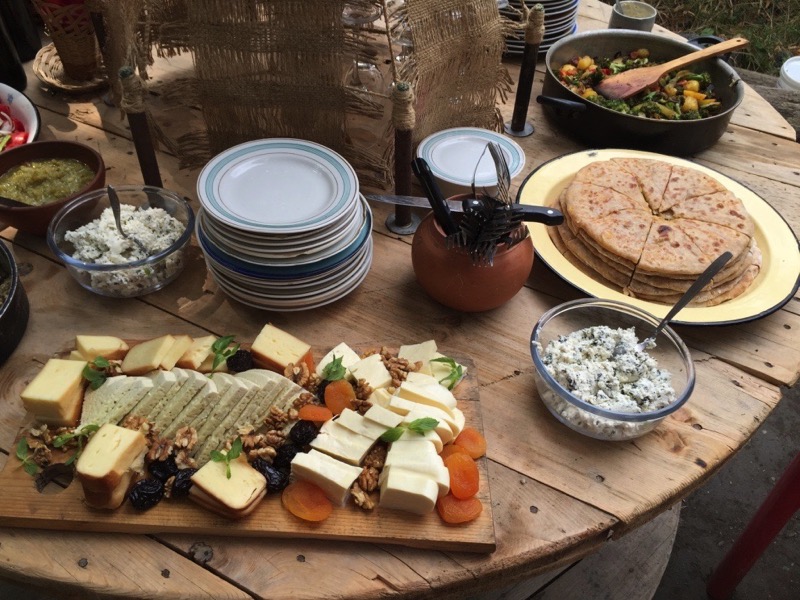 The biggest thing I had to keep in mind when writing my cookbook was making sure that the recipes were accessible enough for home cooks. When I was developing Tasting Georgia, I wanted to create recipes that could be reproduced in a typical home kitchen without having to scour for hard-to-find ingredients. Rather than worrying about being 100% authentic, it was more important for me to present foods that were enjoyable to both make and eat, but also flexible enough to allow for home cooks to experiment and add ingredients they like. That's the joy of cooking.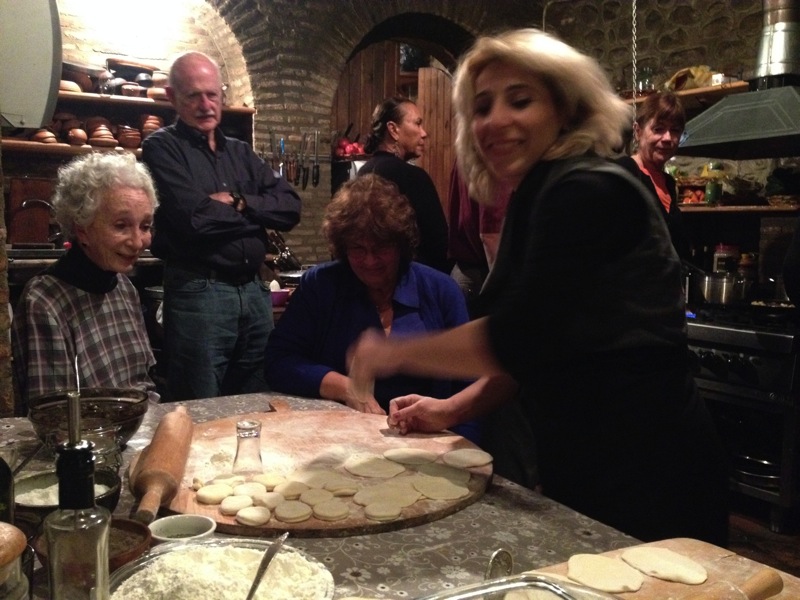 Do you have a favorite recipe from the book?
One of my favorite recipes is the lamb stew with tarragon, called chakapuli. But I also love the vegetable dishes, too — I think they're all delicious. In the book, there are two different recipes made with dried beans; one of them has the addition of ground walnuts, and that is really stunning. Whenever I make it, my sister always says, "I could just live on this forever. I wouldn't need to eat anything else."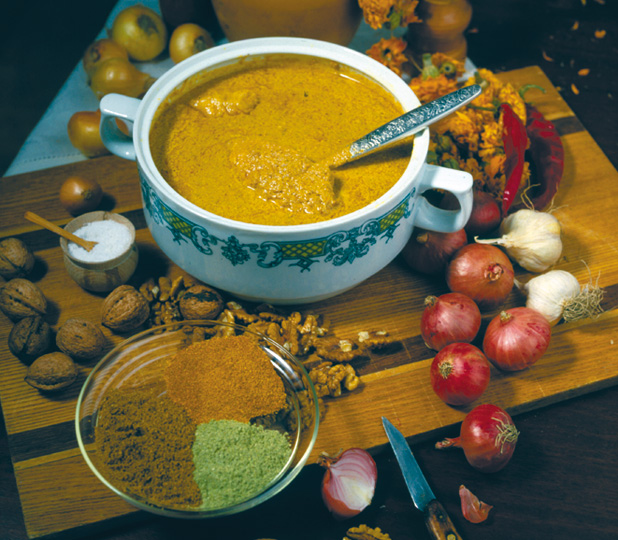 If someone told you they were traveling to Georgia, where would you tell them to go?
I think they should definitely spend a couple of days, at least, in Tbilisi — it's such a charming city to walk around. And then they should head out into the countryside, or into the mountains, or both, if they have the time. I think that Georgia is a country that needs to be experienced from the rural areas as much as in its cities. So many people just go to the major cities when they travel. But in Georgia, you'll miss out on so much if you do that. You don't have to go too far — some of the most wonderful places outside of Tbilisi are only two or three hours away. But you do, definitely, I think, need to experience both sides of Georgia.
(click image to view larger photo)
Carla's book Tasting Georgia: A Food and Wine Journey in the Caucasus is available at your local bookstore or online at Amazon.com. You can follow along with Carla's adventures and discover more about the book via her website, Tasting Georgia.

Travel to Georgia with MIR
MIR has more than 30 years of unmatched destination expertise and travel planning experience, hand-crafting tours to Georgia and the South Caucasus since 1986.
Join our small group tour A Taste of Georgia: Wine, Cuisine & Culture. Meet with chefs, winemakers, artisans, and musicians as you sample the food, wine, warm hospitality, and living traditions of this ancient country.
You can also explore the history and cultural traditions of Georgia and the other South Caucasus countries – Armenia and Azerbaijan – on one of these small group tours or rail journeys by private train:
Or, opt to travel on your dates and at your pace on a private journey of Georgia, customized to your desired dates and style, or on one of MIR's private flexible independent trips:
Original publish date: October 2, 2018