Multi-Region
Christmas Markets from Budapest to Munich by Private Train
Photo credit: Martin Klimenta
error_outline
New tour for 2024!
Budapest to Munich Aboard the Golden Eagle Danube Express
Overview
Enjoy the pleasures of Old World rail travel as you glide in style from historic Budapest, Hungary to beautiful Munich, Germany. Your journey will take you to elegant Vienna and fairy-tale like Salzburg, encountering three UNESCO World Heritage Sites and festive Christmas markets along the way.
Travels to: Hungary, Austria, Germany
Photos and details: Discover what life is like aboard the Golden Eagle Danube Express.
Map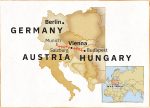 Itinerary
Days 1-2: Budapest (Hungary)

Arrive in UNESCO-listed Budapest, built in the grand style of the Habsburgs. Visit the Royal Palace, the largest baroque palace in Hungary used by Franz Josef of Austria, and Matthias Church, originally built in 1255. Enjoy panoramic views of the city from Gellert Hill, and admire the facade of Budapest's magnificent neo-Renaissance Opera House, decorated with statues of some of the world's greatest composers.

HIGHLIGHTS

Budapest, capital of Hungary, with fine baroque, neoclassical, and art nouveau buildings
Royal Palace, painstakingly restored and reopened as a museum, its main wing furnished to period standards
Matthias Church, where King Matthias Corvinus had both of his royal weddings
Facade of the Budapest Opera House, which at one time hosted Franz Liszt and Gustav Mahler

Days 3-4: Vienna (Austria)

Enjoy a morning reception at the Royal Waiting Room in Budapest's Nyugati station before boarding the Golden Eagle Danube Express private train and departing for Vienna. Settle into your comfortable cabin and have lunch on board as the train heads for Vienna. Explore Vienna, Austria's capital, and indisputably the center of the musical world in the 18th and 19th centuries. Take a romantic carriage ride in the heart of Old Town Vienna, the Innere Stadt, admiring its main religious edifice, St. Stephen's Cathedral.

HIGHLIGHTS

Elegant reception at the Royal Waiting Room in Budapest's Nyugati station
Vienna, capital and largest city of Austria, spanning both sides of the Danube
Innere Stadt, Vienna's Old Town, home to many of the cities iconic sights including St. Stephen's Cathedral, the Burgtheater, and the Hofburg Imperial Palace
A horse drawn carriage ride

Days 5-6: Salzburg

Explore Salzburg, a city that looks like a picture from a fairy-tale, that perfectly captures the charming coziness of the festive season. Discover 17th-century Mirabell Palace and the Mozart Residence turned into museum. Walk along Getreidegasse, Salzburg's most famous street. And finally, enjoy Salzburger Christkindlmarkt, one of the most beautiful and oldest Christmas markets in the world.

HIGHLIGHTS

Salzburg, the fairy-tale city of Mozart
Mirabell Palace – a UNESCO world heritage site and Salzburg's landmark built in 1606 and remodeled in the 18th century into a magnificent baroque palace complex
Getreidegasse – Salzburg's most famous street
Salzburger Christkindlmarkt – one of the most beautiful and oldest Christmas markets in the world
DomQuartier, a unique cultural highlight in the heart of Salzburg

Days 7-8: Munich (Germany)

Munich, the third-largest city in Germany, is the capital of Bavaria, one of the oldest states in Europe. Munich is a cultural hub, renowned for its museums, art galleries, nightlife and beer gardens. Discover the 17th-century Nymphenburg Palace; the English Garden, with its famous sunbathing area; the Hofbrauhaus, serving beer since 1644; the futuristic Allianz Arena that lights up when a night game is being played; and the BMW headquarters and museum. This evening enjoy the farewell dinner.

HIGHLIGHTS

Christmas market on Marienplatz in the heart of Munich
Haidhausen district – a popular residential area
Christmas market at Weißenburger Platz
Bavarian inn with different kind of beers and traditional Bavarian white sausage with pretzels
Dates &amp Prices
Minimum group size: Minimums vary – call for confirmation status
Land Tour Price, Per Person.
2024 Dates

Deluxe Class, double occupancy

$9,995

Deluxe Class, single occupancy

$14,995

Superior Deluxe Class, double occupancy

$12,495

Superior Deluxe Class, single occupancy

$15,595
What's Included
Tour Includes

Accommodation aboard the Golden Eagle Danube Express private train.
Hotel accommodation per the itinerary (2 nights in Budapest, 2 nights in Munich).
All meals starting with dinner on Day 1 until breakfast on final tour day.
A generous allowance of wine or local beer, soft drinks, and water with all lunches and dinners.
Complimentary tea, coffee, and mineral water around the clock from your car attendant while on board the train.
Complimentary draft beer in the Bar Car for all passengers.
Arrival/departure transfers, provided you arrive and depart on the tour start/end dates and in the tour start/end cities.
All guided off-train tours per itinerary.
The services of an experienced Train Tour Manager, with local guides for scheduled off-train touring.
All gratuities.
Baggage handling.

Not Included

International airfare or surface transport to the starting/ending cities of the tour. MIR is able to arrange your air itinerary. If you wish to obtain an air quote, please contact us for details.
Items of a purely personal nature (laundry, telephone, bar account, photography at museums, etc.)
Optional pre- or post-tour extensions.
Drinks, beyond draft beer in the Bar Car, and beer and wine at set meals.
Visa fees, any excess baggage charges, airport departure taxes, vaccination or medical costs.
Travel and trip cancellation insurance.
Activity Level
Level 2: Moderate
This rail journey by private train features significant touring on foot, throughout which travelers are expected to keep up with other group members, and will feature cold weather and icy and/or wet walking surfaces. Walking during touring days will be on a variety of base surfaces, with many streets and sidewalks being uneven. Elevators are generally not available during touring excursions, leading to some stair climbing. Challenges on board the train include long onboard distances with heavy doors as well as steep steps and gaps to navigate while embarking and disembarking. Only those willing to accept local standards of amenities and services should consider joining this program.
Travelers must be able to walk a mile per day keeping up with other group members. Streets and sidewalks can be uneven or unexpected surfaces, and handrails are not always present. Steps, which may be required due to lack of elevators, may be steep and/or uneven, and may also lack handrails. The weather will be cold and likely wet and icy when off the train. The distance on board the train between sleeping and dining carriages may be significant, and there are many heavy doors to navigate when moving throughout the train. Getting on and off the train involves navigating steep steps, low platforms, and possible gaps between the train and the platform. Navigating rail stations may also involve traveling up and over steep steps/footbridges to cross tracks, or steep steps and dark tunnels to cross under to/from the train station. Although porterage is provided where possible, you may have to carry your baggage for short distances.
General shortcomings of the tourism infrastructure may include problems with bureaucratic service, and availability and quality of public restrooms when not on board the train.
Gallery