Multi-Region
Essential Uzbekistan & Georgia
Photo credit: Donovan Wong
error_outline
Flexible Private Trip — Book Your Dates for You & Yours!
Heritage of the Silk & Spice Routes
Overview
At first glance Georgia and Uzbekistan may seem an unlikely pairing. The two nations are separated by the Caspian Sea and expansive deserts. One is predominately Christian and home to diverse languages in the obscure Kartvelian language family. The other is largely Muslim and Turkic-speaking. Though differences abound, on the ground and close-up, the similarities become more apparent. Threads of history and culture woven by the historical caravans of the Silk Road and by modern Soviet influence unite these cultures in unexpected and interesting ways, yielding two of the most exciting destinations in Eurasia.
Your journey starts in the ancient Timurid capital of Samarkand, now home to Uzbekistan's most monumental architecture. Move on by train to explore the labyrinthine Old Town of Bukhara. Then head to Georgia by way of the Uzbek capital, Tashkent. In Georgia touring focuses on the vibrant capital Tbilisi, the spectacular mountains near Kazbegi, and the wine-growing region of Kakheti. Through it all enjoy the differences and diversity, while teasing out the common threads.
Travels to: Uzbekistan, Georgia
Map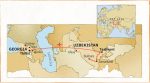 Itinerary
Days 1-2: Samarkand (Uzbekistan)

The trip begins in Samarkand, the conqueror Tamerlane's ancient capital, hailed by UNESCO as "the crossroad of cultures." Visit the gracefully proportioned Registan Square, the final resting place of Tamerlane, massive Bibi Khanum Mosque, and the animated Siab Bazaar. You'll also venture out to the Gissar foothills for an optional light hike through sheep herder trails on your way to the village of Ohalik.

HIGHLIGHTS

UNESCO-listed Samarkand's Registan Square, bordered by three beautiful madrassahs
Tamerlane's final resting place, Gur-Emir Mausoleum
Babur's musical instruments studio at Registan Square
Studio of internationally recognized fashion designer Valentina Romanenko
Visit to Ohalik Village for an optional light hike and meeting with a local family
Massive Bibi Khanum Mosque, the largest of its day
Workshop where handcrafted paper is made according to traditions handed down from the 8th century

Days 3-5: Bukhara

Catch a high-speed train to Bukhara, Central Asia's most ancient living city. Its UNESCO-listed Old Town encompasses more than 140 protected monuments, including the Lyabi-Hauz Plaza at the heart of the city and the Ark Citadel, Bukhara's original fortress. Venture outside Bukhara to a village studio specializing in the art of suzani – decorative, richly colored embroidered textiles created by hand using needles, naturally dyed silk threads, and basma and chain stitches.

HIGHLIGHTS

Old Bukhara's ageless domed bazaars and its central Lyabi-Hauz Plaza, adorned with a reflecting pool
Ark Citadel, Bukhara's giant ancient fortress
Private studio of a master marionette-maker
Plov making demonstration at the home of a local family
10th century resting place of Ismail Samani, founder of the Persian Samanid Dynasty
12th century Kalon assembly, also called the Bukhara Forum
Covered trade domes filled with deep stacks of vivid handwoven carpets, felt hats, exotic jewelry, and gorgeous embroidered suzani
Village studio to see a demonstration in the art of suzani from start to finish

Days 6-7: Tashkent, Tbilisi (Georgia)

After catching the train to Tashkent and an overnight in Uzbekistan's capital and largest city, fly on to picturesque Tbilisi, Georgia's capital. Browse the Dry Bridge Market and the wonderful high-quality handcrafted goods at Gallery 27, explore the art nouveau Sololaki District, follow the winding streets of the red-roofed Old Town, stroll down Tbilisi's broad main thoroughfare Rustaveli Avenue, and stop at the historic churches of Anchiskhati Basilica and Sioni Cathedral.

HIGHLIGHTS

The art nouveau Sololaki District, built in the 19th and early 20th centuries and now the city's up-and-coming restaurant district
The elaborately carved balconies and domed sulfur baths of Tbilisi's Old Town
The frescoes of 6th century Anchiskhati Basilica, Tbilisi's oldest church
People-watching and window-shopping on Rustaveli Avenue
Some of the country's most significant archaeological finds at the Simon Janashia Museum of Georgia

Days 8-9: Mtskheta, Kazbegi, Telavi

Ascend into the heart of the Caucasus Mountains along the scenic Georgian Military Highway, built in the early 19th century and still the main road through the region. Along the way explore UNESCO-listed Mtskheta, capital of the eastern Georgian kingdom of Iberia from the 3rd century BC through the 5th century AD, and stop at the 17th century Ananuri Fortress complex. Soak in the scenic views of one of the Caucasus's highest peaks – Mt. Kazbek – in Kazbegi, visit the Church of Tsminda Sameba (the Holy Trinity), and check out the stone sculptures in the beautiful Sno Valley before continuing on to Georgia's primary wine-growing region of Kakheti.

HIGHLIGHTS

Mtskheta's two exceptional early Orthodox churches, the 6th century Jvari Monastery and 11th century Svetitskhoveli Cathedral
Ananuri Fortress and neighboring Zhinvali Reservoir, which together make one of Georgia's prettiest settings
Gorgeous mountain drives on the Georgian Military Highway
The remote 14th century Church of Tsminda Sameba silhouetted against towering mountain peaks
Fresh mountain air and exceptional views at the alpine village of Gudauri
Workshop of a ceramicist who makes qvevri, the 200-900 gallon earthenware vessels used for fermenting and storing Georgian wine
Experiencing Georgian wine at its best during a wine tasting and lunch at Lagazi Winery in the village of Alvani

Days 10-13: Qedeli, Signagi, Tbilisi

Charming Qedeli will be home-base for the next few days. The village is home to a small horse ranch from which you can take in picturesque views of rolling green hills dotted with small churches and flocks of sheep. Enjoy exploring the esteemed wine region of Kakheti with visits to the hill town of Signagi and the 9th century Bodbe Monastery. Complete your circuit of Georgia's mountains and wine country with a return to Tbilisi for your last overnight before departing.

HIGHLIGHTS

Optional horseback riding or hiking through the villages, forests, and rolling hills in the Kakhetian countryside
A tasting of Georgian craft beers at Lost Ridge Brewing, Georgia's first village craft brewery
The basilica and gardens of Bodbe Monastery
Walking tour of the hill-town of Signagi
Small stone family home and exhibition hall of Niko Pirosmani, Georgia's beloved painter
Learn about the cultivation of silk worms at the home of Lamara Bezhashvili, who loves to share her encyclopedic knowledge
Dates &amp Prices
Please note:
Private trip prices vary by season and are subject to hotel availability for your travel dates.
Listed prices below are based on double occupancy and a 2 traveler minimum.
Hotel upgrades, additional nights, and solo traveler prices are available on request.
Land tour price, per person, starting from:
2023 Dates

Available: April - October

Tour, double occupancy

$5,095

Plus internal airfare

$350
What's Included
Tour Includes

Shared accommodations as noted in the itinerary. Contact MIR for hotel upgrade prices.
Meals, as noted in the itinerary: 12 breakfasts, 3 lunches, and 2 dinners.
Restaurant tips for included meals.
One arrival and one departure transfer. Additional arrival and departure transfers available at additional cost.) MIR will arrange for travelers to be met upon arrival and seen off on departure, whether or not we make your air arrangements.
Ground transportation throughout itinerary by private vehicle (type of vehicle depends on number of travelers in your group).
Services of experienced, English-speaking local guides, drivers, and other staff, as noted in the itinerary.
Guided sightseeing tours and entrance fees, as outlined in the itinerary.
Special events, excursions, and cultural performances, as outlined in the itinerary.
Complete pre-departure electronic document that includes detailed packing suggestions, reading list links, country-specific information, maps, travel tips, and more.
Assistance booking your custom flight arrangements, on request. (Please note that international airfare is not included in the land tour cost.)
Electronic final update bulletin with any late news, updates, and important information.

Not Included

International airfare and taxes/fuel surcharges.
Internal airfare. (Internal airfare is quoted separately and subject to change by airlines.)
Meals and drinks not specified as included in the itinerary.
Single supplement if requested or required.
Baggage handling.
Items of a personal nature such as phone calls, email, laundry, and alcohol.
Gratuities to local guides, drivers, porters, and other service personnel.
Visa fees, excess-baggage charges, airport departure taxes, vaccinations, and other medical costs.
Expenses incurred as a result of delay, modification, or extension of a tour due to causes beyond MIR's control.
Travel-related insurance including cancellation, medical, and evacuation insurance.
Optional pre- or post-tour extensions.
Activity Level
Level 3: Medium, but Customizable
This 'Essential' itinerary designed for private travel features long days walking and standing, some long days of overland travel, some stair climbing, unpaved sidewalks and streets, uneven surfaces and steps, absent handrails, and lack of elevators. While some of these challenges are inherent in the destinations and sites, as one of our Essential Series programs this trip can be modified as needed for those travelers who are looking for a less challenging (or more challenging) program.
There is a significant amount of touring on foot, and those travelers planning to take the program as written should be able to walk one to two miles a day comfortably. Footing can be an issue and travelers should be able to negotiate streets of packed dirt, cobblestones, uneven surfaces (possibly steep and/or wet), and deal with situations without handrails or ramps. Some attractions are only accessible via steep staircases. Museums rarely have elevators.
Past travelers have encountered challenges with bureaucratic service, plumbing in and out of hotels, and availability and quality of public restrooms. Accommodations in the basic program will vary from superior tourist class to simple and basic small private hotels (often referred to locally as bed-and-breakfasts). Upgrades may be available in some cities, please call for details. Air-conditioning is a luxury and may not be available everywhere.
Gallery
8/16

Christine Z. Anderson