An interview with author Caroline Eden about "Samarkand: Recipes & Stories from Central Asia & the Caucasus"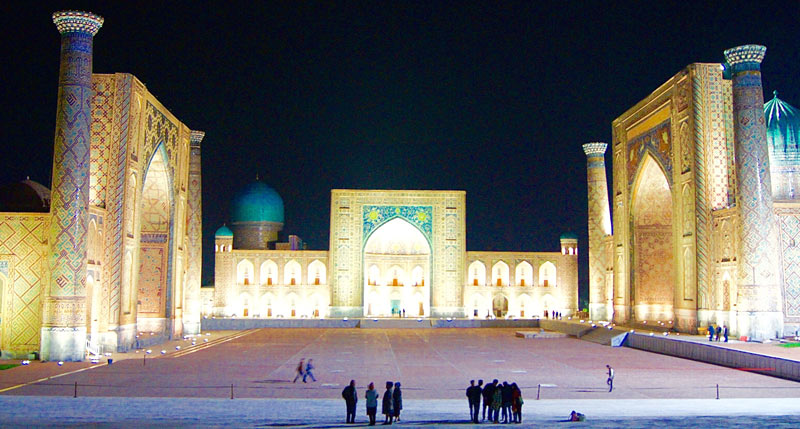 Got the travel bug but you're stuck at home? Try this: page through a beautiful new recipe book from foreign lands and cook up a few simple, yet exotic dishes.
Travel, culture, and food writer Caroline Eden, an occasional MIR traveler, has just such a book for you, featuring sumptuous photos and tantalizing recipes from quite a few of MIR's destinations.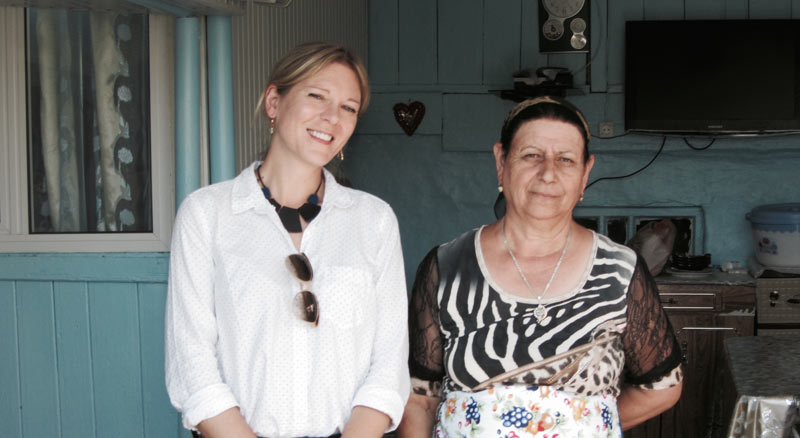 Entitled Samarkand: Recipes & Stories from Central Asia & the Caucasus, it is gorgeous enough for the coffee table, but will more likely be found propped open on the kitchen counter, spattered with dabs of butter and drips of pomegranate juice.
Caroline Eden and her collaborator, food writer and recipe developer Eleanor Ford, had a clear intention:
"The idea was to bring together the cuisines of seven ethnic groups who had left their mark on Samarkand over the centuries – the Tajiks, Russians, Turks, Jews, Koreans, Caucasians, and the Uzbeks themselves."
Caroline's essays, scattered throughout the book, include tales of wonderful produce markets, over-the-top banquets, and a meal with a man who forages for wild foods and medicinal herbs in the Pamir Mountains of Tajikistan, where she once traveled with MIR.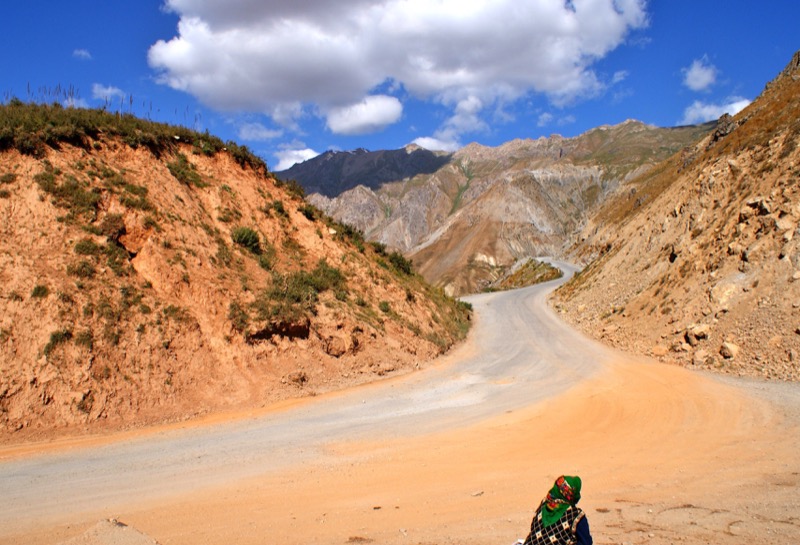 Eleanor presents simple instructions for putting together meals of Central Asian plov and shashlik, Azerbaijani "Buttered Rice under a Shah's Crown," and a cake popular in Uzbekistan called "Ruins of a Russian Count's Castle."

I caught up with her recently to find out more about Samarkand.
How did you become interested in this part of the world?
India led me to Central Asia. I had travelled through India from north to south and east to west, spending around a year all together exploring the country after university, and it was the Mughal architecture that really grabbed me. I started reading up and realized that the founder of the Mughal Empire was, of course, Babur, who was born in Uzbekistan and is buried in Kabul.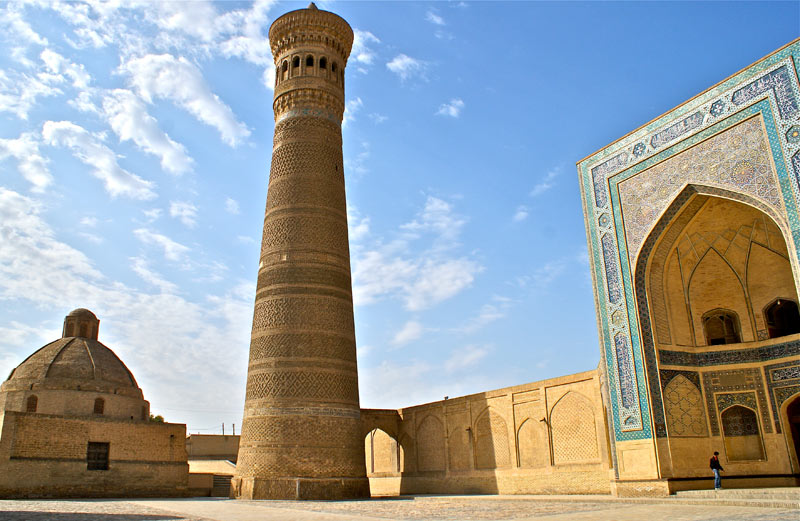 The book covers both Central Asia and the South Caucasus (Azerbaijan, Armenia, and Georgia), and after I'd explored Central Asia I went on a few adventures to the Caucasus. The food there is outstanding, as are the mountains.
Do you have a favorite country of the ones you've written about in the book?
Depends what I'm in the mood for. If I want to go off-grid and immerse myself in nature, then I'd say Tajikistan. It's a country far removed from mass tourism and has some of the best trekking in the world. For audacious architecture and hospitality –­ and an easier time in terms of infrastructure – it would be Uzbekistan. For a time-trip back to the USSR – combined with emerald green rolling steppe ­­– it's Kyrgyzstan with its yurt camps, Soviet buildings, and sanatoriums. For food, it's probably Azerbaijan. People rave about Georgia, and they're right –­ the food is really excellent there. But for me, you can't beat the sun-ripened produce of Azerbaijan and the Persian heritage that is still reflected in the dishes there. Azerbaijan deserves more credit for this.
(click image to view larger photo)
What about a favorite dish?
It has to be plov, the king of Uzbek cuisine. I am not a big meat eater at all, but I love the juicy quince, perfectly cooked rice, slithers of carrot and onion, and thinly shaved beef on top. It is slow, slow, slow cooked and so tasty – real comfort food. Plov has fantastic stories attached to it, too. For Uzbeks it represents hospitality, kinship, and identity. In cities, you can see bubbling cauldron-like kazans in courtyards, and for big occasions like a wedding it'll be cooked by an oshpaz – a master of plov. It is taken very seriously, and rightly so!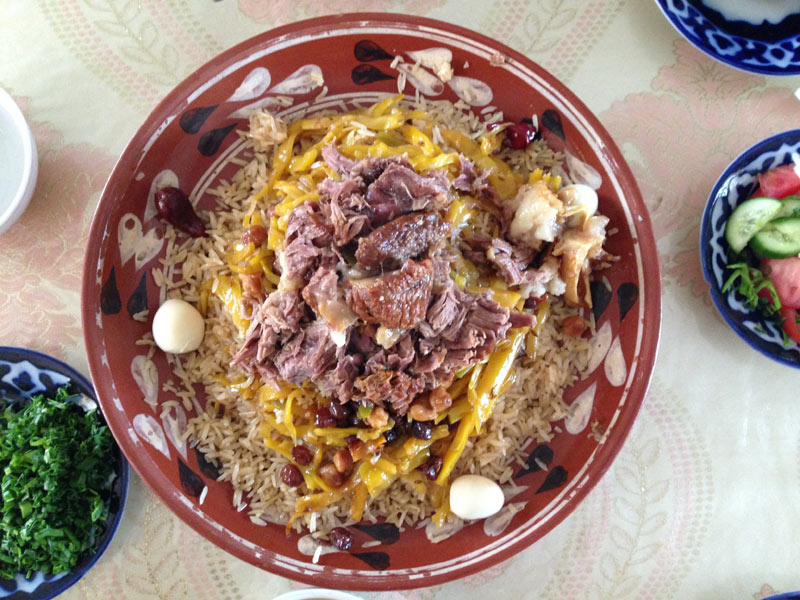 Was it fun testing all the recipes?
It was great fun testing the recipes and sourcing all the ingredients. Our recipes are creative and 'inspired' by the region, and do not claim to be 'authentic.' So mainly they are new and creative, inspired by our travels and have been adapted for the modern home cook. If you have been to the region you will definitely recognize the flavor combinations and ingredients.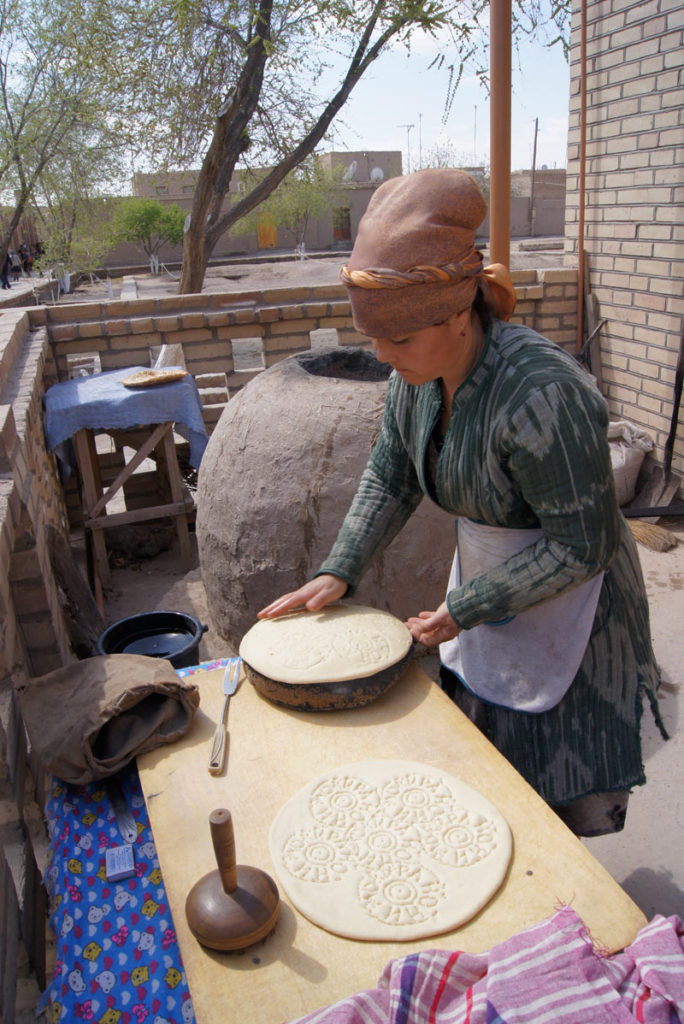 Obviously we're not Central Asian, so we'll leave the strictly authentic recipes to the locals who know best.
What's the best thing you've brought back from the Silk Road?
Endless bolts of adrasikat (silk and cotton blend fabric), a great selection of CDs – mainly Bukharan Jewish music and classical Uzbek – and Turkmen jewelry. I also found some traditional dried pumpkin spice shakers and a beautiful hand-carved wooden chopping board for $15 in Khiva on my most recent trip. Bread stamps called chekish also make for great souvenirs ($2-$8 each). Central Asia is fantastic for shopping, with Bukhara probably leading the way.
(click image to view larger photo)
It must have been hard to choose which essays to include in Samarkand. How did you decide?
I just thought of particularly evocative experiences that I'd had on the road where I had learnt about food, perhaps a really fantastic market I'd been to, or someone who let me into their kitchen. I also included some especially adventurous or hospitable moments to try and show the reader why I enjoy traveling in this region so much. Food and travel are so intrinsically connected, and in Central Asia there is never a dull moment. I hope that the essays reflect that.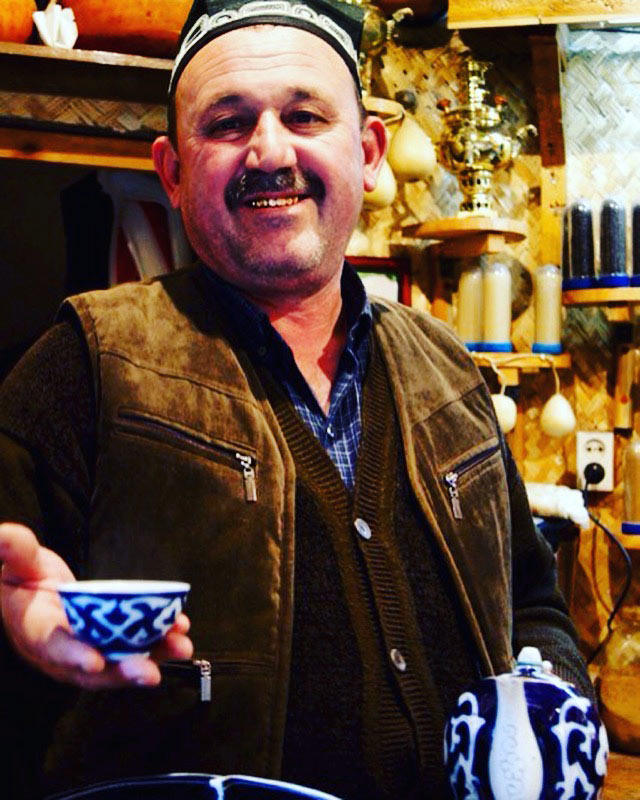 Caroline Eden and Eleanor Ford's book Samarkand is available at your local bookstore or online at Amazon.com. You can follow more of Caroline's adventures via Instagram and Twitter.

Travel to Samarkand with MIR
MIR has 30 years of travel experience in Central Asia and the South Caucasus, plus an affiliate offices in Uzbekistan and Georgia. We have a roster of contacts that can take you to places you didn't even know you wanted to go. Our full service, dedication, commitment to quality, and destination expertise have twice earned us a place on National Geographic Adventure's list of "Best Adventure Travel Companies on Earth."
Learn more about other MIR tours that travel to these fabled regions, where you can experience the delicious food and warm hospitality for yourself:
You can also book a custom private journey. MIR specializes in personalized, private journeys – and we love to take your ideas and weave them into a trip tailored especially for you. Travel wherever, however, and with whomever you like, relying on our expert assistance.
Original publish date: July 11, 2016