Shopping for Souvenirs on the Silk Road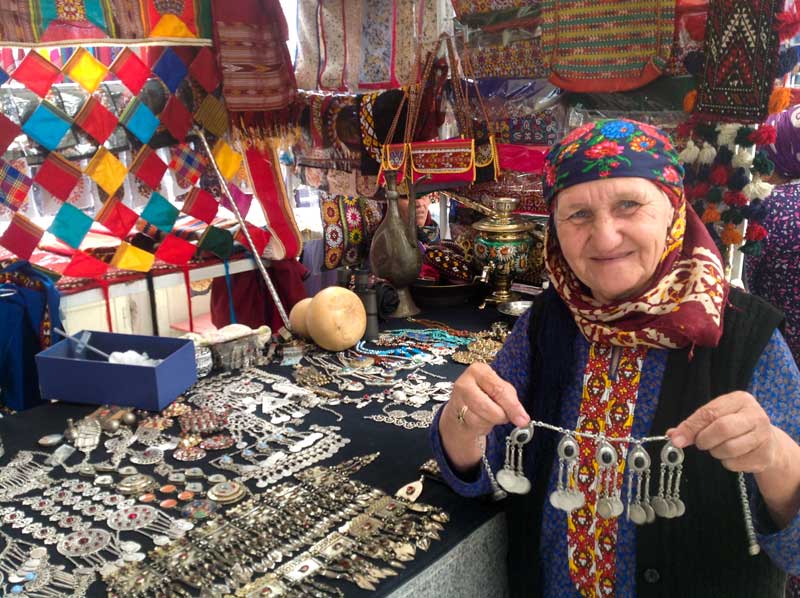 Tour Manager Michel Behar has traveled the world for MIR since 1998, and especially loves Central Asia. Here are his insider tips and shopping recommendations for some of the best shopping anywhere while traveling through some of MIR's favorite destinations along the Silk Road.
UZBEKISTAN
---
Bukhara
Bukhara is an energetic urban dynamo studded with galleries, craft centers, and the best places for Central Asian shopping – including Uzbek, Turkmen, and Kyrgyz souvenirs. It's often a favorite stop on a Central Asia tour itinerary, so if you see something you like in Bukhara, buy it!
Buy: Silver jewelry, headbands, rings, necklaces, and more. Many are embedded with semi-precious stones.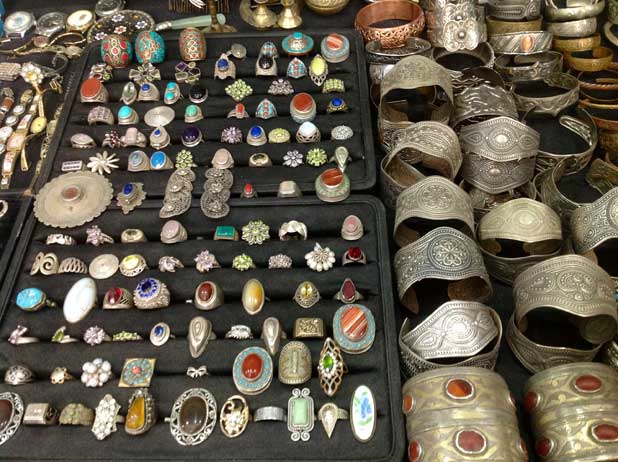 Buy: Woven ikat fabrics, brightly colored clothing like the locals wear, flowers, and household items. Dresses made of traditional Uzbek fabrics are also popular including Bukharan silk/velvet, silk/cotton, and silk/satin combinations.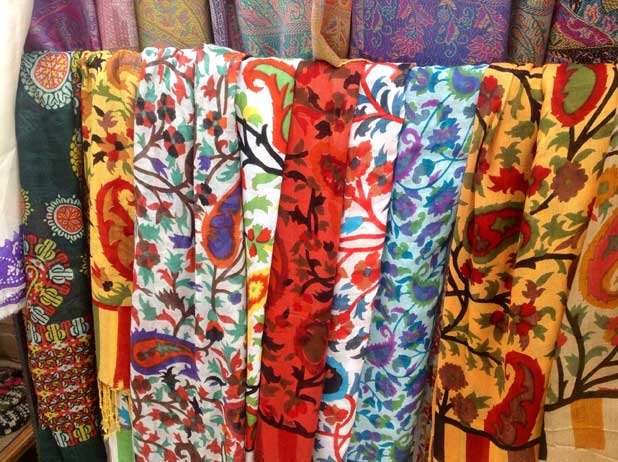 Buy: Tubeteika caps with square peaks that can be folded, the patterns varying region to region.
Buy: Antique and new suzanis, which are embroidered hangings and wall covers. Some patterns and motifs are thousands of years old, from moon and stars to coffeepots and roosters.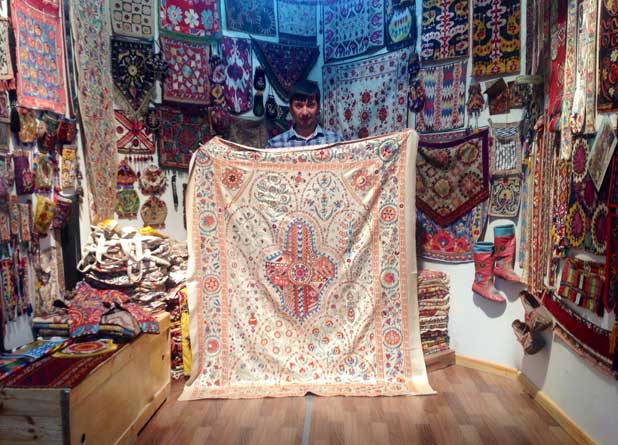 Buy: Illustrated manuscripts called "miniatures", lacquer boxes, gourds.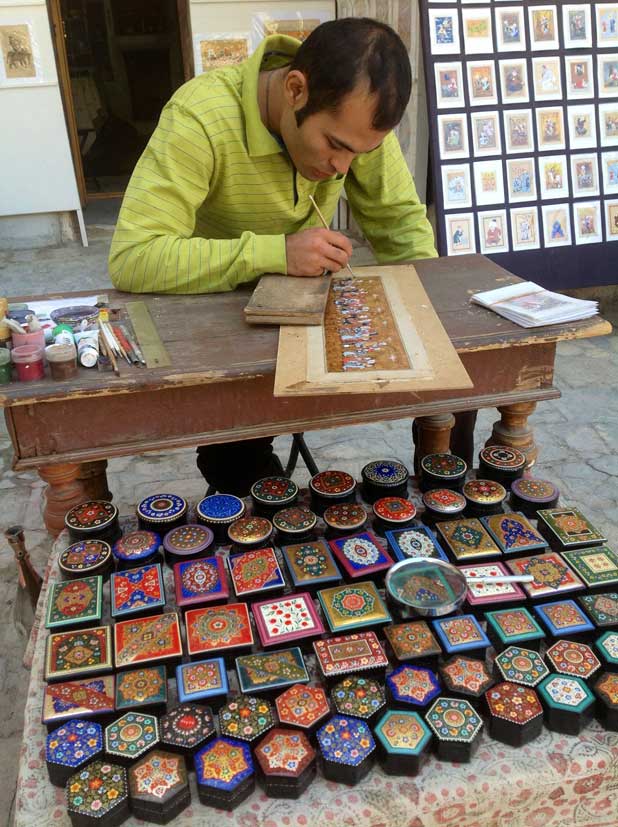 Buy: Pichok, knives with slightly curved handles made of bone with blades forged and then hammered with Bukharan skylines, birds, or stars.

Buy: Karakol, newborn or fetal wool from the Karakol lamb, used in scarves, vests, coats and hats.

Last but not least: spices! Cardamom, cumin, cinnamon, saffron, and cloves are favorites.
Fergana Valley
Buy: Ceramics and silk scarves.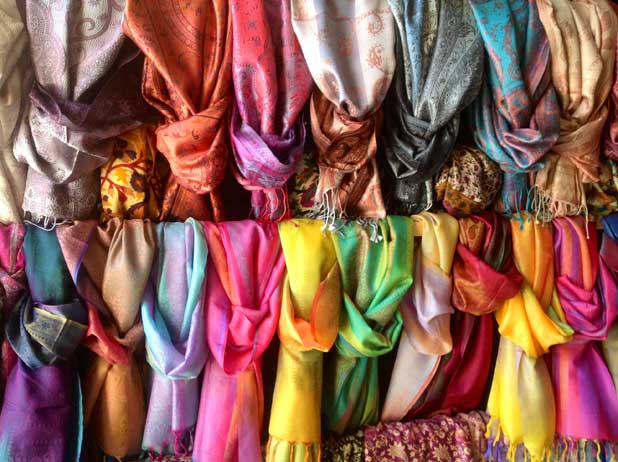 Samarkand
Buy: High-quality musical instruments and CDs at Babur's Workshop. Babur is a craftsman and well-known musician who plays 15 instruments, give or take a few.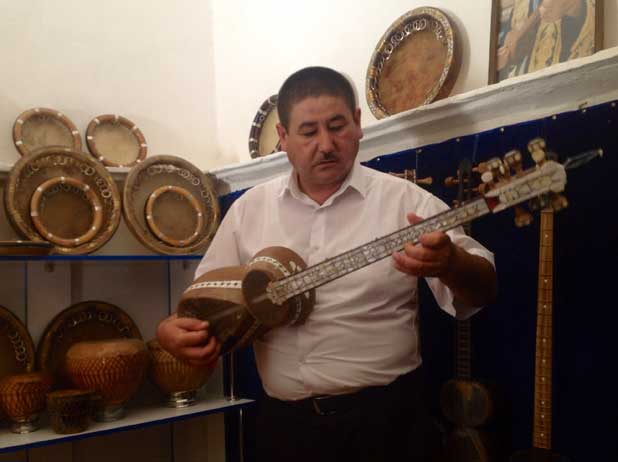 Buy: Hand-crocheted camel and angora wool shawls in the markets; white, gray, pink, and orchid are favorite colors.

Buy: Naturally-dyed rugs at the rug factory in Samarkand.
Khiva
Buy: Ceramics, puppets, rugs, miniatures, and especially woodcarvings. A very popular souvenir is a Koran holder with up to six positions, made from a single block of wood like elmwood, apricot, and walnut.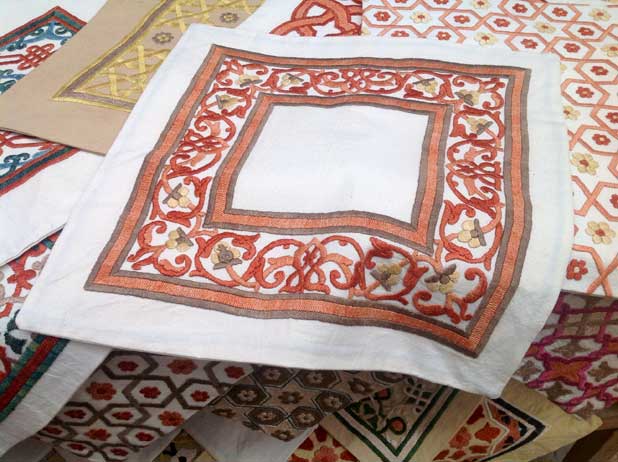 KYRGYZSTAN
---
Bishkek
Buy: Shyrdak felt pillow covers and Kyrgyz talpak (pointed white hats).
(click image to view larger photo)
Insider Tip: Almost anything from Turkmenistan is for sale in Bukhara since it's so close to the Turkmen border and has always been a major Silk Road trade center. Save your receipt!! If you buy Turkmen goods in Uzbekistan, you can bring them into Turkmenistan as long as you have your Uzbek receipt.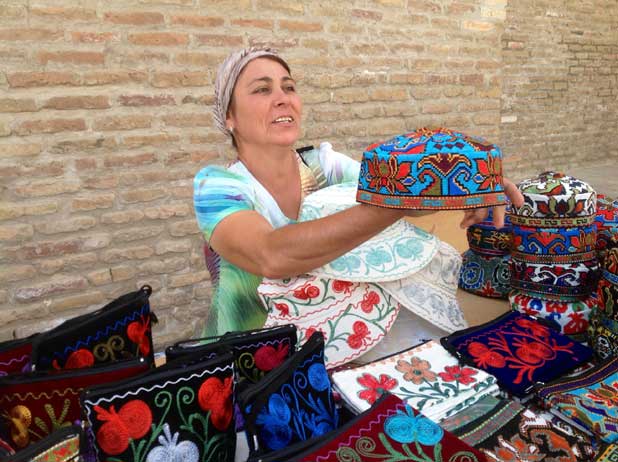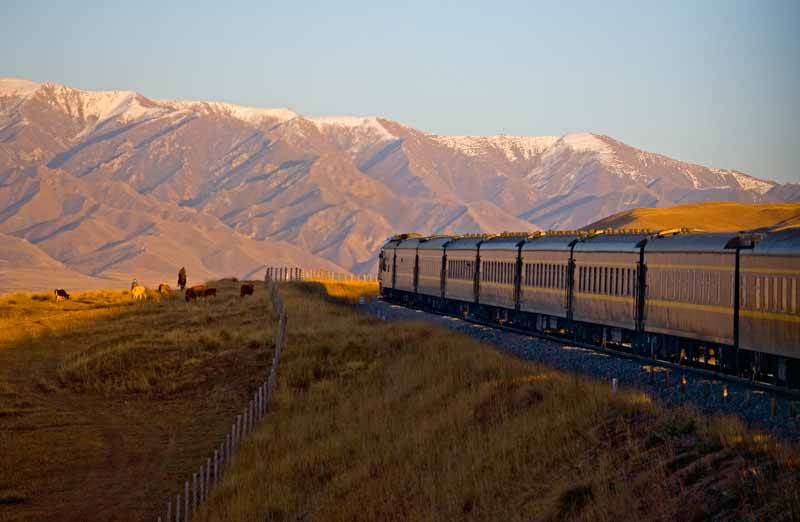 Travel the Silk Road with MIR
MIR has more than 30 years of travel experience in Central Asia, with an affiliate office in Uzbekistan and a roster of contacts that can take you to places that you've only dreamed about, or never even imagined. Our full service, dedication, commitment to quality, and destination expertise have twice earned us a place on National Geographic Adventure's list of "Best Adventure Travel Companies on Earth."
Chat with one of our destination specialists today!