Traveler Spotlight: An Interview with Award-Winning Author Anya von Bremzen on Traveling to Uzbekistan

Anya von Bremzen is an award-winning food writer and the author of such delectable cookbooks as Please to the Table and Mastering the Art of Soviet Cooking. A passionate foodie, world traveler, and expert on the cultures and cuisines of Russia and the former Soviet Republics, Anya fell in love with the country of Uzbekistan in Central Asia on a trip there in the early 1990s, when it was still a part of the Soviet Union. Ever since that first visit, she dreamed of one day making her return to the Silk Road.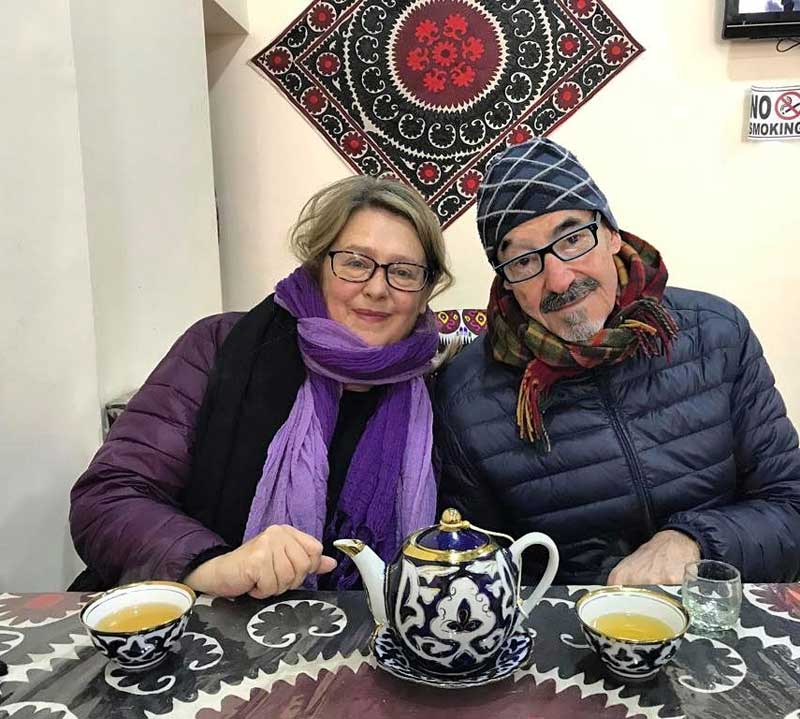 After two decades of waiting, news of Uzbekistan's progressive political and economic changes made over the last few years ultimately convinced Anya that now was the perfect time to revisit. She reached out to MIR to plan her week-long sojourn through the Silk Road — a custom-made sampler of the modern capital of Tashkent, the celebrated city of Samarkand, and Uzbekistan's breathtaking 2,500-year-old oasis, Bukhara.
We chatted with Anya about her highlights and favorite experiences on her trip to Uzbekistan.
You first visited Uzbekistan in the early 1990s, when it was still part of the Soviet Union. How did this visit compare to your first?
Well, Uzbekistan certainly changed a lot. You can really sense that it's a proud and independent nation, even down to the ways that some of the nation's history has been kind of revised since the Soviet era. For instance, the medieval conqueror Tamerlane was reviled as a monster during Soviet days, but now he's celebrated by the Uzbek people as a great national hero. It was also really interesting to see so much pride in the national costumes. Our guide, Abdu Samadov, told us that people really like dressing up in local fabrics, both on national holidays and for everyday attire.
(click image to view larger photo)
On my first visit to Uzbekistan, some of the old historical sites looked just completely dilapidated. On this trip, many those places I once visited had been wonderfully renovated and restored, especially the Old Town of Bukhara. A lot of the streets there have been widened for easier access, and buildings have been restored or repainted with vivid colors. There's a real sense that there's a new era on the horizon in Uzbekistan.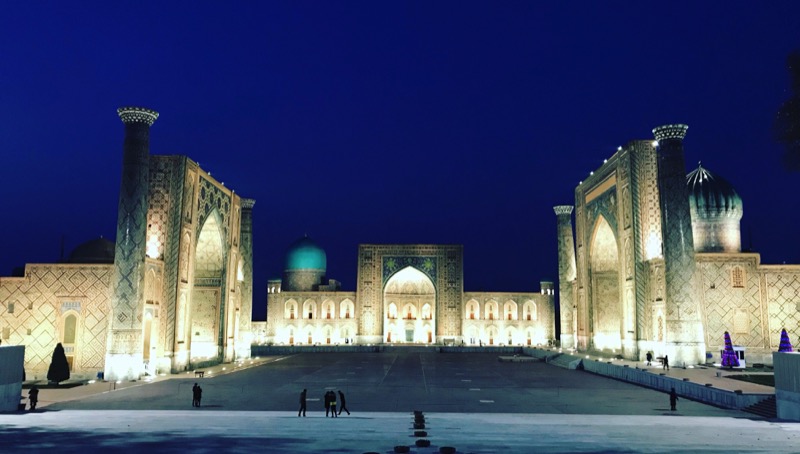 Why do you think that people should visit Uzbekistan now?
Uzbekistan is just incomparable for the incredible architecture and culture. To me, it feels like the Tuscany of Central Asia. It's friendly, and there are now even more options for places to stay and good restaurants to eat in. Uzbekistan has finally opened up after decades of political oppression, and everywhere you go you can really sense the openness among the people and the positive outlook they have. It's just one of the most fascinating places in the world — I loved it.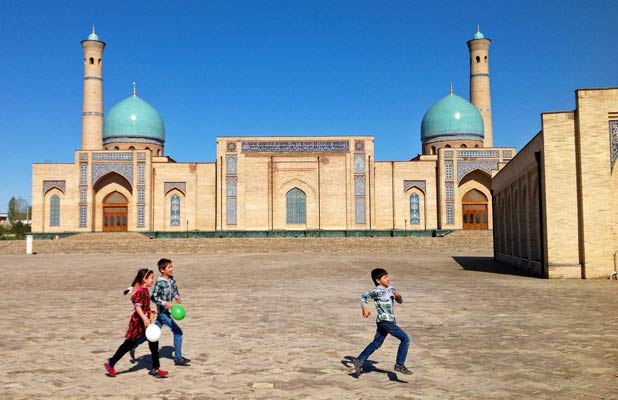 Why did you choose to travel with MIR Corporation over another tour operator?
Well, I had a wonderful experience traveling in Armenia with MIR in 2017. Since I have my own history with Central Asia and the old Soviet Republics, I wanted someone who would understand my needs. Annie [Lucas] is just such an expert. She was so passionate and she answered all of my questions quickly and thoroughly. I loved all the personal touches she added, all the experiences she arranged. You can really sense that everyone who works for MIR is passionate about the region and the all the destinations they travel to. This was one of the best trips I ever took.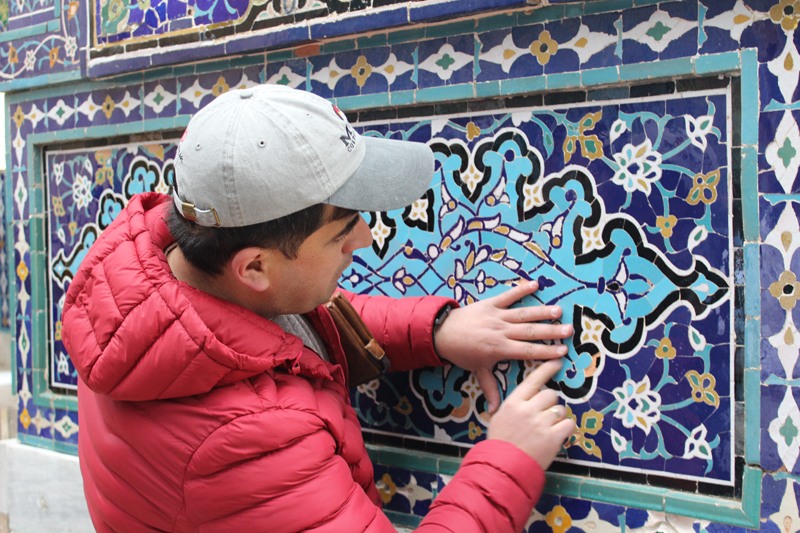 For someone that's traveling to Uzbekistan for the very first time, what cities or what sites would you say they shouldn't miss?
I would do what I did — start in Tashkent, and then do Bukhara and Samarkand. They all offer a great primer to the history and culture of the Silk Road. You can always go back on another trip and explore other places in depth, but the Old Towns of Bukhara and Samarkand are definite musts. I also loved the Soviet architecture in Tashkent, and the restaurants. Uzbekistan on the whole is a very, very special place. The history, the crafts, the people, the food — I loved it all.
(click image to view larger photo)
What was your favorite part of the trip and why?
It was the people. I'm fortunate that I speak Russian, and all the people still speak Russian. Everywhere we went, the people were unbelievably friendly and hospitable. I loved seeing how colorfully they were dressed. I'm passionate about local arts and crafts, and Annie arranged for a number of special meetings with local craftspeople on our trip. My visit to the suzani maker in Bukhara was a particularly wonderful day for me. Our guide Abdu was also amazing. He went out of his way to arrange impromptu personal experiences on our trip. For instance, we got to crash a wedding in Bukhara — so much fun!
(click image to view larger photo)
What was your experience like traveling with a guide [Abdu Samadov] as opposed to traveling on your own?
I'm usually not into guides because I don't like people lecturing me all the time. If I do use a guide, I want someone who can take me beyond what I can read in a guidebook. MIR guides understand that travelers are not necessarily after just the mainstream tourist experience. Abdu became a friend and helped open the door to his country — that's what a good guide does. He was passionate and such a connoisseur of the local culture. He also understood that sometimes if you wanted to just tear up the itinerary for the day and do something else that that was ok. I think it's really important for a guide to have that element of spontaneity.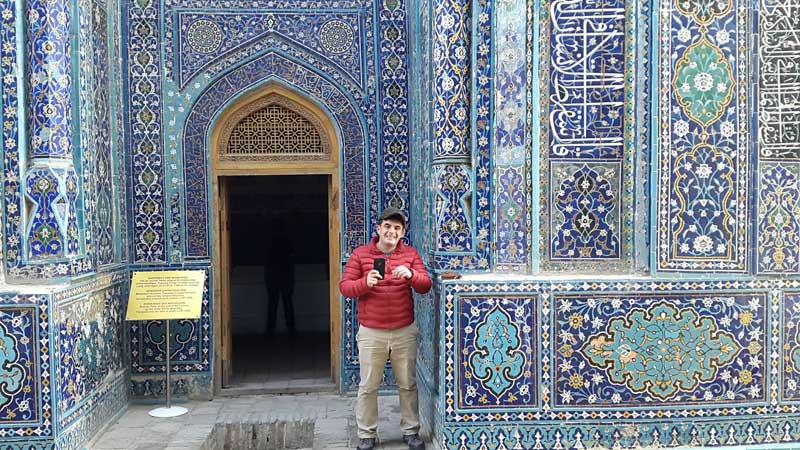 Our local driver was also fantastic. He made his own chacha, which is like an aperitif. He loved listening to classical music, and was such a fascinating, intellectual person to chat with. All of us became like a family — we ate together, we hung out.
Most Americans aren't familiar with Uzbek cuisine. What makes it so unique?
I think the dried fruits in the markets are amazing. You may think you've had dried apricots, but you really have to try them in Uzbekistan! Manti dumplings are also delicious, and so is the bread. It's so beautiful to look at. It's fresh every day, and just to see it at the market, each piece with a different decorative design, is such a treat. And, of course, you have to try the plov. Plov isn't just a dish in Uzbekistan, it's a whole ritual, and there are different regional variations. I really enjoyed going to the Plov Center in Tashkent, where you can see them cooking it in massive cauldrons. You can eat plov every day, it's just so delicious.
(click image to view larger photo)
How did you prepare and pack for the trip?
Um, bring a huge empty suitcase! [laughs] Or at least something very expandable. Normally I just bring carry-on when I travel, but Uzbekistan has so many wonderful souvenirs that make great gifts for yourself or for friends and family. You'll be very hard-pressed not to want to buy everything you see.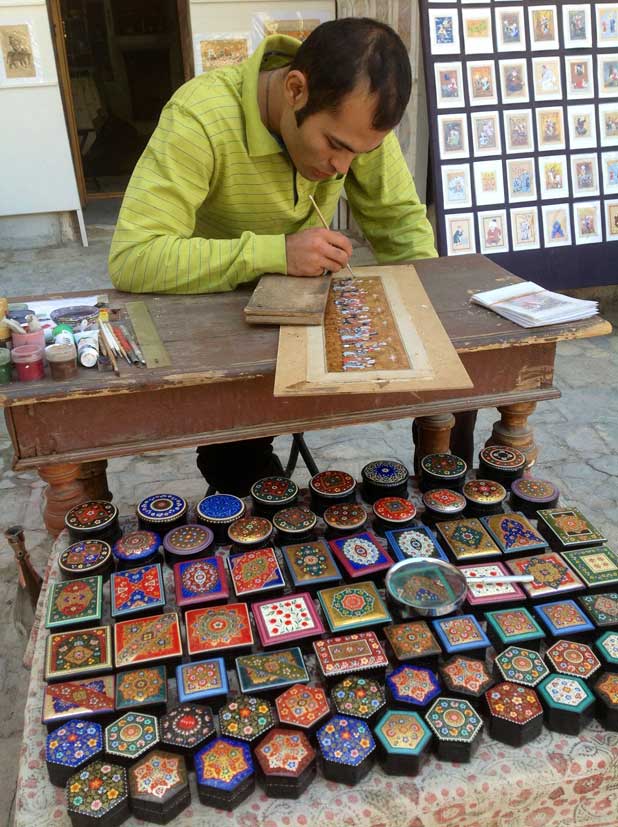 What would you recommend travelers bring back as souvenirs?
I love the suzanis I bought — all 33 of them! They're all in my house, displayed everywhere. When I first got home, I thought, "Oh my god, what am I going to do with all of these?" But I look at them every day and change them around, layer them in different ways. They're beautiful. I also bought some gorgeous silk ikat fabrics for about a dollar a yard. They're draped all over my house, and it makes me so happy when I see them.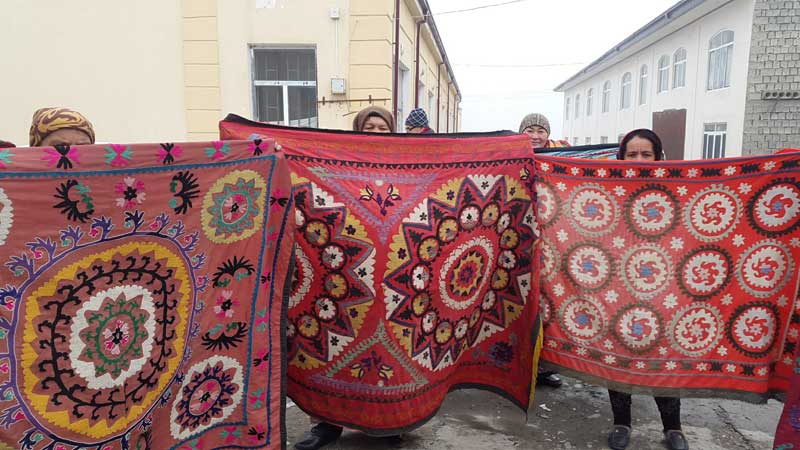 My partner, Barry, bought a traditional quilted robe called a chapan. He loves it — he never takes it off! It's designed to keep you warm in winter and cool in the summer. I think it's just the best piece of clothing one can own.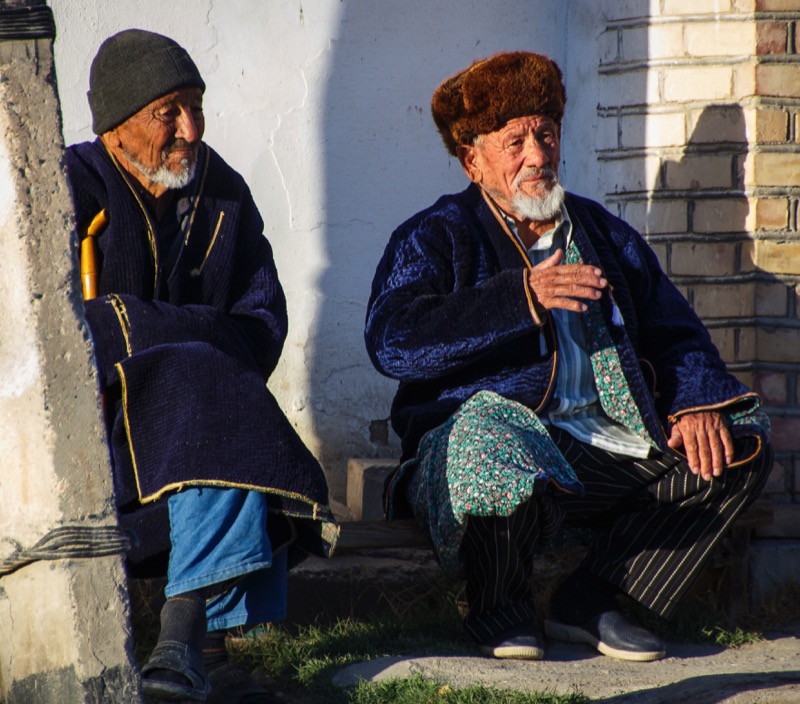 Sometimes you buy a lot of souvenirs on your travels, and then when you bring them home, you realize you didn't really need or want any of them. I've loved every piece I bought from Uzbekistan.
What would you say is your best travel tip for people who want to travel somewhere adventurous like Uzbekistan?
I think it's to go with an experienced outfitter like MIR. I'm an independent traveler and rarely use outfitters, but for an exotic destination like Uzbekistan, I think it's much better to just leave it to someone who knows the destination. And also because there are language issues. (Even for me, and I speak Russian!) It's just nice to have it all arranged for you. There are still parts of the country where the infrastructure isn't well-developed, and it can be tricky to decide what to do and how to get there when you're planning and traveling entirely on your own. You really need someone who knows how to plan it all out and offer deeper insight into the local culture.
(click image to view larger photo)
---
Explore the Cultural & Culinary Traditions of Uzbekistan
Experience the brilliant colors and flavors of Uzbekistan on MIR's Backstreets & Bazaars of Uzbekistan small group tour.
You'll explore the exciting tastes and ancient architecture of three of the most celebrated Silk Road oases – Bukhara, Khiva, and Samarkand – along with the modern capital of Tashkent. Celebrate Navruz, the Central Asian New Year, with locals as they welcome you into their homes and communities, and discover the enduring traditions and abundant hospitality essential to everyday Uzbek culture.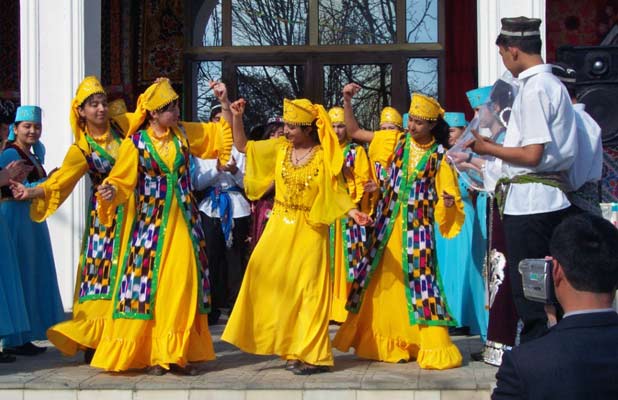 Why Travel to Uzbekistan with MIR?
MIR has more than 30 years of travel experience in Central Asia and has an affiliate office in Uzbekistan, with a roster of contacts that can take you to places that you didn't even know you wanted to go. Our full service, dedication, commitment to quality, and destination expertise have twice earned us a place on National Geographic Adventure's list of "Best Adventure Travel Companies on Earth."
MIR also specializes in personalized, private journeys, and we'd love to take your ideas and weave them into a trip tailored especially for you. Travel wherever, however, and with whomever you like, relying on our expert assistance. Contact us to find out more about our custom and private travel expertise – each trip handcrafted to your interests, dates, and pace.
Original publish date: December 10, 2019