Traveler Spotlight: An Interview with Award-Winning Author Anya von Bremzen on Her Spontaneous & Surprising Trip to Armenia

Picture yourself spinning a globe and traveling to whatever country your finger happens to land on. Now imagine that you only have 24 hours to make it happen. For some, that sounds like a recipe for disaster. But for Anya von Bremzen, an award-winning food writer and author of such delectable cookbooks as Please to the Table and Mastering the Art of Soviet Cooking, that moment of spontaneity was what led her on a surprising journey through Armenia in search of its culture and culinary traditions.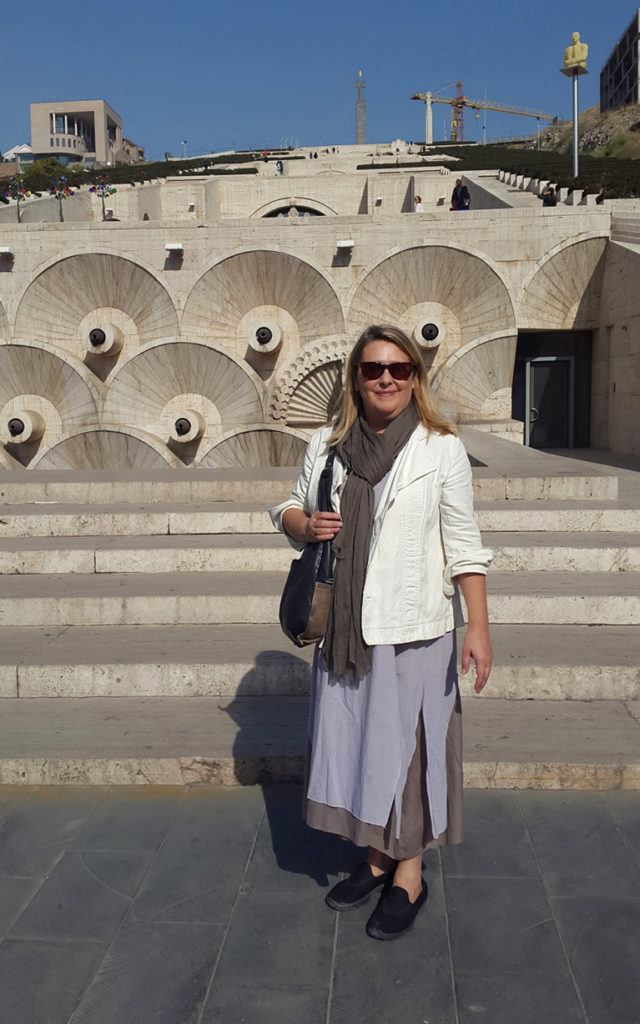 On assignment for AFAR Magazine's Spin the Globe feature, von Bremzen utilized the services and destination expertise of MIR Corporation to help her plan a five-day whirlwind tour of Yerevan, Gyumri, and Lake Sevan – exploring the capital's socialist art and architecture, savoring succulent fresh fish and house-made vodka, and taking in the soaring melodies of an Armenian a cappella church choir.
We chatted with Anya about her experiences on her trip to Armenia, and about some of the cultural and culinary highlights of this age-old country.
You visited Armenia once before back when it was still a part of the Soviet Union. How did your visit this time around compare to your first?
I first visited Armenia in 1989 in search of medieval monasteries and beautiful scenery. What I witnessed was tragic and mournful — the country had just suffered a devastating earthquake the year before, and regional conflicts prompted a blockade in Yerevan, leaving residents with limited access to electricity, gas, and supplies. The gloom surrounding the city left a lasting impression in my memory.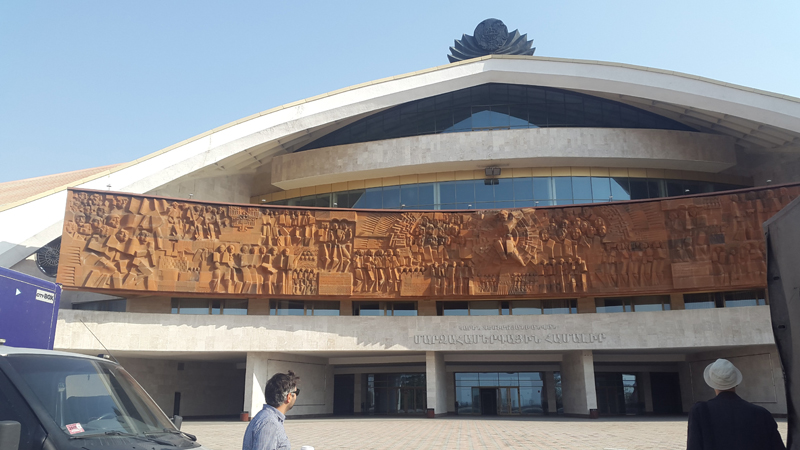 This last visit however was a wonderful surprise. Old Soviet architecture is still present in places like Yerevan, but the city now has a more modern and westernized feel. Buildings and city streets have been revitalized thanks to generous investments from members of the Armenian diaspora. And all throughout our visit we met with fascinating people keen to show off Armenia's unique identity and place in history.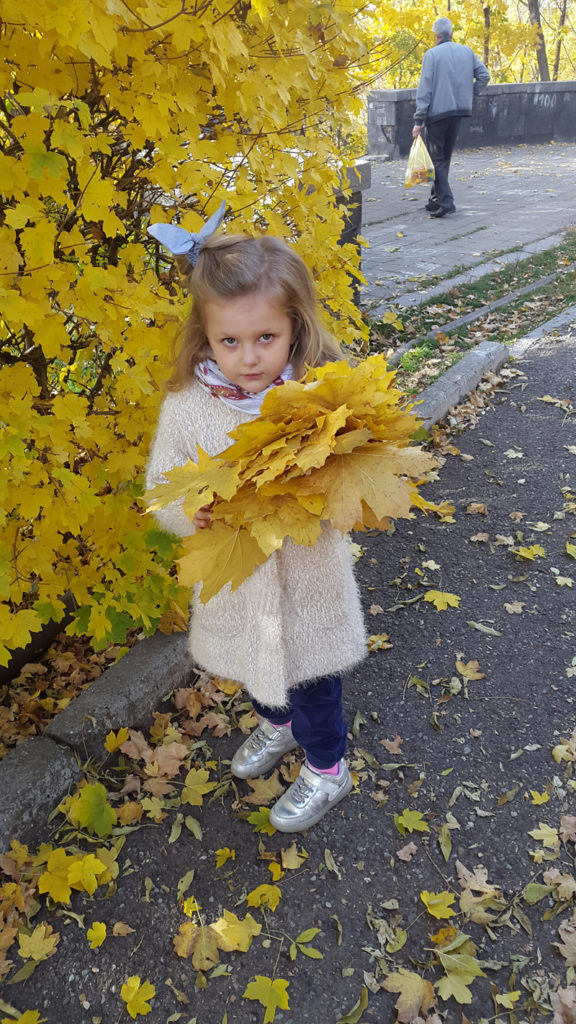 What were your overall impressions of Armenia and the people you interacted with?
Armenia is a beautiful country, with a very rich and proud culture. And the people are so friendly and hospitable — they made me feel very much at home during my stay. To me, traveling there is a lot like traveling back in time. The countryside is full of villages and old stone churches where you can still see these traditional ways of life that haven't changed much over the course of time. And I enjoyed seeing the old modernist and Soviet buildings of the capital — it felt so nostalgic to me, since I grew up in the Soviet Union.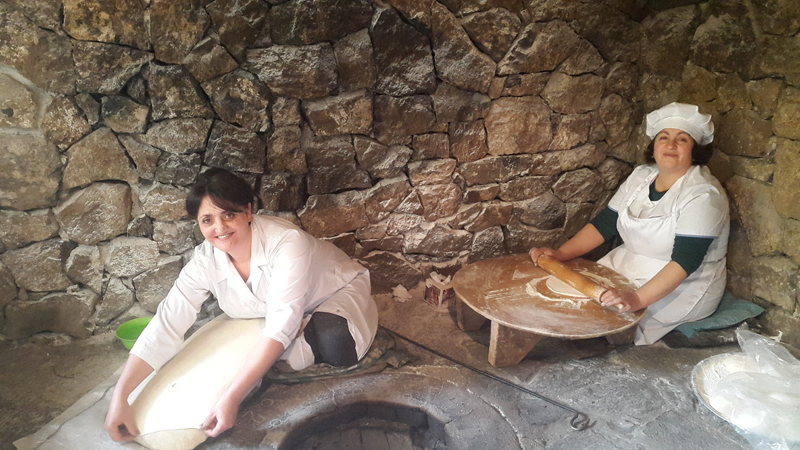 Here in the West, we're often exposed to negative images of the former Soviet republics. What would you say to travelers who might have negative misconceptions and stereotypes of these countries?
Both the media and the current state of international politics unfortunately reinforce a lot of negative stereotypes. But the former Soviet republics have changed so much over the last two decades, and there's been a lot of energy and resources put into revitalizing cities and cultural landmarks.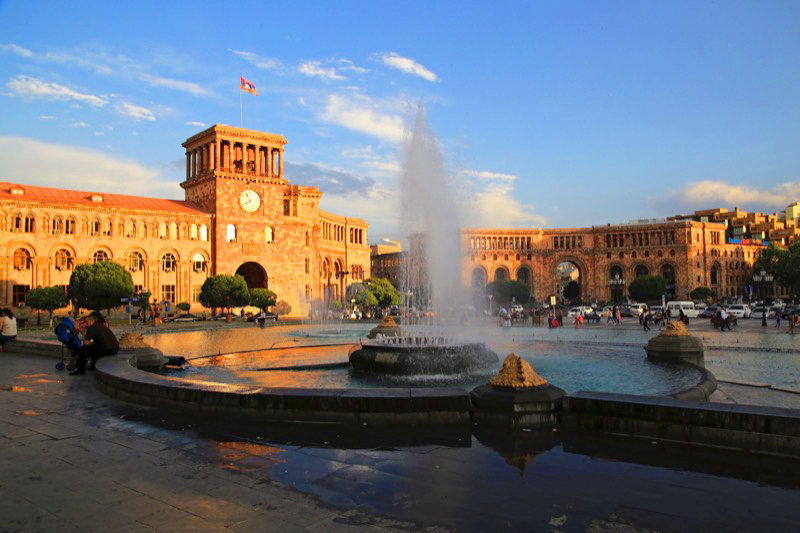 I grew up in Soviet Russia, and in the time that's passed since my emigration to the United States, I've seen just how dramatically different the country and other former Soviet republics have become. Take, for instance, large cities like Moscow, which now feel more like Brooklyn, especially with the current restaurant revolution happening there.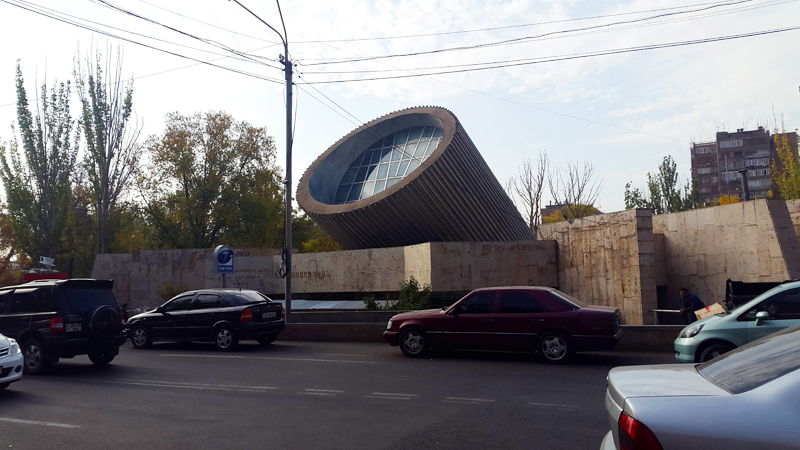 News articles and images don't paint a complete picture of a place. You have to visit firsthand to really get a sense of the people and the culture.
How would you characterize Armenian cuisine? What makes it unique compared to its neighbors in the South Caucasus?
Armenia's cuisine shares certain similarities with Middle Eastern and Mediterranean cuisines, as well as with its other neighbors in the Caucasus. But because Armenia is rooted in a strong traditional Christian culture, you'll find lots of healthy fish and vegetable dishes, all of which are very simply spiced and mixed with a ton of fresh herbs. There's a strong emphasis on grains like emmer and cracked wheat, and on grilled meats like pork kebabs. Russia had a long presence in the country as well, so it's common to see dishes like borscht show up on the menu.
(click image to view larger photo)
The local fruits are just incredible everywhere you go — I loved seeing the mounds of beautiful fresh peaches, pears, pomegranates, quince, and dried and candied fruits at the markets.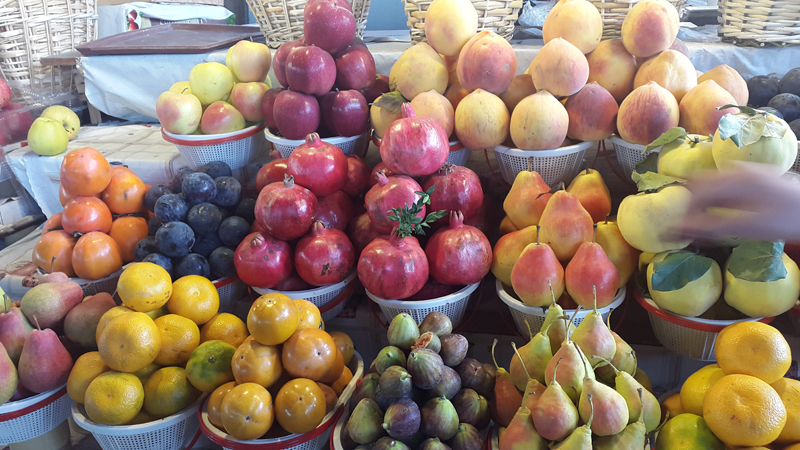 Armenia was once the main brandy production center for the entire Soviet Union, so cognac is still very big there. But the country is also home to one of the oldest wine-making cultures in the world. Unfortunately the Soviets quelled the production of Armenian wine, so a lot of those vinicultural traditions were lost. But a new wave of winemakers is starting to put Armenian wines back on the map again.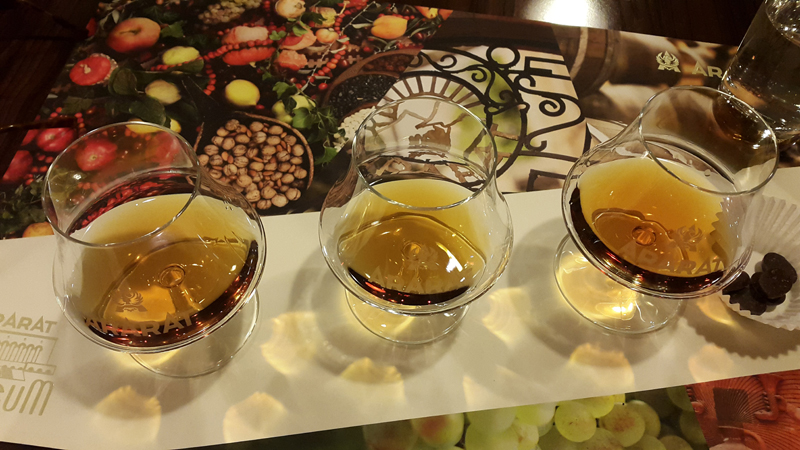 Is there a regional dish that everyone should try?
Definitely lavash bread. It's a staple of Armenian cuisine, and the cultural significance and traditions behind it are so important to Armenians that UNESCO added it to its Representative List of the Intangible Cultural Heritage of Humanity. The dolma (stuffed grape leaves) are delicious, as are many of the salads, grain dishes, and vegetables that will inevitably end up on your table.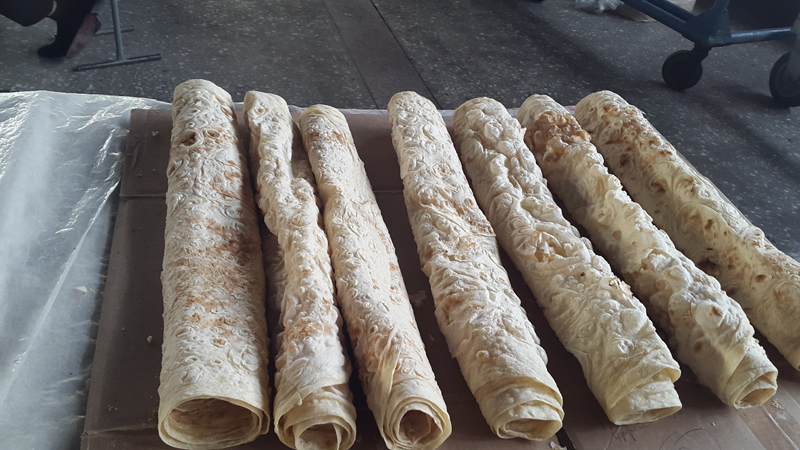 What would you recommend to travelers wanting to make a deeper connection to the people and culture of Armenia?
I was lucky because I already had several Armenian contacts that could introduce me to local chefs and experts on the ground. But there's no way I could have done everything without the support of Annie and MIR Corporation. Not only did she handle the logistics, but her company's expert knowledge of the region and local contacts gave me opportunities to experience a different side of the culture, and meet with people I might never had gotten the chance to had I done it all on my own.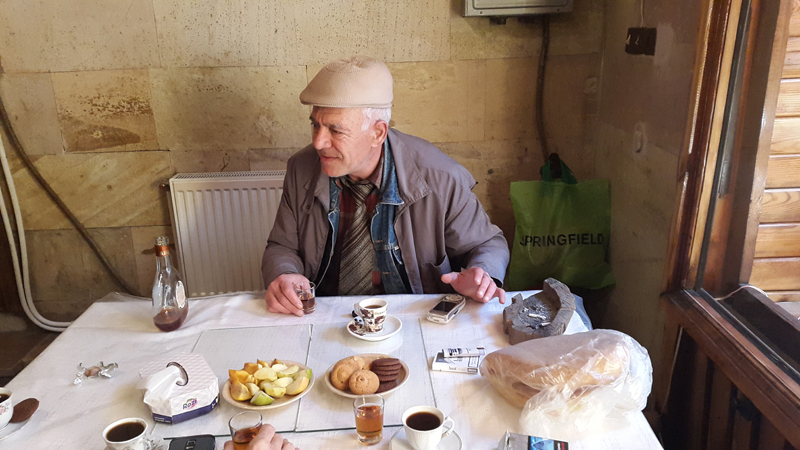 If you were discussing Armenia with a prospective traveler, what would you be sure to include?
Yerevan is great if you want to see old Soviet architecture and monuments, and the city itself has such a lively, cosmopolitan energy. I also recommend Gyumri, not just for the renovated Russian czarist-era buildings, but also because of the fantastic Cherkezi Dzor Fish Farm & Restaurant, a favorite with local Armenians.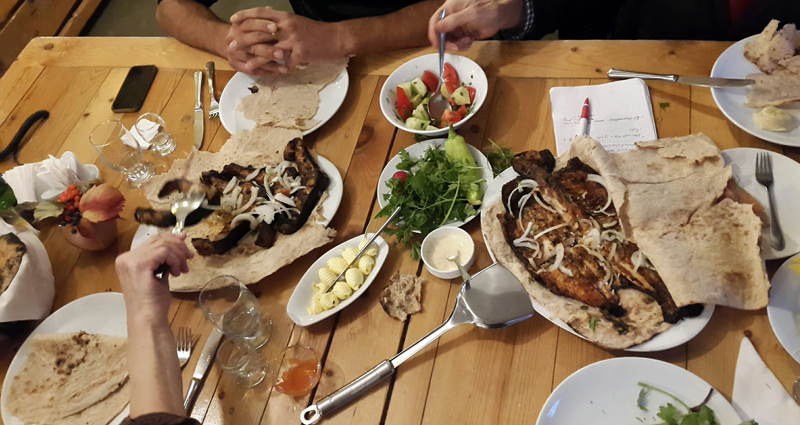 And don't forget to get out into the countryside — that's where the heart of Armenian culture is. I loved visiting all of the monasteries, especially Echmiadzin, where I listened to a beautiful choral concert at the Sunday service — the singing was absolutely breathtaking.
(click image to view larger photo)
Was there a favorite moment you had on the trip?
One of the highlights for me was visiting the Writers' Resort on the shore of Lake Sevan. It was built in the early 1930s for the Writers' Union of the Armenian Soviet Socialist Republic. Both the main resort and the 60s-era cafe that came later are considered modernist architectural wonders for their time. Even though the cafe was closed for the season, I got to see incredible lake views from the inside — it was really very special.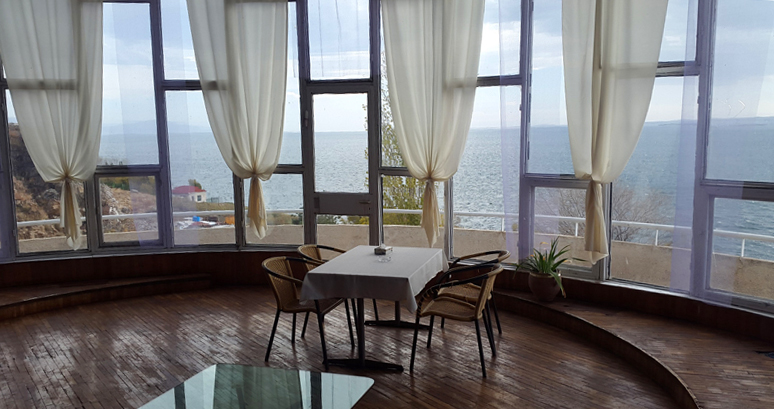 Travel to Armenia with MIR
MIR has over 30 years of experience hand-crafting tours to Armenia and the South Caucasus. Our full service, dedication, commitment to quality, and destination expertise have twice earned us a place on National Geographic Adventure's list of "Best Adventure Travel Companies on Earth."
You can travel with MIR to Armenia, as well as to Georgia and Azerbaijan, on one of our small group tours:
You can also visit Armenia on a custom private journey or one of MIR's hand-crafted private independent travel itineraries:
Or travel on a luxury rail journey by private train:
Originally published: May 21, 2018