error_outline
New tour for 2023! Connects to our South Iraq tour!
Multiculturalism at the Crossroads of Civilizations
Overview
The high plains and mountains in the far north of Mesopotamia are the cultural homeland of the Kurdish peoples. The Kurds have only sporadically had a state of their own though, frequently falling under the thumb of neighboring powers. This has dramatically changed since the fall of Saddam Hussein's brutal regime. Modern Kurdistan is now an autonomous state with its own government, military, police force, flag, and even managing some its own international relations.
While nominally part of Iraq, Kurdistan feels and looks different on the ground. It is multicultural with Kurds, Yazidis, Assyrians, Turkmens, Arabs, Armenians, and others all populating its cities and villages. It is prospering, with the lowest poverty levels in Iraq. And it is replete with rarely visited and spectacularly beautiful sights — ancient and modern, cultural and geographical. Kurdistan is a special place, and now is the the time to go. Join us on this nine-day exploration of the region, starting and ending in the capital Erbil, and taking in the cities of the Duhok and Sulaymaniyah and the countryside and villages in between.
Map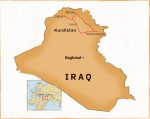 Itinerary
Days 1-3: Erbil (Kurdistan), Duhok

The journey starts in Erbil, Kurdistan's largest and best connected city. You'll head out of town the next morning though to explore the countryside to the north and west as you head to Duhok. While in Kurdistan, this area is also the homeland of the Assyrians, who speak the Chaldean dialect of Neo-Aramaic. As in so much of Iraq, history also runs deep here. Alexander the Great defeated the Persian Achaemenids on these plains at the Battle of Gaugamela in 331 BCE.

HIGHLIGHTS

Meet with a Syriac Orthodox monk at the ancient Monastery of St. Matthew, learning more about this little understood sect of Christianity and taking in sweeping views of northern Mesopotamia from the scenically perched compound
Explore Lalish, the religious and cultural focal point for the Yazidi people, who were brutally persecuted by the Islamic State during their occupation of nearby areas; later visit with Yazidi refugees to hear about efforts to help them recover and regain a sense of normalcy
Learn about another of Kurdistan's Christian groups, the Chaldean Catholic Church, at the millennia-old Rabban Hormizd Monastery outside of Duhok
Visit with Assyrian children at an orphanage near the predominately Christian town of Alqosh, not far from Duhok
Explore the recent ruins of Saddam Hussein's former palace atop Gara Mountain – still a gorgeous spot
Wander through the ancient monuments and modern markets of Amedi, a hilltop town – one of Kurdistan's most picturesque locales

Days 4-6: Barzan, Sulaymaniyah

From Duhok head east across the Zagros Mountains to Barzan and then Sulaymaniyah. You'll stop off at several scenic mountain spots along the way, including the mountaintop town of Amedi, one of Saddam Hussein's former palaces, and two scenic waterfalls. Much of the of the high terrain along the route receives plentiful precipitation, yielding a lushness that can be surprising in an area commonly thought of as desert.

HIGHLIGHTS

Visit Shanidar Cave, an important and extensively studied archaeological site once inhabited by Neanderthals that has yielded valuable insights into their cultural practices
Taste a local delicacy, fish caught from the Great Zab River – a tributary of the Tigris ­– as you wind through hills and gorges of the Zagros Mountains
Marvel at the strikingly beautiful scenery of Rawanduz Gorge as you drive and walk along Hamilton Road, which was carved out of the rock walls here in the early 20th century
Contemplate the decades of repression and atrocity inflicted by Saddam Hussein on the Kurds at the beautiful but deeply sad Amna Suraka museum and in the village of Halabja
Browse the exhibits at the U.S.- and UNESCO-supported Slemani Museum, Iraq's second largest museum with galleries focusing on the region's history from prehistory through Ottoman times
Interact with picnicking locals and enjoy the lush greenery at the beautiful Ahmed Awa Waterfall in the Zagros Mountains near Sulaymaniyah

Days 7-9: Erbil

The trip ends back in Erbil, Kurdistan's capital and home to representatives of all of the diverse groups that make up  modern Kurdistan. On the way from Sulaymaniyah stop off to view an ancient caravanserai in Koya and a bustling market in Shaqlawa. In Erbil itself visit the city's UNESCO-listed citadel and the Qaysari Bazaar below, along with other important  sights like the 12th-century Choli Minaret.

HIGHLIGHTS

Observe (or join!) the lines of pilgrims at a fertility shrine in Shaqlawa, a foothills town near Erbil with an attractive market
Gaze out across the ancient city of Erbil from atop its UNESCO World Heritage-listed citadel, now preserved and home to a textiles museum
Enjoy a meal of traditional, home-cooked cuisine at the home of a local family in Erbil, chatting with them to learn about their lives and place in modern Kurdistan, accompanied by a performance of Kurdish folk music
Dates &amp Prices
Small group tour – max 16 travelers
Land tour price, per person. Based on double occupancy and minimum group size of 6 travelers.
This trip connects to our South Iraq tour, October 17-26, 2023.
2023 Dates

Oct 9 - 17

October 9-17, 2023 departure led by Michel Behar. LIMITED AVAILABILITY! 2 spots left!

Tour, double occupancy

$5,595

2024 Dates

Tour, double occupancy

$5,795
What's Included
Tour Includes

Accommodations, as noted in the itinerary.
Most meals, as noted in the itinerary.
A daily supply of bottled water.
Arrival/departure airport transfers on the tour start/end date. MIR will arrange for all travelers to be met upon arrival and seen off upon departure whether or not we make your flight arrangements.
Ground transportation throughout tour by private van or coach. (Type of vehicle depends on group size.)
Services of experienced, English-speaking local guides, drivers, and other staff, including a MIR Tour Manager.
Guided sightseeing tours and entrance fees, as outlined in the itinerary.
Special events, excursions, and cultural performances, as outlined in the itinerary.
Gratuities to local guides, drivers, and other service personnel, including servers at group meals.
Complete pre-departure electronic document that includes detailed packing suggestions, reading list links, country-specific information, maps, travel tips and more.
Assistance booking your custom flight arrangements, on request. (Please note, international airfare is not included in the land tour cost.)
Customized visa information and instructions. (Please note, visa fees are not included in the tour price.)
Electronic final update bulletin, with any late news, updates and important information.

Not Included

International airfare and taxes/fuel surcharges.
Meals and drinks not specified as included in the itinerary.
Single supplement (or partial single supplement where applicable), if requested or required.
Gratuities to Tour Manager.
Expenses incurred as a result of delay, modification, or extension of a tour due to causes beyond MIR's control.
Travel insurance, including cancellation, medical, and evacuation insurance.
Visa and/or passport fees, excess-baggage charges, airport departure taxes, vaccination and other medical costs.
Items of a personal nature, such as phone calls, email, laundry, and alcohol.
Optional pre- or post-tour extensions.
Activity Level
Level 3: Medium
The accommodations vary from four- or five-star properties in the major cities, with the single night in Barzan at a unique riverside resort. It is important to keep in mind that parts of the Kurdistan and elsewhere in Iraq are not up to the standards North American travelers expect. Services are improving; however, you may encounter problems with bureaucratic service, road conditions, plumbing, unpaved sidewalks, uneven surfaces and steps, variety of locally available foods, and availability and quality of public restrooms. You are traveling in some areas that see relatively few travelers, and the infrastructure is not yet fully developed.
While this program is designed to be the most comfortable possible for travel in this region, it is rated as rigorous touring due to the daily walking involved, the length of some bus rides and the overall shortcomings of the tourism infrastructure. This itinerary features a significant amount of touring on foot. Many streets are made of packed dirt, and some attractions are only accessible via steep staircases with tall uneven steps. Often the museums have no elevators. During touring excursions, availability of western toilets is unreliable in in the region. Many public toilets encountered during touring, at museums, at restaurants and so forth are squat toilets, and handrails may be inadequate.
Every effort has been made to make the information in this schedule accurate. However, trip itineraries are always subject to change. We do our best to inform you in advance of any changes, but due to the nature of travel in the region, this may not always be possible. Only those willing to accept these conditions should consider joining this program.
To reap the full rewards of this adventure, travelers must be able to walk at least a mile a day, keeping up with fellow travelers. Flexibility, a sense of humor and a willingness to accept local standards of amenities and services are essential components to the enjoyment of this trip.
Gallery
14/20

Explore Mesopotamia

16/20

Explore Mesopotamia

18/20

Explore Mesopotamia