Multi-Region
Essence of the Silk Road by Private Train: Westbound
From Almaty to Ashgabat Aboard the Orient Silk Road Express
Overview
Roll through the heart of the Silk Road on this fascinating rail journey aboard the comfortable Orient Silk Road Express private train. Traveling in Kazakhstan, Uzbekistan, and Turkmenistan, you'll experience seven UNESCO World Heritage Sites, including the Silk Road oases of Samarkand, Khiva, and Bukhara, fabled cities adorned with blue-tiled domes and graceful arches. The journey begins in leafy Almaty, Kazakhstan's biggest and liveliest city; and concludes in Turkmenistan, where the ruins of Merv, one of the world's great "lost cities," stands in counterpoint to the gleaming modern architecture of the capital, Ashgabat.
Travels to: Kazakhstan, Turkmenistan, Uzbekistan
Photos and details: Discover what life is like aboard the Orient Silk Road Express private train.
Map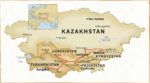 Itinerary
Days 1-3: Almaty (Kazakhstan), Turkistan

Start the tour in Almaty, Kazakhstan's largest city and a thriving business center situated amid the majestic Tien Shan mountain range. Visit Panfilov Park, a hub of the city and home to Zenkov Cathedral and have lunch in a traditional Kazakh yurt. Then board the Orient Silk Road Express to begin the rail journey. The first stop is in the historic city of Turkistan to see the revered Sufi sheikh Khoja Akhmed Yasavi's mausoleum, a UNESCO World Heritage Site.

HIGHLIGHTS

Panfilov Park, a green oasis in the middle of Almaty where locals meet to stroll and unwind
Colorful Zenkov Cathedral, one of the tallest wooden structures in the world and an impressive feat of engineering that survived a massive 1911 earthquake unscathed
Lunch in a traditional Kazakh yurt
Turkistan's UNESCO-listed Mausoleum of Khoja Akhmed Yasavi, commissioned by Tamerlane in the 14th century and topped with the largest dome in Central Asia

Days 4-5: Tashkent (Uzbekistan), Shahrisabz

Cross the border and disembark in Tashkent, Uzbekistan's capital and largest city. Tour some of its most noteworthy sights  including Amir Timur Square and Kukeldash Madrassah. Back on board, continue to Shahrisabz, hometown of the 14th century conqueror Tamerlane, and visit the UNESCO-listed ruins of his Ak Saray (White Palace), one of Tamerlane's most ambitious architectural undertakings.

HIGHLIGHTS

Tashkent's Kukeldash Madrassah, one of the largest 16th century madrassahs remaining in Central Asia, constructed of baked brick with a classic glazed tile facade
Amir Timur Square, dominated by an equestrian statue of the conqueror Tamerlane
Shahrisabz's Ak Saray, a monumental palace complex that includes the remains of a massive portal covered with brilliant blue, white, and gold tile mosaics
On board the train, a tasting of Uzbek wines

Days 6-8: Samarkand

Continue to blue-tiled Samarkand, Tamerlane's legendary capital, hailed by UNESCO as "the crossroad of cultures." Take in massive Bibi Khanum Mosque, Ulug Bek's incredible observatory, and gracefully proportioned Registan Square. Tour of a silk carpet factory and visit a workshop where handcrafted paper is made using a method that dates from the 8th century.

HIGHLIGHTS

UNESCO-listed Samarkand's Registan Square, bordered by three beautiful madrassahs
The 14th century conqueror Tamerlane's architectural legacy in Samarkand, including Bibi Khanum Mosque, the largest of its day
Shah-i-Zinda, a row of mausoleums and tombs that collectively span the history of Samarkand
Ulug Bek Observatory, where Tamerlane's grandson made historic advances in astronomy
Seeing artisans make beautifully crafted carpets and paper using age-old techniques

Days 9-11: Khiva, Bukhara

Cross the Kyzyl Kum Desert to the city of Khiva, the last great oasis on the northern Silk Road caravan route. Wander through the winding alleys of the UNESCO-listed Old Town filled with minarets, cobbled alleys, mosques, and the beautifully preserved Kunya Ark, the original residence of the ruling khans. Then spend two days in beautiful Bukhara, Central Asia's most ancient living city. Its UNESCO-listed Old Town encompasses more than 140 protected monuments, including the Lyabi-Hauz Plaza at the heart of the city and the Ark Citadel, Bukhara's original fortress. Take in a traditional Uzbek performance along with dinner at a former madrassah.

HIGHLIGHTS

Khiva's Old Town (Ichon-Qala in Uzbek), a UNESCO World Heritage Site
Tash-Hauli Palace, built in the 19th century for the khan and his four wives
Dzhuma Mosque, famous for its carved wooden pillars
Kunya Ark, the original residence of Khiva's khans
Bukhara's evocative Old Town, with its ageless domed bazaars and central Lyabi-Hauz Plaza, adorned with a reflecting pool
Ark Citadel, Bukhara's giant ancient fortress
A performance and dinner at a local madrassah

Days 12-14 Merv (Turkmenistan), Ashgabat, Nisa

Crossing into Turkmenistan, visit the UNESCO-listed ancient ruins of Merv. A city of Bronze Age origin, Merv was such an important Silk Road stop that grew to be one of the world's largest cities, before a brutal sacking by the Mongols in the 13th century. Have lunch with a local village family and then head to the modern capital of Ashgabat. Explore its flamboyant gilded architecture that has sprung from the rubble of a massive 1948 earthquake, and gain insight into the country's history and culture at the beautifully situated National Museum. A trip outside of town takes you to the ruins of the ancient city of Nisa, a UNESCO World Heritage Site that was once the center of the Parthian Kingdom.

HIGHLIGHTS

The vast archaeological site of Merv, one of the world's great "lost cities"
The opulent modern architecture of Ashgabat, which holds a Guinness record for the highest density of white marble buildings in the world
Learning the story of Turkmenistan at the National Museum, where the collection includes Stone Age tools, drinking horns used in Zoroastrian rituals, and beautifully crafted amulets
The ruins of Nisa's two fortresses, which show influences of ancient Greek and Roman culture
Dates &amp Prices
Minimum group size: Minimums vary – call for confirmation status
Land Tour Price, Per Person.
2023 Dates

Ali Baba, double occupancy

$8,145

Ali Baba, single occupancy

$10,745

Aladdin, double occupancy

$8,895

Aladdin, single occupancy

$12,045

Sultan, double occupancy

$14,495

Sultan, single occupancy

$21,395

Kalif, double occupancy

$14,995

Kalif, single occupancy

$22,195

2024 Dates

Ali Baba, double occupancy

$7,845

Ali Baba, single occupancy

$10,320

Aladdin, double occupancy

$8,725

Aladdin, single occupancy

$11,820

Sultan, double occupancy

$14,195

Sultan, single occupancy

$21,220

Kalif, double occupancy

$14,775

Kalif, single occupancy

$22,020
What's Included
Tour Includes

Accommodations, as noted in the itinerary.
Most meals, as noted in the itinerary.
Arrival/departure transfers, provided you arrive and depart on the tour start/end dates and in the tour start/end cities.
All guided off-train tours, as outlined in the itinerary.
Services of an experienced Train Tour Manager as well as local guides for scheduled off-train tours.
Complimentary tea, coffee, and mineral water from your car attendant at all times while on board the train.
Baggage handling.
Complete pre-departure information, including detailed packing list, reading list, and Touring with MIR handbook with country-specific information, maps, and travel tips.
Assistance booking your custom flight arrangements, on request. (Please note that international airfare is not included in the land tour cost).

Not Included

International airfare, including taxes/fuel surcharges, and surface transport to the point of joining/leaving the tour. MIR is able to assist with arrangements, as detailed in the itinerary.
Meals and drinks not specified as included in the itinerary.
Single supplement (difference between double rate and single occupancy rate) if requested or required.
Optional pre- or post-tour extensions.
Expenses incurred as a result of delay, modification, or extension of a tour due to causes beyond MIR's control.
Visa fees, excess baggage charges, airport departure taxes, vaccination, and other medical costs.
Travel insurance including cancellation, medical, and evacuation insurance.
Items of a personal nature such as phone calls, email, laundry, and alcohol.
Gratuities not specified as included in the itinerary.
Travel entry pass to Turkmenistan payable on arrival.
Activity Level
Level 2: Moderate
This rail journey by private train features significant touring on foot, throughout which travelers are expected to keep up with other group members. Walking during touring days will be on a variety of surfaces, with many streets and sidewalks being uneven, and elevators generally not available during touring excursions, leading to some stair climbing. Challenges on board on board the train include long onboard distances with heavy doors, as well as steep steps and gaps to navigate while embarking and disembarking. Only those willing to accept local standards of amenities and services should consider joining this program.
Travelers must be able to walk a mile per day keeping up with other group members. Streets and sidewalks can be uneven or unexpected surfaces, and handrails are not always present. Steps, which may be required due to lack of elevators, may be steep and/or uneven, and may also lack handrails. The distance on board the train between sleeping and dining carriages may be significant, and there are many heavy doors to navigate when moving throughout the train. Getting on and off the train involves navigating steep steps, low platforms, and possible gaps between the train and the platform. Navigating rail stations may also involve traveling up and over steep steps/footbridges to cross tracks, or steep steps and dark tunnels to cross under to/from the train station. Although porterage is provided where possible, you may have to carry your baggage for short distances.
General shortcomings of the tourism infrastructure may include problems with bureaucratic service and availability and quality of public restrooms when not on board the train.