Photo credit: Dragan Bosnic, Branko Jovanovic, Srdjan Veljovic, NTOS archive
error_outline
Flexible Private Trip — Book Your Dates for You & Yours!
From the Danube to the Balkans
Overview
Halfway between the Adriatic and the Black Sea in southern Europe, Serbia encompasses gentle valleys, roughhewn mountains, venerable Roman bastions, and ancient rock-faced roads along with an irresistible capital city, Belgrade. Begin in the capital and spend the next eight days circling Serbia in search of ancient Roman ruins, imposing Ottoman fortresses, scenic natural wonders, beautiful Orthodox monasteries, and outstanding wines — all while visiting three UNESCO-listed sites en route.
Travels to: Serbia
Map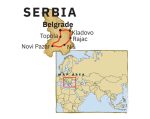 Itinerary
Days 1-2: Belgrade (Serbia)

After arrival and a night at a centrally located hotel, start your exploration of Serbia with a full day tour of the capital, Belgrade. Belgrade has been the capital of Serbia since 1403, when the Despot Stefan, son of Prince Lazar, moved his palace here. Today, Belgrade is a dynamic and sophisticated city of 1.7 million, swiftly becoming one of the hippest places in Europe. 

HIGHLIGHTS

Drive through New Belgrade, full of both Communist and modern apartment blocks
Stop by the old Gardos Tower in Zemun
Pay a visit to the Memorial Complex of Josip Broz Tito, the infamous president of former Yugoslavia
Tour some of the oldest residences in the city, including Princess Ljubica's Residence

Day 3-5: Kladovo, Rajac, Nis

Set off on a circular exploration of the country beginning with a drive along the biggest gorge of the Danube River on the way to Kladovo, visiting the ruins of Viminacium and the famous Iron Gates on the way. Then, stop in the small town of Rajac to learn more about Serbia's winemaking traditions before exploring Nis, an important crossroads during Roman times dotted with reminders of Serbia's eventful history.

HIGHLIGHTS

Explore the ruins of Viminacium, former provincial capital and one of the largest cities in the Roman Empire
Pay a visit to the Iran Gates, a massive gorge that forms part of the boundary between Romania and Serbia
Tour the medieval Golubac ("Pideon") Fortress in the Djerdap National Park
Discover the remains of Lepenski Vir ("Lepena Whirlpool"), one of the oldest settlements in Europe
Gather at a local wine cellar in Rajac for a tasting of the delightful varietal wines of the region including Zacinak, Gamay, and Riesling
Explore the ruins of the UNESCO-listed Felix Romuliana, one of the largest and best preserved sites from the Late Roman Period
Visit the beautiful 18th-century Nis Fortress, one of the most important monuments of Ottoman rule in the Balkans
Discover the white marble churches and stone buildings of the UNESCO-listed Studenica Monastery

Days 6-8: Novi Pazar, Topola, Belgrade

Explore Novi Pazar, the center of Bosniak culture in Serbia, before completing your circle of Serbia and heading back to Belgrade. On the way, pay a visit to the UNESCO-listed Sopoćani Monastery and the town of Topola. During your last full day in Belgrade, head out to the municipalities of Grocka and Smederova for visits to some wineries and historical sites. Your tour will conclude with a transfer to the airport on the last day.

HIGHLIGHTS

Tour the UNESCO-listed Sopoćani Monastery, with it's restored Church of the Holy Trinity and outstanding frescoes
Explore Topola, where a Serbian revolutionary was chosen as the leader of the First Serbian Uprising against the Ottoman Empire in 1804
Enjoy wine tastings in Topola and Smederovo
Stop at the Neolithic archeological site of Vinca Belo Brdo, one of the largest prehistoric settlements in all of Europe
Visit the Smederova Fortress, an impressive fortified city finished in 1430
Dates &amp Prices
Please note:
Private trip prices vary by season and are subject to hotel availability for your travel dates.
Listed prices below are based on double occupancy and a 2 traveler minimum.
Hotel upgrades, additional nights, and solo traveler prices are available on request.
Land tour price, per person, starting from:
2023 Dates

Available: January - December

Tour, double occupancy

$4,495
What's Included
Tour Includes

Shared accommodations as noted in the itinerary. Contact MIR for hotel upgrade prices.
Meals as noted in the itinerary: Daily hotel breakfasts and 2 dinners.
Restaurant tips for included meals.
One arrival and one departure transfer. Additional arrival and departure transfers available at additional cost. MIR will arrange for travelers to be met upon arrival and seen off on departure, whether or not we make your air arrangements.
Ground transportation throughout itinerary by private vehicle (type of vehicle depends on number of travelers in your group).
Services of an experienced, English-speaking guide who also serves as your driver - handling the excursions and transportation throughout the program.
Guided sightseeing tours and entrance fees, as outlined in the itinerary.
Complete pre-departure information, including detailed packing list, reading list, country-specific information, and more.
Assistance booking your custom flight arrangements, on request. (Please note that international airfare is not included in the land tour cost.)
Final document packet including final updates and more.

Not Included

International airfare and taxes/fuel surcharges.
Meals and drinks not specified as included in the itinerary.
Single supplement, if requested or required.
Baggage handling.
Gratuities to local guides, drivers, porters, and other service personnel.
Expenses incurred as a result of delay, modification, or extension of a tour due to causes beyond MIR's control.
Travel and trip-related insurance including cancellation, medical, and evacuation insurance. (Proof of insurance is required.)
Visa fees/passport fees if required. (U.S. passport holders do not require any visas for this program).
Optional pre or post-tour extensions.
Excess-baggage charges, airport departure taxes, vaccination and other medical costs.
Items of a personal nature such as phone calls, email, laundry, alcohol, excess baggage, etc.
Activity Level
Level 3: Medium
Insurance is required and you will be required to show proof of insurance.
It is important to keep in mind that less developed parts of Serbia may not be up to the standards North American travelers expect. Services are improving in the region; nevertheless you may encounter problems with plumbing, bureaucratic service, road conditions, unpaved sidewalks, uneven surfaces and steps, and availability and quality of public restrooms. Some areas, relatively speaking, have seen few travelers and the infrastructure is not yet fully developed.
While this program is designed to be the most comfortable possible for travel in this region, this is an adventuresome trip. It is rated as rigorous touring due to the daily walking involved, some long driving days, the conditions of some roads, and the overall shortcomings of the tourism infrastructure. This itinerary features a significant amount of touring on foot. Many streets are cobblestone, and some attractions are only accessible via steep staircases. Museums rarely have elevators. Flexibility and a sense of humor are essential components of the enjoyment of your trip.
Every effort has been made to ensure that the information in this schedule is accurate. However, trip itineraries are always subject to change. We do our best to inform you in advance of any changes, but due to the nature of travel in this country, this may not always be possible.
Gallery