Travel Inspiration: What's New in Ukraine
We're in regular communication with our friends and colleagues overseas and appreciate their correspondence so much, we thought you'd also appreciate a first-hand update from the international MIR network. We are tapping this network of guides, tour managers, partners, and staff in our affiliated ground offices to relate their first-hand accounts from MIR's destinations in our new blog series: Reporting in from MIR Destinations.
Recently, our blog introduced you to several of our tour managers. As the world gradually reopens, you may be wondering what's happening in a specific destination you're planning on visiting sometime in the future. This blog series will provide field reports with detailed updates and conditions on the ground.
We have previously shared destination reports from the Balkans, the Baltics, Central Asia, Central & East Europe, Mongolia & China, and the South Caucasus & Turkey. This batch is from Central & East Europe. Read a dispatch from some of the countries in this region:

Reporting in from Ukraine
Information current as of November 13, 2020.
1. Let's start with the status of international flights into Ukraine – what's the situation?
Luba: Ukraine reopened its borders to tourism on September 29. There are currently 52 international and domestic flights a day operating from the Kyiv Boryspil International Airport, 12 from the Lviv Danylo Halytskyi International Airport, and 6 from both the Odessa International Airport and the Kharkiv International Airport. Direct flights between Ukraine and the United States are currently suspended.
There are several airline companies operating flights to and from Ukraine. Ukraine International Airlines (UIA) has published an updated 2020 winter flight schedule to re-establish essential routes to Europe and the Middle East. From Istanbul, one can take direct flights not only to Kyiv but also to Odessa, Lviv, and Kharkiv on Turkish Airlines; Air France will continue flying between Kyiv and Paris for the 2020/2021 winter season; and airBaltic flies from Riga to Kyiv and Odessa as well as a new route from Vilnius to Kyiv. In addition, Azur Air Ukraine plans to expand its fleet and start operating regular flights from Kyiv to the United States in April 2021.
Foreigners can enter Ukraine, but the country they enter from will determine their entry requirements. Starting from September 29, all passengers arriving into Ukraine from 'Green' zone countries can enter without restrictions. Passengers from 'Red' zone countries, where the number of COVID-19 cases in the last 14 days is higher than those in Ukraine, are required to self-quarantine for 14-days or get a PCR test at an authorized laboratory (such as the COVID-19 PCR testing lab at the Kyiv Boryspil International Airport) upon arrival.
To see the full list of 'Red' and 'Green' countries along with all other entry regulations, please visit the VisitUkraine site, which is updated every 24 hours.
Travelers must also show proof of health insurance that covers COVID-19 treatment while in Ukraine. For more information on the details of this new requirement, see the Ministry of Foreign Affairs website.
(click image to view larger photo)
2. What's new in Ukraine?
Luba: Citizens of 77 countries (including the United States) can enter Ukraine without a visa for a stay of up to 90 days within any 180-day period, and those from an additional 44 countries are able to enter with electronic visas (e-Visas). For those who need an e-Visa, the procedure was made faster and cheaper on November 1 to make Ukraine more attractive to foreign visitors and investors.
I'm also excited to say that as of July 1, 2020, Ukrainians were finally granted visa-free entrance into the European Union. The Ukrainian passport is now ranked 44th in the world in terms of travel freedom according to the Henley Passport Index.
Another exciting recent develop is that Google Ukraine, in partnership with the Ministry of Culture of Ukraine, has created an Open-Air Museums of Ukraine website where you can take a virtual tour of seven museums from different regions of Ukraine and learn about Ukrainian folk architecture and life. Virtual tours of these museums are also available in "Street View" mode on Google Maps. The project is part of the Authentic Ukraine campaign.
(click image to view larger photo)
A new restaurant and hotel called Rodychi (meaning relatives in Ukrainian) has opened on the highway between Kyiv and Odessa in the town of Zhashkiv. This property fuses modern and traditional design elements and strives to treat all guests as family. The property has been attracting a lot of visitors who appreciate modern Ukrainian cuisine, traditional recipes made with locally sourced ingredients, and genuine Ukrainian hospitality.
(click image to view larger photo)
A number of new sights that have opened recently in Kyiv:
The Mariinsky Palace, built by Bartolomeo Rastrelli in 1744 for Empress Elizabeth, daughter of Peter I, re-opened to visitors on September 1 after being closed for renovations since 2007. This picturesque palace in Kyiv is one of the most beautiful buildings in the city and one of two sites built by Rastrelli in Kyiv (St. Andrew's Church is the other). It is considered to be the pearl of Kyiv's architectural sites.
The Gorodetsky House (House with Chimeras) opened to the public in 2019 and is worth a visit inside, as the interior is even more amazing than the exterior. The house was built in the Art Nouveau style at the beginning of the 19th century by Polish architect Stanislav Horodetsky using concrete, a new construction material at the time. Inside, the house is full of fantastical depictions of hunting scenes. The Gorodetsky House underwent a large renovation from 2004-2005 and became the Small Residence of the President of Ukraine afterwards. It is currently used as the Reception Palace for official foreign delegations.
On October 6, 2020 the first state Museum of Science of the Junior Academy of Sciences of Ukraine officially opened its doors. Teams from Ukraine, Canada, the US, Poland, and Sweden worked on the development of this interactive, hands-on museum to demonstrate a range of sciences, discoveries, and impressions. The major attraction is a glass ceiling that changes color when visitors enter the correct answers to questions. The museum also features achievements by Ukrainian and international scientists.
A new virtual hub of aviation museums called Museum Sikor Sky will be launched soon. It will be set in a virtual recreation of the family home of world-famous aircraft designer Igor Sikorsky. The digital platform will represent Ukraine through a Sikorsky helicopter and the online expositions will show aviation pioneers and eventually connect to other aviation and aerospace museums.
(click image to view larger photo)
3. How strong is the USD these days?
Luba: For the past three weeks, the US dollar has gone up in value against the Ukrainian Hryvnia (UAH) and is currently about 28 UAH to the dollar. It's expected that the exchange rate will reach 29 UAH to the dollar by the end of the year.
(click image to view larger photo)
4. What's the first dish and/or beverage you most like to introduce visitors to?
Luba: Ukraine is a multinational country and has a rich, delicious cuisine influenced by different cultures and traditions over the course of many centuries. Some traditional Ukrainian dishes that you must try are of course Chicken Kyiv, a breaded chicken cutlet stuffed with butter; varenyky, sweet or savory dumplings filled with a variety of ingredients similar to Polish pierogi; and borshch.
Varenyky comes in different forms. There is sweet varenyky, which can be stuffed with cherries, poppy seeds, or berries and served with syrup or honey. There are also savory forms of varenyky, which can be stuffed with cabbage, potatoes, and/or mushrooms and can be served with fried onions and crispy bacon. A good dollop of sour cream is always on hand.
(click image to view larger photo)
On Christmas Eve, vegetable varenyky, along with eleven other vegetarian dishes, are a "must" during the family Holy Supper. The varenyky making process is a family affair, with everyone chipping in to help, and sometimes a "secret" bean or pea is hidden inside some of them. It's believed that those who find the surprise inside will have good fortune in the year ahead.
And of course, you have to try borshch – a soup made with beetroots. Borshch is so popular and symbolic of Ukraine that in October of this year, it was included in the national list of elements of intangible cultural heritage with the hopes of it being recognized as part of Ukraine's cultural heritage by UNESCO. I was very happy to hear about it, as many visitors coming to Ukraine don't know that borshch is a traditionally Ukrainian dish.
I would also recommend trying Hutsul sheep milk cheese called bryndza, which is a unique food that is part of authentic Hutsul culture. Hutsuls are a small ethnic group living in the highlands of the Carpathian Mountains and known for their interesting crafts, their bright embroidered clothing, their own indigenous dialect of Ukrainian, and their mystic legends, superstitions, and beliefs. I am an ethnic Ukrainian and a representative of Hutsul culture which, even in the Soviet period, was highly respected by the local people.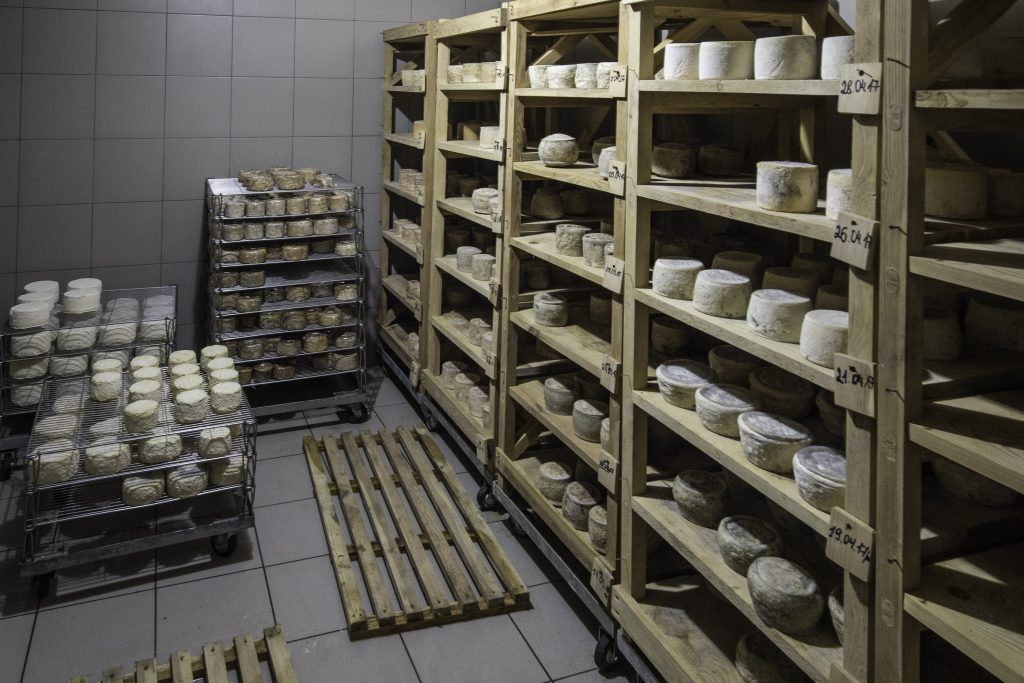 As a child I spent a lot of time with my grandmother, who was born in 1915 in a little town called Rakhiv under the reign of the Austro-Hungarian Empire. She brought me up in Hutsul cultural traditions, one of which was the Hutsul cuisine – simple and modest food but rich in variety, tastes, and flavors. Even now I can remember the taste of bryndza on top of banosh (corn meal porridge with butter), or vurda (a smoked soft sheep milk cheese) with boiled potatoes. At the time of my Soviet childhood, I never expected that Hutsul bryndza would become the first Ukrainian food to receive a Geographical Indication Registration Certificate in 2020. This means that bryndza can only be made within a clearly defined territory and in accordance with the applicable requirements of the EU, and thus can be exported overseas.
To become more familiar with Hutsul traditions and to try a Hutsul meal, make sure to visit the town of Rakhiv on the first Sunday of September, when the Hutsul Bryndza Folklore Festival takes place every year.
If you'd like to try a traditional Ukrainian beverage, you must try uzvar – a drink made from stewing smoked and dried plums, pears, and apples in a ceramic pot with water for about 12 hours. In ancient times, these three components were the basic ingredients for uzvar, but now people will sometimes add dried apricots, berries, raisins, citrus fruits, or other fruits. This drink is another "must" for the family Holy Supper on Christmas Eve.
(click image to view larger photo)
If you find yourself in one of MIR's favorite cities, Lviv, you should try some craft beer. Many cities in Ukraine have craft breweries with their own distinct flavors and tastes, but the Lviv Brewery has been brewing beer since 1715. Ukraine exports about 10 times more beer than it imports. You can enjoy not only the taste and quality of Ukrainian beer during a visit here, but also the very reasonable price – about $2 per pint.

Ukraine – Cradle of Slavic Civilization
One of the most intriguing countries in Eastern Europe with a complex history and physical size larger France or Germany, Ukraine is the borderland between Europe and Russia and has been populated by Slavic tribes for over a thousand years. A visit to Ukraine is packed with contrasting experiences: glittering golden cupolas and imperial palaces, sunny Black Sea coast, sobering Chernobyl, vast steppe, forested Carpathian Mountains, and a patchwork of traditions, rich history, and warm hospitality.
Whether you're thinking of traveling sooner or later, don't miss out on the layers of cultural history and variegated beauty of Ukraine. Check out all the travel options for yourself.
Questions about traveling in Ukraine? Amy Stidger loves planning trips to Ukraine and is happy to chat anytime.
No matter your travel style, there's a Ukraine adventure that's right for you.